You may not be aware, but due to complex shipping laws, alcohol can't be sent to every state from every state. You don't need to worry... just select your state and we'll only show you wine that you can have delivered there.
Please note: some online stores restrict certain wines to certain states but don't provide us with that information.
FYI: I find great wine deals so you don't have to. To keep me on the hunt, I earn a commission when you buy wine based on my recommendations.
Available Vintages | 2018
2018
2018 Grawlix Rose Sonoma County
A Late Night Party and Our Dream Rosé Case Buy
Simi Sonoma County Dry Rosé 2018
Vibrant and lit from within: a vivid, rose-petal pink with a coral edge. On the nose, find wild strawberry, tart cherry, pineapple, fresh straw, pastry dough, and white pepper. These enticing aromas set the stage for the palate of alpine strawberry, dried pineapple, lemony crispness, and hints of sweet herb. Forward and focused, with lingering fresh berry fruit, bright acidity, nice structure, and
Sonoma-Cutrer Winemaker's Release Rosé of Pinot Noir 2018
Great 3.5 star wine from Russian River Valley. A wine with 62 ratings from the Vivino community.
Available Vintages | 2017
2017
Sonoma-Cutrer 2017 Les Pierres Chardonnay - White Wine
White Wine by Sonoma-Cutrer from Central Coast, California. The Les Pierres Vineyard is known worldwide for its rocky soil that infuses the grapes - and the wine - with varied mineral essence. The result is a single vineyard wine that is complex, elegantly structured and a favorite among Chardonnay drinkers.
Available Vintages | 2019 | 2017
2019
Flowers 2019 Sonoma Coast Rose - Rosé Rosé Wine
Rosé Wine by Flowers from Central Coast, California. Pinot Noir grapes underwent a gental cremant press cycle, lightly extracting an elegant and expressive Rose with bright fruit and vivid acidity.
2017
Apriori Cellar 2017 Sonoma Coast Rose - Rosé Rosé Wine
Rosé Wine by Apriori Cellar from Central Coast, California. Alluring aromas of pink grapefruit, tropical white flowers and stone fruit leap from the glass. The fresh and energetic palate boasts flavors of wild strawberry, orange blossom, honeydew and citrus peels balanced by clean minerality and bright acidity.
Available Vintages | 2019
2019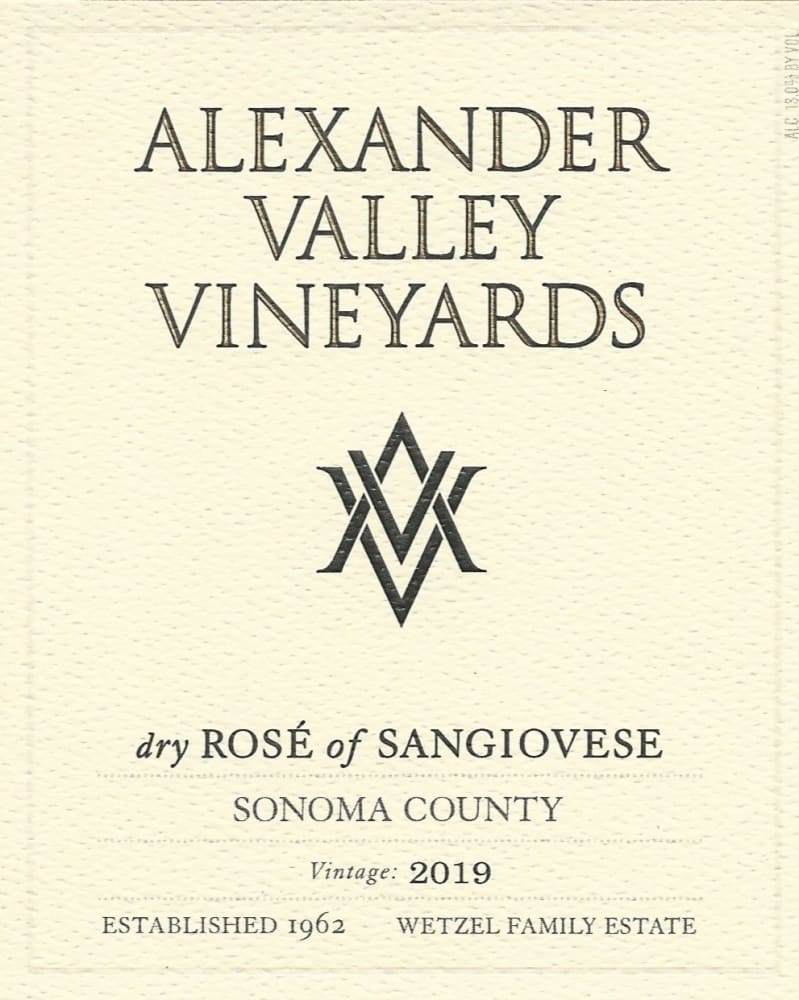 Alexander Valley Vineyards 2019 Dry Rose of Sangiovese - Rosé Rosé Wine
Rosé Wine by Alexander Valley Vineyards from Sonoma County, California. This 2019 Rose is brightly colored with a light pink hue that alludes to the rich style. Aromas of guava, strawberry, watermelon, raspberry and mint explode out of the glass, while the flavors of watermelon, strawberry, peach, berries and nice minerality keep you coming back for a second bottle. Pairs well with grilled fish,