You may not be aware, but due to complex shipping laws, alcohol can't be sent to every state from every state. You don't need to worry... just select your state and we'll only show you wine that you can have delivered there.
Please note: some online stores restrict certain wines to certain states but don't provide us with that information.
FYI: I find great wine deals so you don't have to. To keep me on the hunt, I earn a commission when you buy wine based on my recommendations.
Available Vintages | 2017
2017
Mengler 2017 Dolcetto Alegria Vineyard
The Mengler 2017 Dolcetto has classic flavors of this famous Italian varietal that is originally from the Piedmont region. Despite the literal translation of its name to be 'little sweetie' (like a small piece of candy), this wine is completely dry and has fantastic acidity and bright fruit flavors that make it an extremely versatile wine. Deep garnet in color, the Mengler 2017 Dolcetto offers not
Available Vintages | 2019 | 2017 | 2016
2019
Cavallotto Vigna Scot Dolcetto d'Alba 2019
Come and meet our delicious Italian find of the day, this Cavallotto Vigna Scot Dolcetto D'Alba. Beh ciao là... It's ready to drink now so open your first intense bottle and enjoy it with antipasti of artichokes, salami and olives. That ought to get the ball rolling. This Vigna Scot has amazing, lovely dark fruit, earthy undertones, clean minerality and beautiful balance, making it ideal with pro
2017
Bruna Grimaldi 2017 San Martino Dolcetto d'Alba - Red Wine
Red Wine by Bruna Grimaldi from Piedmont, Italy. Deep red color with purple highlights at a young age tend to garnet with aging. Vinous, juicy, medium body red with hints of blackberry, plum, lavender and violets. Extremely pleasant in the palate, velvety and very approachable. It pairs well with cold cuts, salami, hors d'oeuvres, pizza, pasta and risotto, roasted chicken. Serving at 60-64°F, to
2016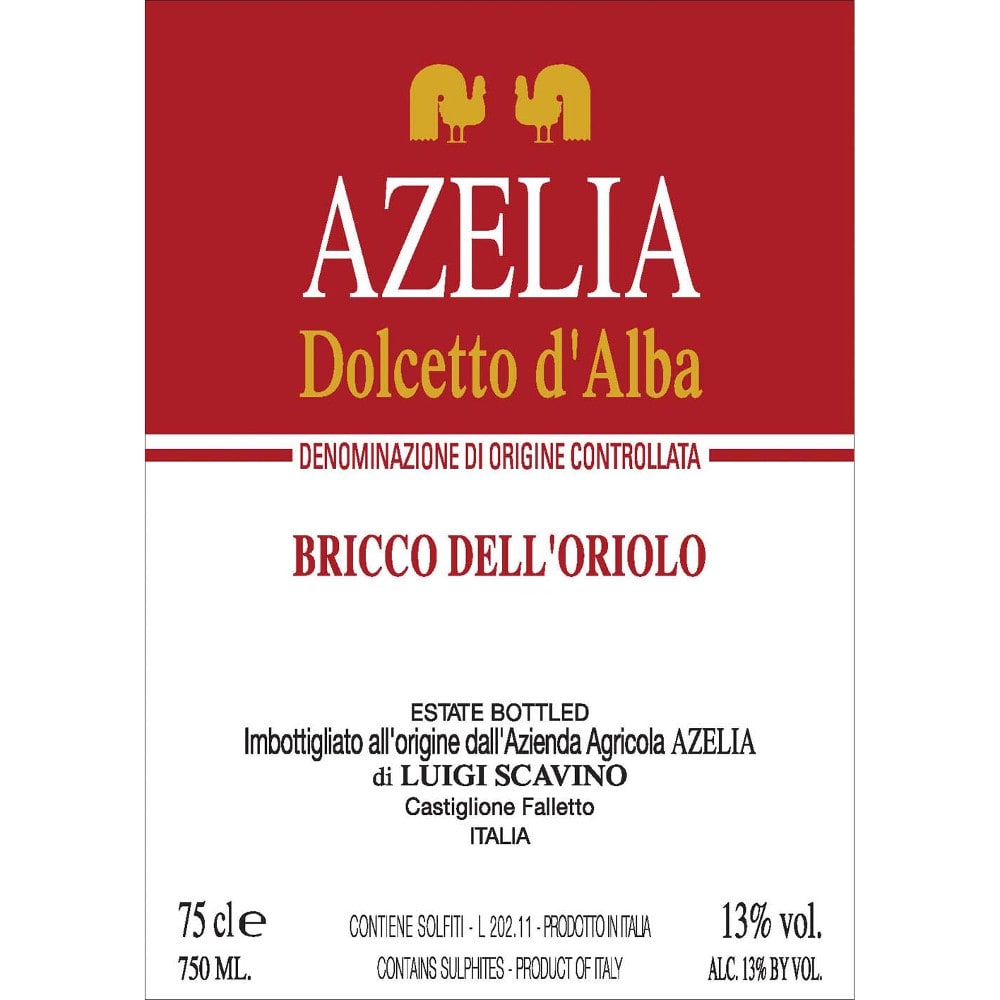 Azelia 2016 Bricco dell'Oriolo Dolcetto d'Alba - Red Wine
Red Wine by Azelia from Piedmont, Italy. A single-vineyard Dolcetto from one of the region's best areas for this variety: Montelupo Albese. Intense color, red fruit, blackberry, blueberry, rose, sweet spices, deep fruity and floral flavors which persist for long. Aromatic and mineral.