Last updated: April 6, 2015

Thinking about joining a wine club?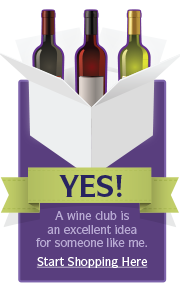 Here are some points to consider:
Is wine an essential part of my life?
True or False: I heart preferred pricing
Do I know what to buy?
Am I too busy to make a separate shopping trip for great wine?
Am I in the wine biz?
Do I live in a "dry" area like the state of Utah?
---
Is wine an essential part of my life?

Wine has held great importance in our health and social well-being at least since Bacchus was stumbling around Rome, and for many of us, it really is an important part of our life. Whether you drink wine on every day ending in Y, just a few days a week, or even only on special occasions, wine clubs have something to offer you.
The Everyday Drinker
For you, wine is a ritual — you have a glass when you come home from work, when the kids are finally tucked into to bed, and at Sunday brunch with your friends. You pick up wine whenever you're at the store, you probably take vacations to wine country, and you get emails from all kinds of websites who sell wine.
For you, everyday drinker, joining a wine club (or two or three) is an excellent opportunity to simplify your life by simplifying your wine buying. Depending on your budget and personal preferences, you can have a wine extravaganza and save money at the same time.
You probably enjoy perusing the shelves at the grocery store (we love Trader Joe's for this) and picking out your own experiments, but many wine clubs offer 100% money-back guarantees if you don't like their wine selections — we're pretty sure your local Safeway and specialty wine shops don't offer that.
Want to add a little adventure to your everyday wine drinking? Try the exceptional and unusual selections from The Plonk Wine Club.
If you favor quantity over quality (and who can blame you), we recommend joining at least one of these 12+ bottle wine subscriptions.
The "Few Days a Week" Drinker
Whatever your excellent reasons are, you enjoy wine but only drink it a few days a week. This is still more than enough consumption for you to benefit from joining a wine club. Perhaps you could join a higher-end two-bottle wine club to get those special wines you want to have on hand for when the friends come over. Maybe you would like a quarterly case club, which sends you 12 bottles every 3 months — that's one bottle a week(ish) if you don't want to do the math. Maybe it's both!
The "Only on Special Occasions" Drinker
You like a nice wine, but it doesn't really fit into your budget or lifestyle very often. That doesn't mean that when you do indulge you should hop over to Publix and pick up a bottle of Yellow Tail. If you limit your intake, make it count. Splurge on a wine club featuring $20-30 bottles if you normally think $10 is the right price. If price isn't an issue (lucky you), maybe try a wine club designed for collectors and sign up for quarterly deliveries.
The "I Keep Some Around for my Guests" Non-drinker

How very thoughtful of you to keep a bottle or two around for when company comes over! Sometimes regular wine drinkers feel uncomfortable in social situations without a glass in hand. All too often we show up at your normally dry house and are afraid of what you're going to pour for us. We assume you don't know what you're buying since you don't drink it yourself.
Put your guests' minds at ease and join a monthly, bi-monthly, or quarterly two-bottle wine club. Don't forget to put those bottles in your refrigerator when they arrive. You're assured to always have good quality wine on hand, that's been stored properly enough, and your guests will be grateful for it (even if they don't tell you).
---
True or False? I heart preferred pricing
Maybe the phrase "preferred pricing" leaves you wondering what the heck we're talking about over here... so let us explain. When you visit a winery, go to a wine shop, or peruse the wine aisle at your favorite grocery store, you are almost always paying "suggested retail price" (otherwise known as "retail"). Sadly, many wine shops charge MORE than suggested retail, which to us is a blatant attempt to take advantage of people who have enough money to be shopping at local wine shops in the first place.
But when you join a wine club,
You often are paying 10-25% below suggested retail for each bottle you receive
You may enjoy additional discounts as part of an introductory offer (as much as 50% off!)
You often get members-only discounts on reorders of your favorite wines
You often get access to seasonal, members-only sales where you can shop all of the leftover inventory at 25-75% off retail
You can sometimes get free shipping by committing to a longer subscription or buying more bottles
You rarely pay sales tax (unless you live in California where many wine clubs are headquartered)
Money-back Guarantees
When was the last time you went back to Costco and said, "I loved this wine, I want more! Will give you me a discount for buying more of this great wine?" Ummm, never. Because that's not the way retail stores work — even club stores like Costco which require you to pay a membership fee up front (something wine clubs rarely do). Here are wine clubs rated by their Money Back Guarantee (we call it a Satisfaction Guarantee, but it's the same thing).
---
Do I Know What to Buy?

When you're standing in front of that wall of wine, wherever you buy it today, do you look at the shelf and say "I know exactly which of these wines I will love." If the answer to that question is yes, we are super impressed with your extensive wine knowledge... for the rest of you, we totally know the feeling.
It can be overwhelming to look at five shelves of wine, loosely organized by wine color, wine region, and price, and pick out the winners. This is why so many of us rely on what's on sale or, even worse, which labels we like. Wineries and wine purveyors count on this, so they spend a lot of dough making sexy wine labels and marking up a wine's suggested retail price so they don't lose their profits when they put the wines on sale (we're looking at you BevMo!).
These "tricks of the trade" can make it very difficult to pick out the winners. Trader Joe's does a good job of curating a wine selection they think has a universal appeal at a low price-point. But specialty wine shops often buy what they like, or what their distributors tell them they can get a good deal on. Neither of these are necessarily good things for you and your palate.
This is where wine of the month clubs enter the picture. We know for a fact that hard-working employees at many wine clubs take one a day a week to get sloshed on your behalf. They'll taste through hundreds of wines in a month and pick just two for an upcoming wine club shipment. This is how they guarantee their wines, they only send you great quality wines that exhibit best-in-class properties for the price-point you pre-selected. We think this is a better methodology of choosing wine than picking which label you like.
---
Am I too busy to make a separate shopping trip for great wine?
This is a loaded question as there are really two questions being asked
Do I prefer good-to-great wine over everyday mass-market drinkers?

If you have reached a point in your wine-drinking experience where Yellow Tail and BV are okay in a pinch but don't thrill you, you probably also make a dedicated trip to a local wine shop where you know there is a more refined selection to choose from. The thing is, at the grocery store there are usually 5 shelves of wine. The grocery store makes the most profit from the wines on the top shelf and the bottom shelf. Those middle three shelves make them the most money by volume by offering mediocre high-production wines with strong brands and affordable prices. Mediocre wines with good brands don't make for truly satisfying wine drinking, and if you already know this, you've already committed to making a separate trip to a local wine shop.

Do I have to make extra trips to acquire the wine I want to drink?

If you live in a control state like Pennsylvania (where you have to visit a state-owned wine store to get your grown-up juice), or in New York (which prohibits the sale of alcohol alongside the sale of food in retail establishments), you have to make two trips. If you don't like cheap wine, you have to make two trips. What if you didn't have to make two trips? What if the wine came to you?!
Convenience is one of the benefits of joining a wine club.
If you're a two-tripper, consider reducing it to one and join a wine club. There is a new crop of wine clubs working hard to make it so convenient that you'll never go back to buying wine at a store again (except of course when you throw a party and drink through your whole stash, but the next wine club shipment is still two weeks away).

The ultimate in wine club convenience is offered by 4 Bottles. They've really honed their convenience factors like emailing you when your order is going to be boxed, shipped, and delivered — including a tracking number so you know when it's going to arrive. Club W also provides the additional convenience of letting you choose how many bottles of wine you receive each month, so if you know you're throwing a party, you can make a big order, or if you're going on week-long vacation, you can stick with the minimum order of three bottles. Want more convenience? Easy online managmenet means vacation holds are a snap.
---
Am I in the wine business?

For most people in the wine business, a monthly wine club is still potentially a great idea. This is especially true for certain types of wine industry folks — sales people and servers who interact with customers buying wine, people who work at wineries, and people who work at major retail outlets like Total Wine or BevMo!.
Why? Well, you're only exposed to a sliver of the wine market in your job, and there's a whole world of wine that might appeal to you outside of that sliver. Plus, the more you know about wine, the more your customers will trust you when you tell them why they want to buy "that one." Joining a wine club can be a fun, affordable way for you to continue your wine education on your own time.

If you are a wine expert — we which define by the following occupations: professional wine critic, wine blogger, winemaker, sommelier, wine buyer, and wholesaler or distributor — you almost certainly shouldn't join a wine club. There are some good reasons for this:
You already get loads of free wine or you can buy your wine at the best prices in the industry
You already know which kinds of wine you like and which ones you want to try
You drink so much wine at work you really don't want to drink much by the time you get home
You enjoy reading about wine, learning about wine, formulating your own detailed opinions about wine and would rather not let someone else have all the fun
---
Do I live in a "dry" area, like the state of Utah?

Don't get us started on the idea of a place being "dry." If you live in one of these places, you already know it. The best thing you can do if you want to join a wine club is to write to your local legislators and work on changing the freedom-impinging laws that say you can't buy alcohol — a totally legal product in 99% of this country (if you're over the age of 21, of course).
If you do live in one of these places, like certain counties or zip codes in Georgia, Kentucky, and the aforementioned state of Utah, you cannot have alcohol delivered to your home. Of course, if you live in a dry place but work in a "wet" one, you could have your wine sent to your place of business and carry it home!
There are also a few places that make it hard to receive wine at home, but not impossible. Click on your state below to see a selection of wine clubs who will ship to your home state.
---
If this article hasn't convinced you that you should join a wine club (if you're not in the wine business), please drop us a line and tell us what we missed!