Set of 6 Gabriel-Glas Wine Glasses (StandArt Edition)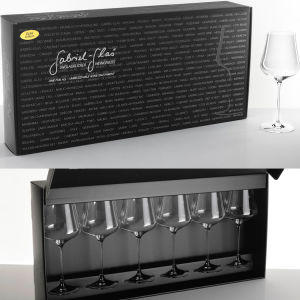 Buy This Gift
Why This Gift
The stunning Six-Glass Gift Box contains six machine-molded "universal" Gabriel glasses, the "One for All" lead-free crystal wine glass from Austria.

"Choosing a suitable glass is often more difficult than choosing the right wine. With this one-for-all design, there is no need for a cupboard full of glasses.

Aromas unfold as the wine expresses itself in this unique lead-free crystal glass thanks to the conical shape and bouquet-driven design. Restaurants, tasting rooms and oenophiles love this durable glass that brilliantly and simply showcases the finest qualities of all wines.

From the Robb Report (February 2015): "For the last 20 years, one mark of a serious wine connoisseur has been a cabinet spilling over with specific glasses for every varietal. But lately a backlash against this tyranny of stemware has taken hold, and a number of fine-glass makers have responded with "universal" designs meant to enhance every sort of wine. One of the best is the Gabriel-Glas. Made in Slovakia from a design by the wine critic Rene Gabriel, its broad bowl increases the surface-to-air ratio, essentially decanting the wine in the glass, while its graceful curve channels aromas to the nose and gently delivers wine to the tongue. Gabriel-Glas fans include influential Sommeliers such as Mark Bright of Saison and Luke Kenning of Farallon, and after testing the glasses with wines from Barolo to Riesling, we too found ourselves reaching for this delicate vessel over the many others crowding the shelf."
Amazon delivers wine gifts to
AK, AL, AR, AZ, CA, CO, CT, DC, DE, FL, GA, HI, ID, IL, IN, IA, KS, KY, LA, ME, MD, MA, MI, MN, MS, MO, MT, NE, NV, NH, NJ, NM, NC, ND, NY, OH, OK, OR, PA, RI, SC, SD, TN, TX, UT, VA, VT, WA, WV, WI, WY
$190.00 includes shipping
Buy This Gift