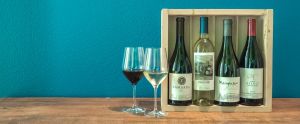 The Best Perrier-Jouët Gifts in 2022
Few wines have truly beautiful bottles, and Perrier-Jouët Belle Epoque Champagne is one of them. This makes it a fantastic gift. Perrier-Jouët knows this, so they offer a suite of gift sets in addition to a regular gift box presentation for their gifts. For anyone who loves flowers or Art Deco, Belle Epoque is such a wonderful treat to open. Their NV Classic Collection of Champagnes are delightful gifts, too.
Please note: if you buy a gift after clicking links on our site we might earn a commission.
What kind of wine gift?
Choosing the right wine gift may be overwhelming, but we've got your back. There are four basic types of wine gifts.
The perfect way to send cheer or gratitude, for any occasion
With a variety of wine and gourmet snack foods in each package, wine basket gifts always impress.
Thank clients and employees for their contributions to your business with these popular gifts.
Wine & Cheese gifts and Wine & Chocolate gifts, along with all gifts of wine and gourmet food, are in this section — even those that don't come in proper "baskets."
Subscriptions are a favorite among wine gift-givers and gift-recipients
A great variety of wine clubs offer the ability for you to give 3 month gifts and a "year of wine."
We've handpicked the best red, white, rosé, and Champagne club gifts, and more.
We review wine clubs thoroughly. To research them, please see our detailed list of Best Wine Club Gifts. For a summary version, check out our Best Wine Subscriptions.
Our recommendations for one-time gifts of wine bottles and samplers
Wine Bottles: Give a great bottle of wine. If you need to have the gift delivered, you'll need to purchase it from a licensed retailer who can ship it for you (by law you can't ship wine yourself). We make that easier.
Wine Gift Sets: Why give one bottle when you can give a wine sampler of three, six, or even twelve bottles? Or a bottle of wine paired with glasses and a corkscrew? We've picked out some awesome wine tasting gifts for every wine drinker.
Wine in a Gift Box: Yes, you could pick up a bottle of wine and figure out how best to wrap it, or you can buy a gift that comes with its own elegant gift box presentation.
Perfect when you want to give wine-related gifts instead of wine
This is a big category and it includes wine glasses, decanters, corkscrews, wine preservation tools, wine totes, and wine chillers.
Wine Decor: Knicknacks are useful, but decorating with wine-themed furniture, cork-catchers, wine racks, and wall art are fun!
Wine Education: Introduce someone to the world of wine or expand their wine knowledge with an educational gift. Choose among classic books, aroma identification kits, and wall art.
When all else fails, you can always give electronic (or paper) wine gift cards.
What kind of wine?
We've got you covered with a variety of wine colors, styles, and regions to choose from. Shop Wine to Give to get all of the options, or narrow your selection to one of these categories.
Red & White Wine Mix
Wine is often given as a pair of bottles, one red and one white
When you don't know what kind of wine someone likes, a mix of red and white wine ensures they'll like at least one of them.
The classic California wine pairing is Chardonnay and Cabernet Sauvignon — the most popular wines in America.
Red Wine
There is a perfect gift for every red wine lover
When giving red wine gifts, you have many options, from the gift types listed above to the kinds of grapes used to make wine.
Our selection of red wine gifts is mostly Cabernet Sauvignon, Pinot Noir, and Red Blends, but we add other options, too.
Rosé,White, & Sweet Wine
If your favorite wine lover prefers their vino on the lighter side
Our curated selection will help make your gift giving easier — these gifts are harder to find and we've collected them for you.
Find white wine gifts like Chardonnay and Sauvignon Blanc, Sweet wine gifts with Riesling and Moscato, and Rosé gifts — it's not just for summer.
Sparkling Wine & Champagne
Not sure what to get? Champagne is always appreciated
While true Champagne is on the pricey side, we have a variety of sparkling wine gifts dressed up with gift boxes.
We have gifts featuring Dom Perignon, Veuve Clicquot, and other Champagne brands, too.
Gifts of wine from California, Oregon, and Washington
Whether you're looking to give a gift of wine from California or the Pacific Northwest (Oregon and Washington), we've got options for you.
In California, we have Napa Valley wine gifts, gifts of Sonoma wine, and also gifts featuring other California wine regions.
Maybe you'd prefer to give wine from other countries?
On our site you'll find a selection of French wine gifts, wine gifts from Italy, and other parts of Europe.
When we find them, we include gifts from other "new world" wine regions like Australia, New Zealand, South America (Chile and Argentina), and South Africa.
How much do you want to spend?
Not all wine is expensive, and not all wine gifts break the bank. We have a selection in every price range so you stick to your gift budget (if you have one).
When you want to send a wine gift and stick to your budget
While it can be challenging to find a gift of wine priced under $50, we did find a few — mostly sweet wine or a single bottle of an inexpensive wine paired with candy.
On the flip side, we've got plenty of options for wine accessories and home decor that cost less than $50. Delight your favorite wine lover and keep your budget under control.
Wine gifts can be both affordable and worth giving
If you'd like to give a nice one-time wine gift, you can do so comfortably in this price range. Whether you want to give one bottle or a sampler, you've got solid options for every kind of wine.
There are also some thoughtful and deluxe options in wine education, wine decor, and wine gift sets for this price range.
This is the sweet spot for wine gifts that don't break the bank
You can choose between single bottles like Champagne, higher-end sampler gifts, and wine gift sets that pair wine with glassware.
Our favorite gift in this price range? A 3-month wine club gift! Send three shipments of wine for, on average, around $150.
With a good mix of quality wine and gourmet food, this is also the best price range for wine gift baskets.
When you really want to impress someone with great wine
This is where things start to get fun. Whether you want to give someone a year of wine, a Vintage Champagne in a nice gift box, or a sampler of Napa Valley red wine, you've got options.
There a few super-deluxe gifts included here that are priced over $1,000 and designed to impress even the savviest wine connoisseurs.