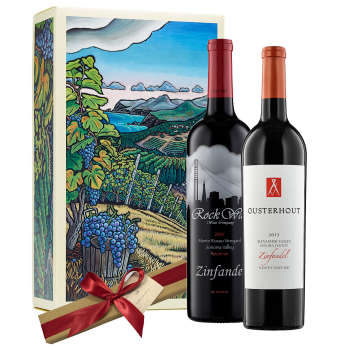 Two Bottles of Zinfandel & Chocolate Truffles
Two small-production California Zinfandels paired with award-winning chocolate truffles
$116.99 $137.99
Buy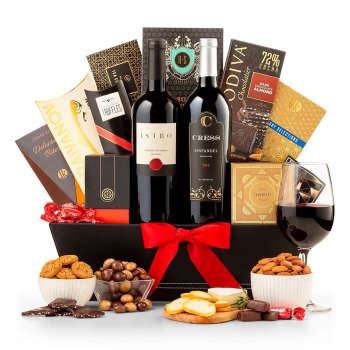 The 5th Avenue Grand Wine Gift Basket
Zinfandel and Cabernet Sauvignon paired with premium savory and sweet snacks
$99.95
Buy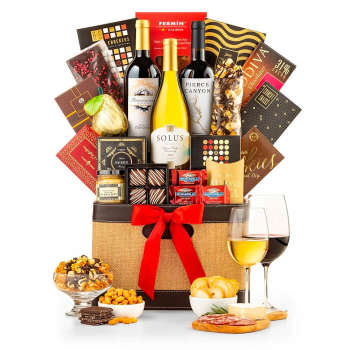 Three Cheers Gourmet Wine Basket
Three bottles of wine and an elegant gift container stuffed with delicious treats
$169.95
Buy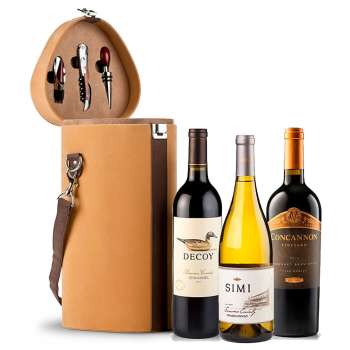 Three Bottles of California Wine in a Travel Tote
For parties and weekends away — bring the wine in style and always have accessories on hand
$169.95
Buy
Two Bottles of Zinfandel & Chocolate Truffles
$116.99 $137.99 plus shipping
Why This Gift
Two small-production California Zinfandels paired with award-winning chocolate truffles
Gold Medal Wine Club sources and sells small-production wines from small, California wineries. After 20+ years in the business, their relationships with wineries, new and old, are far-reaching. This helps them acquire interesting wines at prices far below winery retail. In this case, they've paired the wine with a gift box of handmade chocolate truffles.
About the Wine
Rock Wall 2016 Zinfandel
California Zinfandel aficionados have long revered bottlings from the legendary Monte Rosso Vineyard in the Sonoma Valley AVA. This prestigious vineyard is sought after by many, but only a lucky few have access to the stellar Old Vine Zinfandel that is grown here. Rock Wall Wine Co.' block in the Monte Rosso Vineyard has 116-year-old vines that yield some fantastic wines. The 2016 Reserve Zinfandel is rich, round and ripe with aromas and flavors of briary raspberry, honeycomb, cacao, and strawberry, all wrapped around a peppery, exotic core of dark chocolate and brambly blackberry. This wine will age beautifully for years to come.
Ousterhout 2013 Zinfandel Nance's Vineyard
Ousterhout's 2013 Nance's Vineyard Zinfandel comes from the southeastern corner of Alexander Valley, where the vineyard sees routine fog from the Petaluma Gap and Russian River Valley. Nestled up against a southwest-facing hillside, Nance's Vineyard is ideal for premium grape growing and consistently produces exceptional Zinfandel grapes with concentrated, dense flavors. Deep black-purple in color, the 2013 Ousterhout Zinfandel offers flowing aromas of toasted black currants and mild spices while the palate brings seductive, silky layers of blackberry, huckleberry and lightly toasted spice. Excellent acidity carries these flavors through the finish and onto the next sip.
Delivers To
Gold Medal Wine Club delivers wine gifts to
AL, AK, AZ, AR, CA, CO, CT, DE, DC, FL, GA, HI, ID, IL, IN, IA, KS, KY, LA, ME, MD, MA, MI, MN, MS, MO, MT, NE, NV, NH, NJ, NM, NY, NC, ND, OH, OK, OR, PA, RI, SC, SD, TN, TX, VT, VA, WA, WV, WI, WY
The 5th Avenue Grand Wine Gift Basket
$99.95 includes shipping
Why This Gift
Zinfandel and Cabernet Sauvignon paired with premium savory and sweet snacks
This reusable gift tray includes two great bottles of red wine, chocolates from Godiva and Lindt, smoked salmon, camembert, and a host of other treats. GiftTree makes giving wine gift baskets easy, and they even have several options to personalize your gift further.
About the Wine
2016 Cress Zinfandel

"Entice the senses with aromas of roasted plum, blackberry jam and dark cherry with this old vine Zinfandel. Full bodied, rich on the palate, and layered with hints of sweet spice, it's a classic example of big and bold California red wine. Ideal with beef or lamb, this wine can be enjoyed now or cellared through 2019." Information provided by GiftTree.
2016 Istro Cabernet Sauvignon

"100% Cabernet gives Istro its silky smooth character from start to finish. Deeply purple colored, Istro offers an exuberant nose of cassis and smoky cherry with hints of vanilla spice, fruitcake and dried flowers. Full, velvety, rich and spicy, it shows great length." Information provided by GiftTree.
Delivers To
GiftTree.com delivers wine gifts to
AK, AZ, CA, CT, DC, HI, ID, IL, MI, MN, MO, NH, OH, OR, SC, VA, WA, WY
Three Cheers Gourmet Wine Basket
$169.95 includes shipping
Why This Gift
Three bottles of wine and an elegant gift container stuffed with delicious treats
While the wine isn't ultra-premium, the wine gifts from GiftTree feel like a special delivery every time. If the wines paired with delightful snacks aren't enough of a thoughtful gift, you can always personalize this gift to make it more special.
About the Wine
Briarwood Winery Select Zinfandel

"Inviting and alluring, this old vine Zinfandel tempts with aromas of baking spices, berry bramble and toasted oak. It's a truly classic California Zinfandel, best enjoyed with grilled steaks, barbecue pork, corn on the cob and roasted vegetables." Information provided by GiftTree.
2016 Pierce Canyon Reserve Cabernet Sauvignon

"This 2016 Cabernet has deep and balanced acidity with aromas of dried cherries, cedar cigar box and a hint of black plum. On the palate, flavors of blackberry jam and toasted walnuts balanced out the vanilla notes acquired from the French oak aging." Information provided by GiftTree.
2013 Solus Estates California Chardonnay

"Solus Estates presents layers of delicate pear and grapefruit amidst structured, expressive acidity in this well balanced chardonnay. Substantial enough to drink on its own, or a richly textured companion to fresh dishes like Caesar salad or poached salmon." Information provided by GiftTree.
Delivers To
GiftTree.com delivers wine gifts to
AK, AZ, CA, CT, DC, HI, ID, IL, MI, MN, MO, NH, OH, OR, SC, VA, WA, WY
Three Bottles of California Wine in a Travel Tote
$169.95 includes shipping
Why This Gift
For parties and weekends away — bring the wine in style and always have accessories on hand
A unique way to give a gift of wine, this Italian wine sampler comes packed in its own gift — a travel tote that houses its own wine accessories. For anyone who brings their wine with them for weekends away and to dinner parties, this is a great example of two gifts in one.

The Italian wine selection is inexpensive, but diverse and of good enough quality for a gift for most wine drinkers.

Italian Wine Trio: Banfi CollePino Sangiovese Toscana, Cecchi Chianti Classico, and Benvolio Pinot Grigio

Note: We would not give this to an Italian wine connoisseur or anyone who drinks premium wine.
Delivers To
GiftTree.com delivers wine gifts to
AK, AZ, CA, CT, DC, HI, ID, IL, MI, MN, MO, NH, OH, OR, SC, VA, WA, WY