Firstleaf Review
In this review · What is Firstleaf? · How Firstleaf Works · Firstleaf Wine Review · Who Should Join? · Pros & Cons · Gift Review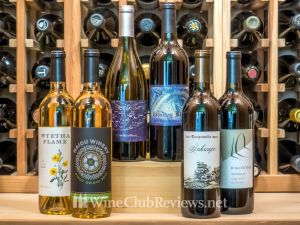 What is Firstleaf?
Firstleaf is a personalized wine subscription which delivers, by default, six bottles of wine for $100 plus sales tax ($89.94 for the wine plus $9.95 for shipping). You can choose 6- or 12-bottle shipments and delivery options are monthly, bi-monthly, or quarterly. Upgrade to 12-bottle shipments to get free shipping. If you don't like some of the wines you receive, they offer a Satisfaction Guarantee which will add credits to your account to make up for bottles that don't meet your expectations.
To entice you to sign up, Firstleaf has an introductory offer with a substantial discount. Try 6 bottles of wine personalized to you for just $39.95, shipping included.
After you receive your first six-bottle shipment of recommended wines, you can change your settings like size of shipment and the frequency at which you receive them, including your wine preferences.
Membership settings include:
Frequency (Monthly, every other month, or every three months)
Shipment size (six or 12, which is two of each wine)
Ratio of reds to whites (nice feature!)
Wine regions (USA vs Imported)
Add Sparkling & Rosé to the recommendations
Easily cancel your membership online
How does Firstleaf work?
As Firstleaf is a personalized wine club (read more about how this is different than a curated wine club), they need to get to know your preferences in order to match their wine inventory with what you like to drink. Like their competitors, they do this with a wine profile quiz. This quiz has been improved since the first several times I took it – both in terms of the questions they're asking and in how well their recommendations match wines I'm likely to enjoy.
Here are some screenshots from how I filled out my quiz and the wines that matched. (Click to enlarge them.)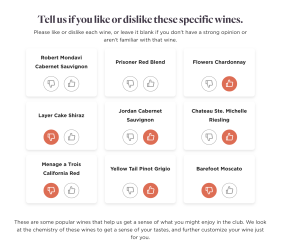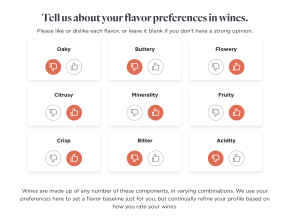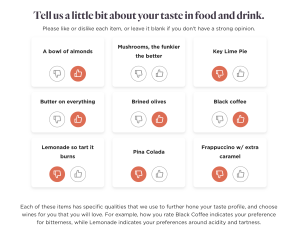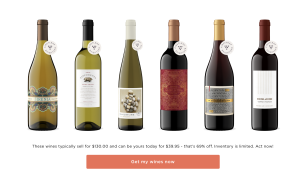 These bottles are:
Sirenia Verdejo from Spain
Tintoretto Pinot Grigio from Garda, Italy DOC
Trailstone Pinot Gris from Columbia Valley, Washington
Gilded Letter Zinfandel from Lodi, California
La Douleur Exquise Grenache from Pays d'Oc IGP, France
Posted Accord "Coffee" Pinotage from Western Cape, South Africa
I want to try all of them. In fact, I want to try these wines more than the six bottles currently recommended in my wine club account at Firstleaf (based on my previous quiz results and the wines I rated). This indicates to me these quiz improvements are real and that the data they've collected from more than 1,000,000 wine ratings by their customers has improved their matching technology.
If you don't like some of the recommendations they've made, you can swap up to six bottles per shipment (the algorithm chooses another suitable wine). You can do this with your initial shipment and future shipments.
To get the most out of their personalization algorithm, you should rate the wines you receive — your options are limited to thumbs up or thumbs down. If you don't select one, the algorithm interprets that to mean you didn't love it or hate it. These ratings will help their algorithm continue to improve its recommendations.
Rating wines for an algorithm is a double-edged sword, as you can rather easily create a feedback loop of sorts. The limited information I have given Firstleaf has resulted in fairly a narrow band of recommendations of wines I might like. In my last shipment I received two bottles of Chenin Blanc from South Africa. It picks wines I'd like, just not a huge variety.
Interestingly, Firstleaf has two little known features that can help resolve this problem.
Option 1: Do it yourself. Instead of relying on the algorithm to choose your wines, you can assemble a completely custom order. You do this by shopping the Firstleaf Exclusives in their online wine store. Once you put six bottles in your cart, the price adjusts to reflect your member pricing of $13.33 per bottle — even if you choose wines that cost as much as $35 a bottle. It's worth noting (and I go into this in the Wine Review) that the selection in the store is much more limited than what gets shipped via the regular membership.
Option 2: Get the professionals involved. If you aren't sure if you're getting the most out of your Firstleaf subscription, you can ask for free help from a certified wine professional. You can go online and book a 15-20 minute appointment with one of several concierges (most seem to set their own hours and they're all weekday hours right now). The available topics include: Account/Preference Review, Discuss Your Algorithm, Wine Suggestions, a 3-Month Maintenance Check, and a 6- or 12-Month Maintenance Check. They can make changes to your settings behind the scenes to enhance your experience. This is a brand new feature but the few reviews of the concierges so far are all 5 stars.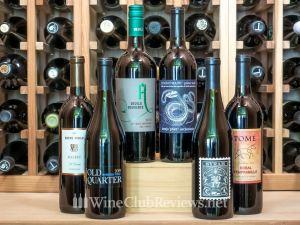 How much does Firstleaf cost?
For the standard six-bottle membership, Firstleaf costs $89.94 plus $9.95 shipping and applicable sales taxes. After your first shipment, you can upgrade to a 12-bottle membership for $179.98 with free shipping. Twelve-bottle shipments contain two each of the recommended wines in a six-bottle shipment. If you want to customize your order completely (as described earlier), you'll still pay member prices of $14.99 per bottle, for a six- or twelve-bottle shipment.
If you want to save the $9.95 on shipping, you can change your membership to 12 bottles every other month. There's no need to "skip" months when you don't want a shipment or if you want to receive them less often than monthly. This is a big improvement over similar personalized wine subscriptions.
If you have an occasion to actually "skip" one shipment, you can do so by scheduling a future date for your next shipment (as much as 3 months out). For example, if you're a monthly customer and you skip a June shipment by setting your next shipment date to some time in August, your monthly membership restarts with your August shipment.
Firstleaf Promo Codes
Firstleaf's best deals are available without promo codes. Right now they have one deal available through the link below (no promo code required). This is an introductory offer, meaning the discount applies to the first shipment only.
Standard Firstleaf introductory offer. To get you to try their wines, Firstleaf offers a significant discount on your first six-bottle shipment of wines — six personally-recommended bottles are just $39.95 with free shipping and applicable sales tax. That's roughly $6.65 per bottle and worth the experiment. Just remember you're enrolling in an ongoing membership when you purchase the trial pack.
This offer does not expire. Save $40 on your first box of wine. Get this deal
About this Firstleaf Review
I've been reviewing Firstleaf since August 2018, roughly a year and a half after they opened for business. Since then I've received six separate shipments of their wine, totalling 48 different wines either produced by them or their partners. I am still actively reviewing their service and recently received a shipment in December 2021. This review incorporates my Firstleaf experiences along the way and my experience with more than 100 other wine clubs.
Any wine subscription service is about more than just the wine and this review covers all aspects of the service. The key things I look for in a wine club are: How was the wine sourced? Is the wine selection personalized or curated? How often does it ship? How well does the company communicate about shipping and billing? Do they offer a satisfaction guarantee? Are the shipment sizes and wine selection flexible?
I also examine what kind of wine education they offer with their bottles and whether or not a service is set up for good gifting. These aspects are not core to a wine club being worthwhile, but they are important for many would-be members.
I have a couple of gripes about Firstleaf (beyond my opinion of their "award winning" status covered later in this review):
First, when you are shown your recommended wines and given the chance to swap bottles, they show you some of the awards (the gold and silver medals), but not specifics about who issued the awards. When you then click on the "View Wine Details" link to see more info, they don't expand on the awards. This is what a wine looks like when it's been recommended to you.
They also don't provide as many images of the wine as they do in their store. This is an example of images available in the store, which include helpful serving facts (especially alcohol by volume, carbs, and natural sugars) and the actual back label of the bottle. As an informed consumer, I want to see all of this before I choose.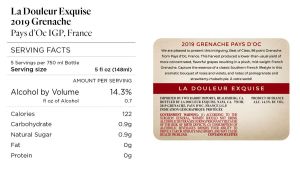 Second, I've had some fulfillment issues with shipments. In one instance I customized my shipment only to receive their original recommendations. This turned out to be a technical problem many customers faced and they refunded everyone their money for that shipment (effectively giving everyone six free wines in exchange for the hassle). In another instance I "locked in my selection" with a future shipment date (at least two months out) and then the wines shipped immediately.
Firstleaf Wine Review
My Firstleaf Wine Ratings
| | |
| --- | --- |
| Quality of Wine | |
| Price of Wine | |
| Wine Curation | |
Firstleaf, as it pertains to their subscription, mostly sells wine produced by their parent company, Penrose Hill — Firstleaf isn't a winery, but Penrose Hill is. These wines are labeled "Firstleaf Exclusives" in their online store.
In this way, Firstleaf is similar to other personalized wine subscription services.
Winc produces most of its own wine and is a winery
TastingRoom.com mostly sells its own wines produced by TR Wines (sister company)
Bright Cellars mostly sells its own wines produced for them
Among these peers, I find Firstleaf's wines are of the best quality. By quality, I mean that they are balanced wines showing typicity (this means the wine has similar flavors to most other wines made from the same grapes). Their wines (usually) taste different from each other, even when two wines seem quite similar (Malvasia Bianca from Paso Robles, or Chenin Blanc from South Africa), offering the opportunity for you to learn about subtle differences in similar wines.
I find they do a decent job of matching what I might like to drink to their inventory. Firstleaf stands out from its peers in the variety of wines available and that they don't all fit a mold of similar taste profiles.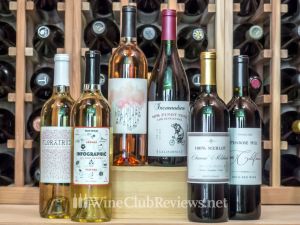 What kinds of wine does Firstleaf offer?
Firstleaf offers a huge variety of grapes and regions in the Firstleaf Exclusive wines through their subscription. Their store has a more limited set of wines that focus on popular varietals like Cabernet Sauvignon and Chardonnay (if that's what you like). To get access to their full selection, you need to be a member. My personalized recommendations included red wines like: Merlot, Pinotage, red blends, a variety of Spanish red wines, and even a Plavac Mali from Macedonia. For white wines, I've received Malvasia Bianca, white blends, Chenin Blanc, and more.
Are Firstleaf wines really all award-winning?
A big part of Firstleaf's branding and marketing is that all of their wines are award-winning. I have randomly verified a small sample of their award claims for the wines I've received and have never found one they made up. That said, as a wine professional, my advice is to ignore all of this award mumbo-jumbo. I have many reasons to say this, but the biggest reason to ignore awards is that they aren't predictive in helping you find wine you'll like in the same way that finding a wine critic whose preferences are similar to your own can be.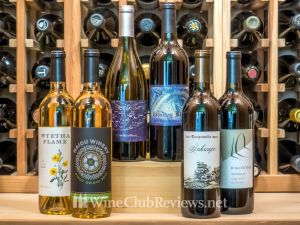 Who should join Firstleaf?
Firstleaf would like to believe that everyone should join. They're trying hard to make a wine club that's a good fit for all wine lovers. The reality is that Firstleaf isn't for everyone. Here is my take on who should and shouldn't join Firstleaf.
Firstleaf is great for…
Someone who doesn't really know what they like. I happen to believe that most people who like wine don't know why they like it. If you don't know why you like a particular wine, it's very hard to ask for advice from professionals about something else to try. Firstleaf takes a broad rating of thumbs up or down and translates that into future wine recommendations. You don't have to know why you liked it, just whether or not you did.
Adventurous wine drinkers. Because Firstleaf offers a much broader selection than what's available at the grocery store, it is an easy and affordable way to explore new wine regions and wine grapes. At $15 a bottle, Firstleaf offers an impressive variety of styles, grapes, and wine regions. If you're ready to branch out past Chardonnay and Pinot Noir, Firstleaf is a good place to start.
Someone who wants to learn about wine in a low-pressure environment. Firstleaf's tasting notes offer enough to get you started. They don't provide information about the producers, just some lightweight information about grapes and regions, along with basic flavor profiles and wine characteristics. Perfect for a light-touch wine education.
Firstleaf is not so great for…
Premium Wine Drinkers. The prices alone should be used as a tool to self-select out of Firstleaf. If you drink wine that normally costs $20-30 a bottle, Firstleaf probably isn't the best choice for you. If you frequently drink wine over $30 a bottle, Firstleaf definitely is not a wine club for you. Please see these wine clubs instead.
Brand-Centric Wine Drinkers. If you like to find a brand and stick with it, Firstleaf probably isn't a great fit. From vintage to vintage, some brands like Meiomi or Apothic create wines that taste the same (or very close to the same). Firstleaf is more like an independent winery in this regard — each vintage, for the brands that resurface every year, will be different.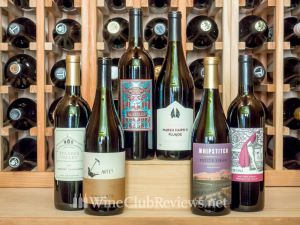 Pros & Cons
My Firstleaf
Benefits Ratings
| | |
| --- | --- |
| Satisfaction Guarantee | |
| Customer Service | |
| Wine Education | |
| Convenience | |
Pros
It's an affordable wine subscription that does a good job matching wines to individuals
They offer a robust selection of grapes and wine regions
The wine tasting cards are fun to read while drinking your wine
They offer a Satisfaction Guarantee. If you don't like a wine you receive, you can contact customer service to get a credit applied to your account.
A wine concierge (human) who can guide your experience
Cons
It can take a while for the algorithm to learn what you like and it's relatively easy to get a pigeon-holed selection
You can only make six swaps per shipment, unless you're creating a custom order based on the limited selection available in their online store

Example: If you like five of their recommendations, but not one of them, you can swap that one bottle up to six times. If you don't like the final option, you're stuck with it.
Example: If you like three of the recommendations, but not the other three, you can swap each of the three you don't like twice. If you don't like what they were swapped for, you're stuck with them.

I have had problems with my orders. These are detailed earlier in this review. Notably, when confronted with the issues, they made them right.
Is Firstleaf a good gift?
In general, I say yes. Firstleaf is a nice wine gift. While free wine is the best thing in the world, there are a few considerations before plunking down your cash for a Firstleaf gift: who you're giving it to, your expectations, gifts are gift cards (not memberships), and Firstleaf can't ship everywhere. Details follow.
Giving a Firstleaf wine membership means you're giving an electronic gift card. The gift card is filled with the credits your wine lover needs to enjoy the Firstleaf experience (the recipient fills out the quiz and personalizes the wine selection). They'll still need to provide a credit card when they get started, but all credits are spent before the card gets charged.
For some gift givers, filling out a wine quiz and managing a subscription doesn't sound like a gift. Those people should not give Firstleaf as a gift.
Firstleaf is a great gift for some wine drinkers. I outlined them in the Who Should Join section of this review and if you skimmed past it, please check it out before giving Firstleaf. It's also a great wine club gift for new wine drinkers (of any age) as it gives them a way to learn and explore the wine world in a low-pressure setting.
When you purchase a gift card, the recipient gets the email immediately. If you wish to purchase ahead of time, have it sent to your own email to forward on the big day.
You should verify that Firstleaf can ship to your gift recipient's state (and sometimes zip code within states they can ship to) before buying. They can ship to all states but these: AK, AL, HI, MS, RI, UT. You'll need to start the gift card purchase to see if there are zip code limitations for your recipient's address. Please note, gift cards are not refundable.