The Masters Series Review
In this review · Overview · Wine Review · Membership Benefits · Gift Review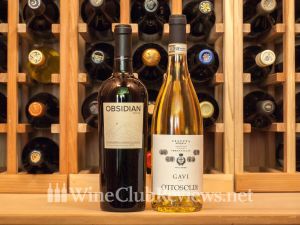 The Masters Series Wine Club is a two-bottle wine club featuring wines from around the world. It is the mid-level club offered by International Wine of the Month Club. It includes some of the selections from International Wine of the Month Club's Masters Series and Collectors Series wines. This is an unique approach to offering a mid-level club. Other wine clubs typically increase the quality of the wines they're offering slightly for the mid-level wine clubs, but this club offers one "everyday" wine and one "special occasion" wine.
Note: If you expect that each bottle you drink from this shipment will taste like a $25 bottle, think again. You'll get one that tastes like a $30 and one that tastes like a $20. You're still getting your money's worth, but we don't want you to be surprised by this.
One of three wine club levels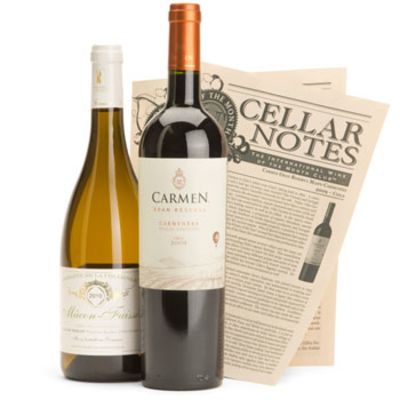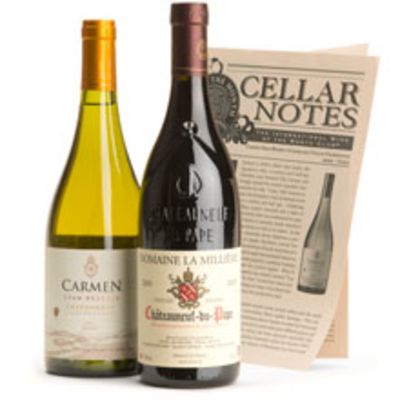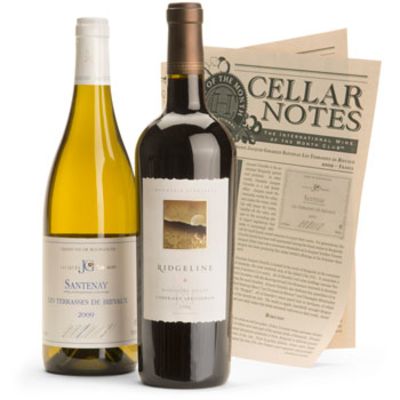 Masters Series Wine Review
Our Masters Series
Wine Ratings
| | |
| --- | --- |
| Quality of Wine | |
| Price of Wine | |
| Wine Curation | |
Curation Process. International Wine of the Month Club uses a two-tiered tasting panel consisting of up to 30 tasters and is comprised of wine enthusiasts who run the gamut from industry professionals, to serious amateur collectors, to casual wine lovers. In this way, the diversity of preference, experience, taste, and style that exists within their club membership is correspondingly represented in the wine selection process. Only those wines that are most highly regarded by the panel, generating an affirmative consensus among the members, become featured in the club.
We've been drinking wine from International Wine of the Month Club's on a regular basis for more than seven years now. If you're looking to explore palate-friendly wines from around the world, you've found a great wine club to join. Most of the wines aren't special, but they're of good quality and they're consistent. We feel The Masters Series offers quality wine at a fair price (close to suggested retail).
Membership Benefits
Our Masters Series
Membership Benefits Ratings
| | |
| --- | --- |
| Satisfaction Guarantee | |
| Discounts | |
| Customer Service | |
| Wine Education | |
| Convenience | |
Satisfaction Guarantee. They offer a top-tier satisfaction guarantee. We love satisfaction guarantees because it's a major differentiator between buying from a wine club and buying from your local wine store or grocery store.
"Our 100% satisfaction guarantee ensures that every item you purchase at International Wine of the Month Club meets your high standards or we will replace it or refund your purchase."
Customer Service Record. In more than 12 years of working with International Wine of the Month Club we have never had a single customer complaint. Our usual Internet sleuthing failed to turn up any significant customer complaints. Kudos to them!
Discount Opportunities. We look at three areas when evaluating the discount opportunities offered by a wine club. Is there an introductory offer to sweeten the deal? Are there discounts available for buying more of wines you loved in your shipments? Are there special discounts only available to members?
International Wine of the Month Club does not have an introductory offer and doesn't offer members-only deals, but they do have a "Buy More, Save More" promo code for gift-giving (Hint: You can buy yourself a pre-paid "gift" to take advantage of this discount). Save $10 on any 4-shipment order with code SAVE10. Save $15 on any 6-shipment pre-paid order with code SAVE15. Save $25 on any 12-shipment pre-paid order with code SAVE25.
Discounts on reorders are available, but the reorders are only discounted at quantities greater than six bottles. If you buy a case on reorder, you're getting a discount from your original monthly price.
Convenience. International Wine of the Month Club is a more old-fashioned company. If you need to hold your service for a vacation or want to cancel your membership you'll need to call and speak to someone during regular business hours. You can change your address online, as well as create a product review.
Wine Education. Cellar Notes, the International Wine of the Month Club publication that goes out with their wine club, is chock full of information about the winemaker, and a little light on info about the wine. Much attention is paid to accompaniments (i.e. food) and promoting their other products. We'd like a little more information on the wine region. Something we LOVE about this wine club is that they publish every single issue online, including all of the information found in the printed inserts.
Masters Series Gifts
We think The Masters Series from International Wine of the Month Club is an excellent gift. Whether you're buying it as a corporate gift or just a regular gift for your favorite wine lover, it's a great and affordable choice.
Always thinking about how to make their wine club great, International Wine of the Month Club gives you a tool to send an E-Gift Announcement on a specific date (this is unusual). If you want to print a Gift Announcement, they have a great tool to help you create your own! You can some basic style elements and personalize it with information pertaining to what you've purchased and for whom, as well as adding a personal message or use a pre-written greeting. IMPORTANT NOTE: Gift Announcements are not automatically generated for orders placed on the Internet.
Design Your Own Gift

International Wine of the Month Club is a part of a larger gift service called Monthly Clubs. A standout opportunity from Monthly Clubs is their Design Your Own Club feature. In addition to being a wine club they're also a Beer of the Month Club, Chocolate of the Month Club, Cigar of the Month Club, Flower of the Month Club, and Cheese of the Month Club. Not only do they offer all of these other clubs, you can mix and match to create your own special gift. Choose a different type of product each month, alternate products, whatever you want to do. Buying for a husband and wife? Alternate shipments with her faves and his!
Here are examples of the wine & cheese and wine & chocolate clubs we designed for ourselves!