Ninety Plus Cellars Reviews
90+ Cellars Review
In this review · What is 90+ Cellars? · Wine Review · Membership Benefits · Who Should Join? · Gift Review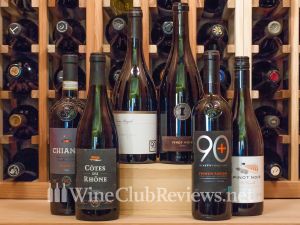 90+ Cellars is a "modern-day négociant." A négociant (a French term) is a company who produces or acquires wine and labels it under one label. Négociants buy everything from grapes to grape must to wines in various states of completion. Some famous examples of this practice are E. Guigal, a French négociant; Cameron Hughes an American négoicant; and Kirkland brand wines which are available at Costco.
Why does 90+ Cellars operate this way? This is an excellent way to bring big value to wine customers, as some middlemen are cut out of the process. Through a shrewd process of assessing wine in different states of production, they have built a portfolio of affordable, high-quality wines.
An Overview of the 90+ Cellars Wine Club
90+ Cellars has curated their terrific portfolio of wines into a quarterly wine subscription, featuring seasonally-appropriate wines. When you order, your first shipment will go out based on the current quarter. Subsequent shipments are delivered in March, June, September, and December. Shipping is always free for 90+ Cellars wine club members.
Some important notes... Since the wines are selected for seasonal enjoyment, the contents of the Mixed wine club vary throughout the year. The summer shipments are heavy on whites and rosé, where as the fall and winter shipments are red-dominant. Also, the 3-bottle and 6-bottle clubs feature all different wines.
| Number of Bottles | Wine Options | Price, includes shipping |
| --- | --- | --- |
| 3 | Mixed Wine only | $50 |
| 6 | Mixed Wine or Red Wine only | $95 (Save 5%) |
Read Our 90+ Cellars Wine Club Review