What is Palate Club?
Palate Club is a personalized wine subscription. This means the wines you receive are specially selected for you, based on the information available to Palate Club (more on this in the next section).
Palate Club is intended to work like a matchmaking service for wine, making it easy to buy wine you'll like. You receive regular shipments via the subscription, and you can buy additional wine appropriate for your preferences whenever you want. They've done a lot of work to make it easy to rate and buy wines on their website and in their app.
How does Palate Club work?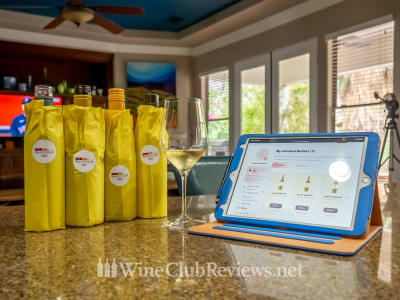 Palate Club uses an algorithm to match what they know about your wine preferences with the wine they have in their inventory. They gather information before your subscription begins in one of two ways: a wine tasting quiz or a blind tasting kit which you can order to begin your subscription.

For most customers, the blind tasting kit is the best way to start your experience. This is one of the key differentiators for Palate Club vs other personalized wine clubs is blind tasting.
Blind tasting has traditionally been relegated to testing the knowledge of Master Sommelier candidates (essentially a Master's Degree in wine) and party tricks. Its allure for the Master Somm types is that you can guess what's in the bottle.
For Palate Club, the idea is to curb our biases about different types of wine and get down to brass tacks — what do you actually like or dislike about that wine you're drinking. The best part is, you don't need to be able to describe what it is, you just need to tell Palate Club whether you like a wine or don't (and how much).
As you continue with the subscription, the blind tasting method continues. Each wine in your shipments arrive wrapped in tissue.
About the Blind Tasting Kit
Palate Club sends four half-bottles of wine to learn about your preferences — you can choose red wine or white wine if you tend to prefer one over the other, but if you like to drink both and plan to configure your subscription to receive both, I recommend buying both kits. The kits are $59 each, but below you'll find an offer to get the kit for free when you enroll in a subscription.
The wines come wrapped in tissue with an identification number for each wine (this is what makes it a blind taste test). You'll use their app or their website to rate the wines. This is a fun experience for novices and experienced drinkers alike.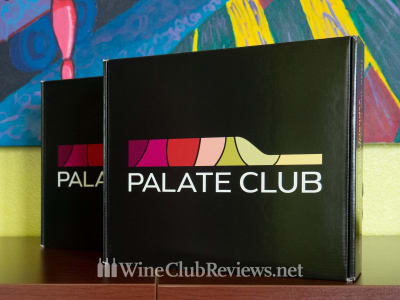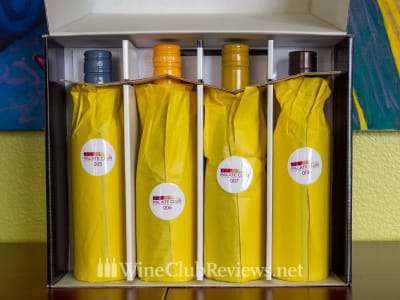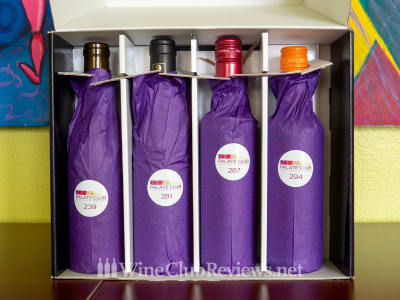 For the beginner, you'll taste wine with no preconceived notions of whether it's not cool to like a Merlot. The kit includes some "familiar" grapes and at least one you've probably never heard of. Tasting blind is definitely the best way to determine which wine characteristics you like if you don't already have the ability to identify specific wine characteristics that you like or don't like.
For more experienced wine lovers, the blind tasting isn't just a great way to challenge what you think you know about your wine preferences, it's also a way to test your knowledge of what's in the bottle. Every bottle in the subscription is shipped blind, so you'll get to enjoy this experience over and over again — just like those Master Sommelier candidates in the movies.
A note: the tasting kit is purposefully polarizing. You're not expected to like all of the wines in this kit. Palate Club's sommeliers choose "extreme" examples of important wine characteristics (like fruitiness, alcohol taste, acidity, and sweetness) to get the basics of your preferences.
About the Personalization Algorithm
When you rate a wine at Palate Club, it's based on a 5-star system and the stars have labels like "Not my style," and "I love it" so you can apply them more consistently. This information is adequate for their data science team to start building a profile for you. Over time they continue to evaluate which characteristics were held in common between the wines you liked and the wines you didn't in order to match you with new wines.
The matchmaking is presented in the form of a percentage. A good match is labeled as 80% or more (how well the algorithm thinks the wine should match your palate). The notion being that these are the wines most closely aligned with your palate profile.
As a wine beginner the information you get about what you like is incredibly useful to buying wine anywhere, not just at Palate Club. You'll learn, in the language of wine, what you like: low- or high-alcohol, types of tannins, medium- or heavy-bodied, fruity or earthy, oak-influenced, or sweet or dry wines. Even as an experienced wine drinker, you may not have a solid understanding of your preferences in each of these areas and this is a great way to build your knowledge.
Everyone's taste in wine is subjective. It's shaped by their previous wine experiences and their taste buds. As such, how well Palate Club learned my preferences after the four wines doesn't indicate how well they'll do for you.
I felt they understood my white wine preferences reasonably well, but my red wine profile missed the mark based on the four reds in the kit. For example, I don't generally like red wines with a lot of acidity, but my red wine profile calls it out as the most prominent aspect of my profile. It correctly understands that I like my red wine dry, fruity, and light on oak.
Most personalized wine clubs take at least a few shipments to start to have a solid idea of what you like. It's probable the accuracy of both profiles would improve as I taste more wine.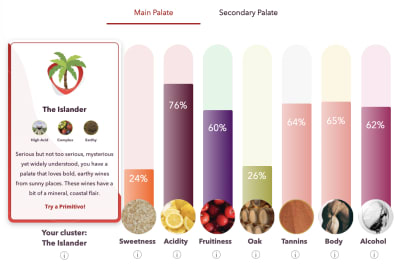 I asked Palate Club about my red wine profile. It was explained to me that the amount of acid my profile likes is "Medium Plus" (which seems accurate to me) even though the percentage shown to me seemed really high. This is an area where they could improve how they share profile information to be less confusing, especially since they seem to understand what I like.
For Skeptics & Super-Advanced Wine Drinkers: The Taste Matching Quiz
If you doubt the concept of a personalized algorithm selecting wine for you, there's a no-cost way for you to test Palate Club. Like most personalized wine clubs, they also offer a palate quiz as an entry point for their personalized wine subscription.
The Palate Club quiz, which I really like, gives you different questions if you are a wine beginner vs if you are knowledgeable about wine. This is important because some of the questions for the knowledgeable drinkers could be overwhelming to less-experienced wine lovers.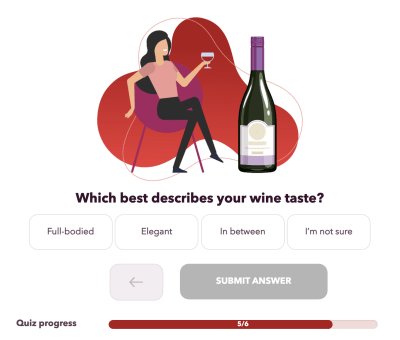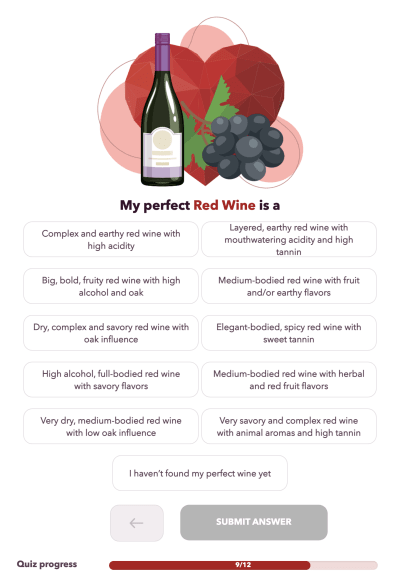 If you're impressed enough with the quiz results and decide you want to try their subscription you will receive a 20% off discount code via email to get you started.
For some experienced wine drinkers, I personally believe the quiz is a better way to start your subscription — you already know what you like, you don't need to spend money building a palate profile.
Subscription Details
After your tasting profile is set up, you'll start to receive regular shipments with full-sized bottles. You can have them delivered monthly, every other month, or quarterly, and you skip shipments at any time or set a specific future order date.
They are currently offering a great deal to get you to sign up: get a free tasting kit ($59 value) when you enroll in a subscription. Eligible subscriptions start with a 6-bottle shipment, and future minimum shipments are four bottles every three months. Get this deal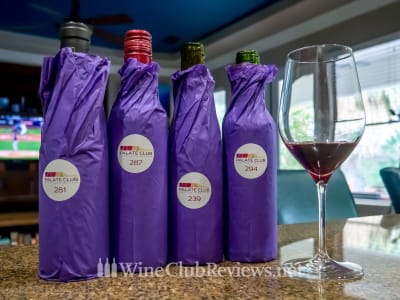 Since Palate Club chooses wines scientifically based on your palate, your subscription is configured separately for each red wine, white, sparkling (coming soon), and rosé (you can also limit yourself to just one of those). For each wine type you set:
How many bottles you want in your shipment (between 2 and 12)
Price range per bottle (from $10 to $100)
How experimental you want to be: choose wines closely fitting your profile, wines that are more discovery oriented, or a mix of the two.
I configured both my red and white wine subscription profile to send two bottles of each from $15-25 a bottle, with a balance between what I like and what I might discover.
About this Palate Club Review
The Palate Club is a relatively new wine subscription and so far I have reviewed two tasting kit shipments (one red wine and one white wine) and one shipment of four wines. I am still actively reviewing their service and most recently received a shipment in November of 2021. This review incorporates my Palate Club experiences and my experience with more than 100 other wine clubs.
Any wine subscription service is about more than just the wine and this review covers all aspects of the service. The key things I look for in a wine club are: How was the wine sourced? Is the wine selection personalized or curated? How often does it ship? How well does the company communicate about shipping and billing? Do they offer a satisfaction guarantee? Are the shipment sizes and wine selection flexible?
I also examine what kind of wine education they offer with their bottles and whether or not a service is set up for good gifting. These aspects are not core to a wine club being worthwhile, but they are important for many would-be members.
Palate Club Wine Review
My Palate Club Wine Ratings
| | |
| --- | --- |
| Quality of Wine | |
| Price of Wine | |
| Wine Curation | |
This review will only discuss/disclose the full-sized bottles I received. I don't want to divulge the kit contents because that ruins the nature of the blind tasting experience for you and other future subscribers. Suffice it to say, the kit wines were of good quality (as opposed to those in the kit from TastingRoom.com). It was fun to drink them and see if I could guess what was hiding under the tissue.
The wines below are the ones I received in my first shipment. Based on this shipment and the wines you can buy on their site, I'm relieved to see they're offering great quality wine. Because they offer such a broad range of wines from $10 to $100, there's an appropriately priced version of their club for everyone.
This is a good time to mention that if the Palate Club team sees a wine in inventory that's a much better match than your selected price range, they'll upgrade you to the better bottle at no extra cost to you. For a bottle that is automatically upgraded, the customer is charged the maximum of their configured price range. So if you set your subscription to $15-$25 bottles and they include a $35 bottle, you only pay $25 for it, and the $10 extra is on them.
Red Wine Review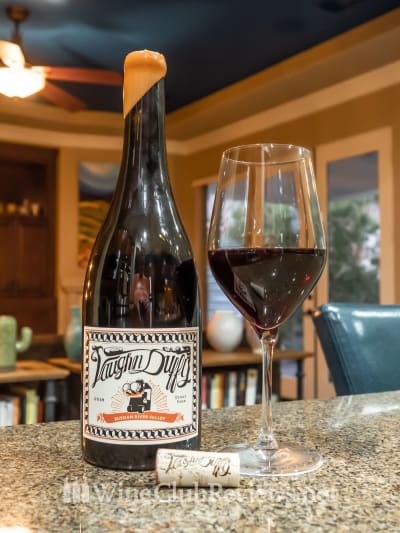 2018 Vaughn Duffy Pinot Noir
100% Pinot Noir
Appellation: Russian River Valley, Sonoma, California
This wine has received multiple 90+ ratings and the winery is beloved by critics and wine drinkers alike.
Palate Club's Tasting Notes: "Aromas of ripe red cherry, pomegranate, cola, sassafras, cremini mushroom, and crushed rocks. The palate is balanced and juicy with lots of ripe red cherry, strawberry, and cranberry notes, that lead into notes of overturned earth, dried mushroom, and black tea."
It's always fun to try new versions of grapes I love, but they sort of lost me in the earthiness, and I detected spiced notes that weren't mentioned in the above description.
I gave this wine 4 stars. I like my Pinot Noir fruity and I like cherry cola on the palate. The fruit wasn't as prevalent as I'd expect based on their tasting notes and there was more spice than I prefer.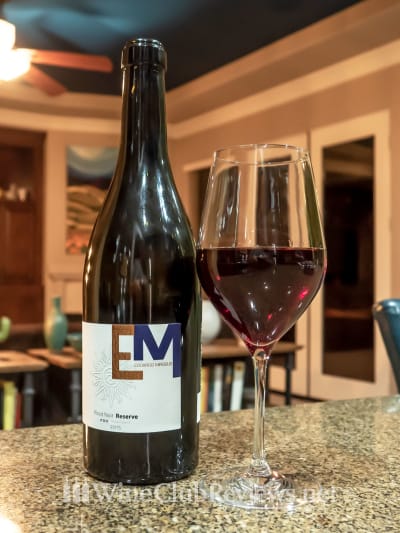 2015 Edoardo Miroglio Reserve
100% Pinot Nero (Noir)
Appellation: Nova Zagora, Thracian Valley, Bulgaria
I believe this is the first Bulgarian wine I've tried. Where most retailers don't carry wine from out of the way countries which produce wine, many wine clubs do and it's great to see Palate Club is one of them.
Palate Club's Tasting Notes: "Aromas of black cherry, cassis, and strawberry compote, that releases lavender, forest floor, and redwood bark while swirled in the glass. The palate is wildly layered, with soft but unctuous tannins, ripe red fruit notes, and earthy richness."
This reminded me of other cold-climate Pinot Noir I've tried (Germany comes to mind). It's a lighter-bodied style, not especially fruit-forward. A bit on the earthy side.
I gave this wine 3 stars. I found the wine lacked character. It wasn't flawed but it had limited fruit, limited body, and nothing especially enjoyable about it.
White Wine Review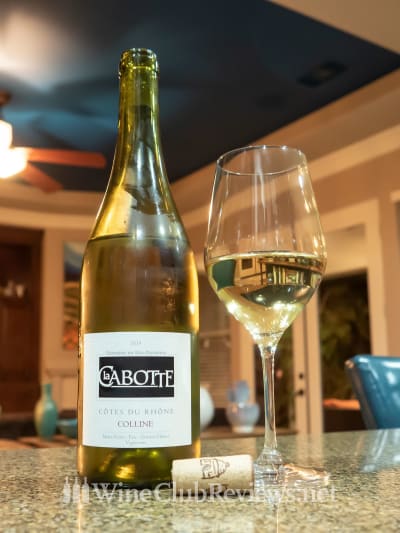 Domaine La Cabotte "Colline"
33% Grenache Blanc, 33% Clairette Blanc, 33% Viognier
Appellation: Côtes du Rhône, Rhône Valley, France
I was disappointed to see that Palate Club charges $21 for this wine when other retailers list it in the $13-15 range. I was also disappointed that they list the variety as Grenache Blanc even though it's equal parts Viognier and Clairette. At $13-15 this was a tremendous value — at $21 it holds up to some of the better Rhone white blends from central California.
Palate Club's Tasting Notes: "A nose that expresses aromas of summer fruit; white peach, apricot, and notes of fresh herbs such as chervil, chamomile. In the mouth it is straight, tight, and a little saline, expressing a beautiful minerality, with a rich, long, airy finish. It exhibits notes of ripe stone fruits and yellow apple, with an undertone of white flowers."
This wine was right up my alley. I gave this wine 5 stars. I loved all of the fruity aromatics and it was easy to drink (well balanced).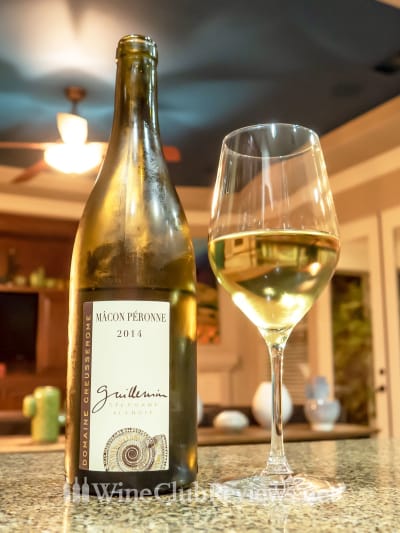 2014 Domaine Creusserome
100% Chardonnay
Appellation: Macon-Villages, Burgundy, France
This wine was a disappointment. Primarily, it seemed to me like it was past its prime. Unless specifically produced to age longer, most Chardonnay starts to lose its primary characteristics around the 5-year mark. At seven years, this one lacked character.
Palate Club's Tasting Notes: "Aromas of lemon, yellow apple, hay and white flowers. On the palate the wine is fresh and bright, with moderate body with a mineral focused finish."
I gave this wine 2 stars. The nose was nice, and at first the lemony nature went well with the shrimp dish I was eating, but it didn't take long before I felt like there just wasn't much happening with the wine, it wasn't bringing pleasure.
The Pros & Cons of Palate Club
The Pros
A more sophisticated wine matching algorithm than is used by some of the other personalized wine clubs
Better quality wine than is available at most personalized wine clubs — they buy wine from existing producers rather than produce wine under their own label for a particular price point
Highly customizable and flexible subscription options — change your bottle count and price point as your needs change
The blind tasting experience is unique and a good way not to let your biases stand in the way of your wine discovery
They have a sort of "free upgrade" program: if they have a wine in inventory that's a better match than your stated price range, they'll send you the better-matched wine and only charge you the maximum price in your configured price range.
They offer a limited satisfaction guarantee. For active members, if you receive a wine that was a good match (an 80% by their standards) and you don't like it, they'll replace that bottle with something else in your next shipment, for free.
My Palate Club
Benefits Ratings
| | |
| --- | --- |
| Satisfaction Guarantee | |
| Customer Service | |
| Wine Education | |
| Convenience | |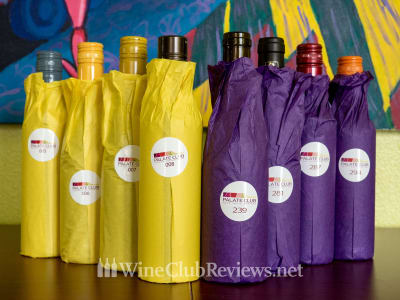 The Cons
Some of their white wine inventory is too old — I saw this both in the tasting kit and the full-sized bottles I received. My understanding is that this will be rectified in the new year (2022), but if you're a white wine lover who prefers fresh, young wine, you might want to wait a bit before signing up. If you are interested in lightly-aged white wine, this might be an opportunity rather than something to avoid.
I wasn't especially impressed with the red wine profile they came up with for me. It felt too much like my preferences weren't an option in their system (fruit forward red wines from California's Central Coast and Oregon). I love Rhone grapes, but only when grown in California, but all of the Rhone-related questions/inventory are French (which tend to be more spicy and less fruity).
Who should join Palate Club?
Palate Club is ideal for these kinds of wine drinkers:
Someone who is new to wine and isn't sure how to figure out what they like or don't like
Someone who likes wine but doesn't know how to describe what they like to a server or a store clerk
Someone who likes certain wines but doesn't know which other wines they might also like
While it shouldn't be a reason not to join, the blind tasting aspect of the club may not work for all wine lovers. If you are someone who pairs your wine with your meals, you'll want to unwrap those bottles to figure out what to pair them with. It shouldn't stop you from objectively rating the wines, but it might.
Palate Club as a Gift
Palate Club is perhaps my favorite personalized wine club for gifting. I love that you can send a wine experience (the blind tasting kit) to kickstart their subscription (as opposed to a gift card which is how all of the other personalized wine clubs handle gifts).

I also love that their gifting program is almost as flexible/customizable as their regular subscription. Choose to send just the kit, or add on any number of shipments. You can send a red wine kit, a white wine kit, or both. Gift subscriptions are monthly. The gift recipient will be notified by email of your gift, at a date of your choosing. You can include a custom message in the email they'll receive.
You can customize the subscription to have two, four, or six bottles per shipment and you can set the average price per bottle to $20, $30, or $50.
Note: While they give you a choice to send two bottles per shipment, I recommend sending four or more. Each shipment is a chance to rate wine and let the algorithm figure out your preferences. Since Palate Club needs at least four ratings, your gift recipient won't get the full benefit of personalization if you only send two bottles at a time.