VineBox Subscription Reviews
VineBox Review
In this review · What is VineBox? · Wine Review · Current Edition · Past Editions · 12 Nights of Wine · Membership Benefits · Gift Review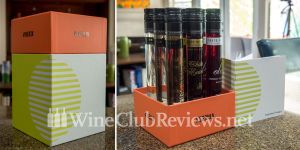 VineBox is a different kind of wine subscription service, perfect if you like exploring new wine, like tasting expensive wine, or tend to drink a glass at a time — calorie counters and weeknight drinkers, we got you. Each quarter you receive nine glasses (3.3 ounces) filled with perfectly-preserved premium wine.
We love the VineBox experience. The quality of the wine is exceptional, and all of the wine is selected by sommelier Tyler Kennedy. The packaging is a compact box containing glass tubes of wine. Except for the fact that you pour it yourself, it's like visiting a wine tasting room with a selective inventory of mostly European wines.
Note: More than a year ago VineBox switched from 3 glasses monthly to 9 glasses quarterly. The wine program is now themed and offers a more complete tasting experience.
VineBox now ships quarterly so you have more time to spread out the tasting experience, decide on your favorites, and then take advantage of the store credits which accompany each club shipment. If you really like what you tasted, you can buy full-size bottles of the wine (prices vary) or 3-12 more glasses (prices vary, shipping included on 6 or more glasses). You must be a logged-in member to do this, as the wine store is based on your order history.
The store credits work like this: $15 quarterly credit for subscription box customers who are billed quarterly; $30 quarterly credit for customers who are billed annually. That's up to $120 of free wine!