Bubbles & Rosé Wine Club Review
In this review · Overview · Wine Review · Membership Benefits · Gift Review
Vinley Market is a new wine box service whose mission is to make wine fun and relaxed. It's rare to think of a wine club as being for a particular gender, but by design Vinley Market appeals to women — their packaging and branding make Vinley Market an especially great choice for gifting for holidays like Mother's Day, Valentine's Day, birthdays, and anniversaries. In particular, the Bubbles & Rosé club really says feminine in an over-the-top way... something a lot of women really like.
The Bubbles & Rosé Club features, as its name suggests, a sparkling wine and a rosé wine each month — it's important to note: this is NOT white zinfandel. Some of the bubbly selections include favorites like Cava, Prosecco, or even Champagne. The selections we received were delightful examples of both types of wine for their price range and since we love both bubbly wines and rosé, we'd happily join this wine club ourselves.
Bubbles & Rosé Wine Review
Our Bubbles & Rosé
Wine Ratings
| | |
| --- | --- |
| Quality of Wine | |
| Price of Wine | |
| Wine Curation | |
Vinley Market is relying on their own wine industry knowledge and strategic partnerships with sommeliers to curate their wine selection. Their goals around curation are to find wines that over deliver and "are not basic." We don't typically put a lot of emphasis on curation methods in our ratings system.
We found the quality of the wine we received from Vinley Market's Bubbles & Rose Wine Club to be very good. We reserve superlatives for very high-end wine, which isn't what the Bubbles & Rosé wine club is about. These wines are a great way to bring in higher-quality (and more interesting) wines than what's available at your local grocery store. These are the kinds of wines you might find at your local wine shop, without the hassle of actually doing the shopping.
It's worth noting that our shipment contained a micro-production rosé (88 cases produced). The types of wines you get when a winemaker focuses on small-lot wines are quite different than large-production wines. You typically find more character in the way the is structured, more interesting flavor profiles. We drink a lot of rosé from the Santa Barbara area and this rosé was as good as any other boutique selection we've encountered. It was truly a hidden gem, and that's the sort of selection you want at $30/bottle (includes shipping).
As a bonus, our bubbly selection also happened to be a rosé. We happen to be big fans of sparkling rosé because it often brings a fruitier experience than a typical dry sparkling wine. This Cremant d'Alsace (Cremant is the Frenchh term for sparkling wines made in the Methode Champenoise but outside of the Champagne region itself). Again, a lovely wine at an appropriate price.
We feel the Bubbles & Rosé Club offers good quality wine at a fair price. By fair, we mean close to retail. Overall the price feels a little steep given that good sparkling wines and rosés often retail in the $14-16 range but the monthly shipments are $59 (includes shipping). The value of the wine club is hard to argue with given that this is the ONLY wine club on the market which always ships a rosé and is unique in a pairing of rosé with bubbly. A comparable Sparkling wine club costs $80 per shipment for three bottles.
Membership Benefits
Our Bubbles & Rosé
Membership Benefits Ratings
| | |
| --- | --- |
| Satisfaction Guarantee | |
| Customer Service | |
| Wine Education | |
| Convenience | |
The language used on the website doesn't earn a five-star Satisfaction Guarantee rating from us, but we asked the owner via email if she'll replace anything customer's don't like, if even if it's not technically flawed, and she said, "Yep, we will replace. We want them to love the wine that we send!"
Their Return Policy
"At Vinley Market, we want you to love the wine that you find on our site! However, under California law, our Vendors are not allowed to accept wine returns. If your wine is flawed or damaged please let us know so we can assist you in sending a new bottle or providing a credit.""
We look at three areas when evaluating the discount opportunities offered by a wine club. Is there an introductory offer to sweeten the deal? Are there discounts available for buying more of wines you loved in your shipments? Are there special discounts only available to members?
Vinley Market offers 10% off on your first shipment. You can get that deal from our site with promo code WCR2017.
Rather than specifically focus on reorders of wines from shipments, Vinley Market offers its members 10% on any wine purchases made, exclusing the shipments themselves.
Vinley Market offers the basic minimum of the conveniences a fully digital consumer wants. The most important of these conveniences are timely shipping notifications. According to the owner, customers are "...updated at each stage. When their credit cards are charged, when the box is ready for shipment, plus timely shipping updates with tracking as soon the wine club is shipped." We don't see the ability to skip or pause shipments online, but you can change your address and phone number via the website.
Vinley Market has found a balance in their wine education program. They tell you what you need to know, plus a little extra, without getting bogged down in information which distracts from enjoyment of the wine.
Bubbles & Rosé Gifts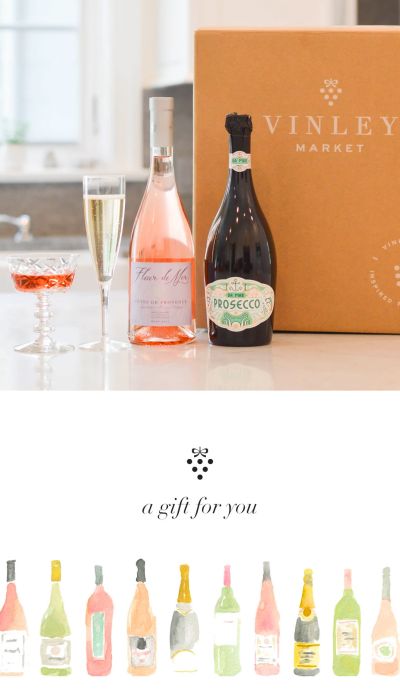 Particularly for women, we LOVE Vinley Market's Bubbles & Rosé Wine Club as a gift. The packaging and branding are polished and feminine, the wines are delightful and surprising, and since it's a woman-owned business, we're always happy to support the sisterhood. Please note: this white box with painted bottles is being phased out. The new box is still very lovely and makes for a nice gift presentation.