Picked by Wine.com Review
In this review · An Overview of Picked by Wine.com · How Picked Works · Picked Wine Review · Who Should Join? · Pros & Cons · Gift Review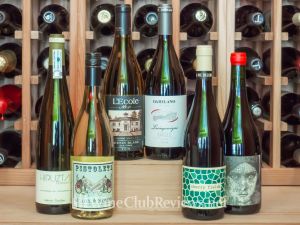 What is Picked by Wine.com?
Picked is a different kind of personalized wine subscription — one that relies on wine professionals to choose wines for each customer, rather than using an algorithm to figure it out. The wines are selected from Wine.com's inventory and you are billed the Wine.com price for each bottle in your shipment. Shipping is included but sales tax is extra where applicable. Pause, cancel, or update your subscription at any time.
This subscription is highly-flexible, allowing you to choose the frequency of shipments — monthly, every other month, or quarterly — set the precise mix of red and white wine, and set a preferred price per bottle by wine color.
Your shipment prices are variable based on your preferences and what the somm picks for you. Price options range from an average of $20 per bottle to an average of $40 per bottle. The cheapest subscription will be an average of $120 (ranging from $110-130 pre shipment).
To entice you to sign up, Wine.com has an introductory offer of $50 off your first order with code 50PICK.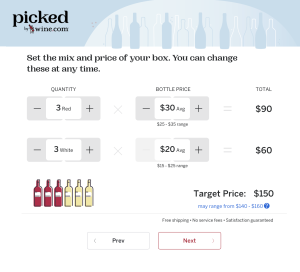 How does Picked Pick the Wine?
Like other personalized wine subscriptions, it all starts with a quiz. The results of your quiz then are handed off to one of Wine.com's personal sommeliers who will pick wines to suit your preferences. I submitted a fairly specific list of what I like to test their mettle. From my perspective, Picked is a dream club for Picky wine drinkers, so I really ought to test them!
I really like the quiz used by Picked because it meets you where you are rather than trying to shoehorn you into their idea of how to pick wines. It also assumes you know something about what you like, instead of asking you how you take your coffee, what kind of fruit you like, or what you drink when you're out of wine (which is what the other personalized wine subscriptions ask you about). Here are some questions from the Picked quiz:
Where are you in your wine journey? Your choices: Novice, Intermediate, Advanced
What types of wine would you like to receive? Your choices: Red only, White only, Both Red and White
How adventurous are you when it comes to wine? — Your choices: Not very, Somewhat, Very
You'll also get to choose specific grapes that you like, love, or could live without. After choosing all of your red and white wine grape preferences they provide a summary & give you the opportunity to be even more specific regarding wines they didn't explicitly ask you about. An example of this is pictured below (these were my preferences when I signed up).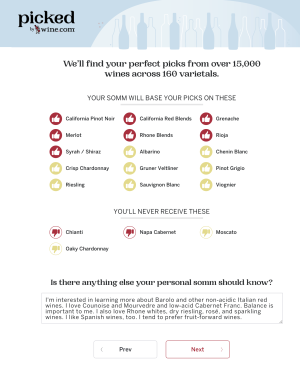 Later, after you received your wines, you can update your preferences on your Picked Settings page. Your somm will also see your ratings and the notes you write about any wines you choose to rate (both your Picks as well as other wines). They will then take all of that information into account when selecting your next round of Picks.
About this Picked by Wine.com Review
Picked by Wine.com is a new wine subscription and so far I have only reviewed one shipment of six wines. I am still actively reviewing their service and most recently received a shipment in May of 2021. This review incorporates my Picked by Wine.com experiences and my experience with more than 100 other wine clubs.
Any wine subscription service is about more than just the wine and this review covers all aspects of the service. The key things I look for in a wine club are: How was the wine sourced? Is the wine selection personalized or curated? How often does it ship? How well does the company communicate about shipping and billing? Do they offer a satisfaction guarantee? Are the shipment sizes and wine selection flexible?
I also examine what kind of wine education they offer with their bottles and whether or not a service is set up for good gifting. These aspects are not core to a wine club being worthwhile, but they are important for many would-be members.
Picked Wine Review
My Picked Wine Ratings
| | |
| --- | --- |
| Quality of Wine | |
| Price of Wine | |
| Wine Curation | |
Normally I assess wines I receive in a wine club shipment thinking not just about my own preferences, but also about how others would perceive these wines. In this case, because I "ordered" exactly the kinds of wine I'm interested in, this information might be less informative for you as an individual wine lover (and also because you will probably get a different personal sommelier than I did). Instead of straight up reviewing the wine, I discuss how the wines matched up with my expectations.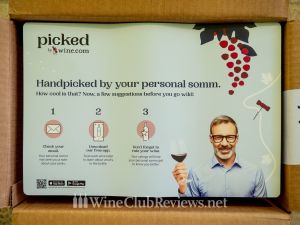 Here is the message accompanying the selections from my personal somm, Kasaundra:
"Since Damilano is one of the oldest wineries in Barolo, it's a great place to start your exploration of this bold and floral style. With notes of charred bbq and brandied cherries, the rustic Unico Zelo is perfect for a bit of adventure. And also a lovely example of how Australia tackles Dolcetto (an Italian grape known for it's lower acidity). Add some spritz to the menu with a classic Txakolina. Pair with lighter fair like oysters, sushi and tapas for a little taste of happy hour at home!"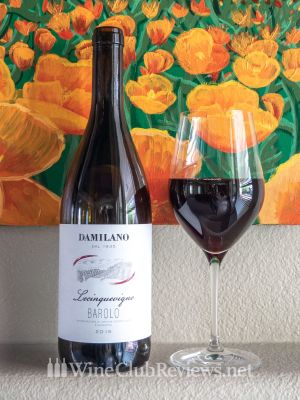 Damilano Barolo Lecinquevigne 2015
Nebbiolo from Barolo, Piedmont, Italy
Wine.com price: $39.99
Why I received this wine: I asked to explore Barolo and non-acidic Italian wine
Was it a good match? Having tried Barolo only once before, and loved it, I am excited to try more. This one did not meet my expectations as compared to my first Barolo. Consequently, I only gave it 3 out of 5 stars because to my palate it was quite acidic and lighter bodied than what I was expecting. I left helpful notes for Kausandra and am curious to see what future Barolos she may select for me.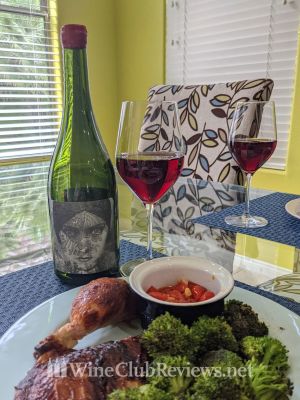 Ver Sacrum Gloria Garnacha 2017
Grenache from Uco Valley, Mendoza, Argentina
Wine.com price: $29.99
Why I received this wine: I indicated I like Grenache (Garnacha is Grenache in Spanish)
Was it a good match? Like the Barolo, this wine did not meet my expectations. I gave it 3.5 of 5 stars because it was interesting, but it was very bright, and seemed overpriced for wine from Argentina.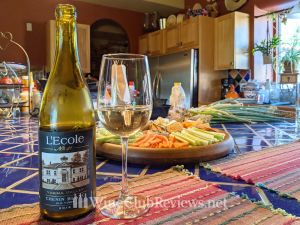 L'Ecole 41 Old Vines Chenin Blanc 2019
Chenin Blanc from Columbia Valley, Washington
Wine.com price: $15.99
Why I received this wine: I indicated I like Chenin Blanc
Was it a good match? I gave this wine 4 out of 5 stars. It wasn't as refined as some of the Chenin Blanc I've had from California wineries, but at $15.99 it is a great wine to know about — those California Chenins were in the $25-35 range.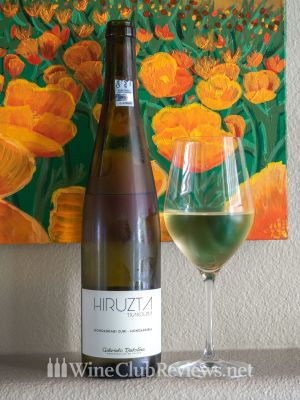 Hiruzta Txakoli 2019
White wine from Txakolina, Spain
Wine.com price: $19.99
Why I received this wine: I indicated I like Spanish wine and bright white wines
Was it a good match? Understanding my preferences in white wine, my personal sommelier wisely chose this Txakoli for me. I had heard of this region but I don't remember trying anything from the area before. I learned about a new (to me) grape, the Ondarrabi Zuri. I found the wine fairly innocuous without much character, but it was enjoyable and I gave it 4 out of 5 stars.

Unico Zelo Cherry Fields Dolcetto 2017
Dolcetto from Adelaide, South Australia, Australia
Wine.com price: $19.99
Why I received this wine: I asked to explore non-acidic Italian wine (I typically like Italian Dolcetto because it's not usually acidic, though this Dolcetto is from Australia — neat!) and that I tend to prefer fruit-forward wines
Was it a good match? I liked this wine and gave it 4 out of 5 stars. I found it very bright, almost like a Grenache. This isn't characteristic of the Italian Dolcettos I've tried, but that's why it's so fun to see how different grapes grow around the world.

Quady North Pistoleta 2018
Rhone white blend from Rogue Valley, Oregon
Wine.com price: $22.99
Why I received this wine: I indicated I like Rhone White Blends (a blend of white wine grapes from the Rhone Valley)
Was it a good match? This was an interesting wine for me (I gave it 4 out of 5 stars). It's pretty rare I open a bottle that doesn't get consumed on night one. It's even rarer that I don't have a vacuum-pump for preserving an open bottle, but alas both those conditions were true for this tasting. Which turned out to be a good thing. I found the wine tight and too Marsanne-forward on Day One. On Day Two the Marsanne backed off and the Viognier emerged which gave the wine a more balanced, fruity taste.
Why choose Picked by Wine.com?
Compared with other personalized wine subscriptions, Wine.com is offering something unique here. All of the other well-known personalized subscriptions require you to trust an algorithm to pick your wine from a pre-selected inventory of inexpensive wine. Wine.com's approach lets you set the budget and utilizes their industry-leading inventory of fine wine — 50,000 different wines from over 8,000 wineries — to fulfill your desires.
My Picked by Wine.com
Benefits Ratings
| | |
| --- | --- |
| Satisfaction Guarantee | |
| Customer Service | |
| Wine Education | |
| Convenience | |
Some perks that come Picked by Wine.com:
Shipping is free
There is no additional club markup on the wines beyond Wine.com's already-discounted prices
Their top-notch satisfaction guarantee is stated as "If any bottle misses the mark, we'll give you a full credit to apply to a new bottle." This means a credit on your next box.
Great feature: Get it shipped directly to a FedEx pickup location like your local Walgreens if home or office deliveries are inconvenient.
Seven days prior to selecting your future shipment, Wine.com will check in via email to make sure you're ready for the shipment. If you need to skip a box or pause your subscription, this is the perfect opportunity to do it.
I see three drawbacks to the Wine.com subscription service:
There's no option to choose rosé or sparkling wine (though they're slated for future updates)
You can get six bottles to a box, no more, no less
The maximum price per bottle you can set is $40 — this limits exploration of high-end wine
The biggest reason to join a wine club in general is that you're not required to do your own research to find great wine to drink at a great price. For people with the time, inclination, and knowledge, maybe that research is a fun undertaking. For most of us, having a trusted source of regular wine deliveries is a useful life hack.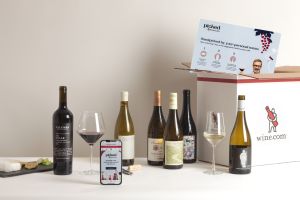 Who should join Picked by Wine.com?
Wine subscriptions are super popular among wine lovers, especially in areas where a diverse wine selection isn't readily available. They're also much loved among busy people who don't want to learn a lot about wine and just prefer to enjoy it.
Like some other personalized subscriptions that preceded this one, this Wine.com subscription is PERFECT for picky wine drinkers. You want a Malbec club? You've got it. You only like Sauvignon Blanc? No problem. Want to explore Napa Cab for a while? They've got you covered. Want to be earth-friendly? You can ask them to pick only organic or sustainable wines for you.
It's also a great wine club for novices. As you discover what you like, you can leave feedback for your personal sommelier to refine your selections, branch out into new areas, and feel more confident in your wine purchases in general.
Picked by Wine.com as a Gift
At this time I do not recommend giving Picked by Wine.com as a gift as they aren't offering a gift-recipient friendly option yet.