Bordeaux Wine Club Review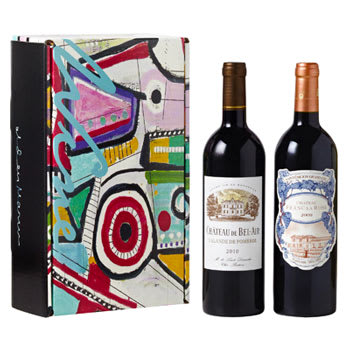 Wine Club Overview & Details
Wine Club Rating:
This wine club is...
Summary
Bordeaux is famous for huge price tags on their Premier Cru wines, but Bordeaux is a big region and there are many producers of less-expensive Bordeaux wines. This club focuses on these growers and ships every other month.
What I Like
Who doesn't love getting world-class Bordeaux wine at bargain prices? While Bordeaux often fetches upwards of $80 a bottle, these other Bordeaux wines delight at just $25 a bottle.
Improvements
I'd love to see this club delivered monthly and in larger quantities... two bottle just doesn't seem like enough! It is the perfect amount for a wine club gift, though...
Bordeaux Wine Club delivers to
AK AZ CA CO CT DC FL HI ID IL IA KS LA MA ME MN MO NE NJ NV NH NM NY NC ND OR PA SC TX VA VT WA WV WI WY
Don't see your state? Wine of the Month Club ® does not ship there. Browse wine clubs by state.
Join Bordeaux Wine Club
FYI: I find great wine deals so you don't have to. To keep me on the hunt, I earn a commission when you buy wine based on my recommendations.
Bordeaux Wine Club Review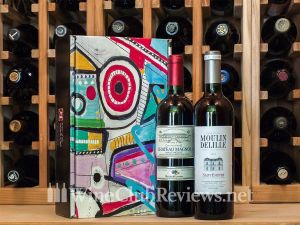 This is the wine of the month club that started it all—they literally invented the concept, over 40 years ago. They've got loyal members who are long time subscribers and Wine of the Month Club keeps their prices low to help keep these members in the fold.
There is no other wine club that we know of that works harder to be affordable than the Wine of the Month Club ®. Every aspect of their business is optimized to pass savings onto their customers, from shipping costs to the price paid for each case of wine they order, to their operations and facilities... it's all driving affordability.
Their Bordeaux Wine Club is part of a series of more recently developed clubs (the others are Napa, Bordeaux, Pinot Noir, Pure, and Sweet) that breathe new life into this traditional wine of the month club by bringing us trendy, as well as tried-and-true, wine niches for us to really sink our teeth into... or at least our tongues.
Delivered every other month, you can get two different bottles of Bordeaux reds or a combination of one Bordeaux red and one Bordeaux white.
Bordeaux Wine Review
My Bordeaux Series Wine Ratings
| | |
| --- | --- |
| Quality of Wine | |
| Price of Wine | |
| Wine Curation | |
Over the years we've tasted a lot of wine from The Wine of the Month Club and sometimes it's hit and miss because Paul is usually trying to deliver the best he can at low low prices. This Bordeaux Club has a higher-level of wine club and he has more room to maneuver, so he's aiming much higher. The quality is good for the price and the wines were very enjoyable.
Our first shipment of the Bordeaux Wine club featured two solid red blends that reflected the Bordeaux terroir and were more than worthy of their modest prices. So many wine clubs these days offer a red-only option (including this one) only to leave us disappointed with their red wines. Not so with this Bordeaux Wine Club which delivers on quality and price (and taste). Here's what we drank (and really enjoyed):
Chateau Magnol Cru Bourgeois Haut-Médoc. What that means: Cru Bourgeois means it's better quality than just plain old Bordeaux, Haut-Médoc means it's better quality than just Médoc, and it is a classic combination of 48% Merlot, 40% Cabernet Sauvignon, and 12% Cabernet Franc. Retail price: $25, Member price: $25, Member re-order price: $22.
Chateau Moulin Delille Saint-Estephe Bordeaux. Also Haut-Médoc, this classic Sainte-Estephe wine is 55% Cabernet Sauvignon and 55% Merlot. Retail price: $35, Member price: $25, Member re-order price: $23.
When compared with winery retail (what we typically compare wine club prices to), these Bordeaux wines were well-priced. When compared to other retailers currently offering these wines? Less so. To be fair, it's a minor difference and the additional cost lies in the overhead required to source those wines in the first place, and then guarantee them (something those other retailers do NOT do).
Membership Benefits
My Bordeaux Series
Benefits Ratings
| | |
| --- | --- |
| Satisfaction Guarantee | |
| Customer Service | |
| Wine Education | |
| Convenience | |
They offer a top-tier satisfaction guarantee. We love satisfaction guarantees because it's a major differentiator between buying from a wine club and buying from your local wine store or grocery store.
Their Guarantee
You never pay for a wine you do not like. If for any reason at all you don't think the wine is for you, call or email us and we will send you something you do like… no questions asked.
The Wine of the Month Club has an excellent customer service record. It's a big part of why they're so successful.
The Wine of the Month Club is a more old-fashioned company. If you need to hold your service for a vacation or want to cancel your membership you'll need to call and speak to someone during regular business hours. You can change your address and update your credit card online. They also make reordering easy from your account section.
We look at three areas when evaluating the discount opportunities offered by a wine club. Is there an introductory offer to sweeten the deal? Are there discounts available for buying more of wines you loved in your shipments? Are there special discounts only available to members?
The Wine of Month Club is big on deals. Their introductory offer, FOR GIFT ORDERS ONLY, includes a free wine accessory. For The Bordeaux Series at the time of review, the accessory is a Wine Explorer's Kit (vintage chart, pouring discs, and a great corkscrew).
Discounts on reorders are available and steeply marked down from the shipment price for the same bottle. This is a terrific deal if you liked the wine. The wines we received (sold for $25 each) were availabe for reorder at $20 and $22.
Lastly, they do offer special members-only deals. When they want to close out inventory, they'll mark it way down. We've seen Classic Series wines priced as low as $4.99 a bottle. We've also seen free shipping deals with some frequency. For members, these deals are a great way to a lot of wine at prices that are hard to find elsewhere.
Even more value! When you subscribe to The Wine of the Month Club, you'll also get access to members-only pricing on everything they carry in their Wine Shoppe.
The Tasting Room, The Wine of the Month Club's publication that goes out with their wine clubs, is chock full of information about the winemaking region and the winery, but a little light on info about the wine—our favorite element of their booklet? The drink-by date! This is an important data point that many wine clubs leave out.
Bordeaux Series Wine Gifts
If you're on the hunt for an affordable Bordeaux wine of the month club gift, this is your best bet. The gift packaging presentation is fun (and high quality) and the free wine accessory with every gift really adds to the fun for the recipient.