The Limited Series Wine Club Review
All-Around Wine Club Rating:
Summary
These are the highest level wines you can get in a membership from The Original Wine of the Month Club ™, generally well-made wines from well-known areas. At $25-30 a bottle, it's competitive with several other wine clubs on price, but the wines are little more "traditional" and not discovery oriented.
Wine Club Ships to
AK AZ CA CO CT DC FL HI ID IL IA KS LA MA ME MN MO NE NJ NV NH NM NY NC ND OR PA SC TX VA VT WA WV WI WY
What We Liked
Paul Kalemkiarian, second generation proprietor at Wine of the Month Club ™ goes out of his way to source interesting wines, and in this price point that can be a challenge, particularly in finding California wines. So he leans on an International selection to bring you better value in this price range.
Improvements
This is our favorite wine subscription from Wine of the Month Club, but we think the marketing text on their website is a little overhyped. Expect very good wines for these prices, but "Special Occasion" seems too generous of a description.
This Wine Club is No Longer Available
Limited Series Wine Club Review
In this review · Overview · Wine Review · Membership Benefits · Gift Review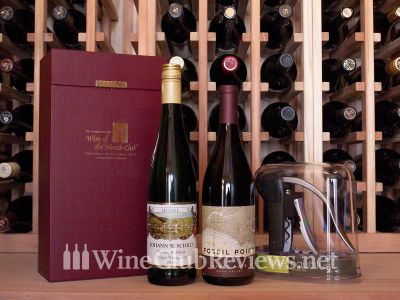 This is the wine of the month club that started it all—they literally invented the concept, over 40 years ago. They've got loyal members who are long time subscribers and Wine of the Month Club keeps their prices low to help keep these members in the fold. That's nice!
The corkscrew pictured above (and the burgundy-colored box) are included in the first shipment of a pre-paid 12-month Limited Series Gift. A 4-month pre-paid gift comes with a vacuum pump to seal wines that are opened but not finished, and a 6-month pre-paid gift comes with a 2-piece bamboo accessory kit.
The Limited Series represents The Wine of the Month Club's premium selections. The wines are good quality and selections you're unlikely to find at a grocery store, but will be available retail at stores other the winery. If you typically drink wine in the $12-16 price range, you'll enjoy the selections from this wine club, and especially the additional discounts membership gets you access to.
Limited Series Wine Review
Our Limited Series Wine Ratings
| | |
| --- | --- |
| Quality of Wine | |
| Price of Wine | |
| Wine Curation | |
Each month Paul Kalemkiaran, President and owner of The Wine of the Month Club, tastes over 400 wines to select the ones that make it into his club shipments. We've been lucky enough to participate in this Tuesday Tasting (sometimes it's even broadcast live on the Internet) and see Paul's process first-hand. The thing we took away from the experience was that he IS selective about the wines that go into the club shipments, but he gives the distributors a pretty narrow price window within which to operate, so the wines he's choosing among aren't the cream of the crop.
Over the years we've been reviewing The Wine of the Month Club, their Limited Series has been consistent. We wouldn't call these wines collectible, or even the best representation of the varietals and regions, or wineries for that matter, but you're getting good value on decent wines. We think this is a better quality wine than what you'd find at BevMo! if you plan on spending $20/bottle.
The price of these wines are (in our opinion) too high. It's not because the wine is expensive, but it's because the wines should be retailing around $12-16 a bottle, not $20.98. With all of the attention printed inserts (with advertising), fancy packaging, etc., you're paying for all the fluff, too.
Membership Benefits
Our Limited Series
Membership Benefits Ratings
| | |
| --- | --- |
| Satisfaction Guarantee | |
| Discounts | |
| Customer Service | |
| Wine Education | |
| Convenience | |
Satisfaction Guarantee. This is a top-tier satisfaction guarantee. We love satisfaction guarantees because it's a major differentiator between buying from a wine club and buying from your local wine store or grocery store.
"You never pay for a wine you do not like. If for any reason at all you don't think the wine is for you, call or email us and we will send you something you do like… no questions asked."
Customer Service Record. The Wine of the Month Club has an excellent customer service record. It's a big part of why they're so successful.
Discount Opportunities. We look at three areas when evaluating the discount opportunities offered by a wine club. Is there an introductory offer to sweeten the deal? Are there discounts available for buying more of wines you loved in your shipments? Are there special discounts only available to members?
The Wine of Month Club is big on deals. The Limited Series has an introductory offer on it, definitely increasing the overall value of the club. If you join as an ongoing member, your first shipment is just $9.98 and you can add a 3rd bottle to your shipment for just a penny more.
Discounts on reorders are available and steeply marked down from the shipment price for the same bottle. This is a terrific deal if you liked the wine. The member guide shows the 2012 Fossil Point Pinot Noir retails for $26.99 (we don't believe this is accurate), the member price is $20.98 (that's what you pay in the shipment), and the reorder price is $15.99 (about what the wine is really worth).
Lastly, they do offer special members-only deals. When they want to close out inventory, they'll mark it way down. We've seen Limited Series wines priced as low as $10.99 a bottle. We've also seen free shipping deals with some frequency. For members, these deals are a great way to a lot of wine at prices that are hard to find elsewhere.
Even more value! When you subscribe to The Wine of the Month Club, you'll also get access to members-only pricing on everything they carry in their Wine Shoppe.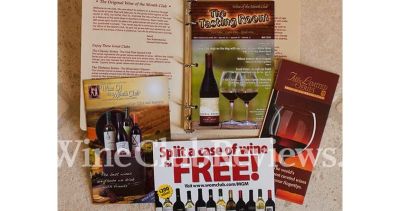 Wine Education. The Tasting Room, The Wine of the Month Club's publication that goes out with their wine clubs, is chock full of information about the winemaking region and the winery, but a little light on info about the wine—our favorite element of their booklet? The drink-by date! This is an important data point that many wine clubs leave out.
Convenience. The Wine of the Month Club is a more old-fashioned company. If you need to hold your service for a vacation or want to cancel your membership you'll need to call and speak to someone during regular business hours. You can change your address and update your credit card online. They also make reordering easy from your account section.
Limited Series Wine Gifts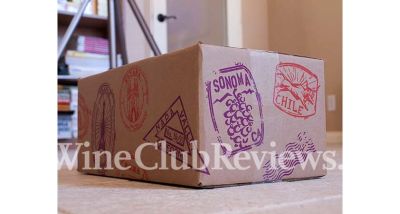 If you're on the hunt for an affordable wine of the month club gift for someone who is into wine, this is a good choice. The gift packaging presentation is impressive and the free wine accessory with every gift really adds to the fun for the recipient.
Other delight-generating aspects of The Wine of the Month Club are the charming custom shipping box and the heavy-duty binder to hold all of the recipient's tasting notes.
Note: The gift shipment costs more than the regular shipment.