Our wine club reviews help you pick the best wine of the month club for you!
Top 5 Best Wine Clubs

We've hand-selected these wine clubs for you because: They exceed our expectations as compared to similar wine clubs; They offer better value or a better selection of wines than similar wine of the month clubs; Our readers prefer these to similar clubs.
---
See the Top 5 Best Wine Clubs
Also
All Wine Club Reviews
Best Wine Club Gifts

A monthly wine club makes for a wonderful gift, for any type of wine lover. If your recipient drinks occasionally, or is someone you don't know really well, you'll find this selection of best wine club gift reviews a perfect place to shop.
---
See the Best Wine Club Gifts
Also
Wine Club Gift Reviews
Best Red Wine Club Gifts

You must really like some lucky wine drinker if you're on the hunt for the best red wine club gift! Most wine clubs offer "red wine only" versions of their month clubs, but this list of red wine gifts also includes special wine clubs that always ship only red wine.
---
See the Best Red Wine Club Gifts
Also
Wine Club Gift Reviews
Editor's Picks

In addition to the selection of best wine clubs based on general consumer preferences and what our readers like, we've gone ahead and cherry-picked the monthly wine clubs we'd most likely join if we weren't getting the subscriptions for free.
---
See the Editor's Picks
Also
Wine Club Gift Reviews
Best Corporate Wine Gifts
Only the best wine gifts will properly impress your clients and reward your employees! These wine club gifts are the perfect corporate or business wine gifts and the companies offering them go out of their way to make you look like a hero when you give wine!
---
See the Best Corporate Wine Gifts
Also
Wine Club Gift Reviews
People's Choice Wine Clubs 2014

Every November we take a look back at the year's customer favorites. We find out which wine clubs were most preferred by customers in the previous calendar year. These were the favorite wine clubs of 2014.
---
See the People's Choice Wine Clubs 2014
Also
Wine Club Gift Reviews
Wine Club Gifts
---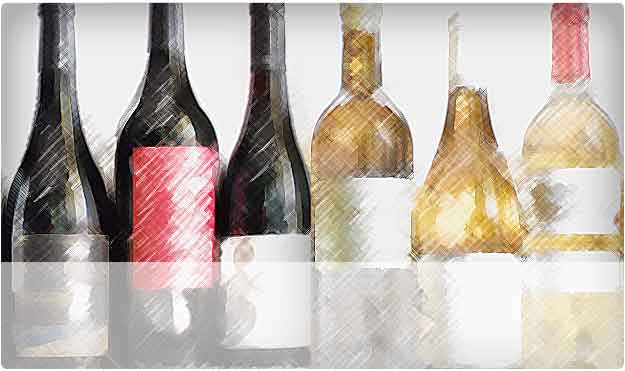 The excitement of a monthly wine delivery, elaborate newsletters with recipes for food pairings and educational articles, and boutique wines will delight any wine drinker.
Wine of the month clubs make excellent gifts for any type of wine drinker.
» Shop all of our Wine Club Gifts
» Shop our Best Wine Club Gifts
Wine Gift Baskets
---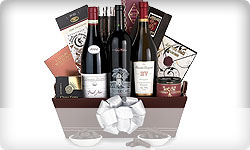 Say Thank You or Congratulations or Happy Birthday! Wine basket gifts come with snacks and special bottles of wine to show how much you care. We've hand-picked the best ones for you.
Wine basket gifts are a great way to help celebrate any occasion.
» Shop all of our Wine Basket Gifts
Wine Gift Sets
---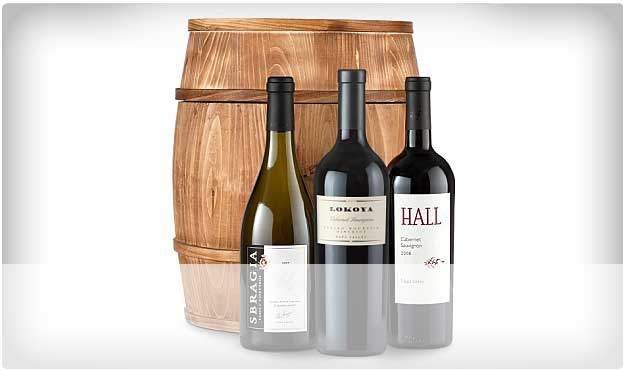 If you're buying a gift for a wine lover we highly recommend exploring wine gift sets. These hand-picked sets come with 2-4 bottles, in unusual packaging, with high-end accessories, or just really great wines.
Wine gift sets are the ideal gifts for the wine enthusiasts in your life.
» Shop all of our Wine Gift Sets
Did you know?
Shipping wine is complicated!
---
If you live in one of the alcohol-friendly states, it probably never occurred to you that we have some arcane shipping laws in this country when it comes to alcohol. This makes purchasing a wine club as a gift, or even for yourself, just a teeny bit more challenging.
FedEx will ship wine clubs to the green states in the map, IF the wine club has a license to do so in that state. Those purple states are mostly off limits to FedEx, but other shippers might be able to send wine to them. See how this gets complicated quickly?
But never fear! WineClubReviews is here! We've organized the wine clubs we've reviewed into handy "ship to state" pages, so you can send your wine to Maryland, Pennsylvania, and even Utah (well, maybe not Utah).
» Ship wine to Georgia
» Ship wine to Maryland
» Ship wine to Massachusetts
» Ship wine to New Jersey
» Ship wine to Pennsylvania
» Ship wine to Texas

If your state isn't listed above, you can still refine your shopping experience on our site to only see wine clubs that will ship to your state by following this link:

» The Full List of States to Ship Wine

Our Latest Wine Club Reviews
---

Updated & Published February 24, 2015
We've been big fans of the inClub by Invino for a long time. This is the only wine club where you can customize your shipments by preference—any preference of region, grape, style—and pay discounted prices on top of that. The totally customized club can be a little offputting at the beginning, but becomes a dream after a few shipments. So, to help get you started, we worked with Invino to develop several pre-made clubs that you can still customize to your palate's content. Check out this list of amazing clubs: French Wine Club, Bordeaux Wine Club, Burgundy Wine Club, Italian Wine Club, Spanish Wine Club, Australia & New Zealand Wine Club, Sonoma Wine Club, Napa Wine Club, Cabernet Sauvignon Wine Club, Pinot Noir Wine Club, Champagne Club, Rose Wine Club, Aromatic White Wines Club, and Dessert Wine & Sweet Wine Club
---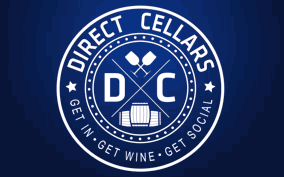 Published November 25, 2014
A brand new wine club with a distinctive offer for its members—get rewarded for referrals with free shipments, shipping is always free, and case reorders are delivered at just above wholesale cost. Taking the hassle out of, and injecting extraordinary value into the wine-buying process.
---
Updated November 11, 2014
After years of reviewing Gold Medal wine club, we took another look. We're still just as blown away by their consistency in quality, pricing, and customer service. Check out our fully updated reviews and the newest review: The Garagiste Series
---

Published November 9, 2014
Global Wine Cellars—the company that private-labels the wine clubs for major brands like Food & Wine Magazine Wine Club, New York Times Wine Club, and the Michael Mina Wine Club —just released their own three-bottle wine club, The Getaway. Same great curation as the six-bottle club, half the price!
---

Published July 26, 2014
Get ready to have your socks knocked off. Le Metro Wine—an up-start wine company made up of creative collaborators based in San Diego—has come up with a wine "club" concept for the oenophile and the art-lover... really for anyone with and adventurous spirit.
---

Published July 26, 2014
Plonk is at it again! Recognizing that there just aren't that many great wine clubs for adventurous wine drinkers, and understanding that some of us, ahem, drink more than others, has launched their 12-bottle Case Club! Same great wines as their original 4-bottle club, but get 3x as many in each shipment and save a little extra dough for buying a bigger quantity.
---
Published May 18, 2014
Forbes got in the game by asking personalized wine club powerhouse Tasting Room by Lot18 for a private label version of their successful quarterly wine club. We'd be remiss if we didn't include their awesomeness alongside that of Tasting Room.
---

Updated May 9, 2014
The WSJWine Wine Club has added a new introductory offer to their line-up, but it's just for you! Well, you and any other WineClubReviews.net visitors! We've got an exclusive on a Gold Medal Reds "case" (15 wines) chock-full of premium red wines, compared to their normal assortment, that carry that special Gold Medal label.
What kind of wine club buyer are you?
---
---
Coming soon to WineClubReviews.net!
---
About WineClubReviews.net
---
We bet you already know what we do... yep you guessed it, we review wine clubs. We do this to help wine-lovers find the best wine club for themselves or as a gift, all in the name of enjoying drinking wine on any budget.
Our wine club reviews consist of several steps to ensure the wine clubs we have on the site are well-vetted. These wine club review steps include:
Check Out the Wines: We review the wines each wine club has sent in the past (as shown on their own website or, if needed, as requested via email). We verify awards and points, as well as size of production, and we evaluate Quality-to-Price Ratio (QPR). Whenever possible we receive shipments from the wine clubs to keep a trained eye on the quality, too.
Scout the Deals: We look to see what kinds of discounts and perks the wine clubs offer their members. Some wine clubs have introductory offers or provide free-shipping so we want to know about that, too.
Check for Customization: Many wine clubs offer great flexibility in the selection of wine color, frequency of shipping, and payment methods. We use this bend-over-backwards information to help us rate wine clubs.
Read the Fine Print: We check all marketing copy, customer service information, FAQ pages, and return policies. When we find holes in the information, we contact the wine clubs to make sure we know what they will do for their customers and what they won't.
Our New Wine Club Ratings System
---
We are very pleased to announce our all new wine club ratings system here at WineClubReviews.net.
We carefully considered how the wine club marketplace has changed over the last several years, and wanted to answer the question, "How can we be most useful in helping wine lovers and wine gifters choose the best wine club for them each and every time?"
We came to the conclusion that our old ratings system wasn't getting the job done.
A Recap of the Old System
In our old system, we presented ratings from two different methods of measuring wine clubs as the same—we rated wine clubs with wines under $30 one way, and wines over $30 another way. We also treated Free Shipping as something extra special (when it's really not) and didn't focus enough on what types of wines were being sent.
The Challenge to Reinvent the System
So many new wine clubs have come on the market, offering personalization and conveniences like shipping notifications and online account management, that we felt we really needed to rethink how we were rating clubs. Instead of creating a ratings system based entirely on comparing wine clubs to each other, we wanted to address the ways in which wine clubs are often a better way to buy wine than the myriad ways we do today.