It has always been true that the best way to learn about wine is to taste it — as broadly and as often as possible. The hallmarks of a good wine tasting are: wines suitable for comparison, a knowledgeable oenophile leading the way, and your own thirst for learning more about wine.
Whatever your preferred venue for tasting was before the pandemic, your options are limited by social-distancing concerns these days. Being a creative bunch, the wine world has adapted to COVID-19 as best it can, by moving the wine tasting experience online — a task the Internet is well-suited to.
FYI: I find great wine deals so you don't have to. To keep me on the hunt, I earn a commission when you buy wine based on my recommendations.
As avid wine tasting adventurers, my husband and I always look forward to our in-person journeys to wineries (for us, that's mostly Paso Robles and Santa Barbara County).
Wine-soaked trips down winding roads dappled with sun streaming through native oak trees is a cure for all that ails us. At least some of the experience translates well to the Internet — carefully selected wines, curated for learning specific wine lessons, and a guide to help us interpret what we're tasting.
Who offers online wine tasting?
Many many wineries have started doing online wine tastings for their wine club members and interested wine lovers. This is a great way for us to learn about a winery's new releases since we can't be there to try them in person.
The tourism boards of wine regions, wine conference organizers, wine magazines, and wine stores are also offering virtual wine tastings during COVID-19. There is almost no excuse, if you're a wine lover, not to try one of these online tastings — even if you only just watch and listen.
Have a favorite winery? Help support American wineries during these trying times — visit your favorite winery's website and see what they're offering in the way of virtual tastings. You'll be glad you did.
How are wine tastings conducted online?
Online wine tastings can be broken down into three kinds:
Public wine tastings that are held live, like webinars or Zoom calls.
Private and Group wine tastings that are held live, like webinars or Zoom calls.
Tastings that are pre-recorded and available on demand via YouTube or other services.
You are in control of your wine tasting experience — this means you should prepare adequately for it. If you'll be drinking along, here are some tips for having a great at-home wine tasting experience.
Order the wine so it is delivered at least 7 days before the tasting (if you can). Wine gets bumped around during shipping and can taste off for a few days after it arrives. You also want to give it a chance to reach the proper temperature.
If you're drinking a wine that should be decanted — specifically young reds and full-bodied whites — open the wine and decant it 30-60 minutes before your schedule tasting will begin.
If you have enough wine glasses, prepare one glass for each wine you'll be tasting, per person. I recommend pouring the wine before the tasting begins, too.
Set up shop somewhere comfortable, make the lighting nice, have some appropriately paired snacks on hand (or simple crackers) to enhance the experience.
Here's my best tip for wine tasting at home: buy a Coravin. Coravin is a wine preservation system that is overkill for a lot of home wine drinkers, but is the perfect tool to help you enjoy wine tasting at home.
If you buy a tasting experience, you'll want to open and taste all of the bottles that come with the experience, but you know you're not going to drink three or more bottles of wine in one night. This is where the Coravin comes in. You can access each bottle to pour enough to taste along with the experts, but save the rest of the bottle for a time when you want to drink more of it.
These are my two recommendations for which Coravin to buy for wine tasting at home:
Coravin Pivot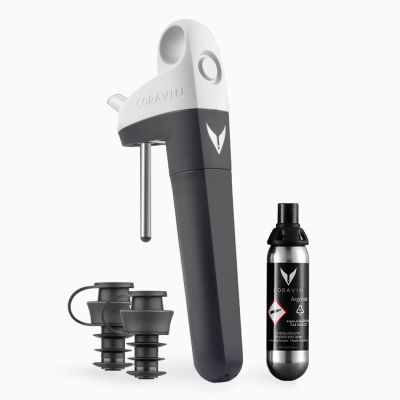 Buy it for $99.00
Brand new and affordable, this is the easiest to use Coravin yet. There's no needle and you can use it to access any kind of wine bottle (screw caps, plastic corks, all of it — except sparkling wine). The Coravin Pivot allows you to preserve a bottle in its near-original state for a few weeks. Even better: Coravin says this new model is 30% more efficient with the argon gas.
Coravin Model Eleven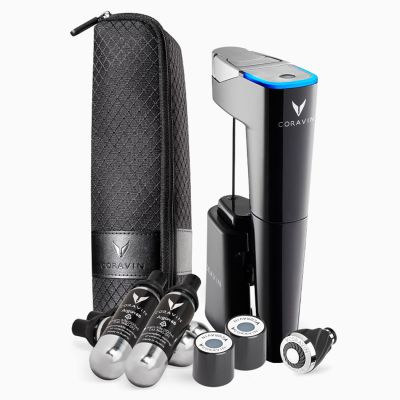 Buy it for $499.95
The Model Eleven from Coravin is their first electronic version. Typically I avoid electronic wine gadgets, but this one is perfect for serious wine drinkers who want to check on their cellared wines from time to time (or organize their own wine tastings). Best feature: it regulates the use of its Argon gas for you and tells you when it's time replace the capsule.
Need more info about Coravin wine preservation? Read my Useful Wine Guide to everything there is to know about buying a Coravin.
Live Wine Tasting Events for the Public
One-time tastings can be held like large in-person events — you pre-register and order your wines in advance to taste along with the group leader and other attendees. These events are often led by winemakers, winery owners, sommeliers, and other knowledgeable wine industry professionals. As some wineries don't employ particularly knowledgeable tasting room staff, this is one way in which online wine tastings are superior to in-person tasting.
Here are upcoming virtual tastings we think you should know about!
We don't not know of any currently scheduled live virtual tastings. We post good events here as they come up.
Private Live Wine Tasting Events
An alternative form of one-time wine tastings is "by appointment only." Many exclusive and high-end wineries only offer wine tastings by appointment during normal times; during COVID-19 any wineries fortunate enough to stay open have mostly conducted in-person and virtual tastings by appointment. The online analog to this experience is to buy wine from a company which includes a free, professionally-led, live wine tasting that can be scheduled at your convenience and include several people (make it a party!) or just you.
Here are companies where you can buy wine and schedule personal online wine tastings.
In Good Taste
This wine store offers 6oz pours of different wines and full-size bottles are available to purchase more of what you love. They have two tasting kits available right now (details below). You can either join a public tasting event with your kit or, if you can organize a group (you must order at least 6 kits), you can have private tasting just for you and your friends.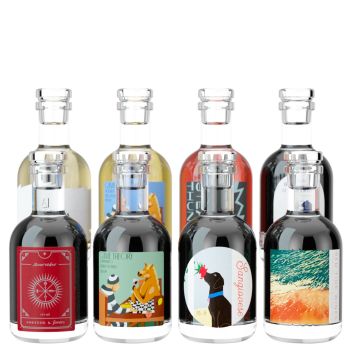 Shop In Good Taste
Their Wild Child flight contains eight bottles from around California including a mix of red, white, and rosé. Grapes as diverse as Dolcetto and Viognier represent regions from Russian River Valley to Napa Valley to Paso Robles and beyond.
Their newest flight is called "United Grapes of America" and is the first time we've seen a company purposely show off some of the country's lesser-known regions — New York, Texas, Virginia, and Arizona show up alongside Washington, Oregon, and California. Too bad they missed out on Idaho!
Yahyn.com
Yahyn is a wine-buying platform like Vivino, a terrific selection of premium wineries list their wine on the site for sale. Your wine will come from different stores and wineries, not all from one warehouse. What sets them apart from Vivino is their Virtual Tastings program. You can order one shipment of wine (no need to get your friends involved) and schedule a private tasting.
J. Cage Cellars focuses mostly on Pinot Noir from various Sonoma County AVAs. They offer these four wine tasting experiences via Yahyn. All prices include wine and hosted tasting event.
All Four Red Taste the unique differences in terrior in three Single-Vineyard Pinot Noirs plus the Craftsman's Proprietary Red Blend. $185 at Yahyn.com.
Four Mixed Experience the diversity of J. Cage with a virtual tasting of these four wines: Dry Rosé of Pinot Noir, Chardonnay, Pinot Noir, and Craftsman's Red Blend. $157 at Yahyn.com.
Pinot Exploration An of Pinot Noir across the myriad terroir of Sonoma County. All three J. Cage Gold Medal 2017 Single Vineyard Pinot Noir. $147 at Yahyn.com.
Three's Company An introduction to the hand-crafted wines of J. Cage Cellars. Enjoy: single-vineyard Chardonnay, single-vineyard Pinot Noir, and their Craftsman's Red Blend. $122 at Yahyn.com.
Skipstone "Cult" California Discover how Skipstone has built their amazing reputation by sampling these wines: 2018 Skipstone Viognier, 2018 Skipstone Preface Proprietary Red, 2016 Skipstone Oliver's Blend. $299 at Yahyn.com.
Priority Wine Pass (Winery Tastings)
If you want to try a wine tasting with a winery, Priority Wine Pass has made it super easy to find a suitable tasting for you. You'll tell them how much you want to spend on the wine and which state it will be shipped to, and they'll show you a selection of wineries to choose from.
Note: These are intended to be group experiences with at least two tasting groups … so you'll need to find friends who also want to taste with you online. It's really fun to get your friends together for online wine tastings!
Browse Priority Wine Pass Virtual Tastings by the states you'll need to ship wine to and how much you want to spend per household on the wine itself (the tasting events are included).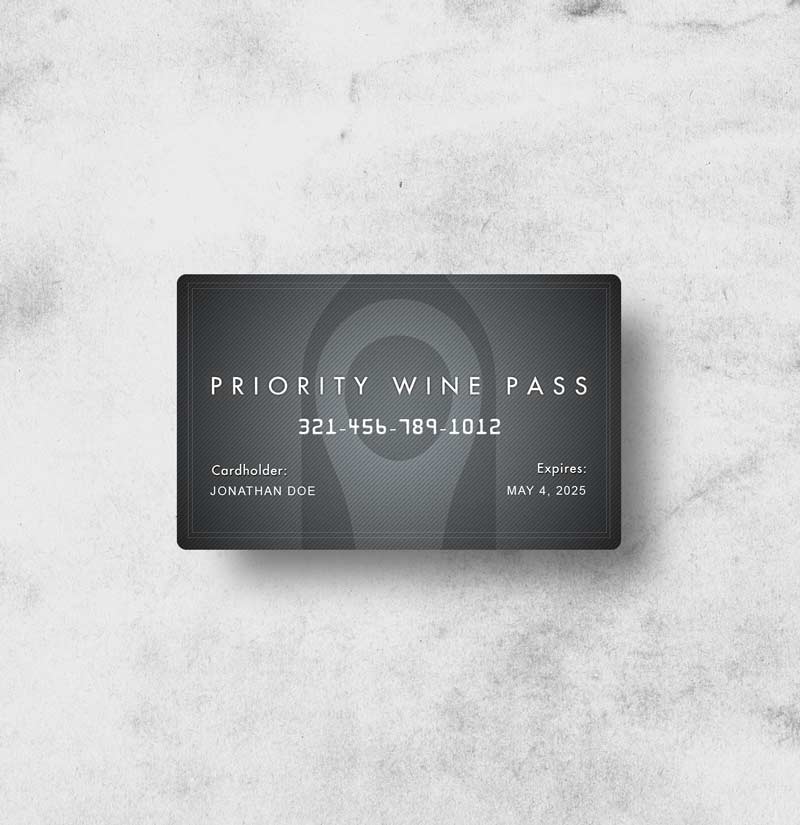 Still going wine tasting in person? We're so jelly. Priority Wine Pass offers discounted wine tastings at hundreds of wineries all over California and Oregon. Passes are good for 365 ($59.99), 30 ($49.99), or 3 days ($39.99) and can be used an unlimited number of times. Discover Priority Wine Pass
On-Demand Wine Tasting Videos
Sometimes large, one-time tastings are recorded so they can be viewed on demand. They're incredibly useful if you're not available when a tasting is conducted live.
Some wine clubs do a great job of offering on-demand wine tasting online — Roscioli Italian Wine Club and Wine Access come to mind as exceptional sources for wine education tied to a specific bottle of wine. These videos include background about the wines and wineries, in addition to a discussion while tasting the wine.
Wine.com has invested a lot of time in creating wine tasting events and recording them for future viewing. Here is a selection to shop and taste:
Vine to Bar Wine & Chocolate Pairing
Vine to Bar is the world's first dark chocolate made with Chardonnay marc. Marc is a term that describes gently-pressed Chardonnay grapes harvested right after juicing, which are then dried, and milled. The Vine to Bar Chocolate Gift Box includes four flavors (enumerated in the next paragraph).
Wine.com has paired this chocolate with La Crema Pinot Noir Rosé (paired with the Almonds with Pink Himalayan Salt), Hartford Court Russian River Pinot Noir (paired with the Tart Cherry & Cocoa Nibs), and Murphy-Goode's Liar's Dice Zinfandel (paired with Dark Chocolate and Chardonnay Smoked Salt & Cocoa Nibs). They've also produced a tasting video to describe the pairing.
Masters of Wine Tasting Set
The Master of Wine (MW) qualification is regarded as the highest standard of professional knowledge in the wine industry. There are only 394 Masters of Wine in the world, and Wine.com has brought three of them together — Tim Marson, Bree Stock and Peter Marks. The masters discuss the journey of attaining this status and taste three classic wines: L'Ermitage sparkling wine from Roederer Estate, Querciabella Chianti Classico, and Marques de Murrieta Rioja Reserva.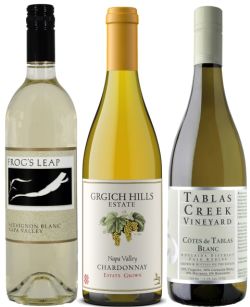 Buy it for $89.99
California Green Tasting Trio
Three of California's best organic and biodynamic wineries are represented in this excellent white wine tasting, which includes: Frog's Leap Napa Valley Sauvignon Blanc, Grgich Hills Estate Chardonnay, and Tablas Creek Cotes de Tablas Blanc (one of my personal favorite wineries and wines). Not sure what it means when a wine is organic or biodynamic, I explain it all in my Useful Guide to Organic Wine.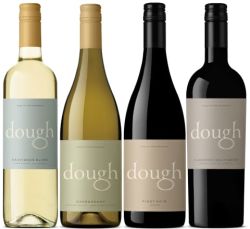 Buy it for $69.99
Dough for the James Beard Foundation
Three of California's best organic and biodynamic wineries are represented in this excellent white wine tasting, which includes: Frog's Leap Napa Valley Sauvignon Blanc, Grgich Hills Estate Chardonnay, and Tablas Creek Cotes de Tablas Blanc (one of my personal favorite wineries and wines). Not sure what it means when a wine is organic or biodynamic, I explain it all in my Useful Guide to Organic Wine.
Icons of Australia
Australia produces an incredibly diverse array of wines from 100+ grape varieties and 18 wine regions. This tasting from Wine.com explores iconic selections from Eden Valley (a Riesling from Pewsey Vale), McLaren Vale (a Shiraz from d'Arenberg), and Barossa Valley (a Grenache-dominant red blend from Torbreck). Join the winemakers for a tour of South Australia wine country.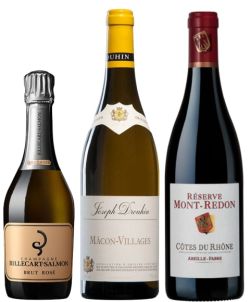 Buy it for $79.99
Windows on France Tasting
Who better to lead a tour of French wine than Kevin Zraly, a world famous wine author and educator. Zraly has handpicked three terrific samples to introduce you to the essence of French winemaking: Billecart-Salmon Brut Rosé Champagne (half bottle), Joseph Drouhin Mâcon-Villages (Burgundy), and Château Mont-Redon Côtes du Rhône Réserve (Rhône).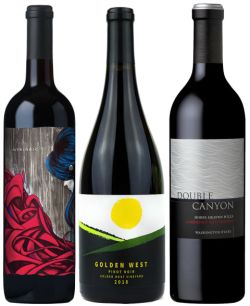 Buy it for $59.99
Washington State Winemaking Wizards: 90+ Point Wines
Washington state produces more wine than any other state except California. Most of what we see in California of Washington wine are red blends and riesling, but like most other wine regions in the new world, Washington produces a huge array of wines from its 13 wine regions.
The Washington State tasting from wine.com brings together the winemakers of three highly-rated wines: Golden West Pinot Noir from Charles Smith (93 points from James Suckling and 91 points from Jeb Dunnuck), Horse Heaven Hills Cabernet Sauvignon from Double Canyon (92 points from Decanter and 91 points from James Suckling), and and the 2017 Red Blend from Intrinsic (93 points from James Suckling).
Buy it for $239.99
Napa Valley Cabernet Trio
Napa Valley is famed for its Cabernet Sauvignon and this tasting cuts right the chase, showcasing three famous Cab producers: Joseph Phelps, Duckhorn, and Chimney Rock. Join the winemakers from each of these esteemed wineries as they discuss what makes Napa so special, and taste their wines with them.