Italian Wine Club Review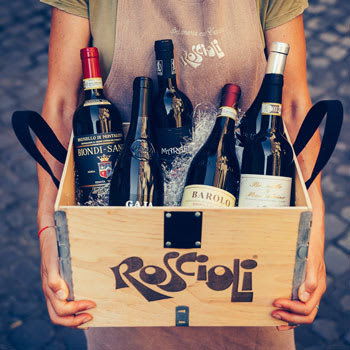 Wine Club Overview & Details
Wine Club Rating:
This wine club is...
Summary
An Italian wine club (based in Italy!) offering four different levels of Italian (and French) wine ranging from delightful everyday wine to legends meant for long-term cellaring. This is not an ordinary wine club.
What I Like
This is a unique wine club who braves the hurdles of US wine importation to bring wonderful examples of Italian wine to their loyal members. They want all of us to enjoy Italian wine as much as they do, and it shows in every aspect of their wine club.
Improvements
They're already doing everything they can to make the process seamless to you, the customer. They go above and beyond in wine education, too.
Italian Wine Club delivers to
AK AL AR AZ CA CO CT DC DE FL GA HI ID IL IN IA KS KY LA ME MD MA MI MN MS MO MT NE NV NH NJ NM NC ND NY OH OK OR PA RI SC SD TN TX VA VT WA WV WI WY
Don't see your state? Roscioli does not ship there. Browse wine clubs by state.
Join Italian Wine Club
FYI: I find great wine deals so you don't have to. To keep me on the hunt, I earn a commission when you buy wine based on my recommendations.
Coupons & Promo Codes
Deal Save 25€
Get 25€ (roughly $25) off your first payment when you join Roscioli Wine Club. Use code WCR25 at checkout.
Italian Wine Club Review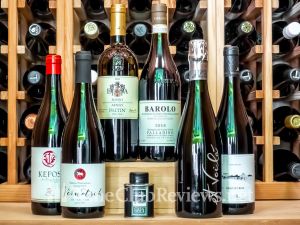 What is Roscioli?
First and foremost, Roscioli (pronounced Row-show-lee) is an Italian institution. Located in Rome, they are renowned for their bakery (the oldest continuously operating bakery in the center of Rome), their salumeria (meats, pastas, and condiments), and their wine-focused restaurant (called Rimessa) where they offer 8-course educational wine pairings over dinner — Trip Advisor's #2 wine bar in Rome and #5 spot for nightlife.
Roscioli started a wine club to bring their love of Italian family wineries to wine lovers around the world who can't get to Rome. From what we've seen, they're doing this in the most authentic way imaginable.
Before you dig in to discover their wine club options, we want you to be aware of some logistical differences between this wine club — the wine is coming directly from Rome — and other wine clubs that are based in the U.S.
Because Roscioli is based in Rome, payments are made in Euros. Your credit card will automatically convert the Euro to USD at the time of purchase, so the price you pay will vary based on the exchange rate that day. Your wine is then shipped to the US and goes through Customs before it is delivered to your doorstep.
Right now is a great time to join Roscioli as the currency exchange rate between USD and Euros is roughly equal.
For each shipment you receive you will make two equal payments. Roscioli used to ship six bottles every 3 months, but because of complex shipping logistics, they double up the shipments. While you make four payments per year, you receive two shipments. The two-payment system helps spreads out the expense. Billing dates are: Feb 15, March 15, Aug 15 and Sept 15, but you will make your first payment when you sign up.
When you sign up you'll get your first shipment in 4-6 weeks unless you enroll during the summer months. Roscioli pauses shipping during hot weather to ensure the wines are not damaged due to overheating while in transit. Once up and running you'll be on the regular shipping schedule — Fall shipments arrive late October to mid-November and Spring shipments arrive late April to mid-May.
Roscioli Italian Wine Club Options
They offer four wine clubs — two are Italian only, and two are a mix of French and Italian. Each wine club can be selected as their standard assortment (8 red, 4 white/rosé/sparkling) or red wine only. Shipments also include a little surprise gift from their salumeria to represent Italy.
All wine club prices include shipping and sales tax (including import duties). Photos show six bottles because you get two six-bottle shipments at the same time. You will receive 12 different bottles in each shipment.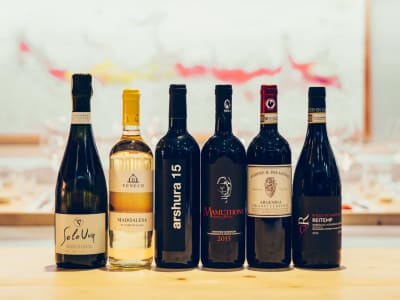 Italian Wine Club — Level 1
"For everyday wine lovers. A unique selection of bottles in each shipment from small producers from all over Italy."
Wines are ready to drink and are accompanied by wine notes and videos of the winemaker discussing the winery and/or the wine.
398€ (~$400) per 12-bottle shipment
2 payments of 199€ (~$200) = 1 shipment
Use code WCR25 and save 25€. Shop it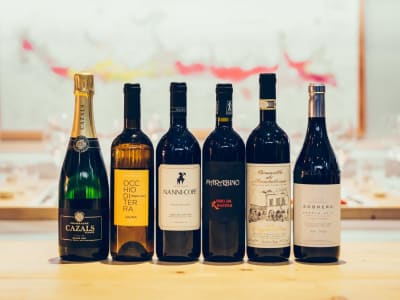 Italian Wine Club — Level 2
"For the wine enthusiast. Our more premium and unique selections from small producers. More full-bodied and age-worthy wines."
Wines are ready to drink but can be laid down for aging. Accompanied by wine notes and videos of the winemaker discussing the winery and/or the wine.
598€ (~$600) per 12-bottle shipment
2 payments of 299€ (~$300) = 1 shipment
Use code WCR25 and save 25€. Shop it
Collectors Club
"For wine collectors. A world-class selection of 12 important French and Italian wines included in each shipment."
Wines will often be from slightly older vintages and ready to drink now and for at least 10 years. Due to the nature of these wines sometimes being from important French producers, videos may not be available of the vineyard and cellar but they do include notes on the wines.
1.000€ (~$1,000) per 12-bottle shipment
2 payments of 500€ (~$500) = 1 shipment
Use code WCR25 and save 25€. Shop it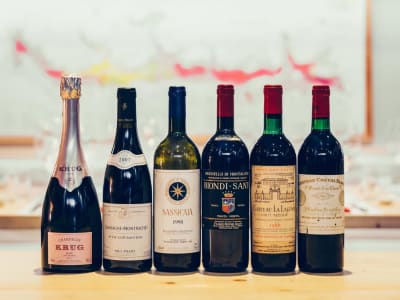 Legends Club
"Featuring collectible and legendary wines from great vintages, mainly France and Italy. Examples: Barolo, Sassicaia, Champagne, Burgundy Grand and Premier Cru, Bordeaux Classified Growths, and Premier Cru Classe. Each shipment includes a free gastronomy gift basket with a selection of our favorite Italian products."
Due to the nature of these wines sometimes being from important French producers, videos may not be available of the vineyard and cellar but they do include notes on the wines.
2.000€ (~$2,000) per 12-bottle shipment
2 payments of 1.000€ (~$1,000) = 1 shipment
Use code WCR25 and save 25€. Shop it
Roscioli Italian Wine Review
My Roscioli Wine Ratings
| | |
| --- | --- |
| Quality of Wine | |
| Price of Wine | |
| Wine Curation | |
For a long time I thought I didn't really like Italian wine. The whites were fine, sometimes interesting from some regions. The reds were almost always too acidic for my palate, and not fruity enough for me.
One of the reasons I have trouble finding Italian wine I like is that only a small percentage of wine produced in Italy makes it to the US — it is true of most wine regions that only a small percentage is exported. Since I have never been to Italy to explore their immense wine selection in person, my understanding of Italian wine was limited to what I could find here — mostly large-production wines, often produced just for export or crafted with an eye toward the American market. They are not representative of the soul of Italian wine, and certainly not of the small wineries which really make up the bulk of Italy's wine producers.
Roscioli introduced me to a more authentic Italian wine experience, one that features the rich viticultural history of Italy and the hundreds of native grapes that aren't grown outside the country. Now I'm excited to explore Italian wine and discover what I've been missing.
Here is the selection that we received that changed my mind about Italian wine:
---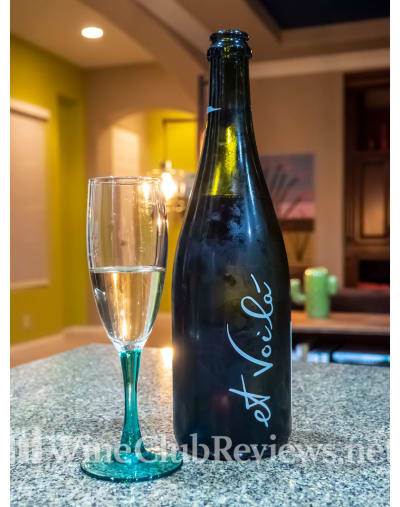 White & Sparkling Wines
Metodo Classico 'Et Voilà', Baricchi
Grape: 100% Pinot Noir
Region: Naviglio, Piemonte
Drinking Window: Ready
This was a delightful, dry wine made in the style of Champagne (Classic Method) from traditional Champagne grapes (this would be called a Blanc de Noir if it were from Champagne). Very dry and food-friendly.
Arneis 'Elisa' 2018, Paitin
Grape: 100% Arneis
Region: Roero, Piemonte
Drinking Window: Ready or until 2021
This was an outstanding and beautiful white wine, full of tropical fruit flavors and incredibly well-balanced.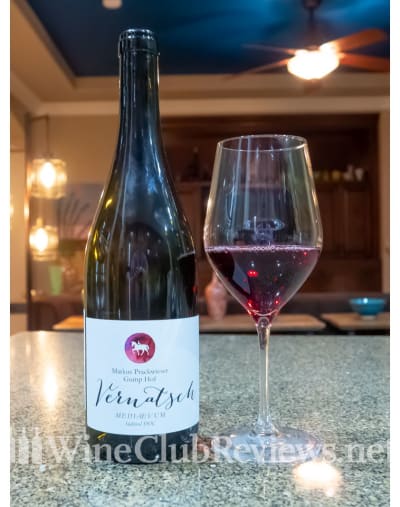 Red Wines
The first three red wines we tried were fun to drink. The Nero di Troia and the Schiava were more to our liking than the Kepos Ampeleia (which was unexpected because we like all of the grapes in that blend). The experience of trying different expressions and different regions is informative, even when a wine doesn't hit the mark for your palate.
Schiava Mediaevum 2018, Gump Hof
Grape: 100% Schiava
Region: Novale di Presule, Alto Adige
Drinking Window: Ready
Kepos 2018, Ampeleia
Grape: Alicante (Grenache), Carignano, Mourvedre
Region: Costa Toscana, Tuscany
Drinking Window: Ready or until 2021, best in 6 months
Nero di Troia 'Pietra dei Lupi' 2015, Carpentiere
Grape: 100% Nero di Troia
Region: Castel del Monte, Puglia
Drinking Window: Ready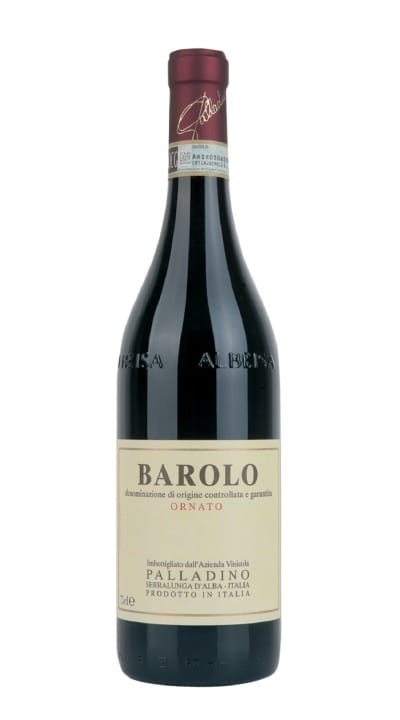 The Barolo
Barolo di Serralunga 2015, Palladino
Grape: 100% Nebbiolo
Region: Serralunga, Piemonte
Drinking Window: Patience rewarded (best after 2021 - 2035)
The Barolo was a critical experience for me. I've read about Barolos as wine critics and collectors alike go bananas for it. I knew this was from one of the best Barolo communes (Serralunga d'Alba) and so we didn't taste this right away. I brought it for my Dad's 75th birthday (which is why the photo of it is not one of ours) because he likes Italian wine and we all enjoyed it. I now understand the nuance and complexity of Barolo that makes it sought after — and I look forward to trying more!
Most of the wine delivered via this wine club is organic or biodynamic, even "natural," but few wineries in Italy concern themselves with certification. Our contact at Roscioli pointed out that it's generally not in a small family vineyard's best interest to use fertilizers or supplemental irrigation because they need their vines to develop healthy vigor so they can withstand any conditions mother nature throws their way. Because these wines are made for the Italian market, a minimum amount of sulfites may be added to these wines, especially wines intended for aging, but often only the naturally-occuring sulfites are present.
Membership Benefits
My Roscioli
Benefits Ratings
| | |
| --- | --- |
| Satisfaction Guarantee | |
| Customer Service | |
| Wine Education | |
| Convenience | |
Satisfaction Guarantee. Unlike many American-based wine clubs, Roscioli doesn't offer a satisfaction guarantee, but they do guarantee their wine arrives in proper condition. Wine can be corked or otherwise flawed and they will always replace or refund any bottle that is corked or damaged in shipping. They will not replace bottles that you simply didn't like because they are really trying to encourage their members to embrace new styles and grapes, even if they're not your favorites.
Customer Service. I have been working with one of the owners throughout the process of receiving the wine and writing this review. Lindsay Gabbard and Alessandro Pepe are the partners who make Roscioli go. Lindsay is always available (it seems) via email and when you call the WhatsApp number, Lindsay answers the phone. She is easy to talk to on the phone, making customer service a friendly endeavor. She'll happily answer any questions you have at any time, as well as making sure your Roscioli experience is what you want it to be.
Don't take our word for it... see what some of their members have to say: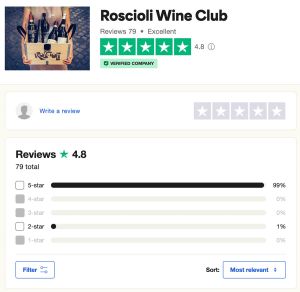 Convenience. As much as we love the convenience of modern wine clubs, that's not really what Roscioli is about. With the wine coming from Italy and needing to go through US Customs, there are long, unpredictable lead times for shipping (though this has improved over time). Again, because of long lead times, address changes need to be handled well in advance of shipping dates. They do send reminder emails two weeks before your card will be charged and updates at each step of the way: you'll receive an email from the international shipper when your shipment is ready to leave Italy and you'll get a FedEx or UPS tracking number as soon as the package leaves US Customs.
There is almost nothing convenient about this wine club, but most things in life worth having don't come easily. You simply won't find the majority of these wines in the U.S., much less in some other wine club.
Personalization. This is not a personalized wine club. You can accept the standard assortment of wines (which we recommend) or you can choose to receive only red wine. That is the extent of what you can choose. With Roscioli's expert curation, you'll be happy anyway.
Discount opportunities. To entice you to join they have a 25€ (roughly $30) discount for the first payment. Use code ITALY25 at checkout. They also have a nice "buy more, save more" option — if you double your wine club membership, you save 10% and if you triple it you'll save 15%. They also offer a referral program where the new member gets 20% off their first payment and you get 20% off a payment. These referral discounts are stackable and unlimited (i.e. 3 referrals = 60% off your next payment).
Wine Education This is an area where Roscioli goes above and beyond. For both of their Italian wine clubs they offer a detailed video featuring the winery and winemaker for each wine in every shipment. Sometimes there are multiple videos. The quality of information in these videos is outstanding and they're super fun to watch, too. It's almost like having Italian wineries in your living room. You'll get a link to the videos in the email confirming your shipment has left Italy.
Who Should Join the Roscioli Wine Club?
If you live in a state where great wine is hard to come by, this is a wine club you should consider. Roscioli, because they use private shipping, can send wine directly to your house in every state.
Roscioli is perfect for wine enthusiasts who want to explore Italian wine and folks who are interested in collecting both Italian and French wines.
I'd love to say the Roscioli wine club is for anyone, but the truth is it's not super affordable. The wines aren't overpriced, but they are produced in small quantities, coming directly from Italy, and the price includes taxes, duties, and shipping. Really, at $35 a bottle for their "entry level" club, you're still getting great value, but it's not cheap.
If the prices seem high for everyday drinking, we recommend joining anyway and you can consider these as your "weekend wines" and splurges. If you can afford it and are curious about Italian wine, you won't find a better Italian wine club to join. And it even comes with its own entertainment! (Those wine videos I mentioned earlier in the Educational Materials section.)
Roscioli is not for you if your preference is for white and/or sweet wines as they are not the focus of their curated selections.