Are wine clubs worth the cost?
If you're thinking about joining a wine club and are wondering if they actually offer good value, this is a must-read article from someone who has reviewed wine clubs for 14 years.
I'm all about transparency here at WineClubReviews.net so I want to make it very clear: I have a vested interest in telling you I think wine clubs are a good deal because I make money when you sign up for wine clubs I recommend.
I choose to review wine clubs for a living because some wine clubs provide exceptional value and worthwhile wine experiences and I can guide you toward a club that's a good fit for you.
What is a wine club?
There are a few different kinds of wine clubs: wine clubs from retail providers, wine memberships from wineries, and social clubs whose purpose is to explore or drink wine with a group of like-minded wine lovers or friends.
Are wine clubs worth it?
Yes, wine clubs can be worth it when you join the right wine club for you. Wine clubs often offer better value than buying at a local wine shop, a big box store, a grocery store, or an online wine retailer and the value comes from several areas: discounts below suggested retail price, a satisfaction guarantee, wine selection, and personalization.
Wine prices from wine clubs are usually below suggested retail.
Most local wine stores charge consumers full retail. That's never a deal. Some higher-end wine stores charge a mark-up above suggested retail price. They're just taking advantage. Before you buy wine from your local wine store, do a quick internet check with your mobile phone and see what other local stores are charging.
Companies like Firstleaf — who produce their own wine and sell it online to members and non-members alike — offer their members a flat rate per bottle, regardless of retail.
Companies like Naked Wines — who works with independent winemakers to produce wine from around the world — set their own prices to be ultra-competitive with wines of similar quality from the same grapes and regions (their value proposition is that they cut out the middleman).
Companies like The California Wine Club and Gold Medal Wine — both of whom work with small family wineries (mostly in California) generally lacking distribution — always offer wine below the winery suggested retail price.
Companies like Winc — who sells their wine at Whole Foods, local wine shops, and hotels, restaurants, and sporting venues — give their members an array of discounts for being subscribers.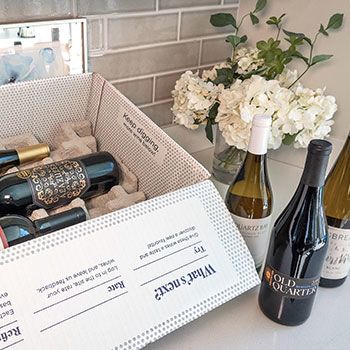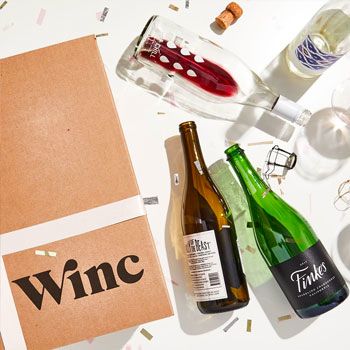 Wine subscriptions usually have large enough memberships that they get better prices on the same wines you might be able to purchase at a local wine shop. My ratings system includes a Wine Price score, which you'll find in the Wine Review section of my wine club reviews, that works like this:
Wines are overpriced: 1 star
Wines are priced at retail: 2 stars
Wines are private label or exclusive so prices can't be verified: 3 stars
Wines are slightly discounted from retail: 4 stars
Wines are heavily discounted from retail: 5 stars
Tip: Contrary to the laws of economics, the biggest wine clubs don't always provide the best quality-to-price ratio (QPR) (this is how I think about value, as opposed to strictly price).
Most wine clubs offer a money back guarantee for wines you didn't like.
This is something I love about some wine clubs — many of them offer a 100% Satisfaction Guarantee, but nearly all will replace any damaged or corked bottles. Most stores like grocery stores and big box stores can't accept returns of alcohol at all, much less make an exchange or offer store credit. Most good wine stores will accept damaged or corked bottles (because the winery or distributor will make them whole), but not all of them do.
Wine clubs, on the other hand, want to bend over backwards to keep your subscription going. Didn't like the wine they sent? No problem, call them up, let them know. They'll promptly send you something you'll hopefully like more or send it out with your next scheduled shipment.
These policies reduce your risk of wasting money on wine to almost zero and increase the value of any wine club subscription with this kind of policy. It's important to check each club's policy.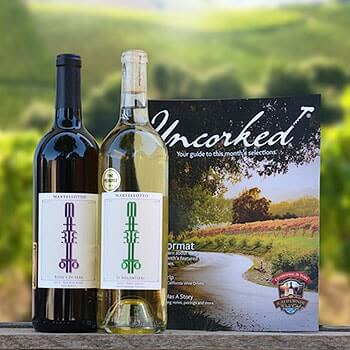 To help you research these guarantees, my ratings system includes a Satisfaction Guarantee score, which you'll find in the Membership Benefits or Pros & Cons section of my wine club reviews, that works like this:
No returns or exchanges: 1 star
Only willing to replace damaged or corked bottles: 2 stars
Will replace anything for any reason, with additional shipping costs: 3 stars
Will replace anything for any reason, no additional shipping costs: 4 stars
Fully refundable money-back guarantee (only available via Nakedwines.com): 5 stars
Wine clubs aren't limited to the selection a local wine store might sell.
When shopping at a grocery store or a big box store, you're only getting access to wine produced in large volumes and with good distribution. A small local grocery store might work with a few smaller wineries to offer discerning customers something more refined. Total Wine has a nearly unlimited selection, but it's hard to figure out which ones are the good wines at good values.
Local wine shops carry smaller, well-curated selections because they have to buy what they think they can sell (usually a case or two of something uncommon). Most favor wines that sell under $25, made from grapes people know about, and come from regions people are familiar with. They do this because that's what they sell the most of.
Wine clubs, on the other hand, can buy exactly how much they need to satisfy their membership and have extras for people who want to order more of what they love. The wine selection from wine clubs is different from wines you're likely to find at a store near you, because:
some wine clubs are wineries who produce their own wine
some wine clubs buy private label wine and put their brand on it
some wine clubs import their own wines
some wine clubs only feature hard-to-find wines
some wine clubs only work with small wineries lacking other forms of distribution
Here is a selection of wine clubs with amazing wine curation:
Wine Access — They have eight wine clubs — Discovery Club, Connoisseurs Club, Collectors Club, Champagne Club, Sunset Magazine Club, Decanter Magazine Club, Unfiltered Podcast Club, and the Michelin Wine Subscription — each of which is carefully sourced by master sommeliers
Picked by Wine.com — A sommelier chooses your wine just for you based on your stated preferences from Wine.com's inventory (the largest and most diverse wine inventory online)
Plonk Wine Club — The sommelier-proprietor chooses eclectic, interesting, earth-friendly wines you're unlikely to find anywhere else
Wine clubs can be very convenient.
If you're a busy person who doesn't have time to research which wines you want to buy and then shop for them, a wine club is a convenient way to find interesting wine to drink. In addition to bypassing the research and buying phases of wine procurement, you'll enjoy (often free) delivery — to your home, your office, or one of thousands of stores where FedEx and UPS deliver packages. All along the way you'll get billing and shipping notices via text or email.
Some wine clubs offer extra conveniences like online account management to skip a month, change your subscription, and cancel. I rate these features in a Convenience score as part of my ratings system. You'll find these ratings in the Membership Benefits or Pros & Cons section of my wine club reviews. A wine club can score up to 5 stars for convenience based on the aggregate of the following four features:
Cancel online? 0.5 star
Fully manage accounts online? 1 star
Email reminders before credit card is charged: 1.5 stars
Choose Delivery Location other than home/office (like a FedEx store or Walgreens) when you enroll: 2 stars
Wine subscriptions offer additional discounts, beyond just discounted wine.
Some wine clubs are notorious for using introductory offers to get you in the door. These offers aren't just a discount, they're a way to try a service without spending full price. While you might find an occasional 10% or even 20% off coupon for a local wine store or grocery store, you're not likely to save 50% (which is the average introductory discount among wine subscriptions). Wine clubs also usually offer their members special discounts on wine purchases outside of their membership.
Wine subscriptions care a lot about customer service.
Whether it's helping you pick out wine, sending you a replacement for something you weren't fond of, or helping you book a wine tasting trip, wine clubs want you to feel like you matter. Most wine clubs would like nothing more than to keep you so happy you never leave.
Some wine clubs offer excellent personalization.
Personalization means different things depending on which wine club you're interested in. For Picked by Wine.com, that means a sommelier gets to know your wine preferences and sends wine just for you. For Firstleaf, a series of algorithms get to know your wine preferences and send you wine they think is perfect for your palate. For Nakedwines.com and Winc, you can choose every wine that's in each shipment you buy.
A lot of old school wine people will tell you that nothing beats forming a relationship with a clerk at your local wine shop, because he or she will always hook you up. Maybe… but I frequently argue that is idealistic — wine clerks aren't always friendly, they may not remember you until you've bought a lot of wine from them, they haven't tried every wine in the store, and most importantly, they may not share your wine preferences.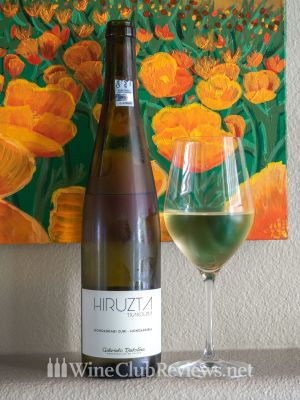 was this Hiruzta Txakoli 2019, a white wine from Txakolina, Spain. I told my personal sommelier that I like bright white wines and I like Spanish wines (I told her a lot of things, but those are the ones relevant to this wine selection).

Some wine clubs put an emphasis on helping you learn about wine.

When you buy wine at a store (online or brick and mortar) you might get access to the winemaker's limited tasting notes. While the best place to learn about any given wine is at the winery (or the winery's website — be sure to look for the Trade section which has detailed tech notes for wine), the second best place is from a wine club that values wine education.

My ratings system includes a wine education score (though it is a small portion of the overall rating). You'll find this score in the Membership Benefits or Pros & Cons section of my wine club reviews, and it works like this:
No wine information provided: 1 star
Basic info, does not include wine characteristics or tasting notes: 2 stars
Basic info, includes wine characteristics: 3 stars
Detailed information (about the region, winery, and winemaker): 4 stars
Full geek (fermentation notes, oak program, brix, etc.): 5 stars
Which wine clubs are a good value?
I've reviewed more than 100 wine clubs in the last 14 years. Some definitely are affordable, some are expensive, but only a select few offer excellent value. For across the board value, check out Nakedwines.com; for affordable value, look at The Case Club by The California Wine Club and Wired For Wine's 90+ Wine Club; for exclusives, try Roscioli Italian Wine Club where the wines are shipped directly from a boutique wine seller in Rome; for value in a personalized wine club, choose Picked by Wine.com or Firstleaf; and for value where the wines are picked by a team of Sommeliers, choose Wine Access' Discovery Club and Sunset Wine Club.
How to save money with wine clubs
Introductory Offers: Pick a wine club that offers you a worthwhile introductory offer. I'd steer clear of the ones offering free cheap goods like corkscrews and wine tasting glasses, and go for the ones that offer an extra shipment or steep trial discount, free shipping on the first order, or a free wine bottle with your first order.
Many wine clubs offer "buy more, save more" pricing models, and taking advantage of these is definitely the best way to get the most value out of any wine club.
Buy More, Save More Option 1: You can save 50% on your introductory shipment when you sign up for an ongoing subscription, but you can often save 15-25% on your whole membership when you prepay for a set number of shipments (sometimes these are listed as gifts).
A fixed-length subscription ends when you want it to. You'll get offers to renew your order at the end of the prepaid term, so if you like the service your wine club provides, you can easily renew.
Buy More, Save More Option 2: Upgrade the number of bottles in each shipment to save 10-15% or get free shipping at The California Wine Club, Gold Medal Wine, and Firstleaf. Upgrade to 12-bottle cases to save 15-20% at Plonk Wine Club and Organic Wine Exchange (get them shipped less often than monthly if you don't need 12 bottles of wine a month).
Which wine clubs are not a good deal
As in all industries, some wine clubs are merely preying on unsuspecting consumers with disposable income who are prone to not reading fine print or doing the math before making purchases. But you're not one of those consumers because you're here, reading this article trying to research the value of wine clubs.
How can you tell which wine of the month clubs are taking advantage of these types of consumers? There are three easy ways to tell if a wine club may not be a good deal:
Is the wine club you want to join in the wine business? Often they're not. Examples include publishers like NPR (National Public Radio) and WSJwine (The Wall Street Journal), TV networks like TCM (Turner Classic Movies), affinity groups like the NRA (National Rifle Association), department stores Macy's and Williams-Sonoma, etc.
If you're considering a wine club like one of these, you might want to pass (or explore other wine clubs). Many companies offer these private-label wine clubs in order to improve their bottom line, but they don't have anything to do with which wines are selected, customer service for the wine club, or what happens to your credit card number and email address after you join.
Does the wine club show you which wines they're shipping? Not sharing which wines are currently sold or enumerating which wines shipped in the past is a good sign that a company is more interested in wine marketing than in shipping good wine. Egregious examples of wine club hiding their wine selection are Bright Cellars and Dry Farm Wines (they don't offer a store you can browse to see what they offer before you buy).
Have I given the club a low rating? If I haven't rated a wine club at least 4 stars, I don't believe they're providing consumers a good deal. It's that simple. You'll always find wine clubs that are a good deal on my best wine clubs lists, find the perfect wine subscription for yourself, or one to give as a wine club gift.