Coravin: A Useful Guide to Wine Preservation
Coravin is designed to do something that was impossible before they invented it — pour a glass of wine from virtually any bottle you own without thinking about when you want to drink the next glass.
FYI: I find great wine deals so you don't have to. To keep me on the hunt, I earn a commission when you buy wine based on my recommendations.
What is Coravin?
The Coravin Wine Preservation System allows you to access wine without exposing the contents of the whole bottle to damaging oxygen.
There are four groups of Coravin systems:
Pivot, Timeless, Sparkling, and the now-obsolete Models
Pivot for short-term preservation
Timeless for long-term preservation
Sparkling Wine
How does Coravin work?
The Timeless Coravin works by inserting a specially designed needle through natural cork to access wine. Argon fills the empty space in the bottle as you pour. When you remove the device from the bottle, the cork slowly seals itself (with caveats).
How does Coravin Pivot work?
The Coravin Pivot works similarly to the Timeless models, except that you remove the cork (or screwcap) from the bottle and replace it with a specially-designed stopper before you access the wine. Once you are done pouring, and the argon capsules have filled the empty space in the bottle, you remove the device and close the stopper.
How does Coravin Timeless differ from Pivot?
The primary difference between the two systems is how much oxygen the wine gets exposed to during use. When correctly using a Coravin Pivot, you will expose the wine in the bottle to a small amount of oxygen. When correctly using a Timeless Coravin you will expose none of the wine in the bottle to oxygen.
What kinds of corks does Coravin work on?
Coravin Timeless works best on high-quality natural cork because natural, whole cork is self-sealing (a super important part of how your wine stays fresh when using a Coravin). Lesser-quality corks will allow oxygen in over time. Timeless, when used with a screw-cap attachment, and Coravin Pivot both allow wine into the bottle and keep wine preserved for a shorter time.
If you've never given much thought to the cork in a wine bottle beyond whether or not it's a screw top, then here's a little Cork 101 for you. Skip ahead to learn about how long your wine will stay fresh.
The primary classes of cork are as follows: natural cork, agglomerated cork, synthetic cork, and plastic. Within each category there are quality differences.
Natural cork is what most people think is in their wine bottles. It's a single piece of high-quality cork that has been cut to fit a wine bottle. High-quality natural cork is ideal for wine preservation.
Tip: wines you've paid a lot of money for (at least $30) will generally have high-quality, natural corks.
Agglomerated (sometimes called Technical) cork is like the particle board of cork. It's made from real cork, but from the leftover pieces of natural cork production which have been glued together in the shape of a cork.
Technical corks have many of the same properties of natural cork but are not intended for long-term aging. They are mostly intended to provide the appearance of cork and the experience of opening a wine bottle in the traditional manner.
Synthetic corks and plastic corks are not self-sealing and the Coravin needle will leave a hole in them. Do not use your Coravin System with synthetic or plastic corks. If you're not sure of the type of cork in your bottle, don't use the Coravin Timeless on it. Try a Coravin Pivot or one of these Coravin alternatives instead.
Does Coravin work with screw tops?
Yes, but... Coravin makes a special cap for the Timeless models because you cannot put the Coravin needle through a screw cap (please don't try, you'll be sorry).

The Coravin Screw Cap $4.99 each is a replacement for the one that comes on the bottle, and when used properly allows you to continue to access a bottle of wine for three months.
One or two screw caps come with some Timeless bundles, but you can also buy a six-pack of Coravin Screw Caps $29.95.
If you tend to drink a lot of wine with screw caps or plastic corks, I recommend trying the Coravin Pivot designed for all kinds of wine closures.
How long will Coravin keep my wine fresh?
Your mileage may vary, but under ideal circumstances — a natural, non-composite cork in good condition, flawless use of the system, and proper cellaring — a bottle can be accessed via a Coravin Timeless system with no change in flavor or quality for years — as if the Coravin had never been used on the bottle.

Timeless Coravin with a screw cap closure will keep your wine fresh for up to four weeks.

Coravin Pivot will keep your wine fresh for up to four weeks.

Coravin Sparkling will keep your wine fresh and bubbly for up to two weeks.
Note: not all wine should be aged for years, and Coravin doesn't magically make such wine last for years.
Who uses Coravin?
Coravin Systems are used in professional settings like bars and restaurants, and also in wine lovers' homes around the world.
Photos courtesy of Coravin
Professional uses include:
Coravin for wine tastings — This is a great way for wineries, wine stores, and wine distributors to offer smaller wine tasting events without opening a whole bottle.
Coravin for restaurants and bars — Who doesn't love to order wine by the glass at a restaurant? Have you ever ordered a glass and it tasted off? I have. I annoy the server by asking them when the bottle was opened, almost always to find out it wasn't the same day they served it to me. They were trying to save a buck, but all they did was irritate a customer. With Coravin, they can offer a big wine by the glass list and never worry about serving oxidized wine to discerning customers.
Coravin is also used by wine lovers who don't work in the wine industry. A few great uses for a Coravin System for these wine lovers.
People who want to enjoy wine by the glass at home
Couples who like different kinds of wine and don't want to each finish a whole bottle
Wine collectors who want to explore a wine as it ages — either to enjoy as it ages or just to check in on its progress
Entertainers who want to offer their guests a variety of wines without worrying about finishing every open bottle during the party
Coravin models
Produced since 2013, Coravin continues to upgrade and enhance their product line. They switched from calling their needle-based systems "Model" to "Timeless" when they released the Pivot in 2021. They also now offer a model specifically for sparkling wine.
Important! When deciding between Coravin models, you also need to consider which accessories you want or will need. They bundle their systems and you can no longer buy a Coravin without accesssories.
Model Three split into two versions, the Timeless Three+ and the Timeless Three SL. Either is the perfect choice for someone who doesn't care about the aesthetics of the unit (it's nice looking enough for a gadget, but finished with simple plastics). All of the accessories (except those designed specifically for Timeless Eleven) work with Timeless Three+ and Timeless Three SL. The Timeless Three+ is on Oprah's Favorite Things for 2022 list.
Model Six is now called Timeless Six+. The price differences for Timeless Six+ sets come down to the finish (Limited Edition colors) and the accessory bundles which come with it. Timeless Six+ comes in a variety of colors: Piano black (shiny, chrome finishes), Silver (matte, chrome finishes), Burgundy (shiny, chrome finishes), Midnight blue (shiny), Anthracite (limited edition, black with gold flecks, gold finishes), Deep Emerald (shiny, gold finishes), Deep Amythest (shiny, gold finishes), and a Keith Haring collab in black and white.
Model Eleven is a different animal altogether. It's the first electronic version of Coravin and it has bells and whistles. I'm only super enthusiastic about one of those features — the LED display turns red when it's time to replace your capsule. A+ for utility here. The other features are "nice to have" toys for showing off to your philistine friends who don't have their own Coravin — like connecting the unit to your smartphone via Bluetooth so you can tell the unit how fast to pour your wine.
Models One, Two, and Five are discontinued. The original clamps were kinda hard to use, so they invented the "Smart Clamps" for future models. I don't advise buying a Model One or a Model Two as they're quite outdated. Model Five has been rolled into Timeless Six and is no longer produced. It was always essentially the same as Model Six, but had less upgraded-finishes to keep the cost lower.
Side note: There is also a discontinued Model Eight from the distant past that shows up in early professional reviews of the Coravin Wine System.
All Coravin Timeless models come with the Standard Needle and the needle cleaning tool. Shipping is included on all orders over $75 at Coravin.com, so any of these bundles will ship free.
Browse Coravin Bundles Timeless Three · Timeless Six · Timeless Eleven · Pivot · Sparkling
Timeless Three (Previously Model Three)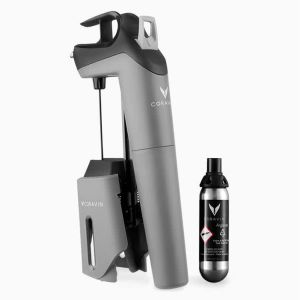 Buy it for $179.00
Timeless Three SL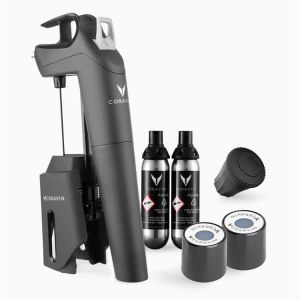 Buy it for $229.00
Timeless Three+

The Timeless Three SL represents the new entry-level model for needle-based Coravin wine preservation systems. This "starter kit" comes with a Coravin and a single argon Coravin Pure Capsule from $5 each. This newer version of the Model Three has an upgraded argon dispenser button and a different handle for holding the Coravin while pouring your wine. It only comes in this medium matte gray color. Buy it for $179.00

The Timeless Three+ is all black, with the same new handle and button as the SL. In addition to the Coravin device you get two argon Coravin Pure Capsules from $5 each, two Coravin Screw Caps $4.99 each, and a new Timeless Aerator $29.95 designed to match the Timeless Three. Buy it for $229.00
Model Five
Coravin Model Five is discontinued. You can no longer order it on Coravin.com but there is some remaining inventory out in the world so I'll discuss it briefly.
The basic bundle includes three argon Coravin Pure Capsules from $5 each and one Coravin Screw Cap $4.99 each. This bundle lets you try Coravin for roughly 9 bottles of wine, and allows you to try it out on screw top wines, too.
The upgraded bundle is a better value with $100 worth of useful upgrades for $60 more. It includes three argon Coravin Pure Capsules from $5 each and one Coravin Screw Cap $4.99 each, a Timeless Aerator $29.95, a Fast Pour Needle $29.95, and a Fabric Carry Case $39.95.
Coravin Timeless Three vs Model Five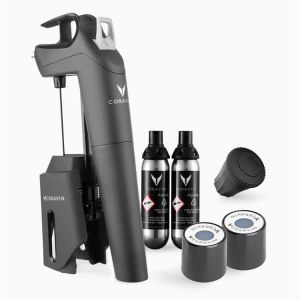 Buy it for $229.00
Best Choice: Timeless Three+

Model Three and Model Five are functionally the same thing as they both have the upgraded Smart Clamps. The Model Five is a sleeker-looking package and its bundles come configured with different accessories.I would buy a Timeless Three+ because it is a better value than the Timeless Three SL.

If you don't think you'll keep a bottle of wine open for more than a few weeks, check out the Coravin Pivot as a less-expensive, easier to use alternative to the Timeless Three.
Timeless Six+ (Previously Model Six)
The Model Six is now the Timeless Six+ and it comes in four standard colors — Metallic Burgundy, Metallic Midnight Blue, Piano Black, and Matte Silver. There are currently four Limited Edition colors, too: Deep Emerald, Deep Amythest, Anthracite, and a Keith Haring collaboration.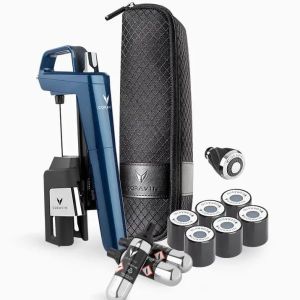 Buy it for $350.00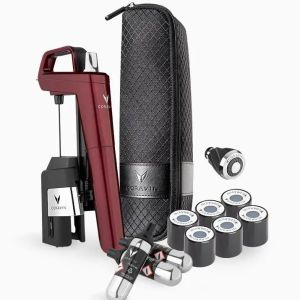 Buy it for $350.00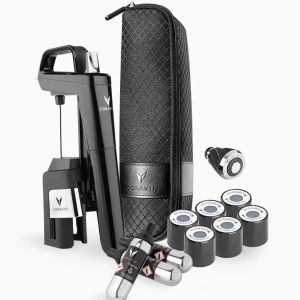 Buy it for $350.00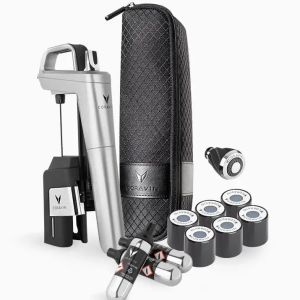 Buy it for $350.00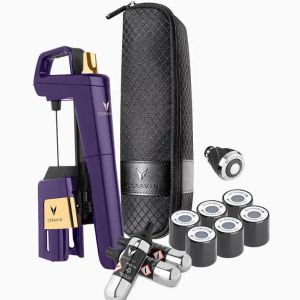 Buy it for $329.00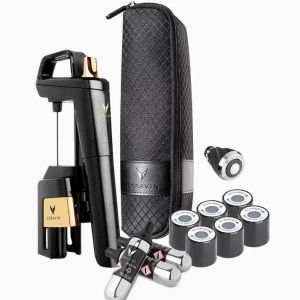 Buy it for $329.00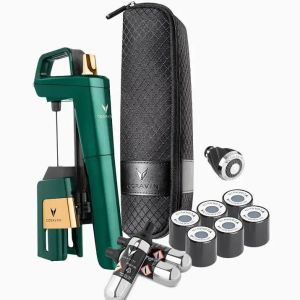 Buy it for $329.00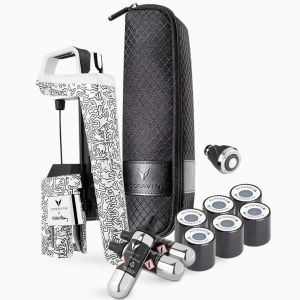 Buy it for $350.00
No matter which color you choose, a Timeless Six+ includes three argon Coravin Pure Capsules from $5 each, six Coravin Screw Caps $4.99 each, a Timeless Aerator $29.95, and a Fabric Carry Case $39.95. This bundle lets you try Coravin for roughly 9 bottles of wine, and allows you to try it out on screw top wines, too.
2022 Holiday Season Anthracite is also available in an upgraded bundle (until sold out). This set comes with eight argon Coravin Pure Capsules from $5 each, a Timeless Aerator $29.95, two different Coravin Screw Caps $4.99 each, and a Fabric Carry Case $39.95.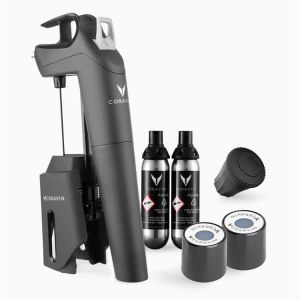 Buy it for $199.00
Best Choice: Model Three+
Coravin Timeless Three vs Timeless Six
Timeless Three and Timeless Six are functionally the same thing. Their differences lie in how many accessories they come with and their finishes.
The Timeless Six+ is a sleeker-looking device and its bundles come configured with different accessories, but beyond aesthetics does not add value.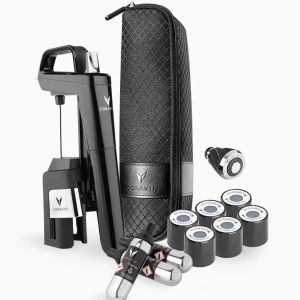 Buy it for $350.00
Best Choice: Timeless Six+
Coravin Model Five vs Model Six
Model Five (discontinued) and Model Six are functionally the same thing as they both have the upgraded Smart Clamps. If you scour the Interwebs and find a Model Five bundle you want, go for it. Otherwise, Timeless Six+ is the right choice.
Timeless Eleven
The Timeless Eleven is the first and only electronic model. It is powered by a rechargeable battery, charged via an included USB power cord.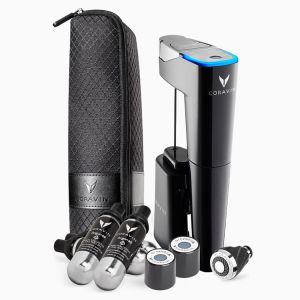 Buy it for $499.95
The Timeless Eleven (previously the Model Eleven Wine Collector Set) includes four argon Coravin Pure Capsules from $5 each, two Coravin Screw Caps $4.99 each, a Timeless Aerator $29.95, and a Fabric Carry Case $39.95.
Whether this is your first Coravin or you're treating yourself to an upgrade, consider the effort- and money-saving features included in the Model Eleven.
The Timeless Eleven, costs a lot more than its analog counterparts. While most of the "upgrades" are kind of superfluous, there are a couple of great features in this version.
Better argon management. As an imperfect human being, it could take a lot of practice to learn how to maximize your argon gas management in a regular Coravin. The Model Eleven manages the use of argon gas for you. Just tip to pour and the device does the rest.
Know when it's time to replace the capsule. Alongside dispensing the right amount of argon, this Coravin model can tell you when it's time to replace your capsule (the blue LED ring turns red). Never wonder if you've replaced it too soon or if you'll run out mid-pour.
Pour the right amount. Another nice feature that's been automated is the ability to select your pour size. You can choose between a "sip" which is a 1-2 oz pour, and a "glass" which is a 5-6 oz pour (¼ of a bottle). These different modes use argon gas differently, as does changing the pour speed.
Technically the Coravin Model Eleven is a connected device. You can use Bluetooth to connect it to your smartphone via the Coravin Moments app. If that's important to you, it's a nice feature. Since the app isn't necessary to control the device, to me it's extraneous. The rest of the app serves as a gimmicky partnership with Delectable and Netflix.
Where to buy a Coravin?
Now that you've decided which Coravin system you want and which accessories you'll need, you need to figure out where to buy your Coravin. Let me make this easy for you – buy it at Coravin.com. Seems obvious, but before you say "everything's cheaper on Amazon and I get free shipping," read my Five Reasons to Buy at Coravin.com list below.
Five Reasons to Buy at Coravin.com
All orders over $75 come with free shipping at Coravin.com.
Coravin uses the MRP pricing model (this means their retailers all agree to charge the same price as a condition of being allowed to sell Coravin). This is common practice with many well-known brands — like Apple, COACH, and Ralph Lauren. It also means you can shop till you're blue in the face and you won't find better prices from an authorized seller than on Coravin.com.

The Coravin bundles are standardized. Other retailers don't have different bundles available. The caveat here is that retailers may have older inventory still available that Coravin doesn't sell on its website.
Because it's Coravin's own website, they can offer discounts and specials their retailers can't.
If you buy your Coravin System at Coravin.com, you get a 30-day money back guarantee. Good luck returning a Coravin product to some discounter that offered you a better price against the rules.
If you're buying Coravin Pure Capsules you can join Club Coravin. You'll get special pricing on capsules, a one-year extension on your warranty, and free shipping on orders over $50.
Other Places to Buy Coravin
Coravin Alternatives
I hear this persistent rumor about something called "leftover wine." This isn't something we experience in our house, but clearly it occurs. As many wine lovers seem to be plagued with this onerous burden, there are many wine preservation products on the market.
Here are some Coravin alternatives I think are worth considering and some I'd avoid. To be clear — the problem is that wine left in a bottle that has been exposed to air starts to "go bad" very quickly due to exposure to oxygen. These products are all designed to deal with excess oxygen (oxidization).
PureWine — Not a Gadget · More Gadgets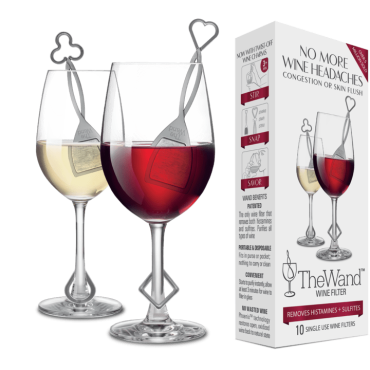 Buy PureWine
PureWine™
If you're not so hot on gizmos and gadgets, we recommend trying PureWine. It was designed to remove the elements of wine which cause headaches and other side effects of drinking wine — histamines and sulfites.
It does those things, but it also removes oxidized particles from the wine. Really, you should go check out this product. They offer a "by the glass" version called The Wand, and a full-bottle product called The Wave.
When you order through DrinkPureWine.com you can try one box at a time or join their subscription service and save 15% on your purchases.
Save 20% on your first order with code WELCOME20
Gadgets Other than Coravin
There are some other gizmos on the market. They generally fall into a few types of products.
Buy Repour at Amazon
Category One: Oxygen-removing products. Two options in this category include Repour and Sello. These passive products are bottle stoppers which filter out oxygen when in use.
Repour has fanatical following of wine professionals, especially restaurant and bar managers who use it in their By the Glass programs. They like it because it's quick, easy, and effective. Note: it is a single use item (one Repour per bottle), though it is made of recyclable plastic.
Category Two: Air-removing products, otherwise known as vacuum pumps. These buy you — at most — an extra day for whites and extra two days for reds. I'd say with products like Repour on the market, the only reason to stick with a vacuum is a preference for reusable components.
Buy Private Preserve at Amazon
Category Three: Pump your own gas. There are products where you manually pump in your own gas (via pressurized can). You still end up exposing the wine to oxygen, so if you're looking for the argon solution, you should stick with Coravin.
Buy Savino at Amazon
Category Four: Minimize future oxygen exposure. There are products like Savino and Eto which essentially float a cover on the wine in a custom decanter. By the time you've got the wine in the decanter you've exposed it to oxygen, so the results really won't be much better than a vacuum pump solution.
Category Five: Coravin-on-steroids countertop appliances. You put the bottle into an enclosure which acts as an argon-gas preserver and dispenser. These are sometimes cool-looking, but in general they're just expensive versions of Coravin, they take up a lot of space, and they consume a lot of energy. Plus, you still have to replace your argon source. Eurocave Wine Art and Plum are the most popular of these.