Part II — Is this Wine Ready to Drink?
Should I drink this bottle of wine? Find out if you should open it or wait a while longer...
In Part II of this guide:
Other parts of this guide:
Part II: Is this Wine Ready to Drink?
Should I drink this old bottle of wine?
For 99% of the wines you might be holding in your hand, the answer is simple: open it, taste it, and if you like it, drink it. This goes for young and old wine alike.
If you are really concerned that bottle of wine might be better if you wait, follow this guide.
How to tell if you should open that bottle of wine
Step 1
Has the bottle of wine been properly stored?
If no, open it now. You've probably already waited too long given inadequate storage and it definitely won't get any better.
If yes, excellent! Move on to step 2.
Step 2
Look up the exact wine online
You're looking for one of these (then follow their recommendations):
The winery who made it. Find the tasting notes or "tech sheet" (usually in the Trade & Press section of a winery's website) or see if they maintain a vintage chart. Make sure you're looking at the correct vintage, vineyard, and cuvée (a name that describes a specific blend of wine they produce).
Professional reviews which include a drinking window Wine Spectator and Wine Enthusiast always include drinking windows when a wine can be aged.
Step 3
Can't find the bottle online?
Open it now. It's probably not fine wine and wasn't meant for aging. It's unlikely to get better with time.
How Long Should I Age a Wine?
When I asked Vanessa Conlin, Master of Wine and Head of Wine at Wine Access, how she decides which wines to age and which aged wines to sell, she explained the way that wine professionals decide — using an acronym called BLICCA (Balance, Length, Intensity, Concentration, Complexity, and Ageability). A brief written explanation follows. If you want a more in-depth discussion, Vanessa and her team put together a great BLICCA blog post with a fun and informative video (3:29 seconds).
Balance — Are the structural elements of wine working together harmoniously?
Length — How long does the impression of the wine linger on your palate after you've tasted it?
Intensity — How powerful are the aromas and flavors of the wine?
Complexity — Are there layers of interesting aromas and flavors that all complement one another?
Concentration — How rich and how powerful is the wine and its flavors?
Ageability — Does the wine have the potential to achieve greatness later in life?
If you don't already know (or have a pretty good idea about) the BLICC part of this adventure, the A part is going to be challenging for you. I recommend following specific professional advice on how long to age your wine until you do. Try this do-it-yourself method for learning about aging wine.
Does this all seem too complicated?
If this sounds like more effort than you want to put in — and who can blame you unless you've gone full-scale wine geek or it's your full-time job — I recommend shortcuts to enjoying aged wine in Part III of this Useful Wine Guide.
Vintage Charts & Drinking Windows
The best source for how long to age a wine is usually the winery who made it.
When a fine wine is meant for aging, the winery typically releases a drinking window (the years where the wine will still be at it's best). Some wineries maintain a vintage chart and tell you when to hold or drink a wine, or sadly when you've waited too long. Two California wineries we love that keep up-to-date vintage charts are Tablas Creek Vineyard (PDF) and Stolpman Vineyards (PDF).
For a variety of reasons, winemakers don't always share a wine's drinking window, so you'll need to seek out other sources of the ultimate question, "Is it time to drink this wine?" The most common way to get this information is through wine publications like Wine Enthusiast Magazine. They offer this information in two ways:
In a review. When they review and rate a wine, they'll often include a drinking window as part of the review. This drinking window might be directly from the winery, or it might be the professional reviewer's perspective on how long the wine could be aged.
In a vintage chart. Some wine magazines, like Wine Enthusiast and Wine Spectator, also keep vintage charts. These charts are a tool for assessing how long to hold and when to drink wine in your possession. They assess vintages by region, and in some cases specific grapes, as new releases are coming out. They also keep tabs on how vintages are evolving.
What are these drinking windows based on?
Winemaker drinking windows are typically issued for a specific wine (using BLICCA or a similar methodology). These assessments combine the winery's knowledge of their own vineyards and techniques, and their understanding of the microclimate conditions within their vineyards in any given year.
Because of the level of detail a winemaker uses when assessing their drinking windows, these should be considered the most reliable source of information (wineries like Tablas Creek frequently taste their back vintages, also called Library Wines, and keep their vintage charts up to date which makes their vintage charts indispensable to their collectors).
Vintage Charts from Jordan Winery
This unique series of charts goes an extra step to tell you which flavors are dominant in each year. These charts are super helpful for someone like me to pick out older vintages to try. I like red fruits and am not a fan of tobacco or leather, so I'm interested in trying the 2013 and 2015 vintages, but not the 2011.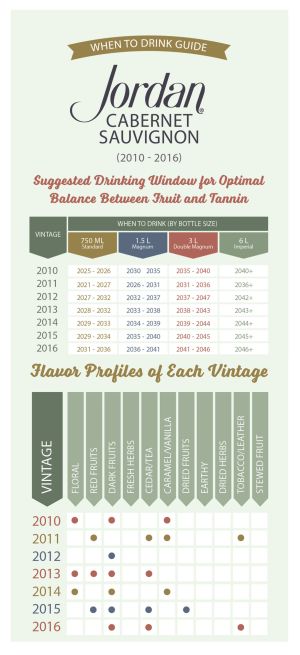 Napa Valley Vintage Charts
A particularly detailed set of vintage charts based on vine growth during the season are the ones at Napa Valley Vintners (a trade association for Napa wineries). These charts can be compared to previous years to assess a new vintage before or at the time of release, and for the intrepid wine geeks, you can compare the different characteristics of the Napa wines you drink with these charts to suss out which other vintages might have similar properties.
This type of information is useful to be sure, but it's limited. For example, mountain wineries no doubt have different climatic conditions than the valley floor, but that's not reflected in these charts. A particular winery might have been undergoing sustainability conversion and their grapes might not have been in tiptop shape even though the rest of the area had a banner year.
Cool, But Not the Holy Grail
Sometimes wine professionals, who are not in fact oracles possessing crystal balls, simply get it wrong… and don't necessarily update their vintage charts to reflect the mistake!
Conlin shared a story that's worth remembering — the wine industry completely misassessed the 1997 and 1998 vintages for Napa Valley. At the time, the 1997 vintage was assessed to be a great vintage capable of very long aging. The season was long and the yields were high. By contrast, 1998 was a very wet year and the season featured uneven ripening, late harvest, and small grapes. In retrospect, more than 10 years out now, wine lovers who appreciate lower alcohol levels have found the 1998s have aged beautifully while the 1997s have fizzled out.
Jordan Winery, describes their 1998s this way: "1998 was the most challenging vintage of the decade in terms of weather, yielding leaner, more elegant wines. But, 1998 blossomed and gained complexity with time. Magnums of 1998 Jordan opened at our winery Christmas party three years ago were the star of the show. Still alive with lots of cherry fruit and layers of silk."
Hot Tip! A very good reason to buy aged wine from Wine Access is that they reassess the drinking window for a wine when they prepare to include it for sale on their site. Typically drinking windows are not updated after a wine is released and first reviewed, making Wine Access the only non-winery source I know of where you can get an updated drinking window on an older bottle of wine. Super valuable!
Browse the current selection of lightly-aged 2015 wines at Wine Access.