Nakedwines.com Review
Wine Club Overview & Details
Wine Club Rating:
This wine club is...
Summary
Naked Wines isn't really a wine club the way you think of one, but it's a personalized wine buying service that you pay into on a monthly subscription so… we treat it like one. It also happens to be the most interesting wine club we've come across in a while.
What I Like
The list of things we love about Naked Wines is long, but here are some of our favorite bits: the wines we tried were excellent and priced exceptionally well; the winemakers interact with commenters on a regular basis; you can make this wine club anything you want it to be.
Improvements
As with some other large wine clubs, the marketing is misleading at times, but the product is solid, so we're not getting our knickers in a twist about it.
Benefits
Range of prices

Completely customizable

100% Money Back Guarantee

Broad selection
Drawbacks
Retail values might be overstated
Wine Club Ships to
AL AK AZ CA CO CT DC FL GA HI IA ID IL IN KS LA MA MD ME MI MN MO MT NE NV NH NY NJ NM NC ND OK OR PA SC SD TN TX VT VA WA WI WV WY
Don't see your state? Nakedwines.com does not ship there. Browse wine clubs by state.
Join the Wine Club
FYI: I find great wine deals so you don't have to. To keep me on the hunt, I earn a commission when you buy wine based on my recommendations.
Coupons & Promo Codes
Deal Save $100 on 6 bottles
Save $100 on your first 6-bottle case, just $39.99. Shipping included. Voucher code is already entered. Click for this deal
Deal Save $100 on 12 bottles
Save $100 on your first 12-bottle case, just $69.99 — shipping included. Click for this deal
Nakedwines.com Review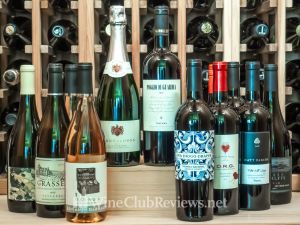 What is Naked Wines?
Naked Wines is a unique, large-scale winery where the wines are produced by independent winemakers, supported by Naked Wines and its customers. Anyone in the US can purchase wine from Nakedwines.com, but members (called Angels) get special prices. The special prices are a reward for a monthly deposit into your Nakedwines.com account. These monthly deposits give Naked Wines predictable revenue, which lets them invest in production with these independent winemakers. Some people consider Naked Wines to be a crowdfunded winery.
Is Nakedwines.com a subscription?
Not exactly. Yes, it's a subscription in that you make a monthly payment to be spent on wine. No, it's not a subscription — they don't automatically ship your wine, you choose every wine you buy, and you decide when to have it shipped.
Is Naked Wines a winery?
Yes! Naked Wines is a winery. Instead of having staff winemakers like most wineries, Naked Wines has independent winemakers who produce wine for them.
How does Nakedwines.com work?
When you sign up to become a Nakedwines.com Angel, you are committing to a monthly deposit of $40 into your Nakedwines.com account. Whenever you feel like it, you can shop their site to assemble a box of wines to be shipped to your home, office, or one of 1000s of local-pickup locations (via FedEx and UPS). There's a minimum of six bottles per shipment and must be in multiples of three (for example: 6, 9, 12, 15, 18, etc.).
Nakedwines.com has a Satisfaction Guarantee — if you order a wine you don't like, let them know and they'll credit your account. Even better, their guarantee essentially covers their whole service. If you decide to give up your Angel wings, any unspent funds will be refunded back to your credit card. They are the only service I know of that takes deposits/subscription payments and refunds all unspent money.
At Nakedwines.com you can rate your wines — for your benefit and as part of the community of other Angels. These ratings help Naked steer you in the direction of wines you'll like.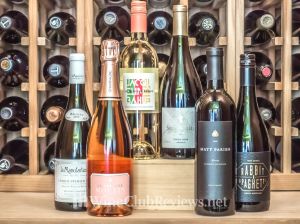 How much does Nakedwines.com cost?
Your monthly deposit is $40 and your introductory 12-bottle case costs $69.99. All orders over $100 ship free. My recommendation would be to get wine shipped whenever you are ready to order $100 worth of wine (and at least six bottles). The wine prices at Nakedwines.com are variable. Angel prices range from $8.99 (for a sweet white wine) to $39.99 (for Vintage Champagne). There are some wines from the COVID Relief Fund that cost more than $39.99 (more on this later).
To get you to try their wines, Nakedwines.com offers a significant discount on your first six-bottle shipment of wines — twelve pre-selected wines are just $69.99 with free shipping and applicable sales tax. Choose red wine, white wine, or a mix. That's roughly $5.83 per bottle and worth the experiment. Just remember, you're enrolling in an ongoing membership when you purchase the trial pack. After this trial pack, you'll be able to pick your own wines in future shipments.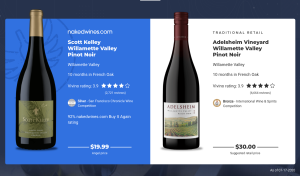 Pricing is a very important aspect of how Naked Wines works. Working as a winery who sells directly to consumers, they have cut out the middlemen (the distributors) who normally take a big share of the total price you pay for a bottle of wine at a store. In this way they are similar to other large membership sites like Winc, Firstleaf, TastingRoom.com, and Bright Cellars. In this way they are dissimilar to WSJwine (Laithwaites) and Splash Wines who act as retailers and work with distributors.
Lastly, Naked Wines sets member pricing according to what they think is an appropriate markup, after they've paid what they committed to the winemaker (more on this later). Sometimes after they release a wine they get negative feedback from their members. For them, this means their price target was incorrect and they lower the price of the wine. If less than 90% of customers would buy it again, they evaluate whether they are charging the right price. What's amazing about this is that if they decide to lower the price, they also refund the difference as a credit to any Angel who had purchased that wine in the last 12 months.
About this Naked Wines Review
I've been reviewing Naked Wines since August 2014, before they made some changes to their operation. Since then I've received 5 separate shipments of their wine and reviewed more than 45 wines by a variety of winemakers. I am still actively reviewing their service. This review incorporates my Naked Wines experiences along the way and my experience with more than 100 other wine clubs.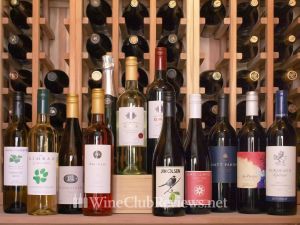 Any wine subscription service is about more than just the wine and this review covers all aspects of the service. The key things I look for in a wine club are: How was the wine sourced? Is the wine selection personalized or curated? How often does it ship? How well does the company communicate about shipping and billing? Do they offer a satisfaction guarantee? Are the shipment sizes and wine selection flexible?
I also examine what kind of wine education they offer with their bottles and whether or not a service is set up for good gifting. These aspects are not core to a wine club being worthwhile, but they are important for many would-be members.
Don't want to read my whole review? I love Naked Wines and I think you will, too. Go sign up for your risk-free six-pack and find out for yourself.
Are Naked Wines any good?
This is a commonly asked question. I suppose like anything it depends on who you ask, but as a wine professional and a wine lover, I say yes, the wines under Naked Wines label are good — better than most of what's available at the supermarket and big box stores.
Separately, Nakedwines.com as a service is great — a leader in what an online subscription service should be. I'll go into details later about the wine itself, but I'd like to take this moment to discuss why I unabashedly love Nakedwines.com and enthusiastically recommend them to my friends, family, and readers.
Nakedwines.com, as noted earlier, is not exactly a wine subscription. This makes it hard to compare it to wine subscription services as it's more of an apples and oranges comparison. The best way to think about Nakedwines.com in comparison to other services then is to compare it to however you buy wine now — a wine subscription, a grocery store, a local wine shop, a winery, or even flash sale sites.
Nakedwines.com is better than buying from all of these sources. Here's why:
When compared with wine subscriptions, Nakedwines.com is more customer-friendly and marks up their wine less. Most wine subscriptions offer a money back guarantee, but some only for damaged wine, not necessarily for wines you didn't like.
When compared with grocery and super stores, you get a much more nuanced selection of wine (more regions, more grapes) without the homogenous tasting profiles designed for mass-market audiences. Plus you get a money-back guarantee from Nakedwines.com.
When compared with a local wine shop, this is a low-touch way to search a wine inventory and pick out what looks interesting to you. Instead of relying on a single shop clerk to tell you what she likes, you get to rely on feedback of a wine from all of the other Angels who have tried and rated it. As you rate wines on Nakedwines.com, they'll also let you know how likely you are to enjoy any untried wine. Plus you get a money-back guarantee from Nakedwines.com.
When compared to buying from a winery, you might think the winery wins out because it's a small business and Nakedwines.com is not a small business. I would argue this is a misleading comparison because many wineries are conglomerate-owned and Nakedwines.com supports independent winemakers who set their own terms like a small winery would. Wineries typically charge you full retail for their wines unless you're a member. Plus you get a money-back guarantee from Nakedwines.com.
Flash sale sites are a great way to save money, if you know what you're buying and you know it's worth whatever sexy discount is being offered. However you rarely can go back for more if you loved it, and there's no money-back guarantee with flash sales — in fact, all sales are final for flash sale sites.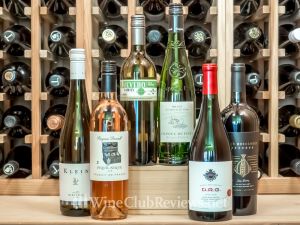 The Nakedwines.com Shopping Experience
I spend an inordinate amount of time shopping for wine online. Most of it ends up being "window shopping," but I've extensively poked around dozens of websites where you can buy wine online and Nakedwines.com is among the very best for customers.
What makes a good wine shopping experience? Filters and sorting are key, but helping you shop for wine by characteristics other than price and winemaker set Nakedwines.com apart from most other wine shops. Here are my favorite aspects of filtering through their wine inventory:
Shop by style: Big Red, Fruity Red, Smooth Red, Crisp White, Fruity White, Rich White, Sweet White, Rosé, Sparkling, and Dessert & Fortified.
Sweet Spot: This is Nakedwines.com's way of telling you these wines have the best value (quality to price ratio).
Alcohol percentage
Vegetarian & Vegan
Customer Ratings
Recommendations based on your own ratings
And the usual suspects: wine type, grape, price, country of origin, wine region, and winemaker
For each wine on the site, they show you the percentage of customers who would buy it again (and how many have rated it); the market price, Angel price, and total savings; and other useful information. If you want even more info, you can check out the wine's detail page which includes: drinking window, service advice, food pairing recommendations, a winemaker overview, customer comments, and winemaker feedback on those comments.
You can have a lot of fun assembling themed cases, maybe for a party or just because you want to change it up with a new season or a new diet. You could make yourself a French Tour, a Syrah box, or a Sparkling wine selection for an upcoming party.
Maybe you're feeling lazy and need wine but don't want to figure out what to buy this month? Nakedwines.com offers a variety of pre-mixed cases, all with the same great Angel pricing and free shipping.
COVID Relief Fund & Marketplace
Being a big company sometimes has its advantages. Like when a global pandemic hit that devastated most industries — especially small wineries who depend on in-person visits to their tasting rooms to make ends meet — Nakedwines.com stepped in to help in a big way.
Nakedwines.com created a $5 million fund to assist winemakers unaffiliated with Nakedwines.com whose traditional business models were impacted most by the pandemic. Nakedwines.com opened a COVID Relief Marketplace and allowed wineries who opted in to sell their wines to Nakedwines.com Angels, a huge audience of wine lovers who otherwise may not have known about these small wineries.
Some of the wineries who took advantage of this program include sommelier darlings Ryme Cellars, Aperture Cellars, Elyse, and Saxon Brown. Other wineries whose names aren't well-known but their winemakers are, also were able to keep their own personal projects going — Jesse Katz, a winemaker at Petrus, Lancaster, and Screaming Eagle; Ted Henry, head winemaker at Clos du Val; and Jonathan Pey, former winemaker at Louis Jadot, Penfolds Grange, Mondavi, and Schramsberg. And finally, boutique wineries with nowhere else to turn were able to get their wines to market thanks to this Nakedwines.com initiative.
You can still shop these wines on Nakedwines.com and show your support. Some wines are being sold at the winemaker's retail price, others reflect a modest discount for Angels, as is the Nakedwines.com way.
Nakedwines.com Wine Review
My Nakedwines.com Wine Ratings
| | |
| --- | --- |
| Quality of Wine | |
| Price of Wine | |
| Wine Curation | |
Across all of the shipments I've received, I've been impressed with the price and quality of about 85% of the wines. In most cases I did not pick the wines I received, instead I received a seasonal selection of customer favorites. I imagine if I had picked my own selections, that percentage would be higher, as I would have picked wines suited to my preferences.
What kinds of wine does Nakedwines.com offer?
At the time of this review, there were 296 wines available for sale, with 192 red wines, 77 white wines, and the rest a mix of sparkling, rosé, and dessert wines. 201 were American wines and the other 95 wines were sourced from around the world. Styles of wine include: Big Red, Fruity Red, Smooth Red, Crisp White, Fruity White, Rich White, Sweet White, Rosé, Sparkling, and Dessert & Fortified.
Most of the wines are from a specific appellation (like Napa Valley or Bordeaux). For experienced wine drinkers, these appellations are predictors of quality and terroir (terroir is a vague but critical concept in wine which describes that a wine tastes of the place its grapes were grown). This is important because cheaper wines tend to have broader appellations like "California" and "France" (often because they are blends of several regions) whereas the more specific a wine's origin is on the label, the better quality.
Appellation specificity also helps Nakedwines.com set the Market Price for a given wine. Here are some great examples:
Matt Parish Sta. Rita Hills Pinot Noir. I love Sta. Rita Hills Pinot Noir and do a lot of wine tasting at high-end wineries in the area. The Market price of $36.99 is a drop low, most start at $45 and go up as high as $100, but $19.99 is unheard of. Outside Nakedwines.com I would be skeptical of a Sta. Rita Hills Pinot Noir sold at this price (I certainly wouldn't expect a money-back guarantee attached to it). Nakedwines.com unique business model enables them to price this high-quality wine at a much lower-than-market price.
i-Latina La Armonía Vineyard Syrah. A vineyard designation on a wine label typically means the wine intends to showcase the unique character of that vineyard. In this case, renowned Chilean winemaker Irene Paiva is, thanks to Nakedwines.com, making for the first time her own wines from her own vineyards (as opposed to producing Chile's best red wines for big wineries like Mondavi). The Market price for this wine is $19.99, probably because most of the Chilean wine sold in the US is cheap, mass-produced wine, but the Angel price of $15.99 is enticing — a vineyard-designated red wine under $20 is unusual.
Thoughts on the Wine I've Received

Like 95% of Angels, we would most definitely buy this wine again. Even at the "normal" price of $29.99 we'd buy this again, as it was very good for that price, compared with other Oregon Pinot Noir we've tried. At $14.99, a price normally reserved for crummy bulk Pinot Noir, this wine was exceptional.

Show me a Napa Cab that costs $39.99 and I'll say, "wow that's a good price… what's wrong with it?" This one, which Angels pay just $21.99 to quaff, was fantastic. This wine easily compares to Napa Cabs priced in the $50-60 range.
At this point I'd like to call out one of the 7% of Angels who wouldn't order the wine again. He left a legitimate comment about why he didn't like it (helpful for anyone considering the wine). The winemaker, Matt Parish, read this comment and made a suggestion that might be better suited to the Angel's developing palate. How freakin' awesome is that?!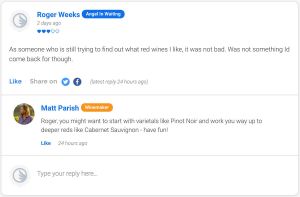 Among our tasting party, 2 out of 3 drinkers liked this Sauvignon Blanc a lot. I was the holdout and I thought it was just okay, but at $14.99 I felt it was about the same quality as similar Sauvignon Blancs at this price. At $24.99 I'd have been disappointed because it wasn't as good as my go-to Nor Cal Sauv Blanc (St. Supery, retails for $22). I'd want to try more white wines from Nakedwines.com before deciding whether to give this one another go.
Update: As part of their internal price monitoring, this wine and the new 2018 vintage are now $16.99 retail and $9.99 Angel Price. At this price it's a great bargain.

You can't touch real Champagne under $30 a bottle these days (except Kirkland Signature Champagne at Costco), and if you want a Rosé, well, you'll pay a premium for that, too. So when we saw this bottle in our box, we were skeptical. $29.99 is a steal for this bone-dry sparkler which we'd be delighted to share with company or keep for ourselves for a little random luxury every now and again.

Chablis is Chardonnay from the northernmost area of Burgundy, France. That "1er Cru" means this wine comes from one of the second-best vineyards in Chablis (France classifies their vineyards into tiers to help buyers know what they're paying for). "Premier Cru" white Burgundy typically retails (in the US) for $25-50, so this pricing would assume a high-quality Premier Cru priced like an entry-level one. It was definitely better than the Louis Jadot I can pick up at the local store, and personally, I really enjoy French Chardonnay's minerality and subtle fruit. Because I don't know anywhere near as much about French wine as I do about California wine, I might not pick one of these up at a store… but with that 100% satisfaction guarantee, it's a great risk-free way for me to learn more about this style of Chardonnay from the Chablis region.

All three tasters in our group liked this one, but we had it after the Matt Parish Cab (above) and didn't sing like the Cabernet did (all of us would prefer a Shiraz/Syrah to a Cab, so it wasn't a grape preference issue). It was still quite excellent and fun to try a premium Shiraz from Australia (most of what we get here in the US is low-to-middle quality or super-premium).
The Winemakers
It's hard to explain how awesome Nakedwines.com is without discussing the winemakers they work with and what those relationships mean for both the winemakers and their fans.
To reiterate, by becoming a Nakedwines.com Angel, you are helping the company have predictable revenue, which enables them to invest in winemaker projects. These winemaker projects enable successful winemakers working for large wineries to have their own side projects and they enable new winemakers without access to capital to get started, explanation to follow.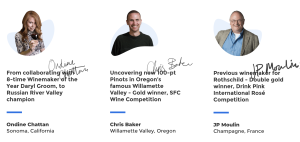 Who are the Nakedwines.com winemakers?
Nakedwines.com works with a variety of independent winemakers around the world. They include winemakers who are already successful (like Daryl Groom from Penfolds Grange and Jean Phillipe Moulin from Ruinart and Perrier-Jouët), winemakers who are young wine industry darlings (like Jesse Katz and Nova Cadamatre), and family winemakers and growers.
Already successful winemakers. Among the winemakers for Nakedwines.com you'll find folks who worked at some of the best wineries in the world. Here's a short list:
Daryl Groom was the senior winemaker at Penfolds Grange
Jean Philippe Moulin was a winemaker at Ruinart and Perrier-Jouët
Stefano di Blasi was a consultant winemaker at Tignanello
Ken Deis was a consultant winemaker at Joseph Phelps, Flora Springs, and Heitz
Matt Parish was the Chief Winemaker for the Americas for Treasury Wine Estates which includes Stags' Leap Winery, Beringer, Etude, and BV.
Ondine Chattan worked at Geyser Peak, Cline Cellars, and Ridge Vineyards
Dalia Ceja & Everardo Robledo are a team from Ceja Vineyards and Robledo Family Vineyards
Young phenom winemakers. Nakedwines.com likes to invest in young talent who may not have the capital or reputation to the loans and contracts for fruit needed to start a winery — much less to handle marketing and distribution their own. Nakedwines.com provides all of these support services to their winemakers so they can focus on making great wine and finding great opportunities to make that wine. Here are some examples:
Jesse Katz is a former Wine Enthusiast 40 Under 40 Tastemaker and Forbes' 30 Under 30; responsible for Lancaster Estate's huge ratings success
Nova Cadamatre is the first female winemaker to become a Master of Wine
Jacqueline Bahue who trained in Umbria, Ribera del Duero, Hawke's Bay, Sonoma, and Napa
Jen Pfeiffer won Australia's Young Winemaker of the Year award
Family Growers & Winemakers. So often complaints lodged against "Big Wine" is that it squeezes out the little guy. Nakedwines.com loves to work with family growers and winemakers. Here are a selection of examples:
Meaghan Hodge & Stephen Miller (grandfather and granddaughter)
Gianfranco & Serena Cordero — Famous Barolo consultant and indie winemaker daughter
Randy & Cheryl Phillips — Husband and wife team (owners of Red Soles winery in Paso Robles)
Michael & Anne Dashe — Husband and wife team who have worked for Ridge Vineyards, Far Niente, Chappellet, and Château Lafite-Rothschild
Nicholas and Marshall Miller — Brothers who are 5th-generation farmers tending some of California's best vineyards, like Bien Nacido
Stephen & Jamie de Wet — Father and son team from South Africa
Justin & Katy Michaud — Husband and wife team from Washington
Bill & Claudia Small — Husband and wife team from New Zealand
Quevedo Family — Family winery in Portugal
Nicky Parish — She's the winemaker, her dad is the viticulturist
Jarvis Tomei Family — Husband and wife team
LangeTwins Family Winery — Multi-generational family winery now working with Nakedwines.com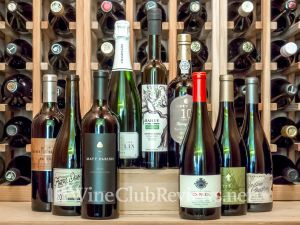 Helping to level the playing field. Industrywide statistics are hard to come by, but it is estimated that only 10% of California's 4000+ wineries are helmed by women winemakers. At Nakedwines.com, 20% of winemakers working on their own are women, and an additional number are part of two-person teams. In the US, less than 2% of winemakers and winery owners are people of color. Nakedwines.com has committed $500,000 to funding scholarships for aspiring BIPOC (Black, Indigneous, People of Color) winemakers and a mentoring program for new BIPOC winemakers (partnered with The Roots Fund).
If you'd like to know more about the ways in which any of the funding or ownership works, I suggest reading their sales pitch to winemakers. The gist is: winemakers set the price, Nakedwines.com makes sure they get paid. Winemakers earn more by helping them sell more. Winemakers own, and therefore are, the brand.
Naked Wines Angels
My Nakedwines.com
Benefits Ratings
| | |
| --- | --- |
| Satisfaction Guarantee | |
| Customer Service | |
| Wine Education | |
| Convenience | |
Now that you know all about the independent winemakers supported by Nakedwines.com, it's time to learn about their Angels — what the rest of the world calls subscribers. Angels are the folks — hopefully you in a few minutes — who make monthly deposits and buy wine at a discount when convenient for them.
To reward Angels for their commitment to independent winemakers, they get more than just great prices, free shipping on orders over $100, and a money-back guarantee — they get great access.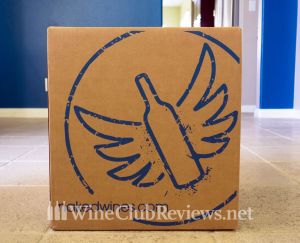 Angels get access to the winemakers. Comment on any wine on the Nakedwines.com website and odds are good the winemaker will see the comment and leave a reply, whether to say thank you or to make alternative suggestions based on your feedback.
Angels get a community of like-minded wine drinkers. There are a huge number of active Groups on Nakedwines.com: one designed for Newbies, one focused on food pairings, one where the winemakers hang out, and so many more. Local groups exist, too, so you might even find fellow winos right in your own backyard.
Angels also get personalized recommendations. The more wines you rate, the better the recommendations. When you're shopping in the online store, it will show you which wines are a good fit for you and you can even filter by wines you haven't tried yet to always keep things new and exciting.
Who Should Join Nakedwines.com?
Nakedwines.com may be the only wine subscription I think is appropriate for almost everyone. Normally I go into a spiel about who the perfect customers are before I say who might think twice. Unless you identify with the customers who aren't a good match, I think you should at least try Nakedwines.com.
I believe strongly that you get a great value and a great opportunity to find new wine styles and regions you'll enjoy. I also believe strongly that Nakedwines.com is a better way to buy wine than how you're doing it now. This service is a great bridge to get from not thinking too much about the wine you buy to becoming a serious wine enthusiast.
Who Shouldn't Join Nakedwines.com
Sweet wine drinkers. If you exclusively drink wines on the sweeter side, Nakedwines.com won't have enough of a selection to keep you interested.
Organic, natural, sustainable wine drinkers. At this time Nakedwines.com has an almost non-existent selection of organic wine, and no wine that the natural wine community would endorse. Even though I can be fairly certain there are plenty of organic and sustainable vineyards producing fruit that goes into these wines, they don't tell you which ones, so shopping here is difficult if sustainability is important to you. They do have a good variety of vegetarian and vegan wines.
Wine drinkers on a very tight budget. While Nakedwines.com does offer a selection of wines under $15, most of them are $15-25 and roughly a third are over $25.
Nakedwines.com Pros & Cons
Pros
A solid selection of value-priced wine from around the world
They'll refund any unspent funds whenever (if ever) you cancel
Their satisfaction guarantee means they'll credit your account for any wines you don't like
Customer-centric pricing which refunds you if you've bought a wine they drop the price on
They're trying to make the wine industry a more inclusive space
Cons
Limited selection of organic, biodynamic, and sustainable wine
No gift subscription option
Nakedwines.com vouchers
You may be here because you received a Nakedwines.com voucher from somewhere else you shop, or even in the mail directly from Nakedwines.com. When you redeem a Nakedwines.com voucher, whether through our site or via a card you received, you are signing up to be an Angel and committing to make $40 deposits on a monthly basis. Except, because Nakedwines.com is awesome, you can cancel before your first deposit, or even any time after your first deposit and you'll get your deposit refunded.
The same deal you were offered with your voucher is automatically applied when you click our links, and you don't need to enter the voucher code from the card you received elsewhere.
What is a wine voucher?
To be clear, a voucher is essentially a discount code. Because the company is British, they call them vouchers and not coupons. At the time of writing this review, there were three options (mixed wine, red wine only, and white wine only) for redeeming your Nakedwines.com voucher, all cost $39.99 and include free shipping. The wines in the trial six-packs change somewhat often, so I haven't listed them here. See for yourself what's currently on offer.
How do you use NakedWines.com vouchers?
Vouchers for Nakedwines.com can be used at their website. If you received a card in the mail, you can visit Nakedwines.com and click the vouchers link at the top of the page. If you click through from my links, your voucher code (the same discount) will already be entered for you. If for some reason you need help redeeming a voucher, you can email chat@nakedwines.com to get it sorted out.
Is Nakedwines.com a good gift?
No. They do not currently offer a gift subscription.