Nakedwines.com Review
In this review · How Does Naked Wines Work? · Naked Wines Review · Membership Benefits · Naked Wine Vouchers · Who Should Join? · Gift Review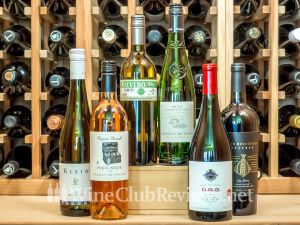 Nakedwines.com is a personalized wine buying service (not really a wine club, but sort of a wine subscription). Here's a high-level view of how it works:
If you join, you've become an "Angel" and each month you deposit $40 from your credit card into your account.
When you're ready, you visit the website and select at least 6 wines to be delivered. You can choose recommended wines (based on how you've rated previous shipments from Nakedwines.com) or choose whatever looks good to you.
Decide you're done having wings? You can withdraw any unspent funds you've deposited at any time.
Oh, and you can get a full refund or replacement bottles for any wine you order and you don't like with their 100% Satisfaction Guarantee.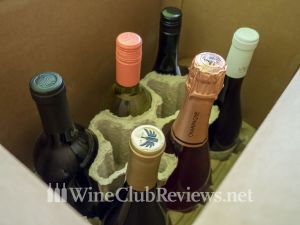 Wine Review of Nakedwines.com
Our Nakedwines.com Wine Ratings
| | |
| --- | --- |
| Quality of Wine | |
| Price of Wine | |
| Wine Curation | |
Nakedwines.com offers hundreds of wines from different grapes, regions, price ranges, and wine styles. At the time we wrote this review, there were 12 wine styles, 12 countries, and too many grape varieties to count. They achieve this breadth of inventory by allowing their independent winemakers to decide what to produce. This means more for you to try than with any other wine club. Whatever kind of wine you're into, you can make a Nakedwines.com membership completely yours.
Shopping for wine at Nakedwines.com is about easy as it can be. You can be super specific with grapes and regions, percent of alcohol, Vegetarian and Vegan, or you can rely on some handy shortcuts like "Big Red" or "Clean & Crisp White." They also let you limit the selection to wines recommended for you (better after you've rated a bunch of wines), "Wine's I've Not Tried," and what percentage of people would buy again. Find a favorite winemaker in the bunch? You can shop his or her wines, too.
One of the most important things we can say about the wine from Nakedwines.com is this: every single bottle we tried showed typicity. If you've never heard this word before, it means that the wine tastes like what it's supposed to (usually specific to a type of grape, but also can be applied more specifically to a grape from a particular region).
This is important to call out because it really distinguishes Nakedwines.com from other wine clubs offering wine in the under $15 a bottle range (though Nakedwines.com offers a broad array of wine at a broad array of prices). When you drink Nakedwines.com, you are truly expanding your palate and learning about wine, as opposed to just trying different wines that arrive at the door.
We received a selection of wines that Nakedwines.com hand-picked for us, and we were very impressed.
Update: Since our initial review, Nakedwines.com has embarked on a "price revolution." Their goal is to show how much markup there really is in the wine industry, and how much of it might just be plain old greedy. "With permanent price drops on 34 higher-end wines from its portfolio, the company is extending an open invitation to producers who make fairly-priced Napa Cabernet to step forward and join its 'Industry Challenge.'" We've updated our prices listed below to reflect these new policies and will continue to update our review to reflect this in the future.
Nakedwines.com Angels frequently rate the wines they receive (it's not required). The rating method is simply a Yes or a No to "I would buy this again." They post this information on the website in a big red circle for each wine you might buy, showing you how many people have rated the wine and what percentage of people would buy it again. Since you pick the wines you receive, you also can receive only the best selling wines if you choose to.
This is one of the wines we received:

Like 95% of Angels, we would most definitely buy this wine again. Even at the "normal" price of $29.99 we'd buy this again, as it was very good for that price, compared with other Oregon Pinot Noir we've tried. At $14.99, a price normally reserved for crummy bulk Pinot Noir, this wine was exceptional.
Here are the other wines we received:

Show me a Napa Cab that costs $39.99 and I'll say, "wow that's a good price… what's wrong with it?" This one, which Angels pay just $18 to quaff, was fantastic. Easily compares to Napa Cabs priced in the $50-60 range (even though it really shouldn't).
At this point I'd like to call out one of the 7% of Angels who wouldn't order the wine again. He left a very clear and legitimate comment about why he didn't like it (helpful for anyone considering the wine). The winemaker, Matt Parish, read this comment and made some suggestions that might be better suited to the Angel's developing palate. How freakin' awesome is that?!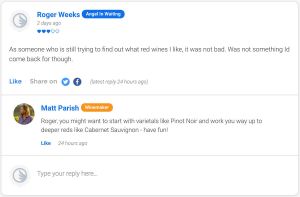 Among our tasting party, 2 out of 3 drinkers liked this Sauvignon Blanc a lot. I was the holdout and I thought it was okay, but at $14.99 I felt it was about the same quality as similar Sauvignon Blancs at this price. At $24.99 I'd have been disappointed because it wasn't as good as my go-to Nor Cal Sauv Blanc (St. Supery, retails for $22). I'd want to try more white wines from Nakedwines.com before deciding whether to give this one another go.
Update: As part of their price revolution, this wine and the new 2018 vintage are now $16.99 retail and $9.99 Angel Price. At this price it's a great bargain.

You can't touch real Champagne under $30 a bottle these days (except Kirkland Signature Champagne at Costco), and if you want a Rosé, well, you'll pay a premium for that, too. So when we saw this bottle in our box, we were skeptical. $29.99 is a steal for this bone-dry sparkler which we'd be delighted to share with company or keep for ourselves for a little random luxury every now and again.

Chablis is Chardonnay from the northernmost area of Burgundy, France. That "1er Cru" means this wine comes from one of the second-best vineyards in Chablis (France classifies their vineyards into tiers to help buyers know what they're paying for). "Premier Cru" white Burgundy typically retails (in the US) for $25-50, so this pricing would assume a high-quality Premier Cru priced like an entry-level one. It was definitely better than the Louis Jadot I can pick up at the local store, and personally, I really enjoy French Chardonnay's minerality and subtle fruit. Because I don't know anywhere near as much about French wine as I do about California wine, I might not pick one of these up at a store… but with that 100% satisfaction guarantee, it's a great risk-free way for me to learn more about this style of Chardonnay from the Chablis region.

All three tasters in our group liked this one, but we had it after the Matt Parish Cab (above) and didn't sing like the Cab (all of us would prefer a Shiraz/Syrah to a Cab, so it wasn't a grape preference issue). It was still quite excellent and fun to try a premium Shiraz from Australia (most of what we get here in the US is low-to-middle quality or super-premium).
Nakedwines.com Angel Membership Benefits
The main reason to join any wine club is usually access to wines you couldn't otherwise purchase. The second reason to get a wine subscription is to benefit from "preferred pricing" offered to loyal members. The third reason to join the best wine of the month clubs is a 100% money back guarantee.
Nakedwines.com hits all of these nails right on the head, but it also offers so much more. Here are some of the non-traditional benefits of becoming a Nakedwines.com Angel: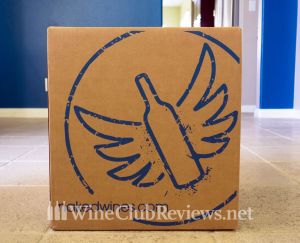 Our Nakedwines.com
Membership Benefits Ratings
| | |
| --- | --- |
| Satisfaction Guarantee | |
| Discounts | |
| Customer Service | |
| Wine Education | |
| Convenience | |
Angels support independent winemakers. These winemakers sometimes leave demanding jobs at world-famous, award-winning wineries to be the captains of their own winemaking ships. Setting out completely on their own requires funding which they typically don't have or don't know how to raise. This is where Nakedwines.com comes in, they fund winemakers who want to create their own projects.
Angels get amazing pricing. By funding winemakers directly and then selling that wine directly to consumers like yourself, Nakedwines.com doesn't have any middlemen or retailers taking a markup along the way. This lets Nakedwines.com pay those independent winemakers fairly AND keeps the costs down.
Angels get access to the winemakers! Comment on any wine on the Nakedwines.com website and odds are good the winemaker will see the comment and leave a reply, whether to say thank you or to make alternative suggestions based on your feedback.
Angels get a community of like-minded wine drinkers. There are a huge number of active Groups on Nakedwines.com, from one designed for Newbies, one focused on food pairings, one where the winemakers hang out, and so many more. Local groups exist, too, so you might even find fellow winos right in your own backyard.
Angels get a bonus bottle! Each time you put 11 bottles in a case, you'll find a complimentary bottle in the box, too. You can opt in or out depending on whether or not you like what's being offered (but it's free wine, so… why would you say no?)
Everyone gets free shipping on orders over $100!
Naked Wines Vouchers
You may be here because you received a Nakedwines.com voucher for $100 off 12 bottles or $50 off 6 bottles. Great news! That offer is always available and if you like this review, you'll get the same deal by clicking our links, no codes to enter at checkout.
Before you sign up using a voucher, which we explain shortly, it's important to know that you can join Nakedwines.com without taking advantage of this introductory offer. Why would you? Well, there's only one reason we can think of. If you want to choose the wines you'll receive in the first shipment, you should opt to bypass the deal and just join the club. There is an approximately one-month waitlist to join. You will be asked for your phone number, address, and credit card to be placed on the waitlist. You will not be charged until you have cleared the waitlist and are an Angel.
Now, about these voucher deals… Some wine clubs have been labeled as scams (even though 99% of them are not) because people purchase wine deals that sound too good to be true, not understanding they're enrolling in an ongoing wine subscription by making the purchase.
Nakedwines.com vouchers absolutely enroll you as an Angel, committing you to $40 a month contributions until you cancel. What's really different from other introductory wine offers is worth noting:
If you cancel before spending any of the money on more wine you get 100% of your money back.
The wine you'll get at a steep discount with your voucher code is wine they think will convince you to stick around. Even if you don't like some of it, you can add your ratings to their site and pick stuff you do like next time.
$50 off Voucher Deal for 6-bottle cases from Nakedwines.com
| | Mixed Wine Case | Red Wine Case | White Wine Case |
| --- | --- | --- | --- |
| You Pay | $49.99 | $49.99 | $49.99 |
| Full Price | $165.99 | $154.99 | $124.99 |
| Angel Discount | $76 (45%) | $65 (42%) | $35 (28%) |
| Voucher Discount | $50 | $50 | $50 |
| You Save | $126 | $115 | $85 |
Who Should Join the Nakedwines.com Wine Club?
We think the Nakedwines.com program is a great fit for almost all wine drinkers. It's so unusual we get to say that about a wine club! Here are the reasons why:
You pick your own wine, and they offer a money back guarantee on everything
They deliver great value at a variety of prices, so when you want everyday wine you can get it and when you want date-night wine, you can get that, too
They have so many wines to choose from, so you can make it any kind of wine club you want it to be
It's a great way to explore new wine regions, new grape varieties, and find a favorite winemaker
Even though Nakedwines.com is a big company (which translates to benefits for you), you're still supporting independent winemakers at every stage of their development from first-timers to well-known wine stars.
Nakedwines.com Gifts
At this time we do not recommend Nakedwines.com for gifts because they don't offer a gift message or gift presentation options.