WINC Wine Club Review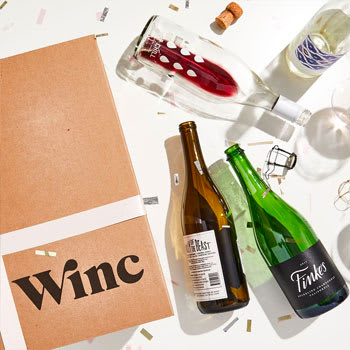 Wine Club Overview & Details
Wine Club Rating:
This wine club is...
Summary
Winc set out to change the wine industry by finding new ways to get better value to wine drinkers who spend less than $15 a bottle — and they're succeeding. By delivering a broad range of wine which appeals to every palate, Winc is a standout wine of the month club.
What I Like
We love how they go above and beyond to reward loyal customers with substantial savings. No other wine club offers this level of loyalty rewards, or this much fun! They have a great variety of wines available, all under $25.
Improvements
Some of the changes to their business model seem a little unfriendly to their customers, particularly that unspent credits are non-refundable.
WINC Wine Club delivers to
AZ CA CO CT DC FL GA ID IL IN IA KS LA ME MD MA MN MO MT NE NV NH NJ NM NY NC ND OH OK OR PA SC SD TN TX VT VA WA WV WI WY
Don't see your state? WINC does not ship there. Browse wine clubs by state.
Join WINC Wine Club
FYI: I find great wine deals so you don't have to. To keep me on the hunt, I earn a commission when you buy wine based on my recommendations.
Coupons & Promo Codes
Deal Four for $29.95
Join today and get four bottles for $29.95 and free shipping. Click for this deal
Deal Save 20%
Holiday Savings Save 20% on gift cards of $100. Until Dec 15. Use code GIFTWINE20 at checkout.
WINC Wine Club Review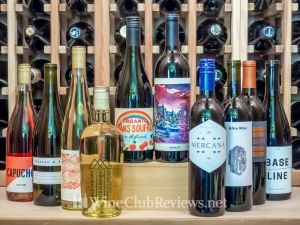 What is Winc?
Winc is a personalized wine subscription offering monthly shipments of wine at affordable prices ($13-25 per bottle). Winc is a winery — the fastest-growing and among the largest independent wineries in the country. They sell their wine in restaurants, grocery stores, hotels, and event venues across the country, but their members always get the best prices and first crack at new wines. If you don't like some of the wines you receive, they offer a Satisfaction Guarantee which will add credits to your account to make up for bottles that don't meet your expectations.
To entice you to sign up, Winc offers a discount on your first shipment. If you just visit their website, you'll save $20 on your first box of four wines or more. If you follow our links, you'll save $30. Your first box (if you don't change the selections from the quiz-based recommendations they make) will be $29.95 plus tax where applicable. No coupon code required.
How does Winc work?
Winc is a personalized wine club which gets to know your preferences to match its wine inventory to what you like to drink. Winc was the first wine club to do this and they invented the now common Wine Profile Quiz used by other personalized wine subscriptions.
The quiz asks some questions about certain flavor profiles that have little to do with wine but a lot to do with how a person tastes (research says there are four different types of tasters). It's best to think of this quiz as a rough cut regarding your preferences, not a fine-grained understanding of what makes your taste buds sing.
While all memberships start with this quiz, you are never obligated to accept their personalized recommendations, even in the first box. In this way, Winc is more flexible than its closest competitors.
TastingRoom.com ships your first box before you even finish your tasting kit experience (they don't use a quiz to get you started).
Firstleaf lets you swap up to six wines per box, leaving you to accept wines their algorithm endorses even if they don't appeal to you. There is a secret workaround that lets you customize your shipments completely.
Bright Cellars lets you swap out one wine per recommended wine, leaving you to accept wines their algorithm endorses even if they don't appeal to you.
To get the most out of their personalization algorithm, you should rate your wines (on a five-star scale). If you'd prefer to be in charge of your wine selection rather than relying on the computer overlords, rating wines isn't necessary as you can stock your own box every month.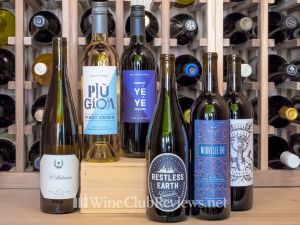 How much does Winc cost?
The monthly charge for Winc is $59.95 (charged on the 14th). These funds are deposited into your account as Winc Credits. You can skip a charge at any time and any unspent funds are carried over to the next month. Shipping is free with orders of four or more bottles and $9 when you order three bottles (the minimum order). Currently, the wines available on Winc range from $12.99 to $21.99 per bottle (member price). You can spend more or less than the $59.95 deposit in any shipment.
Note: The payment approach has changed within the last year or so as the company continues to experiment with new ideas and finding new ways to help their members discover new wine. If you previously considered joining Winc or have been a member, be sure you understand their new terms before signing up.
Winc offers some cool ways to save more. Members can purchase credits instead of making monthly deposits. Spend $140 and get $150 in credits, spend $275 and get $300 in credits, or spend $500 and get $600 in credits — a $100 savings.
Any time you put 12 bottles in a box, you get a 10% discount on top of your member prices. If you're super diligent, you can buy a case in one month, and then skip two — you'll still end up with four bottles a month and you'll save 10% overall.
About this Winc Review
I've been reviewing Winc since June 2013 when it was called Club W. Since then I've received 25 separate shipments of their wine and reviewed more than 165 wines either produced by them or their partners. I am still actively reviewing their service and recently received the 2020 Summer Water — their much loved Central Coast Rosé found in restaurants around the world. This review incorporates my Winc experiences along the way and my experience with more than 100 other wine clubs.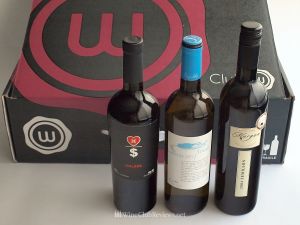 Any wine subscription service is about more than just the wine and this review covers all aspects of the service. The key things I look for in a wine club are: How was the wine sourced? Is the wine selection personalized or curated? How often does it ship? How well does the company communicate about shipping and billing? Do they offer a satisfaction guarantee? Are the shipment sizes and wine selection flexible?
I also examine what kind of wine education they offer with their bottles and whether or not a service is set up for good gifting. These aspects are not core to a wine club being worthwhile, but they are important for many would-be members.
Winc Wine Review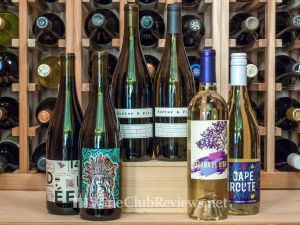 My Winc Wine Ratings
| | |
| --- | --- |
| Quality of Wine | |
| Price of Wine | |
| Wine Curation | |
Over the years my impression of Winc's wine has been fairly consistent. I generally like their white wines and rosés, I generally am not a fan of their red wines, though their newest red wines from South Africa and obscure parts of France are very good for their affordable prices. Their California and South American red wines, for me, typically lack character and are too sweet.
In the past they've offered a premium "top shelf" set of wines priced up to $45 (I really liked those), but they don't offer this selection anymore. Now they've narrowed the selection down to $12.99 to $27.99 (member prices) and are no longer producing single-vineyard wines from exceptional vineyards. This is a mix of market demand (many people don't want to spend more than $15 or $20 on a bottle of wine) and streamlining production to wines they can produce at scale (their membership has grown immensely since the start of the Coronavirus pandemic).
Based on price and quality, you can compare what you get from Winc with what you can buy at the grocery store. What you can't compare is the variety of wines available, the focus on sustainability, and the convenience of home (or office) delivery. Winc is an environmental leader among large-scale wineries in the US.
What kind of wine does Winc offer?
Winc offers a large variety of wine styles, grapes, and wine regions. Red wine options include familiar wines like Cabernet Sauvignon and red blends, and less common varieties like Valdiguie and Pinotage. White wine options include favorites like Sauvignon Blanc and Chardonnay, alongside more unusual varieties like Albariño and Pinot Blanc. They also offer a selection of rosé, semi-sweet and sweet wines, hand-crafted hard apple ciders, and sometimes sparkling wines. It's worth noting they offer a decent selection of sweet red wine (not dessert sweet, but sweet).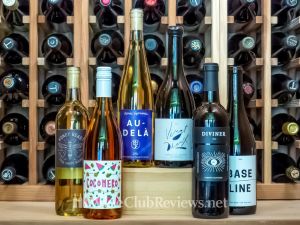 A majority of Winc wines are made from grapes grown in California, mostly from the Central Coast area. Increasingly wines are coming from regions which offer better value for lower-priced wines like South Africa, South America, and less-famous parts of France. Great wine is produced all over the world in places most US-based wine drinkers have never heard of. Winc's winemaking team works with growers in these regions to bring value to its members while keeping prices affordable.
I really like that they have been leaning heavily on South Africa as a wine source. South Africa is a premier wine region that gets very little attention in the US, but is much loved outside our borders. The region offers a variety of wine at affordable prices, so Winc is stretching how much bang you get for your buck on their South African brands like Cape Route, Chommie, and Sister Snake. Based on their top-rated wines (see below), it appears their customers like the South African wines, too.
Unlike Winc's competitors in the personalized wine subscription space, Winc focuses on environmentally-sound business practices, from the vineyards to your glass. They proudly produce many wines that fit newer ideas of what wine can be: vegan, organic, low sulfur, low alcohol, and low sugar. Other than organic and vegan, there is no industry-defined standard for what these terms mean, but Winc categorizes their wines with these attributes for easy selection on the website. They also don't use capsules on most of their wine (that bit of plastic or foil covering the cork) and ship wine from other countries in large plastic soft-sided containers rather than bottled (reduces the carbon footprint of shipping wine overseas).
The Winc Way
Winc is interested in becoming your go-to for wine. They actively work toward creating brands you'll love so that you'll develop a loyalty to these wines (and Winc). These brands each have a unique personality and offer a consistent approach to winemaking from year to year.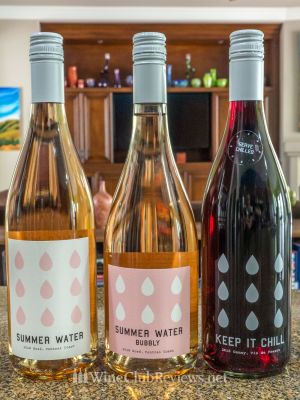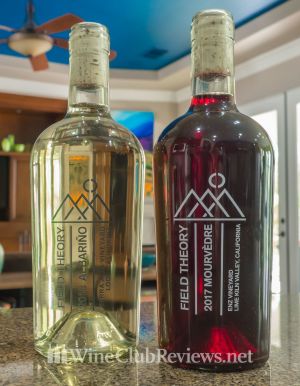 Well-known Winc Brands
Summer Water — A playful take on 'Hampton Water' where rosé is the summer sipper of choice. Also includes "Keep It Chill" a red wine meant to be served chilled.
Wonderful Wine Co — "Clean wine for better living" is low sugar/carb, low alcohol, low sulfur, organic/sustainable, vegan, and keto-friendly.
Pacificana — All wines from this line are a part of the 1% For the Planet program. 1% of your purchase goes to supporting environmental causes through this organization.
Folly of the Beast — A project where Winc is testing how much quality can be produced at super affordable prices. These wines are higher-end California selections of Pinot Noir and Chardonnay.
Loves Me Not — These are among the sweeter wines offered by Winc and come in white, rosé, and a red blend.
There are many more Winc brands.
Customer Favorite Wines
2020 Field Theory Albariño (dry white wine from Lodi, California)
2020 Debts & Lessons Riesling (slightly sweet white wine from Monterey, California)
2019 Folly of the Beast Pinot Noir (dry red wine from Central Coast, California)
2020 Sister Snake Syrah (dry red wine from South Africa)
2020 Point de Passage Sauvignon Blanc (dry white wine from France)
2020 Chommie Cabernet Sauvignon (dry red wine from South Africa)
2020 Sister Snake Sauvignon Blanc (dry white wine from South Africa)
2018 Likelihood of Confusion Red Blend (dry red wine from California)
2018 So This Happened Zinfandel (dry red wine from California)
My favorite Winc brands are: Porter & Plot, Field Theory, and The Independent. All three of these brands are of a better quality than their standard $12.99 selections. At still-affordable prices, they better represent the specific regions they come from (Napa, Lodi, and the Central Coast).
Who should join Winc?
Winc would like to believe that everyone should join. They're trying hard to make a wine club that's a good fit for all wine lovers. The reality is that Winc isn't for everyone. Here is my take on who should and shouldn't join Winc.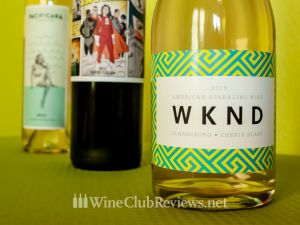 Winc is great for…
Casual wine drinkers. If the ritual of opening a bottle of wine as you wind down your day is more important than all of the details of the wine's production, this wine club is a good fit. This isn't a "serious" wine club and they don't work with "important" wineries (they are a winery in their own right). Winc recognizes most people are interested in a lighter, more fun experience with wine.
Adventurous wine drinkers. Because Winc offers a much broader selection than what's available at the grocery store, Winc is a comfortable and affordable way to explore new wine regions and wine grapes. Within the limits of wine under $22, Winc works hard to offer an approachable variety of styles, grapes, and wine regions. If you're ready to branch out past Chardonnay and Pinot Noir, Winc is a good place to start.
Someone who wants to learn about wine in a low-pressure environment. Winc provides just enough information about each wine to help you learn what you like and what you don't. As you get used to having this type of information about the wines you're drinking, you'll be able to identify flavor profiles you like.

For example, the tasting notes for the 2020 Sister Snake Sauvignon Blanc say "grapefruit, lemon, mandarin orange, and pineapple." They also say the wine's body is light, that it is a dry wine that is higher on the fruitiness scale, lower on the earthiness scale, and has no woody flavors (code for oak and the specific flavors oak imparts, like vanilla).
Wine drinkers who want to pair their wines with meals. Food pairing is as simple or as complicated as you want to make it. Winc facilitates simpler wine pairing by matching the flavor profile of their specific wine to types of food that typically go well with it. As you learn more about these flavor profiles, pairing meals becomes easier.

To continue with the example of the Sister Snake Sauv Blanc, the wine is described as "bright, zippy citrus notes tempered by just a hint of tropical fruits." Its pairing recommendations include shellfish, salad, cheeses, and fruits. These are apt, if vague, pairing suggestions for a zippy, citrusy Sauvignon Blanc. There is a recipes section of their site with more inspired options. The Mini Vegetarian Tostadas look delish and would go well with this wine.
Winc is not so great for…
Premium Wine Drinkers. The prices alone should be used as a tool to self-select out of Winc. If you drink wine that normally costs $20-30 a bottle, Winc probably isn't the best choice for you. If you frequently drink wine over $30 a bottle, Winc definitely is not a wine club for you. Please see these wine clubs instead.
Wine lovers who only love one or two kinds of wine. While you can certainly have a Winc membership built around one or two wines, I wouldn't recommend it. The most important reason not to do this is that inventory sells through and you might not be able to get your favorites every month. That said, if you're an Apple Cider fiend or a wine lover with a sweet tooth, Winc is a good option for an affordable selection delivered to your door (because there aren't many other options for subscriptions of these kinds of wine).
Pros & Cons of Winc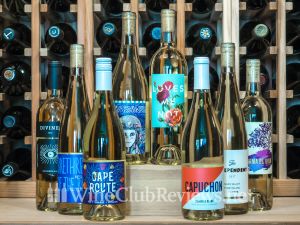 My Winc
Benefits Ratings
| | |
| --- | --- |
| Satisfaction Guarantee | |
| Customer Service | |
| Wine Education | |
| Convenience | |
Pros
It's an affordable wine subscription that offers its best prices to its members.
You can get personalized recommendations or pick your own wines.
You can order as many bottles as you want each month.
You can skip months whenever you need or want to.
They offer a Satisfaction Guarantee. If you don't like a wine you receive, you can contact customer service to get a credit applied to your account.
Cons
A lot of the $12.99 wines taste similar, this is very obvious among the red wines.
Because of how big Winc is, popular wines sell out and you might not be able to get more of your favorites.
They have a less-than-stellar customer service history. Most of this is related to how they handled the introductory offer and ongoing billing for the first several years they were in business. Current complaints mostly relate to missing the monthly email reminding you that you have the option to skip the shipment and that you can't cancel your subscription online without interacting with a human being.
When you cancel, any unused credits are forfeited. If you like the sound of Winc but don't like this policy, check out Nakedwines.com where any unspent funds are refunded to you when you cancel.
Is Winc a good gift?
In general, I say yes! Winc is a great gift! While free wine is the best thing in the world, there are a few considerations before plunking down your cash for a Winc gift: gifts are given as gift cards, the gift card amounts don't correlate well to monthly shipments, read the Who Should Join section, and check that Winc can ship to your recipient's state.
Giving a Winc wine membership means you're giving an electronic gift card. The gift card is filled with the credits your wine lover needs to enjoy the Winc experience (the recipient fills out the quiz and personalizes the wine selection). They'll still need to provide a credit card when they get started, but all credits are spent before the card gets charged. If they spend less than the credits you gave, they won't need to enter a credit card.
Choose the amount you give carefully. A $100 gift card covers one full shipment and then most of a second. A $150 gift card will cover two full shipments (at base prices) and some extra toward a third shipment.
For some gift givers, filling out a wine quiz and picking your own wine doesn't sound like a gift. Those people should not give Winc as a gift.
Winc is a great gift for some wine drinkers. I outlined them in the Who Should Join section of this review and if you skimmed past it, please check it out before giving Winc. It's also a great wine club gift for new wine drinkers (of any age) as it gives them a way to learn and explore the wine world in a low-pressure setting.
You should verify that Winc can ship to your gift recipient's state (and sometimes zip code within states they can ship to) before buying. They can ship to all states but these: AK, AL, AR, DE, HI, KY, MI, MS, NJ, RI, SD, UT. You'll need to start the gift card purchase to see if there are zip code limitations for your recipient's address. Please note, gift cards are not refundable.