Winc Review
In this review · What Is Winc? · Why Choose Winc? · Winc Wine Review · Membership Benefits · Gift Review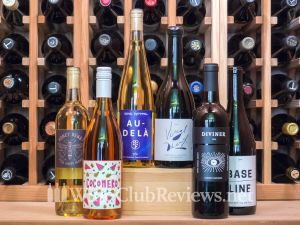 Winc is a personalized wine subscription. Whether you choose your own wine or let Winc curate wines based on your preferences, the Winc subscription is best-suited to the casual wine drinker interested in discovering new wines at an affordable price. In short, they make buying wine easy.
Wines start at $13, and roughly 65% of their selection costs less than $20 a bottle. They also offer premium wines up to $45. Get free shipping when you add four bottles to your box.
To get started with your membership, you take a Palate Profile quiz. After you complete this quiz, they recommend a personalized box of four wines for you to start your membership.
While there are many wine clubs which now start a membership with this type of quiz, Winc pioneered it (back when they were Club W). In our opinion, Winc does a better job of matching quiz answers to wine selections than the other clubs who offer quizzes to get you started. If you happen to not like the automated selections, you can swap them out for something else.
The Fine Print:
Each month on the 13th you'll be charged for credits that can be used for bottles of wine of your choice. The monthly charge is $59.95. Taxes may apply.
You can skip a charge any month.
You can save credits - unused credits rollover - and use them for more premium wine or a case of your personalized favorites.
Free shipping is included on orders of $50 or more (4 bottles). A flat $9 shipping fee will be added to orders of less than $50.
Your membership will continue until you cancel. You can cancel at any time by live chat or calling 855-282-5829.
Why Choose Winc for Your Wine
Winc emerged on the wine club scene with a mission — sell good, affordable wine and offer personalized wine club shipments.
They started by buying what is called bulk wine — wine that has already been produced and is ready to be labeled by someone other than the winery (this is also called white labelling or private labelling). They weren't delivering the quality they wanted, so like any good start-up they pivoted and began to produce their own wine. They are now the nation's largest winery and in 2018 they produced around 300,000 cases of wine.
Check out this video which highlights their operations.
4 reasons Winc is a must-try wine club for most wine lovers:
They offer a wide variety of wine styles across a broad spectrum of prices
They make almost all of their own wine so they have excellent quality control
You can customize every single box or let them pick your wine for you
A 100% Satisfaction Guarantee
For the environmentally-minded, there's another reason: Winc continually makes decisions about their products based on how to reduce their carbon footprint and ecological imprint. Here are a few ways they get that done:
A significant aspect of their sustainability program is their commitment to sustainable farming. Where they produce their own wine, they control how their grapes are farmed, using sustainable practices wherever possible. Where they work with others, they choose growers and producers who share the same values for land stewardship.
They stopped adding capsules to their bottles. Capsules are the little plastic or metal cover for the cap, originally designed to prevent rodent damage to corks in earthen cellars and on ships. Winc estimates the savings from these 3.5 million unnecessary bottle decorations each year to be around 75 football fields' worth of non-recyclable plastic not going into landfills.
"Winc uses flexitanks for liquid transportation. While a standard shipping container holds approximately 12,000 bottles, a standard flexitank holds the equivalent of about 32,000. The fact that a bulk tank can transport more than double the amount of wine has a positive impact on the environmental emissions associated with transportation."
Winc made their shipping boxes as compact as possible. They are made with 70% recycled materials and are 100% recyclable. Their pulp trays which protect the individual bottles during shipping are compostable.
Helping others do the same. 1% of the sale price from the Pacificana brand of wines goes to 1% for the Planet — a non-profit organization who uses the proceeds to help fund diverse environmental organizations so they can be a more powerful source in solving the world's problems.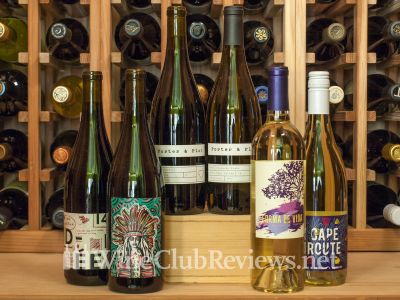 Winc Wine Review
Our Winc Wine Ratings
| | |
| --- | --- |
| Quality of Wine | |
| Price of Wine | |
| Wine Curation | |
There's a lot we want to tell you about Winc's wine. Ultimately you might only want to know if we think it's good and worth the price. The short answer is yes, but if you'd like to know more, keep reading. Otherwise, skip ahead to be impressed with Winc's Membership Benefits.
About the Wine
Winc produces all kinds of wine for all kinds of wine drinkers. You'll note we said "produces" because Winc is a winery that makes its own wine, and they're not a purveyor of bulk wine as they are often (erroneously) believed to be. Bulk wine gets a bad rap because most of it shows wine flaws and tastes the same — hallmarks of poor-quality fruit and intense winemaking to try to cover the poor ingredients.
Winc sources high-quality fruit and uses minimal winemaking intervention to produce its clean wines. Here is an overview of the wines they offer.
Wine Color & Style: Red, White, Rosé, and Sparkling (and hard cider or "apple wine").
Grapes include those you know — Chardonnay, Cabernet Sauvignon, Pinot Noir, Sauvignon Blanc, Riesling, Pinot Grigio, etc. — and those you might not — Touriga Nacional, Albariño, Blaufränkisch, Gamay, Zwiegalt, and more.
Winc wines range in sweetness: Dry, Semi-Sweet, and Sweet (including sweet red wine).
Winc wines range in body: Light, Medium, and Full.
Vegan wines are available (roughly half their selection).
Eco-friendly wines (also roughly half their selection).
Wines come mostly from California, but are also produced in France, Italy, Argentina, Spain, and Portugal.
As a general rule we find their whites and rosés to be very good. We especially enjoy that they offer white wines of varying sweetness, for pairing with dishes correctly. Pro tip: spicy and salty foods taste great with a slightly sweet white wine.
When it comes to their red wines, we think it's important to consider comparable red wines that you can buy in the same price range. For example, we'd pick Winc's reds hands down over those from the WSJwine, Bright Cellars, and Tasting Room wine clubs. We'd rather drink Winc reds than Apothic or Meiomi. And we'd rather not over pay for Cabernet Sauvignon, so we like Winc's value here.
Winc isn't really known for their premium (over $20) wines, which is too bad, because if you're looking for great value, that's where you'll find it. Acquiring high-quality fruit from some of California's top vineyards allows Winc to make wines that are more expressive of terroir — the hard-to-define combination of sun, soil, and climate that makes each wine distinct.
Their premium wine gives members the opportunity to experiment with new grapes, get creative with food pairings for nights you cook at home, or to bring a nice bottle on a night out if you live somewhere you can bring your own wine to restaurants.
Winc Wine Brands
Winc is a winery producing its wine under a number of different brands. Every wine has the Winc logo on the back, but the labels vary quite a bit. Winc's goal is to build consumer trust around these brands, so each has its own personality and qualities. Here are some highlights: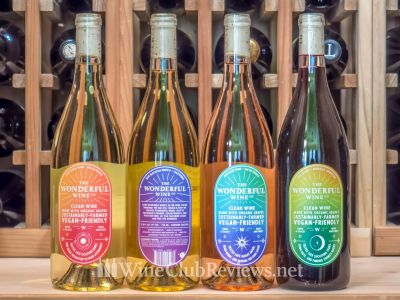 Billed as "Clean wine for better living," the new Wonderful Wine Co brand offers wine that is "grown without pesticides, bottled without added sugars, that's vegan friendly, low sugar, low carb, and low sulfite." We tasted through the lineup and it reminds us of why we don't typically drink these kinds of wines ourselves — they taste like "light wine" (like light beer), a reasonable approximation of regular wine that isn't objectionable but isn't thrilling either. Here is a rundown of what they're offering.
2019 Wonderful Wine Co. - Malbec – Mendoza "Fan-favorite Malbec just got even better with this organically made version that's vegan, low sugar, and low sulfite."
2019 Wonderful Wine Co. - White Wine - Vin de France "Channel summering-on-the-Mediterranean vibes with this juicy, quaffable, organically-made white."
2019 Wonderful Wine Co. - Rosé Wine - Vin de France "Organically grown Grenache and Syrah bring a certain je ne sais quoi to this zippy, clean rosé."
2019 Wonderful Wine Co. - Malvasia Bianca – California "This uniquely-styled orange wine is a real treat for oenophiles who are looking to expand their horizons."
Order a trial pack: 3 bottles for $60, 6 bottles for $110, or 12 bottles for $215.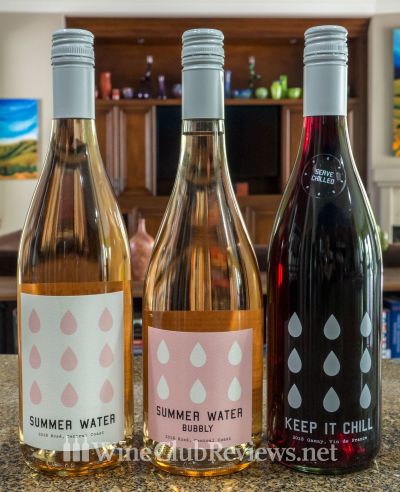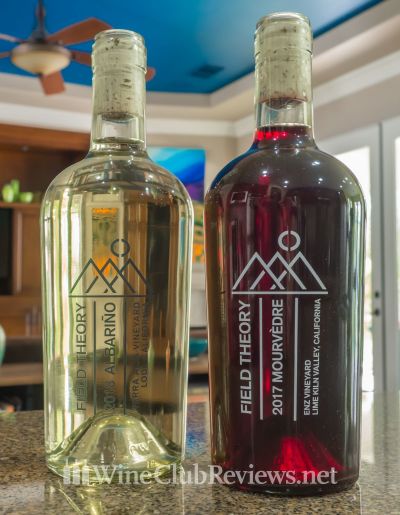 Pacificana. This is their flagship eco-friendly brand. Winc has teamed up with 1% for the Planet so that 1% of all Pacificana sales go toward protecting and conserving the environment. Pacificana includes Chardonnay, Merlot, Zinfandel, and Cabernet.
Summer Water & Keep It Chill. Summer Water is probably Winc's best-known brand, launched with what is now an extremely popular rosé. Summer Water has expanded to include a bubbly version of the original and a newer Keep It Chill chillable red wine. Keep It Chill is a Gamay from Southern France, produced to keep up with trends in natural wine bars and European bistros.
Field Theory. This line of wine showcases how Winc not only isn't a bulk wine seller, but that they're crafting thoughtful wines from top-quality grapes grown in well-respected vineyards. Several of these wines come from the Enz Vineyard in Lime Kiln Valley (a small appellation in Santa Barbara County) and the grapes used by respected winemaker Kenneth Volk, who sadly closed up shop a few years ago. Grapes like Blaufränkisch, Touriga Nacional, and Cabernet Pfeffer hail from this dry-farmed vineyard.
Porter & Plot. This is a premium Winc brand designed to showcase California's top vineyards, with their Cabernet Sauvignon coming from Cox Vineyard in Mendocino County.
Cherries & Rainbows. A newer bottling, this was designed for the conscientious drinker. It's natural, organic, and biodynamic, with zero added sulfur. While the label is whimsical, the wine is the product of serious grape-growing and winemaking.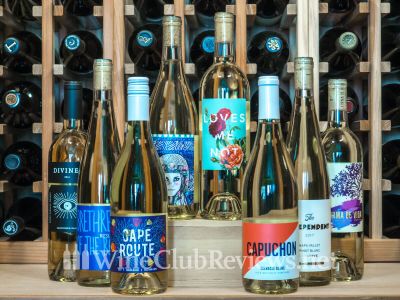 Winc Wine Prices
The wine industry is plagued with legally-required middlemen, each of which increase the cost of wine that you as the consumer ultimately will pay. Wineries get to bypass those middlemen and sell directly to consumers. Some wineries charge full retail even when they sell directly to consumers, but Winc does not — its members get its best prices.
Winc wines start at $13 a bottle. When you want to spend more on a bottle, Winc has you covered. At the time we updated this review there were 70 wines available on Winc. Their focus is on great wine under $20 (around 65% of what's available), but their portfolio of wines over $20 is increasing each year.
| Price per Bottle | Red Wine | White Wine | Rosé | Sparkling | Other |
| --- | --- | --- | --- | --- | --- |
| $13-15 | 18 | 10 | 2 | 1 | 0 |
| $16-19 | 7 | 4 | 3 | 2 | 3 |
| $20-30 | 8 | 6 | 2 | 2 | 0 |
| $31+ | 6 | 1 | 0 | 0 | 0 |
There are two ways we evaluate the price of a wine delivered in a wine subscription box.
The first is to assess whether the wines are being sold to members at a discount. In the case of Winc, who also sells their wine via Whole Foods, fine wine stores, and at restaurants and hotels, this is an easy comparison. Members definitely save over these retail prices.
The second pricing consideration is whether or not you can find similar wines at the same or better prices. The answer here is mostly no, you can't. Anecdotally, we live in Southern California and frequently go wine tasting in the Santa Barbara County and Paso Robles regions where many Winc wines originate. When comparing Winc's premium wines with similarly-priced wines from wineries in these areas, Winc is delivering equal or better value.
You get such great value out of Winc's wines at every price point because they engineered a way to decrease middleman markups. They send good quality wine at affordable prices — especially their higher end Chardonnays, Cabernets, Pinot Noir, and an array of other interesting varieties.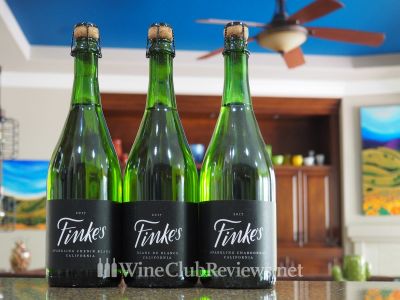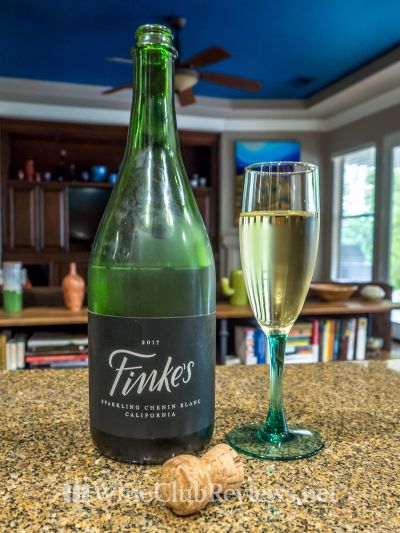 A quick note about Winc's wine cred.
Co-founder Brian Smith is a sommelier and winemaker himself. He was both of these things before he started Winc and it was his perception that there wasn't enough easy-to-access value in the wine market that led him to create Winc.
They've since brought in Ryan Zotovich as Director of Winemaking. Ryan's background includes working at premium Santa Barbara County wineries Palmina and Sea Smoke, in addition to being a part of the Zotovich Family which owns vineyards in the Santa Barbara area and produces their own wines, too.
What's more important is Ryan's winemaking philosophy: "His approach emphasizes respectful winemaking, meaning that he believes 90% of winemaking happens in the vineyard and that proper site selection, coupled with meticulous farming and correct picking decisions, allows for minimal intervention in the winery." This describes what is often called "New California" wine and is the current standard for what all California wine should be according to critics and sommeliers alike.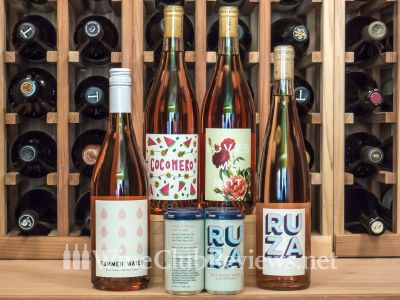 Winc Membership Benefits
Our Winc Membership Benefits Ratings
| | |
| --- | --- |
| Satisfaction Guarantee | |
| Discounts | |
| Customer Service | |
| Wine Education | |
| Convenience | |
Winc shines in a lot of areas, but membership benefits are huge for them. They want members to love their Winc wine subscription and they do everything they can to make members happy.
Among all of their member benefits, Winc's discount program deserves top billing — because who doesn't like to save money on wine?
Winc typically offers a nice introductory offer of $20 off your first shipment. We're big fans of Winc so they offer our readers a better deal — save 50% on your first shipment. You can accept the wines from your palate profile quiz, or you can pick your own wines. If you want to try Winc's premium wines, this is the best available deal to get you started.
Once you're a member, you'll notice you always get members-only pricing. Since many of Winc's wines are available for purchase at retail locations like stores and restaurants, this members-only price reflects a real discount. (As opposed to some of their competitors who make up retail prices since their wines are only available to their members.)
Having a party or want to make some of Winc's wine your house wine? Anytime you buy 12 bottles of wine you save 10% on the order — this includes your monthly box.
Then of course there are the further discounts. If you are pretty committed to Winc, it makes sense to pre-purchase discounted credits, in addition to your monthly credits. You can save up to 20% this way. And you can stack these discounts with the 10% off you get on case purchases.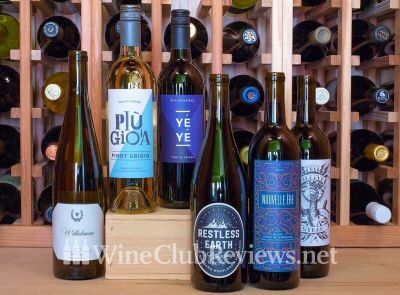 Satisfaction Guarantee. A critical component of our ratings system is the Satisfaction Guarantee. When someone else is picking your wine, you should be able to return what you don't like. Winc has a 5-star satisfaction guarantee. From their FAQ:
"What do I do if I don't like my wine? Winc takes pride in offering some of the best products available for our members. If you are not completely satisfied for any reason, please let us know immediately. We will gladly credit Winc Members the full value of your bottle towards another wine of your choosing in your next shipment."
Customer Service. Winc has a hit-and-miss customer service record. While we haven't received direct complaints from customers, there are many websites detailing customer service foul-ups, particularly about cancellation. You have to call to cancel (or use LiveChat) during their regular business hours. You cannot cancel your account online.
Another complaint is that the wines aren't good quality. Everyone has different tastes and different expectations on what a wine should taste like based on its price. We drink a LOT of wine club wine and we think Winc's $13 wines are better than most at this price range. We also like them better than much of what we can get at the grocery store for that price. You may not agree, but with 50% off your first box, you can decide for yourself.
Convenience. There are few wine delivery services that are truly convenient (let's face it, shipping logistics can be a major hassle), but Winc is one of them. They offer near total online control of your account. Change the number of bottles in your box and your selection of wines easily or skip a month (useful for vacations).
Winc sends email notifications to remind you to pick the wines for your next box, and lets you know the date your wine will ship giving you time to cancel or skip if need be, or ship it immediately. You also get a delivery reminder the day before your box arrives. Sign up for FedEx Delivery Manager for even better control of when your wine is delivered. You can even choose a FedEx partner site to have your wine sent directly to for pick-up when it's convenient.
Wine Education. Winc, as part of its efforts to be more eco-friendly, has eliminated most printed wine information. In your first shipment you get a copy of the Winc Journal, a Reader's Digest-sized book of information about their current wines, recipe pairings, winemaker info, and more.
If you want to learn about a wine you have received, or one you're considering, you can go on their website to get tasting notes. If it's a wine you've already received, we recommend going to the My Orders section and navigating to the wine info that way. They give you a lot of useful information about each wine.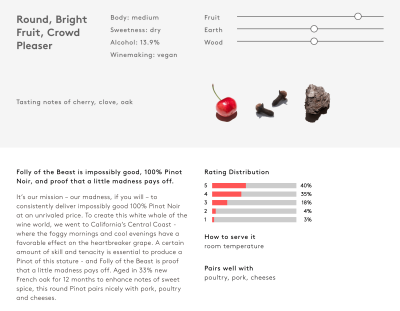 If detailed information about the vineyard, the winemaker, or the winery is critical to your wine club experience (mostly wine geeks like this), then this might not be the club for you.
Winc Gift Review
We think Winc makes a great wine gift idea. Because of the personalized nature of Winc, they don't ship wine to customers without someone setting up an account first. This means when you give a Winc gift, you give an electronic gift card (prepaid credits) for your recipient to use to set up their membership. You can pick how much you want to spend (the smallest amount is $60, but they offer other amounts from $100 to $600 in $50 increments).