TastingRoom.com Review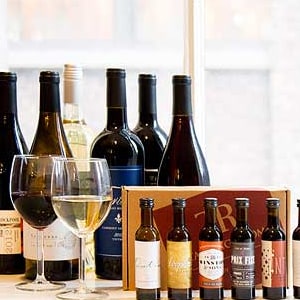 Wine Club Rating:
Summary
A 12-bottle personalized wine club that begins to get to know your preferences with a six mini-bottle wine tasting kit delivered for $9.95. By signing up for the tasting kit experience you are automatically enrolling in regular wine club shipments, 12 bottles delivered quarterly for $149 plus $19.99 shipping.
What We Liked
Their best feature is total control of your account online without having to contact customer service — change the contents of your shipment, change your shipment size, have your next shipment sent exactly when you want it, or even cancel online.
Improvements
The wines offered in the $9.95 tasting kit have extreme profiles (likely the best way to identify the boundaries of your palate) but the experience is fun anyway. It's important to note: rating the wine triggers the first full-price case to be shipped.
Wine Club Shipped to
AZ AR CA CO CT DE DC FL GA ID IL IN IA KS LA ME MD MA MI MN MS MO MT NE NV NH NJ NM NY NC ND OH OR PA RI SC SD TN VA WA WV WI WY
Don't see your state? Tasting Room by Lot18 did not ship there.
Wine Clubs by State
This wine club is no longer available
Try one of these top-rated wine clubs instead?
As one of the first personalized wine clubs — which we define as getting wines customized to your palate — TastingRoom.com stands out from traditional wine of the month programs.
For the first couple of years, wines were selected for you based on your initial preferences as determined by the tasting kit and then later, as you rate your wines, the selections were further refined by TastingRoom's WinePrint™ algorithm.
Now TastingRoom allows you to swap out wines selected for you. You can select any or all of your wines. Note: if you select wines that are out of stock when the shipment is packed, they will pick something else for you and likely not warn you.
Tasting Kit for Sampling Wine
Once upon a time there was this really cool wine company that invented a technology allowing wine to be rebottled in these minis without oxidation occuring. They were sold in a group as a remote wine tasting experience and even had a wine club where you could buy full-size bottles at a discounted price.
Unfortunately that very awesome company spent money faster than it earned it and was forced to liquidate its intellectual property and assets. Lot18 Holdings, Inc. (TastingRoom.com's parent company) purchased the bottling technology and created their own wine club around it — Tasting Room by Lot18.
The premise is intriguing. Taste six mini bottles of wine, then tell Tasting Room what you liked and what you didn't.
They use this information to get an understanding of what kinds of wines you like — my results came back as "Subtle, Sophisticated Reds" and "Round, Luscious Whites" (more on this later) — then each quarter they select full cases of wine from their inventory to match your preferences.
1) The wines in the tasting kit are extreme. This is probably because they each highlight really important flavor profiles that help the algorithm pick wines for you later on, or at the very least, identify your "Wine Profile" and convince you to buy the next case. To some folks, these wines were horrible.
2) Your first case does not reflect your preferences. To us, this is lame, but not a reason to not join. Within 24 hours of rating the wines in your tasting kit, your first shipment will be packed and on its way to you. In my experience, only about half of the wines in the first case understood my wine profile — not a great first impression.
I suspect this is largely because the six wines in the tasting kit are "rough cuts" and they really haven't learned enough about your profile to get it right. We have found that subsequent shipments where we rated the wines we received improved dramatically.
TastingRoom.com Wine Review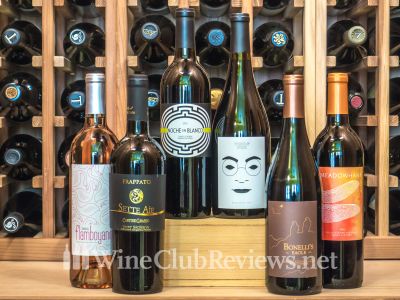 My TastingRoom.com Wine Ratings
| | |
| --- | --- |
| Quality of Wine | |
| Price of Wine | |
| Wine Curation | |
Now here's an interesting subject... TastingRoom.com USED to sell Lot18 wines through their membership. Now they private label or custom produce almost everything they sell, so you COULD say it's highly curated. For us though, what it tastes like, is that they make wines to fit their Wine Profiles, not fit great wines to their Wine Profiles.
It is our impression that the more wine you receive and the more wine you rate, the better your experience gets. We've received several shipments of wine since the tasting kit experience, but we felt like even the second full case was much better than the first. They start with a basic profile (here are ours) and then modfiy your selections based on how you rate the wines you've previously received.
Figuring out what "retail" is can be challenging when assessing TastingRoom.com because they make most of their own wines. Their general assumption is that retail value would be double (or more) what you pay for these wines as part of your membership. For the wines they purchase from independent wineries, you can expect prices to be 15-45% below retail.
As we always do, we spot-checked a few of the wines to see if their savings claims were legit. We researched via Google and the Lot18 website where they sell to a broader audience than just their wine club. We found the wine club pricing to be consistent with, and often favorable to, the regular Lot18 prices.
If you're buying wine bottles outside of your club shipments, your price depends on how many bottles you're ordering: 2 bottles are $20 each, 6 bottles are $15 each, and 12 bottles are $14 each.
We've tasted a LOT of wine from Tastingroom.com... and this isn't even all of it.
Wine taste is subjective, but quality is not. A fair number of folks have not liked the wines offered by TastingRoom.com. I suspect this is because they're used to drinking pricier wines (think $20-30 per bottle for reds, or $18-22 for whites) and the wines from TastingRoom rarely reach they typical level of quality you'd expect in that price range.
Now, in fairness, if you're buying 6- or 12-bottle cases, you're paying $14-15 a bottle for a personalized delivery service... It's fair to expect wines that taste like other wines in this price range and not fair to expect more. So... if you normally drink wines in this price range, then you'll like the quality. If you normally spend more on your wine, this might not be a good fit for you.
Membership Benefits
My TastingRoom.com
Benefits Ratings
| | |
| --- | --- |
| Satisfaction Guarantee | |
| Customer Service | |
| Wine Education | |
| Convenience | |
Here's why we give TastingRoom.com a 4-star rating, despite some shortcomings in the tasting kit and general marketing gimmickry.
Personalization. A personalized wine club used to mean you picked the color of your wine and maybe how often you received your two-bottle selection. Now it means the wines in your shipment are picked specifically for you and what you like.
There is competition in this space, but Tasting Room holds their own. There's something to be said for "no surprises" but the adventure of trying wines you wouldn't have picked yourself has its charm, too. Regardless, Tasting Room's brand of personalization is pretty thorough.
By rating the wines you receive, their algorithm gets smarter over time. If you see something in your shipment that you don't like, you can swap it out for another wine. Try something new, reorder an old favorite, it's up to you. That's pretty personalized!
Convenience. There are few clubs that have elevated the wine-buying experience to truly convenient (let's face it, shipping logistics can be a major hassle), but TastingRoom.com is a master at convenience in online wine buying.
They have an unprecedented level of online control for your account — change your number of bottles, your selection of wines, or your shipment frequency easily online.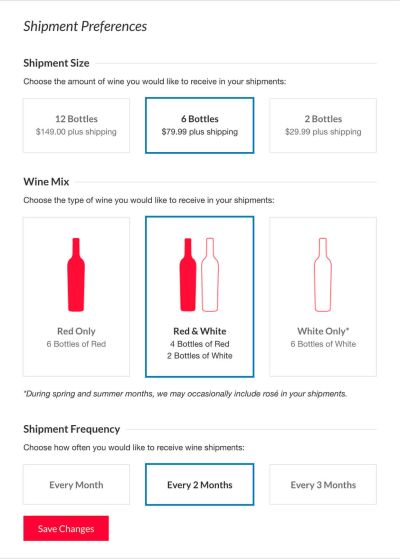 Going on vacation or have a really busy week coming up? No problem, just change your next shipment date to one that works better for you.
They also offer "Ship it now" if you've already run out of your last case and are ready for more (parties and hostess gifts are known to eat into your collection).
Even cancel your membership without picking up the phone — just remember to do this BEFORE you get your shipping notice. They're sticklers for you paying return shipping and a $15 restocking fee.
The education style for Tasting Room by Lot18 is different than other wine clubs. At other clubs you get a glossy (or not) printed brochure detailing how the wine was made, a bit about the wine region, the winemaker, and the winery. This is usually accompanied by food-pairing recipes and other trivia.
TastingRoom.com takes another approach—they teach you about the characteristics of the wine as you experience it to help you learn what kinds of wine you like. They do this by providing a detailed tasting note and a graph of the wine's flavor profiles, as well as drinking suggestings and pairings, and the region the wine comes from (See below).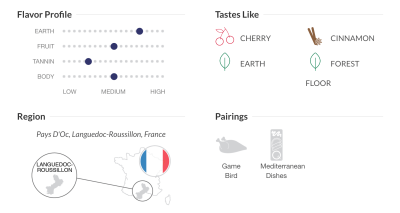 If detailed information about the vineyard, the winemaker, or the winery is critical to your wine club experience (mostly wine geeks like this), then this isn't the club for you. For everyone else, this is useful information. Also, the savings of not creating and print tasting notes likely helps TastingRoom.com keep their costs low.
We're big on Satisfaction Guarantees... from their FAQ page:
"What do I do if I don't like my wine? Everyone's tastes are different, and we want to make sure you only receive the wines that suit you. If for any reason you receive a wine that doesn't meet your expectations, just let us know and we'll promptly replace it or credit you for it."
Tasting Room by Lot18 has a horrible customer service record. We've received direct complaints from customers over the years and the web is littered with a litany of customer service foul-ups. They largely fall into a few specific groups:
1) People didn't know they were signing up for a wine subscription and were surprised by the first case of wine they received.
2) People didn't like what happened after they received the first case.
2a) Some people didn't like the wine at all (see Wine Review above)
2b) Some people didn't like the return shipping costs and restocking fees for the wine they didn't think they ordered.
3) Dissatisfied customers found it difficult to cancel. This should not be an issue anymore. You can cancel online with the click of a button. I've done it, it works. Just don't forget to cancel BEFORE you receive notice that your next shipment is on its way (and they do warn you before they ship it).
TastingRoom.com Gifts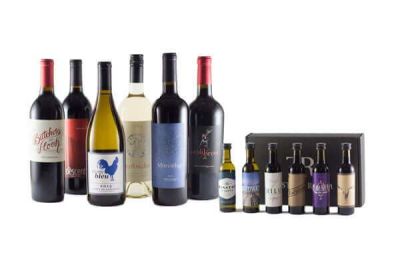 We think TastingRoom.com makes the perfect gift for a young person who's just getting to know wine or your favorite wine-lover who typically spends $12-15 on a bottle of wine.
The gifting experience consists of the recipient receiving a redemption code for their gift, then they go through the process just like a new customer. They get the tasting kit, and then they get six bottles of wine based on the results of the kit experience.