Firstleaf Review
In this review · How Firstleaf Works · Matching Technology · Wine Review · Membership Benefits · Who Should Join? · Gift Review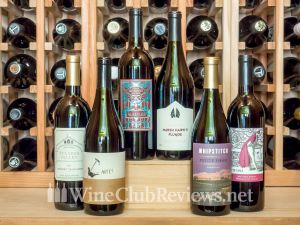 How the Firstleaf personalized wine club works:
They start to personalize your wine subscription when you first sign up and take their quiz
They further personalize your wine selections based on how you rate the wines you receive from them
They compare your preferences with all of the information they have about the wines they work with
They check their available inventory, and make recommendations about wine you should try
Some additional personalizations include:
Select your wine color: Red, white, or mixed (you can also opt in to rosé and sparkling)
Select your wine region: USA, imported, or mixed
Select your delivery frequency: Monthly, every other month, or quarterly
Swap out bottles you're not interested in until you love your shipment
Firstleaf Technology
Personalization technology is a big thing in ecommerce and even in-person shopping these days. As customers, we are more frequently asking for "the perfect item for me" rather than choosing an off-the-shelf product. The wine industry has taken note, and Firstleaf is one of several wine clubs offering personalized wine selections.
Unlike their competitors, Firstleaf is openly relying on data science and more quietly analyzing every wine they sell for its chemical properties associated with taste.
Additionally, they're using relatively-sophisticated machine learning algorithms for aligning your individual preferences with their wine inventory. These three technologies together, combined with a very large inventory of different wines, puts Firstleaf at the forefront of personalized wine subscriptions.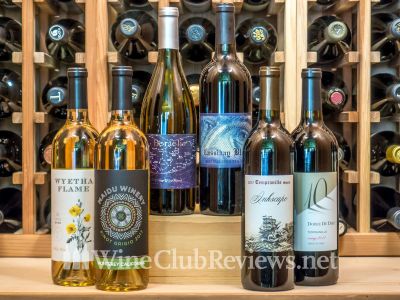 Firstleaf Wine Review
Our Firstleaf Wine Ratings
| | |
| --- | --- |
| Quality of Wine | |
| Price of Wine | |
| Wine Curation | |
Firstleaf accurately determined that most people don't want to pay more than $15 for a bottle of wine. Since they are interested in selling a lot of wine, they set this as their price cap and set out to find wines that would be of good quality at this price.
Firstleaf Club does a good job sourcing the kinds of wine you'd expect with a target price of $15 retail — typically they come from lesser known wine regions and are made in high volume from inexpensive grapes. Given that they're selling wine for $15, it's best not expect wines from premium wine regions showing up very often.
They do have a smattering of wines they offer from premium regions like Bordeaux, Bourgogne (Burgundy), and Piedmont. Most of their International wines come from lesser-known areas of France, Italy, and Spain where bargains are still available for wine importers (and therefore you).
Likewise, in our experience so far, their USA selection has a lot of wine labeled "California," drawing on wines produced in areas with lower real estate costs like Lodi, Paso Robles, and other inland locations as opposed to Napa and Sonoma.
As we perused the list of International wines available, we were impressed with the variety of grapes (it wasn't all just Cabernet and Merlot for reds, or Chardonnay and Sauvignon Blanc for whites). With this selection you'll discover new wine varieties to try when you're shopping at the store, too.
Despite the numerous awards, we found the wine quality to only be slightly above average for its price point, and comparable with other wine clubs offering subscriptions for $15 bottles of wine.
How to get more value out of your wine subscription: Opt for Imported wine instead of USA when you set your preferences. As a general rule, there is more value for your dollar with wines produced outside the U.S. There are many reasons for this, and of course there are always exceptions.
There is a bit of a "black box" around wine selection (Penrose Hill is the entity tasked with producing and sourcing most of the wine for Firstleaf), so it's hard to carefully assess their curation. We know from their selections that they're placing an emphasis on cost savings and finding wines most people will enjoy.
One thing we'll note, they claim MSRP values above $15 for their wines. Since few of their wines are available outside the club (almost are all produced by Penrose Hill for Firstleaf), these numbers aren't real. We dinged them a half-point for this practice because they are using a questionable tactic to make you feel like you're getting more value than you are.
Are Firstleaf wines really all award-winning?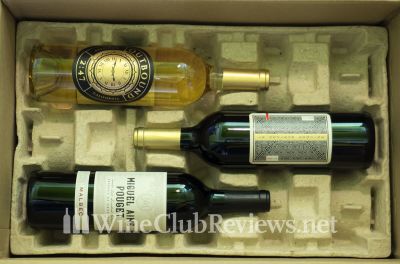 Firstleaf claims their wine is all award-winning. They include the awards on the website pages which describe each wine. We checked around, both for the wines they advertise with and the wines we received. We confirmed at least one award for each wine we received in our introductory shipment.
When it comes to marketing wine, the industry is excellent at coming up with clever ways to help us judge what's in the bottle before we buy it. The three ways this is done most often are: getting wines reviewed by critics, submitting wines to competitions, and writing highly descriptive language.
Most of us are busy and just want someone else to tell us what's good. You may need to rely on this information to make your decision-making process easier. A smart consumer knows to always question the source, which is where we come in. Our advice: these are all subjective measures at best and should be used with caution when selecting wine. The bottom line is that it's best not to assume any wine, from any producer, will be amazing simply because it earned a medal.

Firstleaf Membership Benefits
Our Firstleaf
Membership Benefits Ratings
| | |
| --- | --- |
| Satisfaction Guarantee | |
| Discounts | |
| Customer Service | |
| Wine Education | |
| Convenience | |
Here are a few reasons you should join Firstleaf:
Satisfaction Guarantee. Firstleaf comes with a 100% money back satisfaction guarantee.
Discount Opportunities. Firstleaf has an introductory offer where you sample six wines for $39.95 (normally $79.98), shipping is included but there is sales tax where applicable. This is a good introductory offer. They also offer $10 off when you rate your first three wines. Since your only options are thumbs up and thumbs down, you'll have to decide on one or the other to get your $10.
Customer Service. We were unable to find any complaints about the customer service at Firstleaf. They're either really good at removing negative feedback about them from the Internet or they're running a tight ship trying to keep customers happy. We'll update this rating if we receive complaints from customers.
Convenience. Firstleaf offers all of the conveniences you expect from a modern subscription box service. You can change your preferences, shipment delivery dates, and even swap out wine bottles on demand on their website. They also keep a history of everything you ordered so you can go back and rate the wines easily. You can also place your account on hold or cancel altogether (though you'll have to look in the knowledge base to find the link).
Wine Education. When it comes to wine education — information about the wine region, the winemaker, the grapes, and of course tasting notes about the wine — Firstleaf could be doing more to teach us about wine. Their beautiful wine cards contain simple tasting notes, food pairing suggestions, and some basic statistics. One aspect of their tasting notes that we really like is the wine profile describing the wine's body, acidity, sweetness, fruit, and tannin. This information is very helpful in helping you find more wine you like and we suspect it has a lot to do with the algorithm that picks your wine.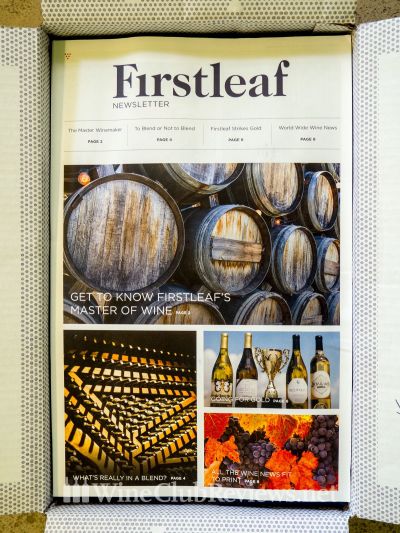 Who Should Join Firstleaf Club?
Firstleaf is a value-oriented, personalized wine club.
We believe the following wine drinkers would be happiest with this wine club membership:
New wine drinkers who want to learn about different wine in a casual, affordable way
Wine drinkers who appreciate inexpensive white wine and rosé
Wine drinkers with a more narrow set of preferences who want to stick with what works
Patient wine drinkers — like all personalized wine clubs, it takes a few shipments before they get really good at knowing what you like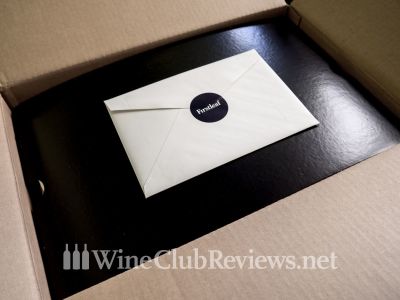 Is Firstleaf a Good Wine Club Gift?
No, Firstleaf does not make a good wine subscription gift. Primarily this is because there is no pre-paid subscription option, you can't include a personalized gift message, and there isn't any gift wrap in the first shipment. Here is a list of our favorite wine clubs for gifts.