Firstleaf Wine Club Review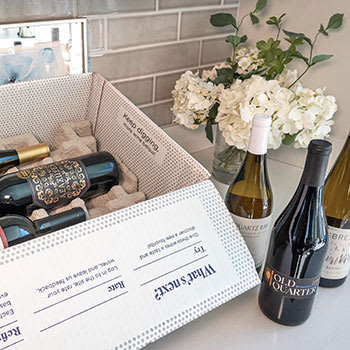 Wine Club Overview & Details
Wine Club Rating:
This wine club is...
Summary
An affordably-priced personalized wine club that learns what you like as you receive, drink, and rate six bottle shipments. International, domestic, and award-winning wine from a thoroughly modern wine subscription box service.
What I Like
Compared with other wine subscriptions in this price category, I think Firstleaf has nailed ease-of-use, presentation, and offers reasonably-interesting wines. I also really like that they identify the body, acidity, sweetness, fruitiness, and tannin level for each wine they sell. You can review the wine before it is shipped and swap out wines that have characteristics you don't like.
Improvements
I think their marketing materials make them seem better than they really are, but with a 100% satisfaction guarantee and inexpensive introductory shipment, you can decide for yourself.
Benefits
Affordable, good value

Highly customizable

100% satisfaction guarantee

Offers nutritional info
Drawbacks
Relies too heavily on awards
Compare Firstleaf Wine Club
Firstleaf Wine Club delivers to
AL AK AZ AR CA CO CT DC DE FL GA HI IA ID IL IN KS KY LA ME MD MA MI MN MO MT ND NE NV NH NJ NM NY NC OH OK OR PA SC SD TN TX VT VA WA WV WI WY
Don't see your state? Firstleaf does not ship there. Browse wine clubs by state.
Join Firstleaf Wine Club
FYI: I find great wine deals so you don't have to. To keep me on the hunt, I earn a commission when you buy wine based on my recommendations.
Coupons & Promo Codes
Deal 6 bottles for $39.95
Save $50 — Try Firstleaf and get 6 bottles of wine selected just for you for just $39.95. Shipping is included in your first order. Click for this deal
Firstleaf Wine Club Review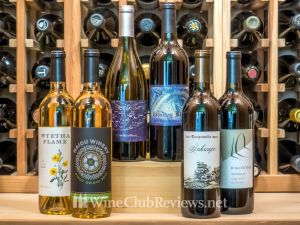 Is Firstleaf a wine subscription?
Firstleaf is an affordably-priced wine subscription ($15 per bottle) which offers a substantial selection of wine styles and grapes from around the world. Each box you receive is selected just for you.
Their goal is to figure out what kinds of wine you like to drink — the specific characteristics of the wines that you like — then always ship you wine you'll love (or at least be happy to drink). It gets to know you better the more you rate your wines.
Firstleaf is also an online wine store where anyone can shop, whether or not they're a member.
How much does Firstleaf cost?
For the standard six-bottle membership, Firstleaf costs $89.94 ($14.99/bottle) plus $14.95 shipping and applicable sales taxes. Your first six-bottle shipment is heavily discounted to $39.95 with complimentary shipping when you use this link
After your first shipment, you can stick with six bottles per shipment, but you also have the option to upgrade to a 12-bottle membership for $179.98 which gets you free shipping. For twelve-bottle shipments, you can choose two each of the recommended wines in a six-bottle shipment or all different wines.

Also after your first shipment, you can upgrade to include wines from their Fine Wine Collection. You'll need to opt in to this feature which includes up to three wines at a premium price of $10 per bottle. These wines are not swappable.
Shipments are, by default, delivered monthly, but you can change this.
Tip: save the $14.95 on shipping — change your membership to 12 bottles every other month (or less often). There's no need to "skip" months to manipulate your way to a discount. This is a big improvement over similar wine clubs.
Firstleaf promo codes and introductory offers
Firstleaf's introductory offer is six personally-recommended bottles for just $39.95 with free shipping and applicable sales tax. That's roughly $6.65 per bottle and worth the experiment. Just remember you're enrolling in an ongoing membership when you purchase the trial pack, but you can cancel hassle-free at any time.
This is their best deal — save 60% on your first box of wine — no promo code required and the offer does not expire. Get this deal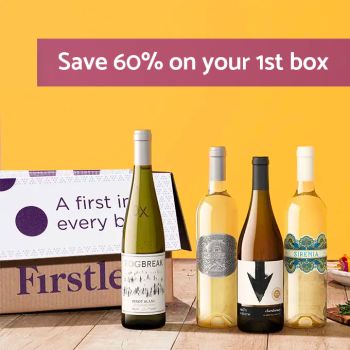 How does Firstleaf work?
When you sign up, you'll take a wine quiz which learns as much as it can about what you like. Your first shipment is their best guess at six bottles you'll like based on your answers to the quiz. Learn more about the quiz.

How you rate those wines helps them determine what to suggest for you next. Each subsequent shipment contains six bottles of wine selected just for you, based on your quiz results and your ratings. Learn more about the algorithm.
Before each shipment is processed, you get an email with your latest recommendations and the date by which you need to approve, modify, or postpone your next shipment.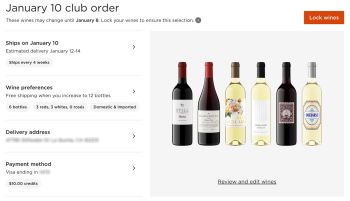 If you're not sure if you want to try a recommended wine, you can swap it out for another wine which fits Firstleaf's understanding of your preferences. Swapping allows for better personalization when their algorithm makes choices you don't agree with, but still encourages you to try new wines that may seem outside your comfort zone.
Note: swaps are limited to three per bottle per shipment.
Firstleaf is a fully-featured online subscription
Aside from offering good value on a variety of wines, Firstleaf is an excellent subscription service. This is important because while the wine is foremost, a bad service would ruin a great wine experience.
My Firstleaf
Benefits Ratings
| | |
| --- | --- |
| Satisfaction Guarantee | |
| Customer Service | |
| Wine Education | |
| Convenience | |
The best part about their service is how you can manage absolutely everything online. They have a great support staff available via chat, email, or the phone — but some of us just like to do things ourselves.
For more details on the points below, and to see how they stack up against competing subscriptions, read my full explanation of Firstleaf features & benefits.
There are many ways to customize and utilize your membership:
Shipment size: upgrade or downgrade between six- and twelve-bottle shipments at any time.
Wine color: choose how many of each color wine you want. There are six different wines in each box and you can choose any combination of red or white wine. You can also opt in to one sparkling wine and one rosé per shipment, too.
Wine price: upgrade to Premium bottles, up to three per shipment. These upgrades are $10 more per bottle. If you upgrade three bottles, your six-bottle shipment price becomes $124.94 + $14.95 shipping.
Wine regions: choose between the US (domestic), outside the US (imported), or both (a variable mix of domestic and imported wines).
Shipment frequency: get shipments every 2, 4, 6, 8, 10, or 12 weeks (the default is 4 weeks).
One-off shipment scheduling: when your preview email arrives to tell you your ship date, you have the option to move it. This is especially useful if you're going on a vacation. You can reschedule the date to any time in the next three months. Your regular schedule of shipments then starts over on your selected date. Note: the shipping date is when the order processes, not when the shipment arrives.
Manage your info: it's easy to manage your personal details like your address and credit card info online.
Delivery or pickup: if someone 21 or older can't be home to receive the wine, set a FedEx pick-up location instead of your home or office before the order ships.
Opt in or out: easily opt into or out of notifications like promotional emails or the Firstleaf newsletter. You can't opt out of shipment or delivery notifications.
Keep tabs on your account: track deliveries, see previous orders, and rate wines online.
No-hassle cancellation: cancel with the click of a button at any time.
Firstleaf membership benefits
In addition to a plethora of customization options, Firstleaf also offers their members several benefits to thank you for your loyalty and enhance your membership experience.
100% satisfaction guarantee. To me, this has always been a key reason to join this wine club. Firstleaf has what I consider a 5-star guarantee: if you don't like a wine, they'll give you a credit toward your next order. They'll ask you about why you didn't like it for quality control purposes, but they'll make it right, too.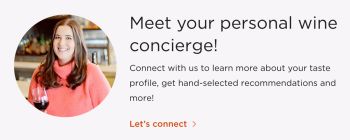 Personal wine concierge. Friendly people with some level of formal wine education (it varies) are trained to help you get the most of your membership. If your selections aren't working for you, you can have a free meeting to discuss and modify your personalization info. They are also available to suggest new wines for you outside of your regular shipments, help you organize wine for events and celebrations, and to chat about which wines to drink for the current season.
Members-only discounts. Every Firstleaf Exclusive wine you buy, whether as part of your shipment or as an additional order, is $15 when your order has at least six bottles.
Additionally, members receive a 30% discount on Firstleaf's Fine Wine Collection. These wines are not part of regular shipments and must be ordered separately. You can up upgrade to add up to three bottles from this collection to your regular shipments for just $10 per bottle.
Which other wine clubs are like Firstleaf?
This is a good time to introduce other wine clubs that are similar to Firstleaf. I have reviewed each of these alternative clubs (meaning I've tasted several shipments of wine and written a full review).
I consider the following wine clubs to be similar to Firstleaf because they are also personalized wine subscriptions mostly priced under $20 a bottle.
My quick take
Want to know more? Get a more detailed understanding of how Firstleaf compares to each of these clubs or check out side-by-side comparisons, feature by feature.
Firstleaf Wine Review
Firstleaf offers a personalized wine selection for each customer. One of the many wonderful things about wine is that each of us — with our own unique set of taste buds — can find a wine grape, region, or style that is just right.
Firstleaf understands finding these wines is a challenge for the average wine drinker — if only because the sheer volume of different wines produced every year is mind-boggling — and they aim to help. They create all of their own wines and have them chemically analyzed, so they know objectively which wines are similar.
They pair this objective chemical data with your preferences to create a collection of wine you'll want to drink. Because of this, I can't tell you if you'll like the wine at Firstleaf. I do. And here's why.
Among their similarly-priced peers, I find Firstleaf's wines are the best quality. By quality, I mean that they are balanced wines showing typicity (this means the wine has similar flavors to most other wines made from the same grapes).
My Firstleaf Wine Ratings
| | |
| --- | --- |
| Quality of Wine | |
| Price of Wine | |
| Wine Curation | |
Balanced wines don't taste too much of each of the following: alcohol, acid, tannins, and sugar/sweetness — instead, the natural character (typicity) of the grapes and where they were grown (terroir) should be prominent.
Why these things matter: at $15 per bottle, I do not expect a lot of character, but if the wines are out of balance they're not enjoyable or food-friendly.
Some important things to know about Firstleaf wines: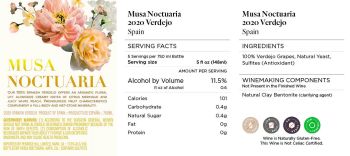 Firstleaf is a winery that makes its own wine under the label Penrose Hill, Ltd. As such, most Firstleaf wines are not "bulk wines" as some other sites have described them.
Firstleaf also imports wine under the Penrose Hill name (see above back label), and sometimes bottles the wine at their Napa facility (this is what some people call bulk wine, intending to disparage the wine for being handled this way, but it's just a different business model and says nothing about quality).
Firstleaf offers an impressive selection of wine made from many different grape varieties and regions across the world. These wines are also produced in a variety of styles to fit many different drinkers' preferences.
Firstleaf claims their wines are all award winning. I dispute the value of this claim and suggest ignoring it altogether.
Firstleaf includes on their website the back label, an ingredients label, and a nutrition facts label for every wine they produce. In an era where transparency matters, Firstleaf is leading the way by doing this.

Unfortunately this information isn't easy to access while picking the wines in your box, it requires you to open a second tab or window to look up the wine on their website. Also, they should include the final sulfite content and define what "eco friendly" means for each wine.
Wine I've received from Firstleaf
In the time since I began reviewing Firstleaf (August 2018), I have received 11 different shipments with 46 different wines, roughly evenly split between white and red with a little bit of rosé sprinkled in for good measure. Some of these are shown below.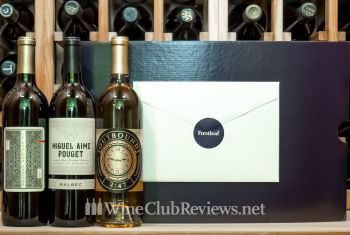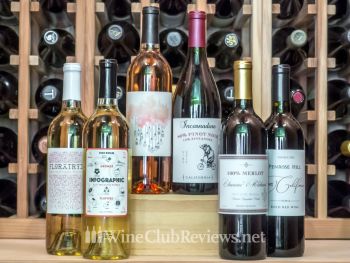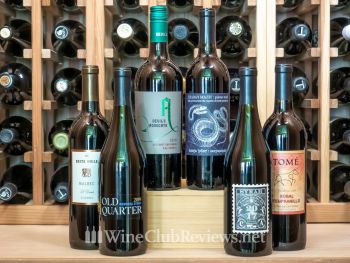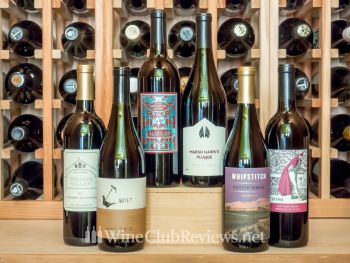 The most relevant parts of this wine review are how well those wines fit my preferences and what the overall drinking experience (quality) was. If you'd like to know in much greater detail what I received and drank, you can get a deeper look at all of the wine I've received from Firstleaf.
Here is a sampling of what I received: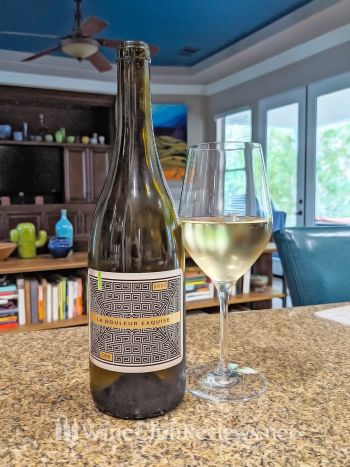 Wine: 2020 La Douleur Exquise
Blend: 100% Grenache Blanc
Region: Pays d'Oc IGP, France
Retail price: $28 / Member price: $14.99

A touch sweet, more so than I'm used to, for a Grenache Blanc, but it had excellent acidity to balance the sugar, making it very approachable and food friendly.

If you like white wine but are tired of Chardonnay and Sauvignon Blanc, Grenache Blanc is the next grape for you to get to know. As with all wines, not all Grenache Blanc is created equal, but most are very good.

My full review of: La Douleur Exquise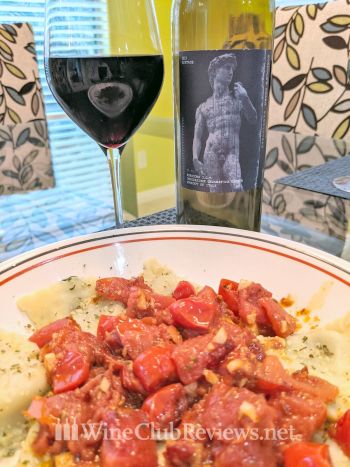 Wine: 2019 Scapolo's Charm
Blend: 100% Sangiovese
Region: Rubicone IGT, Italy
Retail price: $19 / Member price: $14.99

This Sangiovese was slightly sweet and bright, had nice tannins, and savory notes. As $15 red wine goes, I gave this a thumbs up.

Sangiovese is a great grape to get to know if you eat tomato-based Italian food (including pizza). It has acidity to hold up to what the tomatoes offer, but also has a nice medium body and mild fruitiness, making it interesting to drink.

My full review of: Scapolo's Charm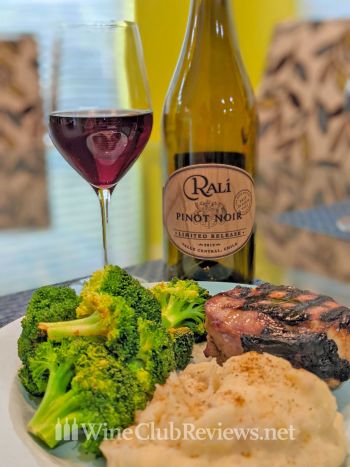 Wine: 2019 Ralí
Blend: 100% Pinot Noir
Region: Valle Central, Chile
Retail price: $21 / Member price: $14.99

White pepper and raspberry are common flavors in Pinot Noir, but this one brought pomegranate to the glass, too.

Pinot Noir is a notoriously finicky grape to make into wine, which is why you don't often find bargain-priced Pinot Noir under $15. This Ralí Pinot Noir was the perfect partner for our grilled pork chops and mashed potatoes. We're grown ups so we put broccoli on the plate (and eat it) but nothing pairs great with broccoli.

My full review of: Ralí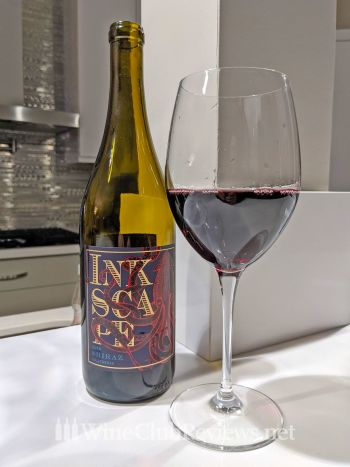 Wine: 2018 Inkscape Shiraz
Blend: 100% Pinot Noir
Region: Valle Central, Chile
Retail price: $19 / Member price: $14.99

A subtle version of what this grape can produce, but a great introduction to it if you're not familiar and looking for an alternative bold red wine to Cabernet Sauvignon.

Whenever I see "California" as the region on a wine, I wince a little. It doesn't necessarily mean it was made with inferior grapes (but wines labeled simply California often are), rather that the grapes used in the wine likely came from more than one officially-designated California region.

My full review of: Inkscape Shiraz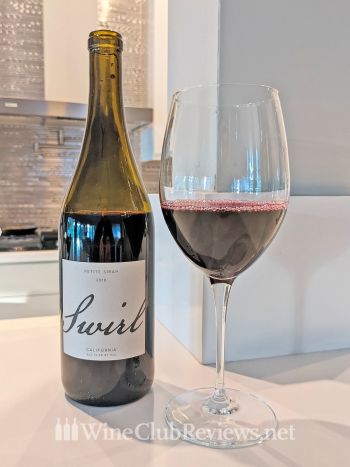 Wine: 2018 Swirl Petite Sirah
Blend: 100% Petite Sirah
Region: California
Retail price: $18 / Member price: $14.99

People who like a sweeter red wine, like a jammy Syrah, would enjoy this bottle. The sweetness was balanced with strong tannins in this full-bodied red wine.

Petite Sirah is a relative of Syrah, but not the same grape. It shares some characteristics of its more well-known cousin, but the most prominent is probably jamminess — kind of like blackberry preserves with a lot of extra sugar in it.

My full review of: Swirl Petite Sirah
Does Firstleaf's palate matching work?
Beyond whether or not "the wines are good," the unique feature of Firstleaf is their ability to know your palate and match wines to it. What was "good" for me may not be "good" for you. Here is how I feel about their success at matching their wines to my palate.
Red wine matches: I like my red wine fruity but not sweet, and I'm not a fan of earthy or vegetal characteristics. I analyzed the tasting notes of all of the red wines I received from Firstleaf. This analysis revealed that Firstleaf by-and-large knows what I like and what to downplay.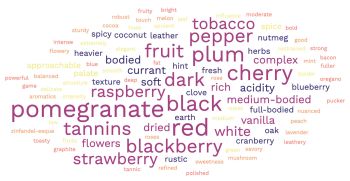 The unfortunate misses were the prominence around tobacco and vanilla and the stand-out wins were the downplaying of green, herbs, and mushroom.
White wine matches: I like a wide variety of white wine which probably makes the algorithm's job harder to focus on which characteristics of a white wine I like. By analyzing the tasting notes, I can see they generally understand me.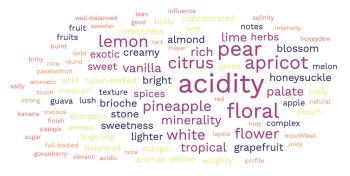 I lack interest in oak and its related flavor profiles (burnt, toasty, vanilla) and I prefer both floral and bright (acidic) white wines — they found a lot of ways to talk about acidity including juicy, vibrant, lively, and energetic.
I go into much greater detail in my review of Firstleaf's wines if you want to know more. P.S. I made these word clouds with this free tool.
Is Firstleaf right for you?
As with all things sensory, wine taste is subjective. For most people, Firstleaf is great. I have tasted a lot of wine from Firstleaf and feel confident recommending it, but it's still not for everyone.
Firstleaf is great for people who don't know what kinds of wine they like and want to figure it out.
Equally, Firstleaf is great for people who don't want to figure out what they like but they want to like what they drink.
Firstleaf *can* be good for people who only like certain kinds of wine, but you'll either need to coach the algorithm yourself or sign up for an appointment with a wine concierge who can help customize it for you. If you like the price but are super picky about what you drink, this is an important option to know about.
Firstleaf is an upgrade for people who buy their wine at Trader Joe's, Target, Walmart, etc.

You get access to a bigger variety of wine styles, grapes, and wine regions than you will find at at most big chain stores — to me, this, coupled with a 100% satisfaction guarantee, is in fact it's number one selling proposition (not the personalization).
If you typically drink wines that cost more than $20 a bottle, I'd think twice before joining Firstleaf. I often find the wines offer a good value and are better than comparable $15 wines, but they're generally not sophisticated or complex examples of the grapes or wine regions in the bottle.
Is a personalized wine subscription right for you?
Perhaps a question to be answered before deciding if Firstleaf is right for you, are you a good fit for a personalized wine subscription at all? The basic premise of a personalized wine subscription requires a few things:
You need to be comfortable that you know and can describe your wine preferences or be willing to kiss a few frogs until the system learns what you like.

You should reasonably expect to buy 2-3 shipments (or more from Firstleaf's competitors) before a personalized wine subscription knows you well enough to be reliable.
Personalized subscriptions work best when only one person is being polled for their preferences. This is probably the biggest flaw with the model in general.

If you and your partner don't like the same wines, you may want to consider one of you as the primary, or try to figure out how to please both of you (maybe one of you answers all of the white wine questions/ratings and the other does all of the red wine questions/ratings).

Another option would be to "act as one mind" and you both have to agree on the answers to questions or ratings.
Personalized subscriptions work within a bit of a "walled garden." They can only match your preferences to wines they have in inventory.

In this respect, Firstleaf is a top performer because they have such a breadth of wine types. Winc falls down on personalization because of their limited inventory. NakedWines.com is somewhere in between the two (more inventory than Winc, less than Firstleaf).
Is Firstleaf a good gift?
Yes and no.

If you love the idea of Firstleaf and want to give the experience to someone as a gift, you can. You'll purchase an electronic gift card equivalent to a fixed number of shipments and they'll set up their own account (this is how most personalized wine clubs handle gifting).
I have heard from numerous readers over the years that asking a recipient to manage their own account feels less like a gift and more like work. If you just want wine to show up at your favorite wine lover's door, try a curated wine club gift instead.
Giving a Firstleaf wine membership means you're giving an electronic gift card. The gift card is filled with the credits your wine lover needs to enjoy the Firstleaf experience (the recipient fills out the quiz and personalizes the wine selection). They'll still need to provide a credit card when they get started, but all credits are spent before the card gets charged.
For some gift givers, filling out a wine quiz and managing a subscription doesn't sound like a gift. Those people should not give Firstleaf as a gift.
Firstleaf is a great gift for some wine drinkers. I outlined them in the Is Firstleaf Right for You? section of this review and if you skimmed past it, please check it out before giving Firstleaf. It's also a great wine club gift for new wine drinkers (of any age) as it gives them a way to learn and explore the wine world in a low-pressure setting.
When you purchase a gift card, the recipient gets the email immediately. If you wish to purchase ahead of time, have it sent to your own email to forward on the big day.
You should verify that Firstleaf can ship to your gift recipient's state (and sometimes zip code within states they can ship to) before buying. They can ship to all states but these: AK, AL, HI, MS, RI, UT. You'll need to start the gift card purchase to see if there are zip code limitations for your recipient's address.

Important! Gift cards are not refundable.
Firstleaf Wine Subscription