Firstleaf Features & Benefits
Editor's Note: this article and several like it are highly-detailed breakdowns of the Firstleaf subscription. This may be too much information for your needs, and if so I recommend reading my main Firstleaf review.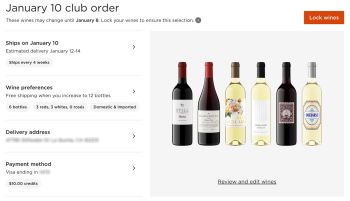 FYI: I find great wine deals so you don't have to. To keep me on the hunt, I earn a commission when you buy wine based on my recommendations.
Ways to customize your Firstleaf membership
Aside from offering good value on a variety of wines, Firstleaf is an excellent subscription service. This is important because while the wine is foremost, a bad service would ruin a great wine experience. The best part about their service is how you can manage absolutely everything online.
There are several ways to customize the wines in your shipments.
Different choices for different budgets. Firstleaf has recently added several pricing tiers to their original (now called Classic) six-bottle membership plan. You can get the Classic plan for $15/bottle (this is what you get when you sign up using the special offer), the Preferred Plan for $17.50/bottle, the Premier Plan for $20/bottle, or the Fine Wine Plan for $25/bottle. Explore all Firstleaf memberships.
You can pick your wine (sort of). Each month a selection of six wines is recommended to you. You can swap out each of those bottles up to three times.

What that means is, if you don't like Bottle #1 you can "replace it" and they'll pick another wine you might like. You can do that again if you don't like their second recommendation for Bottle #1. You can do that if again if you don't like their third recommendation for Bottle #1. And then you're done. You can do this for each of the six bottles in your shipment.

If discovery is your reason for joining Firstleaf, my advice is to only swap out bottles you are pretty sure you'll give a thumbs down, rather than actively seek to fill your box with bottles you know you want to try.

If getting exactly what you want all the time is your goal, swap to your heart's content (or until you hit three swaps per recommendation).

When you upgrade to a 12-bottle membership you can choose between 2 each of 6 different bottles or have all 12 bottles be different. This is true for all plans except the Fine Wine Collection where a 12-bottle plan is always only 2 each of 6 different wines.
You can choose your wine color. You can choose red wine only, white wine only, or a mix of both. You can also opt in to rosé. Specifically you can choose how many of each color you want per shipment, though rosé is capped at one bottle per shipment in six-bottle shipments of the Classic Plan. You can always order more rosé through the store with your member discount.

You can opt in to the occasional sparkling wine, too. This isn't really a "wine color" but it is a standard wine option. Only Nakedwines.com offers this many wine style options with significant inventory (Winc doesn't carry a big variety of rosé and sparkling, and Picked by Wine.com doesn't offer any rosé or sparkling wine yet).
Choosing your region is no longer an option. You can choose your wine regions (sort of). You can customize your shipment to include only Imported wine, only Domestic wine, or a mix of both. This is less flexible than competitors like Nakedwines.com and Winc where you pick all of your own wine and therefore whichever specific regions interest you.
You can choose your shipment frequency. Aside from being able to choose any date for your order to process, you can also set the frequency of your deliveries. The standard options are every two, four, six, eight, ten, or twelve weeks. This is an unprecedented level of customization, only equaled by Nakedwines.com who charges you monthly but lets you order whenever you want.

If you have an occasion to "skip" a shipment, you can do so by scheduling a future date for your next shipment (as much as 3 months out). For example, if you're a monthly customer and you skip a June shipment by setting your next shipment date to some time in August, your monthly membership restarts with your August shipment.
Additional membership benefits

100% satisfaction guarantee. To me, this has always been the biggest reason to join a wine club. Firstleaf has what I consider a 5-star guarantee: if you don't like a wine, they'll give you a credit toward your next order. They'll ask you about why you didn't like it for quality control purposes, no questions asked. They'll ask questions for quality control purposes, but they'll make it right, too.
Many wine clubs claim to offer a 100% guarantee, but there are a variety of policies out there. On any review on my site you'll find a Satisfaction Guarantee Rating. 5 stars means they'll replace anything to make it right. 4 stars means they'll replace any bottle at no extra cost for any reason except that you didn't like it.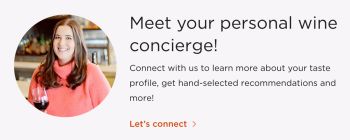 Personal wine concierge. If you find that the algorithm isn't doing a great job of matching wines for you — for whatever reason — you can schedule a free appointment with your personal wine concierge who can listen to what's not working and help customize the wines recommended for you going forward.
They do more than just tweak your algorithm settings. These friendly people all have some level of formal wine education (it varies) and are trained in Firstleaf's inventory.
They are available to suggest new wines for you outside of your regular shipments, help you organize wine for events and celebrations, and to chat about which wines to drink for the current season.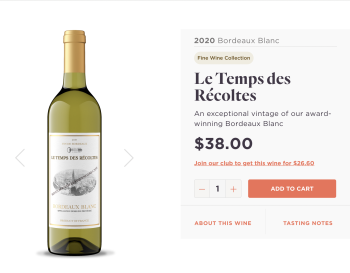 Members-only discounts. As a member, you get wines labeled Firstleaf Exclusives for $15 each when you order six or more bottles at a time.
This discount does not apply to the Fine Wine Collection, or wines produced by other wineries, but members do get 30% off the Fine Wine Collection. Side note: these wines don't come with the satisfaction guarantee.
Extra-mile convenience. One of the hardest parts about wine subscriptions is actually receiving the wine (which also happens to be one of the most fun parts).
While most wine clubs encourage you to get deliveries at work (because it costs less for them and means your wine is more likely to arrive in good condition), that's simply not possible for everyone. Nor is it possible for a lot of people to ensure someone 21 or older is home on delivery day.
This is one area where Firstleaf shines. While both FedEx and UPS offer deliveries to stores for you to pick up when it's convenient for you, only FedEx has integration with Firstleaf's store. FedEx works with a number of drug stores in addition to their own FedEx Office locations so there's likely one on your daily route somewhere.
You can set all this up right at Firstleaf instead of having to separately negotiate this with the FedEx app each time a shipment is inbound. I LOVE this feature. I'm guessing it's expensive to implement as I've only seen it in use at large-scale wine clubs like Picked by Wine.com, Firstleaf, and Wine Insiders (not a personalized subscription).
Also in support of their convenience-related features, they allow total management of your account online (should you choose not to avail yourself of their live customer support team). You can easily manage your personal details like credit card and address, but you can also manage notifications, see past orders, rate wines, track deliveries, and even cancel with the click of a button — all on your account page (and related pages).
Ready to join? Get your first six bottles for $44.95, including shipping.
Need more info? Learn more about Firstleaf or read my full Firstleaf review.
Firstleaf Wine Subscription
Coupons & Promo Codes
Deal 6 bottles for $44.95
Save 50% — Try Firstleaf and get 6 bottles of wine selected just for you for just $44.95. Shipping is included in your first order. Click for this deal
Deal Save $100
Save $100 — Try firstleaf and get $100 off (total) your first three personalized boxes of wine. Shipping is included for the first box. Until Dec 31. Click for this deal
Join or Give this Wine Club
Firstleaf Wine Subscription
More Information About Firstleaf