What is Firstleaf? Firstleaf is a winery, a wine importer, a wine store, and a wine club all rolled into one. Relying on innovative technology, Firstleaf aims to create high-quality, affordable wines and then deliver them directly to loyal customers at home.
FYI: I find great wine deals so you don't have to. To keep me on the hunt, I earn a commission when you buy wine based on my recommendations.
What makes Firstleaf unique?
As online shopping has evolved to become part of our everyday digital lives, buying booze online has lagged in terms of growth and ease of use.
This is because the antiquated "three tier system" of alcohol production, distribution, and sales originated after the repeal of Prohibition and makes it difficult for consumers in most states to buy wine from online retailers (as opposed to wineries who can ship almost anywhere in the US).
Firstleaf pushes back against this system by producing and importing its own wine, thereby opening the doors to ship its products to most states in the US. A great variety of inventory coupled with their customers' ability to control almost every aspect of the wine buying experience makes Firstleaf the most fully-featured online wine subscription and one of the largest wineries in the US.
By gathering data through their website on what their customers like, Firstleaf makes wine to suit those customers' preferences. This feedback loop creates a system which keeps existing customers happy.
Firstleaf also brings new customers into the fold through a super-affordable trial shipment of $39.95 for 6 bottles of wine, including shipping.
Another thing that makes Firstleaf unique is their inclusion of additional information about the wine on their website. They include an image of the back label, nutrition facts including ABV, calories, carbohydrates, and sugars per serving, and an ingredients label.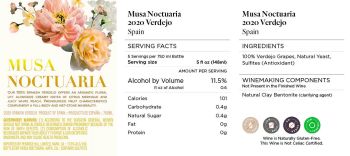 Which companies are similar to Firstleaf?
While Firstleaf has an innovative business model, it is not the first or only wine company to operate as a winery, a wine store, and a wine subscription. Nakedwines.com and Winc have similar business models to Firstleaf.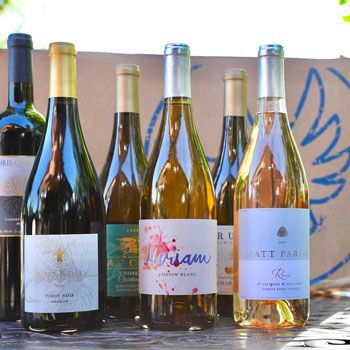 Naked Wines. Also a winery which utilizes winemakers around the world to create a large inventory of consumer-friendly wine. The wines are typically more nuanced and more full-bodied than their Firstleaf counterparts. Naked Wines offers some additional membership features like a 100% Money Back Guarantee, proactive price drops (and automatic refunds to customers who paid the higher price), and variable pricing from $8.99 to $39.99 per bottle.
Overview of Firstleaf wines
I go into greater detail on all of these points in my detailed Firstleaf Wine Review, but at a high level here are some important things to know about Firstleaf wines.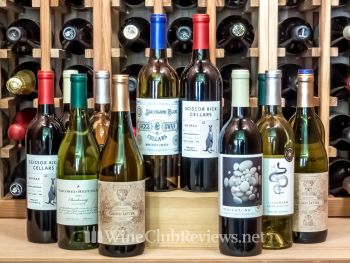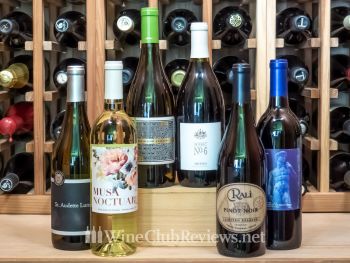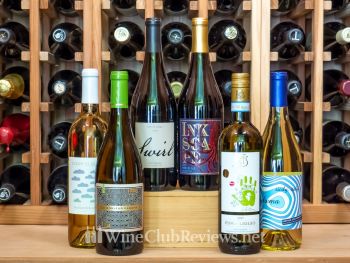 Firstleaf is a winery that makes (and imports) its own wine
Penrose Hill, Ltd is the parent company of Firstleaf's wine subscription and online store. It is Penrose Hill that is listed as the winery (or importer) on all of the wines shipped from Firstleaf's wine club. Firstleaf carries additional wines from other producers in its online store, but those wines are not available via the Firstleaf subscription.
Some incorrectly call all of the wine from Firstleaf "bulk wine." The wines Firstleaf produces via its winery are not bulk wine. Some of the wines it imports are.
So what is bulk wine?
Depending on who you ask, you may get a different definition of what bulk wine is. Commonly, bulk wine is defined as finished wine that is not yet bottled, being distributed in large containers for bottling elsewhere (from other local wineries to overseas buyers). Buyers of these wines include wineries, importers, retailers (like Costco), and wine clubs.
There are a number of bulk wine myths circulating, the most inaccurate one being that bulk wine is always poor quality. This is a generalization which is increasingly untrue. Learn more from Master of Wine, Tim Hanni.
Why does Firstleaf sell bulk wine under its own labels?
Firstleaf's business model allows it to bring wine to consumers at a much lower price than if the wines had been sold via the traditional three-tier system. As such, this model is embraced by many well-respected brands like Costco, Cameron Hughes, and Mary Taylor Wines.
Wine Business Monthly named Firstleaf to their 50 Largest Wineries of 2021 list. "There are more than 11,000 wineries in the U.S., and Wine Business Monthly's top 50 wineries represent 90% of domestic wine sold by volume." When a well-respected industry publication calls Firstleaf a winery, it undercuts the argument that all they sell is bulk wine.
Firstleaf offers a large variety of wines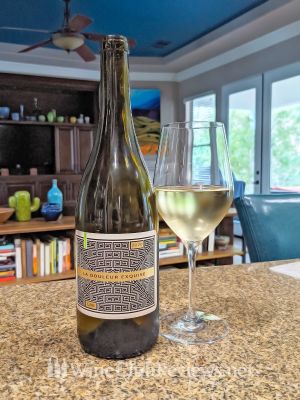 2020 La Douleur Exquise
Region: Pays d'Oc IGP, France
Blend: 100% Grenache Blanc
Retail: $28 / Member: $14.99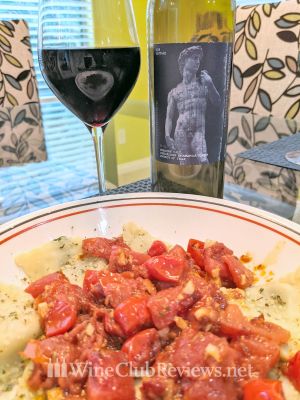 2019 Scapolo's Charm
Region: Rubicone IGT, Italy
Blend: 100% Sangiovese
Retail: $19 / Member: $14.99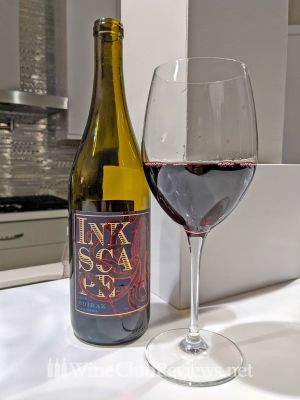 2018 Inkscape Shiraz
Region: California
Blend: 100% Syrah
Retail: $19 / Member: $14.99
Firstleaf produces and imports a wide array of well-known favorites like Cabernet Sauvignon, Pinot Noir, Chardonnay, and Sauvignon Blanc, but they also offer a large number of wines from less common grapes. If you buy your wine at a grocery store or a big box store, you probably haven't encountered white wine grapes like Vermentino or Airen, or red wine grapes like Mourvedre or Zweigelt.
That's part of the appeal of a service like Firstleaf — you try things you'd never pick out on your own, and they're only recommended if they fit the profile of other wines they know you like to drink.
Firstleaf's red, white, rosé, and sparkling wines hail from around the world, with regions as well known as Bordeaux and Napa Valley, and lesser known but acclaimed regions like Loire Valley (France), South Africa, Hungary, and Greece.
They offer a decent selection of "lower alcohol" wines (wines with less than 12% ABV qualify for this label on their site). These wines can be found in the online store, but they make it hard to find each wine's ABV, except by scrolling through the photos on each wine's detail page, and you can't set this as a preference on your subscription.
Firstleaf says, "With no preset packs or boxes, Firstleaf has over 82 million combinations of wines possible and 98% of its monthly boxes are unique."
Firstleaf claims all of their Firstleaf Exclusive Wines are award-winning
This claim is factually true but misleading. In fact, this has been my biggest criticism of the company since their founding. I recommend ignoring every bit of marketing on their website that pertains to their awards.
You can read more detail about why I don't like this practice in my Firstleaf Wine Review, but if you don't need the full detail, here two of my reasons:
I don't trust the competitions they enter operate the way consumers believe they do and should. Each competition includes a narrow subset of wines to compare, so it's not like any given wine has been compared to everything you could buy of that grape, or from that region, in that price point. Some competitions give every winery who pays to enter a wine a medal.
Their product is a personalized wine subscription and what I like has no meaningful connection to what a random group of wine critics who tasted 25-100 wines thinks.
Buying wine from Firstleaf
Firstleaf offers a number of ways to buy wine from them, but here is a simplified way to think about it.
You can buy wine from Firstleaf as a member. The wines you'll receive in your shipments are what are called "Firstleaf Exclusives." These are wines they produce or import and represent the majority of the wines available via Firstleaf.
Members pay $14.99 for Firstleaf Exclusives they receive in their shipments. These are the only wines which are eligible for Firstleaf's 100% Satisfaction Guarantee. Six bottle subscription shipments incur a $14.95 shipping charge.
Firstleaf now has a Premium upgrade option. Members who opt in pay an additional $10 per bottles ($24.99) for up to three Premium wines per shipment
For everyone else, including members who are interested in buying more than what their subscription includes, there are additional options.
Any time a member buys an additional box of six or more Firstleaf Exclusives, they pay $14.99 per bottle and get free shipping on these extra bottles. Non-members pay the full retail price listed, and must buy 12 bottles to earn free shipping.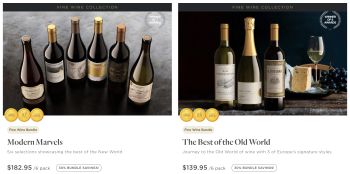 Firstleaf offers a "Fine Wine Collection." These wines are generally produced and imported by Firstleaf, but not exclusively. Members receive a 30% discount on these wines. Members and non-members must buy 12 of these bottles at a time to earn free shipping. The Satisfaction Guarantee does not apply to the Fine Wine Collection.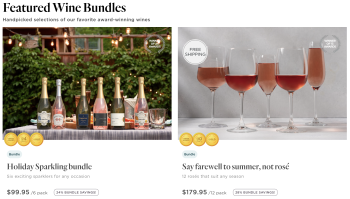 Firstleaf also offers a number of Bundles. These are 2-12 bottle, pre-picked, themed samplers. These bundles are discounted and are available to everyone, subscribers and the public, at the same price. Like most other wine at Firstleaf, free shipping applies to orders of 12 or more bottles.
There are some interesting bundles available on their site at good prices. One six-pack that caught my eye was their Napa Cabernet Bundle for $269.95. It includes a variety of well-known wines like Louis M. Martini, Robert Mondavi, Caymus, Hall, Mount Veeder, and Joseph Phelps.
Some other great (mostly California) brands they sell include: Dutton Goldfield, Leviathan, Palladino, Patz & Hall, Goldeneye, Flowers, and Sonoma-Cutrer.
Firstleaf shipping
Try as they might to compress the three-tier system of alcohol sales (producers, distributors/wholesalers, and retailers/restaurants), even Firstleaf cannot make all of the rules go away, and therefore there are limitations on which wines can be shipped to which states.
Wines labeled Exclusive or which are part of the Fine Wine Collection can be shipped to almost all US states, excluding only Mississippi, Rhode Island, and Utah. Caveat: there are dry communities which prohibit alcohol deliveries in some states they ship to.
The remaining wines in inventory have diverse shipping policies. If you're browsing in their online store, you can select your shipping state to see a selection of wines you can receive and you won't be allowed to order wines that don't ship to your state.
Giving Firstleaf as a Gift
Firstleaf does not yet offer a gift subscription, but you can send someone wine from the store or you can give someone a gift card which they can use to fund an account (which they'll need to set up to use the gift card, if they don't already have one). Gift card funds can be used toward a subscription, or to buy wine in the store.
Gift purchases of wine bottles are not wrapped but a gift message is included in the box (or email if you send digital gift cards).
Gift cards are not refundable, so you should verify the recipient is in a state where they can receive Firstleaf wines, as outlined above.
Is Firstleaf a good company?
I give Firstleaf 4.5 stars in my wine club review, but I'm not the only one with an opinion. These other sites collect a breadth of praise and complaints. These reviews are both positive and negative.
Customer complaints typically fall into a few categories, more or less in the order presented below. Most of these complaints are common to the subscription business in general, especially those who use introductory offers to get you to try their products.
First time customers didn't know the amazing introductory wine deal automatically enrolled them in a subscription service.

This wasn't just wishful thinking on their part, they also failed to read the disclaimer which clearly states "Auto-renew notice By clicking Place Order, you are enrolling in an auto-delivery wine club and authorize us to charge you for future shipments of 6 wines at $89.94 + tax & $14.95 shipping less any applicable promotions every month until you cancel your membership or change your shipment frequency. You also agree to our Terms and Conditions, certify you are at least 21 years of age, and have read our Privacy Policy. Pricing is subject to change. Cancel any time up to 48 hours prior to your next shipment by going to your account settings or by calling 1-800-461-7203. For more information, visit our Help Center."

Caveat emptor. If you get an offer that seems too good to be true, it might be. Always read the fine print before clicking the Complete Order button at any website.
Customers who complain about cancellation difficulties.

In the past canceling Firstleaf was not as easy as it is today. Today it is a matter of logging in and visiting the dashboard. There is a prominent section labeled Membership Status and a big button that says "Cancel my membership."
Customers who complain about unexpected shipments.

One of the advantages of a service like Firstleaf is that you get to control (to some extent) which wines you receive and when you receive them. If you read your emails, you should never be surprised by a shipment being processed or what's in it because they send an email before your shipment is processed providing you with the opportunity to modify or delay it.

If you have a busy inbox, it's not hard to miss these emails. I had to put additional filters in place, including automatically forwarding them to my husband, to make sure we never miss one (I've missed more than one).

The persnickety nature of email inboxes isn't Firstleaf's fault (I blame spammers), but there is a more customer-friendly solution here. Firstleaf could pause an automatic shipment instead of shipping it when the customer hasn't affirmatively requested or approved it. Maybe this is a temporary feature for new customers.
Customers who complain about shipment problems.

I've seen a variety of complaints about FedEx delivery notices that are wrong (which is very problematic if you've made plans to be home for delivery) and FedEx deliveries that never show up (usually because they were damaged but the message didn't get to the customer).

I personally have experienced these issues with Firstleaf — and most other wine clubs I receive shipments from (dozens). This is a problem with the delivery companies and their technology. The day I wrote this I received a notice from FedEx that my delivery was rescheduled from Saturday to Monday, only to have it simultaneously tell me the wine was on a truck and out for delivery (and it arrived on Saturday, not Monday).

Joining a wine subscription requires you to consider how and when the wine will be delivered. Alcohol delivery is more complicated than other deliveries, and we all know how bungled up FedEx and UPS can get.
Customer complaints about not liking the wine.

This is a legitimate complaint. Wine preferences are subjective. I do my best as a reviewer to make sure the right people sign up for the right wine subscriptions. For example, I dissuade people who usually pay more than $15-20 a bottle from signing up for Firstleaf. I also dissuade anyone who works in the wine industry from signing up because these aren't the sort of artisanal wines that crowd expects.

Their subscription wines are not premium wines, they are generally inexpensive wines that are a better quality and a more diverse selection than what you find at the grocery store in this price range. These are table wines meant for average wine drinkers. I say generally because there are some winners and some losers in the bunch. I have not enjoyed every wine I've received, but I found very few of them to be bad. Read my Firstleaf Wine Review.
Firstleaf replies to almost all of the reviews left on the review sites, typically within a couple of days. In most cases they try hard to take care of issues, but sometimes difficult customers get in their own way. In every instance where I, as a customer, have had issues with their service, they have made it right.
Lastly, as any good wine club does, Firstleaf offers a 100% Satisfaction Guarantee. They'll credit any bottles you didn't like (or that arrive damaged). If you use this policy too often, they reserve the right to cancel your membership.
Where can I send Firstleaf wine?
Firstleaf ships wine to AL, AK, AZ, AR, CA, CO, CT, DC, DE, FL, GA, HI, IA, ID, IL, IN, KS, KY, LA, ME, MD, MA, MI, MN, MO, MT, ND, NE, NV, NH, NJ, NM, NY, NC, OH, OK, OR, PA, SC, SD, TN, TX, VT, VA, WA, WV, WI, WY
Don't see your state? Firstleaf does not ship there. Browse wine clubs by state.