How Firstleaf Personalization Works
Editor's Note: this article and several like it are highly-detailed breakdowns of the Firstleaf subscription. This may be too much information for your needs, and if so I recommend reading my main Firstleaf review.
FYI: I find great wine deals so you don't have to. To keep me on the hunt, I earn a commission when you buy wine based on my recommendations.

There are two parts to consider when thinking about personalization at Firstleaf — the first is what you can tell Firstleaf about your preferences and the second is the voodoo magic which goes on behind the scenes with chemical analyses and data science.
The quiz
Personalization at Firstleaf starts with their quiz. I've reviewed nearly every personalized wine club and tried almost every one of their quizzes. Firstleaf's quiz is better because it's important to them that you like their wine enough to stay a member, not just to impress you into trying the wine once.
The current iteration of the quiz is more sophisticated than earlier versions — it asks useful questions about your actual wine preferences (not your coffee and chocolate preferences). This quiz is designed to get to know your wine tastes whether you know about wine or you don't — unlike those at their competitors, Winc and Bright Cellars, which assume you don't know anything about wine.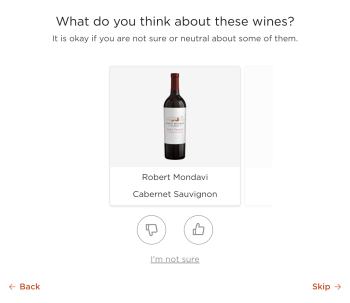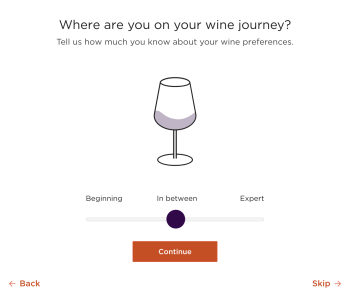 One super important question in the quiz… "How adventurous are you when you look for wine?" Your choices are "Cautious," "Adventurous," and "A little [adventurous]."
When you select "cautious" the algorithm recommends wines from the groups you've told them you like.
If you select "adventurous" it gets creative in finding new wines for you, testing your stated boundaries.
If you select "a little" you'll get a mix of what you said you like and what they think you might like based on answers to earlier questions.
Pro tip: I advise you to be very honest (erring on the conservative side) in answering this question. You can always adjust this setting in your profile later after the algorithm gets to know you better.
Something I love about the most recent versions of the quiz is that they don't just ask you what you like or don't like for generic topics like "Oaky Chardonnay" or "Napa Cabernet Sauvignon," they ask you about specific wines you might have tried like Robert Mondavi Cabernet Sauvignon, The Prisoner, Flowers Chardonnay, Chateau St. Michelle Riesling, and Ménage à Trois California Red Blend.
Firstleaf also includes the dreaded food-related questions… I find these frustrating. For example, I like eating mushrooms, but I don't like earthy wines with a mushroomy taste. How am I supposed to answer this question? Same thing with green olives — I could down a whole can in one sitting, but I don't generally like the related flavors in red wine (again earthy characteristics and vegetal ones, too).
At the end of the quiz, after you provide your email address, you can see the results of your hard work (there are at least 10 steps to the quiz and some steps have multiple selections to make) in the form of six bottles of wine recommended just for you which you can purchase for $39.95 with free shipping.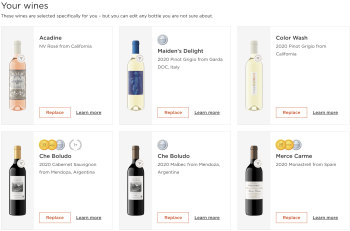 The more questions you can answer specifically, the better tailored to your preferences your first wine selection will likely be. Don't worry about skipping questions you're unsure about, they'll figure it out based on how you rate the wines you receive in your first box.
How well does the Firstleaf quiz work?
In my opinion, the current version of the Firstleaf quiz works pretty well. Always keep in mind they are limited to what you tell them and the inventory they have on hand when you take the quiz. Their inventory changes regularly, especially seasonally.
If you take the quiz and find that it misunderstands you a little, you can swap out wines from your introductory shipment (the wines picked for you based on your quiz answers). The ability to swap out bottles in the introductory shipment is an improvement from when the first shipment was selected for you and not editable. It's also an acknowledgement that the quiz doesn't always get it right, so they're empowering you to make adjustments right from the start.
Even though you have the ability to swap bottles, I recommend keeping an open mind and letting Firstleaf send you a wine type (like Merlot) that you don't like. You might be surprised at the variety of styles in which a single grape can be made into wine.
In Firstleaf parlance, I am an adventurous drinker. I prefer grapes like Syrah and Chenin Blanc to Cabernet Sauvignon and Sauvignon Blanc.
In my most recent taking of the quiz, when I chose "A little adventurous", I was shown a mix of more widely familiar grapes like Cab and Pinot Grigio, and some less common grapes like Monastrell (this is what the Spanish call Mourvedre, it's also called Mataro). I also told the quiz that I like Italian Pinot Grigio, and I feel the algorithm's recommendation of two Pinot Grigios for me in my initial shipment was smart. One was from California and one was from Italy. How I rate those two wines will tell them a lot about what I like in not just Pinot Grigio, but white wine in general.
The ratings system
After you receive your first shipment, you switch from telling Firstleaf what you like in a quiz to telling them what you like or don't with their ratings system.
As ratings systems go, I find the Firstleaf options lacking. The system learns what you like based on whether you vote a wine "thumbs up" or "thumbs down." Wines that don't earn either of these options are considered "unrated." From a data perspective, this feels messy — was I lazy about the wines I didn't rate or was I indifferent? I'd really prefer at least a third option as an affirmative "meh."
That said, most of us only bother to rate things that we either love or hate and those inputs can help shape the algorithm's understanding more directly than unrated wines will, so it behooves you to rate your wines.
The algorithm that does the matching
How does that algorithm work, anyway? Among personalized wine clubs, I believe Firstleaf has the most sophisticated wine-taste-matching algorithm. Firstleaf relies on serious data science and machine learning organized around thousands of variables (all of the different characteristics of wine that make it enjoyable or not so much).
Here's what Firstleaf says about their tech: "The core of our technology is the in-house chemical analysis we perform by a team of trained enologists for every wine we produce. Our AI platform then leverages over a septillion (one trillion trillion) calculations a day using deep learning at a massive scale and provides real time personalization that is unparalleled in and beyond the wine industry. The result is a shipment of curated wines that match each person's unique tastes unlike any other wine club or store experience. With no preset packs or boxes for club orders, we have over 82 million combinations of boxes possible at any given time and 98% of our monthly boxes are completely unique combinations of bottles."
According to Firstleaf, "Firstleaf's machine learning platform better learns and refines each person's unique tastes with a 96% accuracy after they rate just three bottles. Meaning that 96% of the time, Firstleaf's members enjoy the full selection of bottles they receive."
I'm a programmer who dabbles in data science and am well-read regarding machine learning. As a general rule I'm skeptical about the actual implementation of most machine learning systems. We know they carry the biases of their programmers, their designers, and society writ large. I also generally find that machines don't really know what makes us human and how our human interpretations of things differ from their machine-oriented interpretations.
That said, I am impressed with how well Firstleaf is doing at matching their wine with my tastes.
Some of their success is due to it being much easier to control predictions in a controlled environment. By only needing to work with wines among their own chemically-analyzed data set, they can be far more accurate than if they didn't have the chemical analysis at all.
The chemistry is much more detailed than a common description like "Black cherries and vanilla spice." They can look at more than just described flavors but even understand how the alcohol, tannins, volatile organics, and biogenic amines affect what you taste.
I'm surprised they make "over a septillion calculations a day" as it seems like that's more than necessary. Wine must be very chemically complex, because typically when a data scientist (or weather forecaster) talks about this many computations, it's because they're running 10,000+ scenarios to find the most likely outcome (like whether or not that hurricane is going to run aground in Miami or Raleigh).
When a weather model makes predictions, there's a truth to test it against later, hopefully improving future predictions. When a wine taste AI makes predictions, the results are subjective but the proof point is whether or not you give the wine a thumbs up or down. I'm surprised at how effective a binary rating system can be for predicting future outcomes.
The drawbacks of algorithm-based matching
One of the great technological tools we now have at our disposal is personalization. This personalization is sort of the holy grail of modern product design because, let's face it, we're all different and we want different things. The closer a manufacturer or service can get to your personal preferences, the more likely you are to keep coming back for more. This is very much the underlying premise for Firstleaf.
The problem with these personalization tools is that they become like echo chambers — you may have noticed this in your news feed or Facebook feed. All systems that are expected to "understand" you but have limited inputs draw limited conclusions, narrowing the field of what you'll be exposed to. They do this because the goal of these systems is to make good matches, not to broaden your horizons.
Firstleaf is not immune from these effects, and from time to time you may find that you've entered an echo-chamber of sorts with your wine selection. When that happens, you have two choices.
Change your preferences to set a more adventurous selection of wine
Consult with one of Firstleaf's personal concierges who can tweak your account and improve your results
Ready to join? Get your first six bottles for $39.95, including shipping.
Need more info? Learn more about Firstleaf or read my full Firstleaf review.
Firstleaf Wine Subscription
Coupons & Promo Codes
Deal 6 bottles for $39.95
Save $50 — Try Firstleaf and get 6 bottles of wine selected just for you for just $39.95. Shipping is included in your first order. Click for this deal
Join or Give this Wine Club
More Information About Firstleaf
Firstleaf Wine Subscription