Personalized Wine Gifts: A Useful Guide
Which customized wine gifts are worth it and which ones you should skip
FYI: I find great wine deals so you don't have to. To keep me on the hunt, I earn a commission when you buy wine based on my recommendations.
What is a personalized wine gift?
There are a variety of personalized wine gifts on the market including: personalized wine gift baskets, engraved or etched wine bottles, engraved wine boxes and crates, personalized wine glasses, cork catchers, lazy susans, wine charms, and more. The key to giving custom wine gifts, whether for business or personal purposes, is to know which gifts are of sufficient quality and uniqueness to be worth giving.
Delivery lead times. Longer lead times are to be expected when customizing a gift. Depending on the size and complexity of your order, you might expect to wait anywhere between 10 days and 8 weeks for a customized wine gift to arrive. Be sure to check with a company (the good ones put this information on their websites) to ensure your custom wine gift can be delivered on time. Don't forget, even when the company making your gift ships it on time, USPS, FedEx, and UPS will still add extra time.
What's better? A customized wine bottle or another personalized wine gift?
Custom Etched White Wine Bottle with Photo
Give This Gift
From $120.00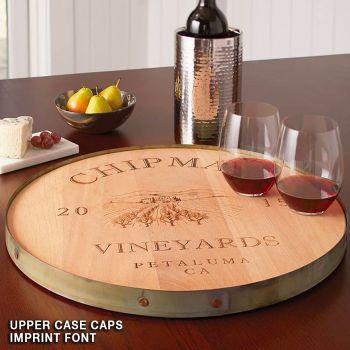 Personalized Lazy Susan — Perfect for Entertainers
Give This Gift
From $180.00
Either option will make a great gift, but if you decide to buy a customized wine bottle, there are some important things to consider:
If you don't know what kind of wine your recipient likes, sparkling wine or Champagne are both generally well-received by most wine drinkers.
If you intend to have a custom wine bottle delivered, you'll need to buy a wine from a licensed seller who offers etching or engraving to get the most options. You can't plan to buy a bottle at your local shop and take it somewhere to be engraved because you can't ship the wine yourself.
Only licensed sellers can ship wine to your recipient(s), but many states have highly restricted alcohol shipping laws, making it important to check a company's shipping ability before going ahead with an order.
Also, someone 21 or older will need to be home to receive a wine gift. If that's not possible, try sending it to the recipient's workplace (if allowed) or asking the recipient to sign up for UPS MyChoice or FedEx Delivery Manager — both are free services and can be managed via their websites or their apps — so they can have the package rerouted to a store where they can pick it up later.
If you don't know enough to pick out the right bottle for etching or engraving, or your recipient lives somewhere you can't readily ship wine, I recommend choosing a customized wine gift that doesn't have any wine in it — specifically custom wine crates or fun gifts for entertainers.
Engraved and etched wine bottles
There are a few options for personalized wine bottle gifts. The best choice is to give engraved or etched bottles. Even though they sound similar these are not the same thing. Etched wine bottles have elaborate graphics and the deep, textured etchings are often hand-painted, making for an impressive gift presentation. Engraved bottles typically only allow one or two lines of plain text and are lightly engraved into the surface of the bottle.
Where to buy engraved and etched wine bottle gifts
There are a few wine bottle etching services that I recommend: Etching Expressions, Mano's Wine, and to a lesser extent, GiftTree.
Etching Expressions (Deep Etching)
My top pick, based on seeing the product myself and tasting the wine, is Etching Expressions. They sent me two bottles to see examples of their custom work and I requested their "Private Label" wines so I could better understand what you might give as a gift.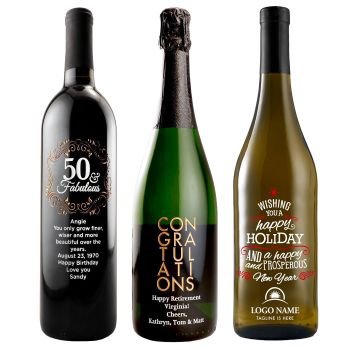 Custom Etched Wine Bottles — Personalize It
Give This Gift
These are the two main reasons I would choose Etching Expressions for engraved wine bottle gifts:
They offer a range of wine from basic (but decent) to premium — including red wine, white wine, sparkling wine, and Champagne. If they don't have the right wine, they'll work with you to source whatever wine you want to give.
In addition to designs for every holiday and occasion imaginable, they also offer etched wine bottles with custom photographs which make an awesome gift for a number of occasions and milestones.
Save Big! Save 30% on any order with my exclusive coupon code WINECLUBREVIEWS30
Prices for etched bottles range from $65 for a single-color etching on their private label white wine to $170 for a photo etching on their most expensive red wine.
Etching Expressions ships wine gifts everywhere in the US except: AL, AR, DE, HI, LA, ME, MS, MT, OK, NE, SD, UT, VT, WV, and WY. They can ship to Puerto Rico.
Learn more about why I would choose Etching Expressions for engraved wine bottle gifts or shop their store for a custom engraved wine gift.
Mano's Wine (Deep Etching)
Another excellent source for etched wine bottles is Mano's Wine. Mano's is actually a winery and they ship their own wine in the bottles. This gives them a little bit of a price advantage as they don't have to pay a third-party for the wine. Mano's has some other cool options that distinguish them from Etching Expressions: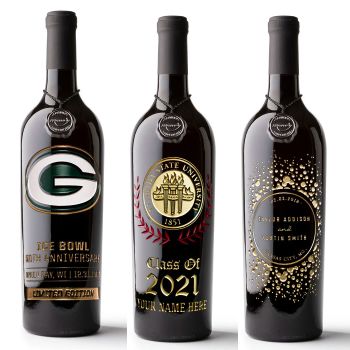 Custom Etched Wine Bottles — Personalize It
Give This Gift
They have licenses to use sports team logos and artwork! There are a number of predesigned (not customizable) bottles to choose from, but you can also have anyone's name etched onto a logo bottle for any MLB, NFL, MLS, and limited options from NBA and NHL teams. $69.95 on a bottle of California Red Blend.
They also have licenses for major colleges and universities for impressive graduation gifts. You can have the graduate's name and graduation year etched into the bottle along with the official artwork from the college. $59.95 on a bottle of California Cabernet Sauvignon.
If you're a corporate gift buyer, you can customize everything (but the winery) to give exactly the right gift to your most important customers and employees.
Prices for etched bottles range from $65 for a single-color etching on their private label white wine to $170 for a photo etching on their most expensive red wine.
Mano's Wine ships wine gifts everywhere in the US except: AL, AR, AK, DE, KY, MS, SD & UT. Shop Mano's Wine gifts.
GiftTree (Shallow Etching + More)
Primarily a gift basket company, GiftTree has a broad range of wine baskets and also offers a luxury line of wines to give. They offer personalized touches on their standard wine baskets and wine gifts.
Among their personalized wine gift options are engraved wine bottles. They offer a limited selection of designs and the wine is a California Red Blend (no option for white or sparkling).
About the wine: "California Winemaker's Cuvee Red. This ruby red wine has a rich bouquet that yields to dense flavors of fruit and aromatic spices with a light, smooth finish. Pair it with grilled meats, spicy rice dishes, beef ragout or enjoy with wood-fired pizza."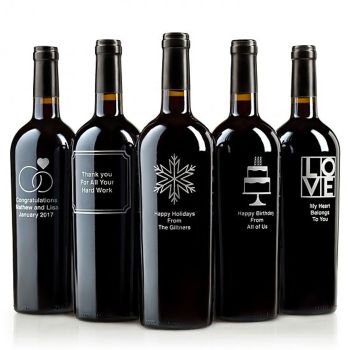 Personalized Etched Bottle of Red Wine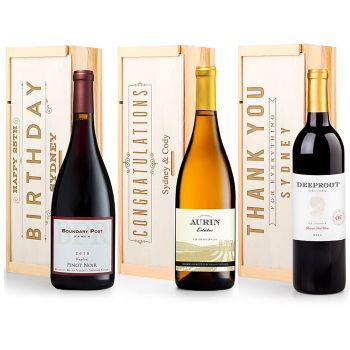 Personalized Wood Crate with Your Choice of Wine
Rather than personalize the wine itself, you can also choose to buy a wine gift with a personalized wood wine crate — each crate offers a variety of wines including a Napa Valley Cabernet Sauvignon, a California Red Blend, a California Chardonnay, or a Russian River Valley Pinot Noir. They offer options for standard occasions to be customized with your recipient's name(s).
Their wine gift baskets make an excellent gift and they, too, can be personalized. An option on every wine basket, you can add a personalized gift ribbon (using one of their existing messages or your own custom message).
GiftTree ships wine gifts everywhere in the US except: AK, AL, AR, DE, KY, OK, MS, RI, SD & UT.
Engraved Wine bottles
As noted earlier, engraving is a less exciting option than etched wine bottles, but the flip side is that it's available for a lot more wines. In fact, some wine stores offer engraving services for a tremendous number of wines (and spirits).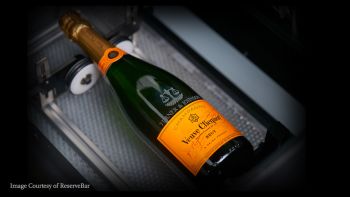 ReserveBar specializes in better-quality wines and offers engraving for $50 extra per bottle. You are limited to three lines of 15 characters each, all caps. The Champagne pictured here was a custom order for bulk orders (quantities of 12 or more), but this level of customization is not available for smaller orders.
ReserveBar's shipping policies vary by product. A widely available product like Veuve Clicquot Yellow Label can ship to AZ, CA, CO, CT, DC, FL, LA, MA, MT, NE, NV, NM, NJ, NY, OR, WA, WY, WV, and TN. Something less common, like a Penner Ash Chardonnay from Oregon, is only available in NY. You'll need to shop the site to find out which wines they can personalize for your shipping destination.
A less-expensive engraving option is available at Liquorama, a wine and spirits retailer in Southern California. Browse their selection of engravable wines (a good selection) and for $15 add up to three lines, 20 characters each, of engraved text to your wine bottle. A small price to pay for a nice touch on a wine gift.
Liquorama clearly states their shipping policies. They cannot ship to MA, MS, ND, OH, TN, WI, or UT.
Gift basket option: If you want to give an engraved bottle as part of a wine gift basket, check out this option from TheBroBasket.
Personalized wine crates and gift boxes
These are perfect when you'll be able to present the gift in person. You can choose your wine from an online retailer and have it sent to you, or you can go to a local wine store to find the perfect wine to give. In the meantime, your thoughtfulness regarding how the gift will be presented (and probably stored) will be a treasured memory. These are popular wine wedding gifts for the bride and groom as well as delightful holiday wine gifts.
Where to buy custom wine crates and gift boxes
There are a few great places to shop for personalized wine crates and gift boxes. I like Etsy and IWA Wine for personalized wood boxes.
Etsy
If you aren't familiar with it, Etsy is an online marketplace for individuals and companies who make goods by hand to sell their wares. It's important to verify your chosen seller can deliver what you're ordering before you place your order. Here are two Etsy sellers I recommend buying from (wine is not included with the gift box). Or shop all my favorite personalized wine gifts at Etsy.
Artificer Wood Works on Etsy
Artificer Wood Works, one of my personal favorites, is a Missouri-based company which makes fantastic custom wood crates for wine gifts. They offer free shipping within the continental US and $20 expedited production, too (they will engrave your order the next business day and it will ship the following business day). Their prices range from $59 for single-bottle birch boxes to $490 for a custom high-quality monogrammed walnut three-bottle box. Shop Artificer Wood Works on Etsy.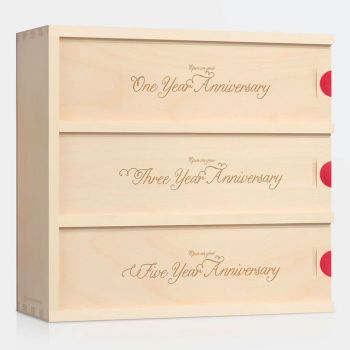 Handcrafted Anniversary Wine Box — Great Wedding Gift
Give This Gift
From $99.00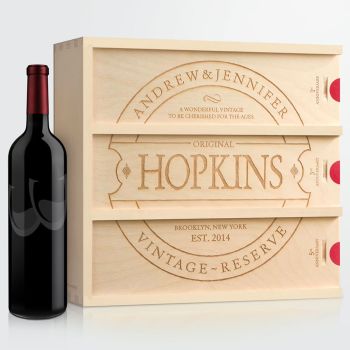 Handcrafted Customized Anniversary Wine Box
Give This Gift
From $179.00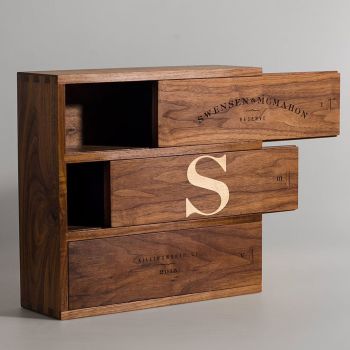 Exquisite Handcrafted Monogrammed Walnut Wine Box
Give This Gift
From $490.00
ReImagine Brewing on Etsy
This Wisconsin-based company has sold an amazing number of products on Etsy and has a stellar reputation. They offer a more rustic look than Artificer Wood Works. Prices start at $37 for a one-bottle box, $48 for a two-bottle box, and $75 for four- or more bottle boxes. Shop ReImagine Brewing on Etsy.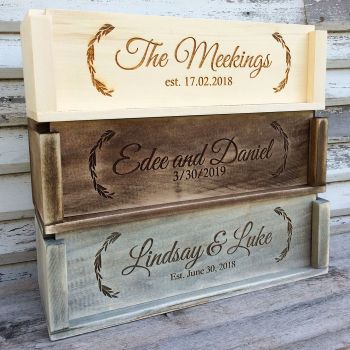 Handcrafted Personalized Wood Wine Crate for One Bottle
Give This Gift
From $37.00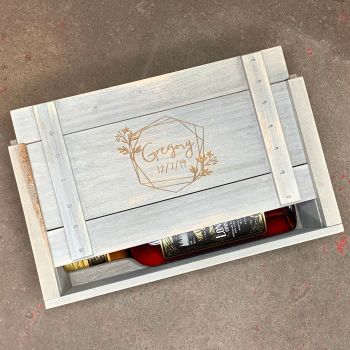 Handcrafted Personalized Wood Wine Crate for Two Bottles
Give This Gift
From $50.00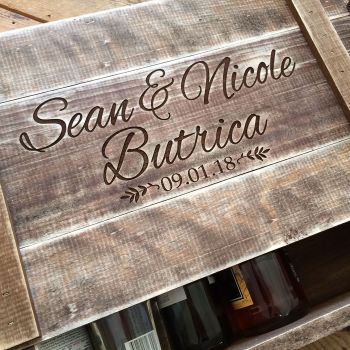 Handcrafted Personalized Wood Wine Crate for Six Bottles
Give This Gift
From $139.00
IWA Wine
This San Francisco company offers high end wine accessories. Among their wine-savvy inventory is a selection of customized wine boxes. Wine is not included in any of their gifts.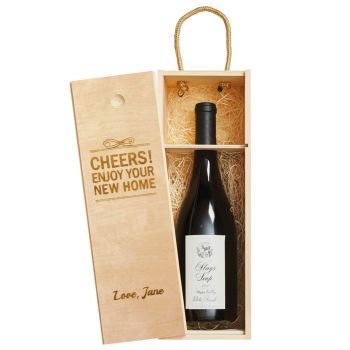 Personalized Wood Gift Crate for Wine — with Handle
Give This Gift
From $22.00
Personalized Wood Gift Crate for Two Bottles of Wine
Give This Gift
From $32.00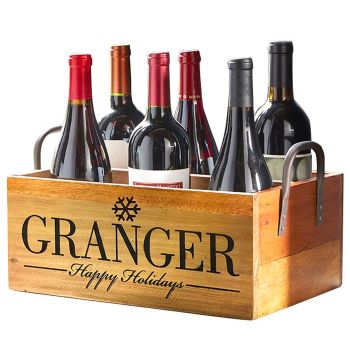 Personalized Wine Storage Box — Rustic with Handles
Give This Gift
From $70.00
Personalized Wine Gifts for People Who Host Parties
While there is an endless stream of customized products on the market these days, most of them are of average quality and design. The exceptions to these are personalized wine gifts for entertainers, like custom wine glass tags, laser-engraved cheese boards, and lazy susans which are a great addition to any buffet spread.
Personalized Wine Charms
My new favorite wine gift is personalized wine glass tags. Generic ones are widely available at stores like Bed Bath and Beyond, Sur La Table, etc. in sets with different designs, colors, and materials so everyone at a party knows which glass is theirs (hopefully).
However, for people who regularly host the same people (think Thanksgiving and Christmas dinner, or your monthly group of friends who get together), a custom set of wine tags is a wonderful hostess gift. These also make wonderful seating cards for events where you want to control where everyone is sitting. They're fairly inexpensive and are a nice keepsake for the event. Here are a few from Etsy that I fell in love with.
Kraze4Paper on Etsy
This Canadian company has great taste. Their wine glass charms have plenty of options for you to choose from and prices start at $7 for custom charms (keepsakes worth keeping). Shop Kraze4Paper on Etsy.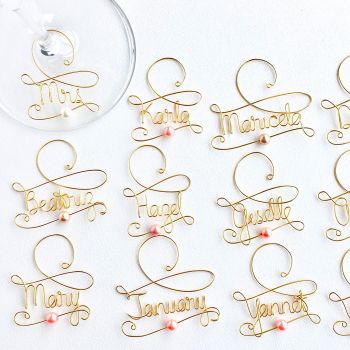 Handcrafted & Personalized Wine Charms
Give This Gift
From $8.00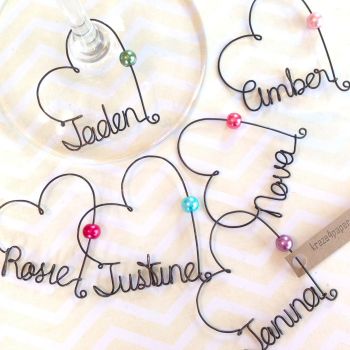 Handcrafted & Personalized Wine Charms
Give This Gift
From $7.00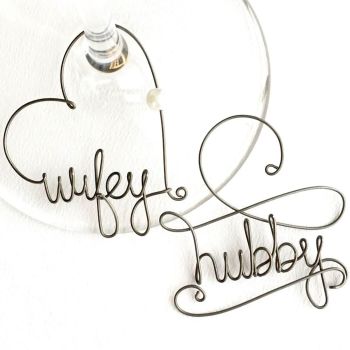 Handcrafted Wifey & Hubby Wine Charms
Give This Gift
From $14.00
Some additional creations I think are charming.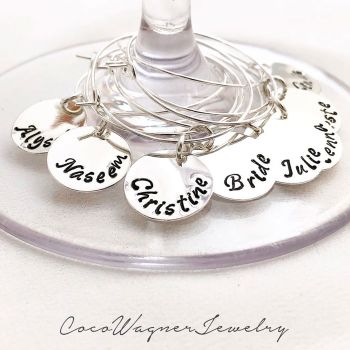 Handcrafted & Personalized Wine Charms
Give This Gift
From $7.00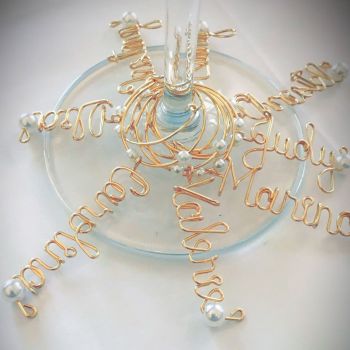 Handcrafted & Personalized Wine Charms
Give This Gift
From $3.40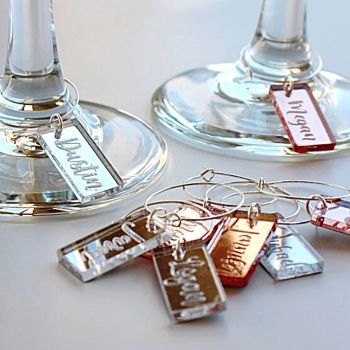 Handcrafted & Personalized Wine Charms
Give This Gift
From $1.95
Search even more options for personalized wine glass charms at Etsy.
Personalized Lazy Susans
The average household has no need for a lazy susan (that spinning disc in the center of a table), but for entertainers, they're perfect. Whether hosting family-style dinners at a large table or for buffet tables, a lazy susan gives everyone easy access to whatever looks good without asking someone else to pass it over.
Personalized lazy susans, sometimes made from barrel tops or reclaimed wood, are available at a couple of high-quality retailers: Wine Enthusiast (the catalog associated with the magazine of the same name) and IWA Wine. Here are a selection of options I find particularly compelling.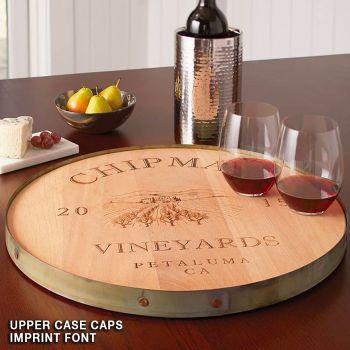 Personalized Lazy Susan — Perfect for Entertainers
Give This Gift
From $180.00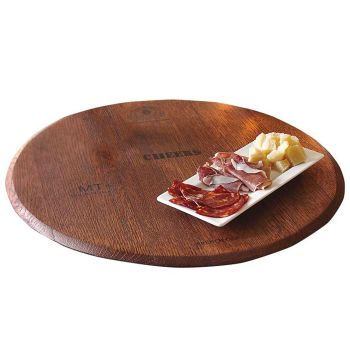 Personalized Barrel-Top Lazy Susan — Great Hostess Gift
Give This Gift
From $190.00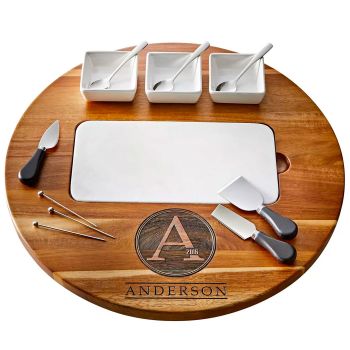 Personalized Lazy Susan & Serving Set
Give This Gift
From $199.95
Personalized Cork Catchers
To be honest, most cork cages are super cheesy and they fill up too quickly. If you're going to give someone a cork catcher, go beyond the cage and try one of these personalized barrel-head cork catchers that hang on the wall.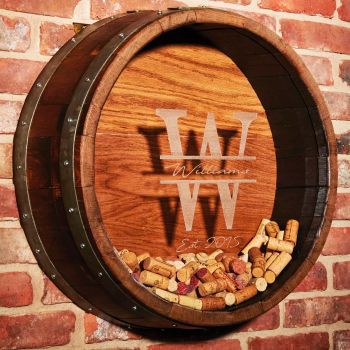 Personalized Reclaimed Barrel Head Corkcatcher
Give This Gift
From $329.00
Personalized Reclaimed Barrel Head Corkcatcher
Give This Gift
From $329.00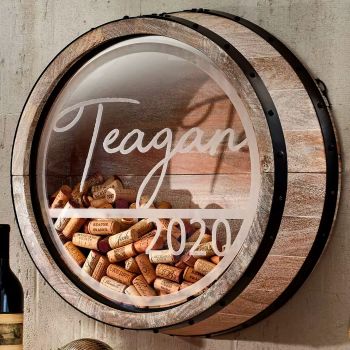 Personalized Reclaimed Wine Barrel Head Cork Display
Give This Gift
From $199.99
Corporate Wine Gifts (Bulk Orders)
As a general rule, any company that sells personalized wine gifts directly to consumers is more than willing and able to fulfill bulk orders for businesses. Typically you'll contact a special team at the business who will give you excellent service, ensuring your order comes out exactly as intended.
When it comes to selecting a service provider for wine gifts to be shipped to your clients and employees, there are three things that are really important:
The quality of the wine being sent
The quality of the customization (etching, wood crates, etc.)
The quality of service at the company (Are they organized? Are they responsive? Are they promising delivery dates and alerting you to any potential complications?)
When quality matters, this last piece is critical, and this is why I strongly recommend working with The California Wine Club for your business wine gift needs. You can trust them to impress your clients with authentic artisan wines.
The California Wine Club is one of the few wine clubs I have reviewed who consistently earns 5 star ratings from me. Choose your one-time gifts from their five different wine club options: Premier Series (affordable artisanal California wine), Signature Series (ultra-premium boutique California wine), Aged Cabernet Series (stored perfectly for 7-12 years, featuring mostly Napa and Sonoma), Pacific Northwest Series (family wineries in Oregon and Washington), or International Series (family wineries in countries around the world).
They sent examples of their business gift packaging to me and I can vouch for the quality of the work and presentation. No matter which package you choose, your clients and employees will be delighted to receive a gift from The California Wine Club.
Personalized Wine Gifts to Avoid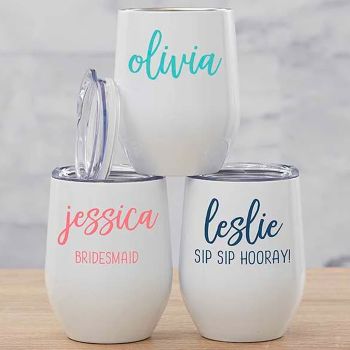 $29.99 at Personalization Mall
$17.99 at Personalization Mall
Wine glasses and insulated tumblers. When it comes to the vessel someone drinks their wine from, it's best not to assume they want (or have room for) whatever you've selected. Most people either have enough wine glasses or don't care what they're drinking out of.
Plus, most etched or engraved wine glasses will go through the dishwasher, degrading all of the decorative value.
When it comes to insulated wine tumblers, the answer is almost always, just say no. Aluminum insert tumblers are reactive with acidic products like wine and will make it taste funny (or metallic, or both). Plastic is the wrong experience for drinking wine, too.
Since I cannot recommend wine be consumed from an insulated tumbler unless it's from Vinglacé or Goverre, both of which have glass inserts, I cannot recommend giving personalized wine tumblers either.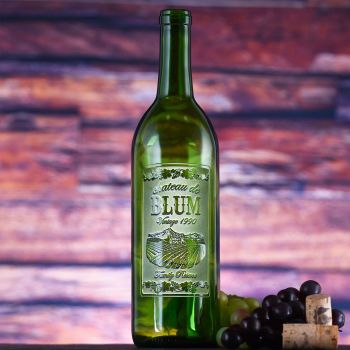 $34 by Crystal Imagery at Etsy
Empty wine bottles. There are a few talented etching artists on Etsy who engrave empty wine bottles. I cannot understand why one would give someone an empty bottle, though I can imagine the reason these enterprising crafters make them is because they're not licensed to sell alcohol.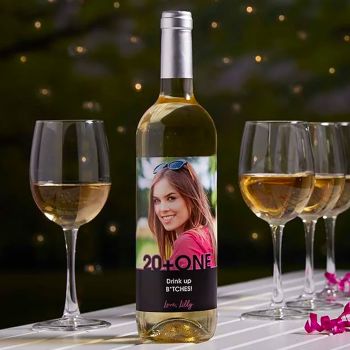 Stick-on wine labels. These are a budget solution to an "elegant" presentation. In many cases it is suggested you soak the labels off the existing bottle (meaning the recipient has no idea what's in there) before you apply the labels yourself (how steady are your hands?). In some cases you can order wine with professionally printed and applied labels from a store specializing in such things.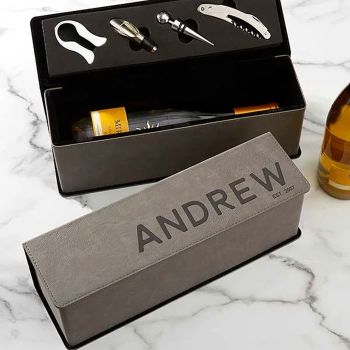 $39.99 at Personalization Mall
Wine Accessories Sets. Even when they include a nice bottle of wine, these gifts aren't a great choice. The accessories in them are rarely high-quality options and most wine drinkers already have wine openers, foil cutters, pourers, and stoppers.