Signature Series Review
In this review · What is The California Wine Club? · Wine Review · Membership Benefits · Who Should Join? · Gift Review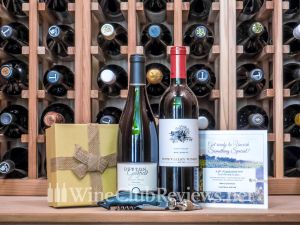 The California Wine Club has been sending great wines produced by California's small family wineries for over 25 years. They're very good at it, especially when it comes to gift giving. Long-standing relationships with wineries and respect from the wine world gives them access to small-production wines that are practically impossible to find anywhere other than the winery.
Old-school monthly wine clubs have become a little underrated as personalized wine subscriptions have emerged on the marketplace. These newer subscriptions offer personalization, but you have to work to get that personalized selection and be patient while you wait for the system to really learn your preferences.
When it comes to wine club membership, simpler can be better. Instead of choosing and rating all of your wines yourself, the wine experts at The California Wine Club choose two to four wines a month for you. If you don't like a wine you receive, take advantage of their "Love It" guarantee and get it replaced with something you do like.
Signature Series Wine Club Options
The Signature Series Wine Club is The California Wine Club's luxury-level wine club. Each box features two to four bottles of wine which showcase the winery, wine region, and grapes used. Here are the ways you can customize your membership:
This wine club mostly ships red wine. Occasionally a stunning white will be in the box.
Choose to have shipments sent monthly, bi-monthly, or quarterly.
Pre-pay for gifts — or yourself — and save.
Who Should Join The California Wine Club Signature Series?
When it comes to paying for premium wine, it can be hard to tell the difference between wine that's been overly hyped (and then over priced) and one that's genuinely outstanding. That's where a trusted company who stands by their selections with a "Love It" guarantee comes in. Why risk buying from a retailer who won't replace wine you don't like when you can be sure to enjoy what you get from The California Wine Club?
This wine of the month club is perfect for:
California wine lovers seeking hard-to-access ultra-premium, red wine (and occasionally white wine, too).
Giving as a gift — they've really nailed gift presentation and ease of gifting. Anyone who receives this gift (and loves California red wine) will be thrilled.
The California Wine Club knows there are different kinds of wine drinkers, and sometimes you want to try new things. They also offer:
Signature Series Wine Review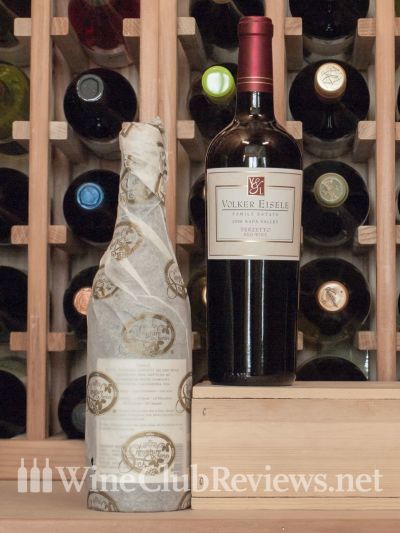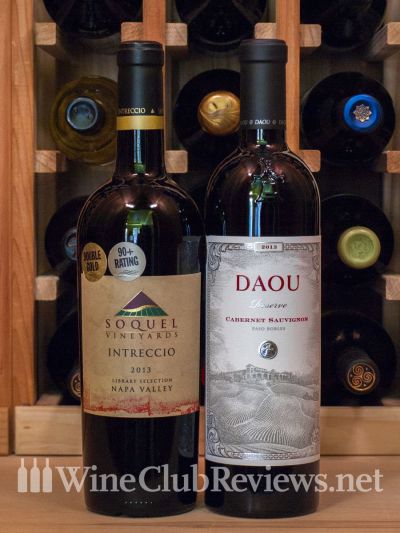 Our Signature Series
Wine Ratings
| | |
| --- | --- |
| Quality of Wine | |
| Price of Wine | |
| Wine Curation | |
More than 10 years ago when we started this website, The California Wine Club was one of the first we reviewed. In the intervening time we've sampled shipments from the Signature Series periodically and something that has never changed is the high standard for quality set by this club level.
If you step up your wine drinking above $45 per bottle, you discover an abundance of interesting, small batch wines produced by innovative winemakers all throughout California. While the Signature Series includes some Napa Valley Cabernet Sauvignon, we love the more adventurous grapes like Zinfandel, Syrah, and complex red blends. Occasionally ultra-premium Pinot Noir and Chardonnay round out the selection.
The most recent box we received (their 2019 Holiday shipment) featured Dutton-Goldfield Winery's Deviate Sonoma Coast Pinot Noir and Pope Valley Winery's Napa Valley Merlot. If you are a three- or four-bottle member, you would also receive Steinbeck Vineyards and Winery's The Crash Geneseo District Paso Robles Blend and Domaine RÜTZ's Maison Grand Cru 2017 Russian River Valley Chardonnay.
Here are the details from their Uncorked magazine which accompanies each shipment.
Some examples of other recent wineries and wines sent to Signature Series members include:
Dragonette Cellars. "Brothers, John and Steve Dragonette, and close friend, Brandon Sparks-Gillis, founded Dragonette Cellars in 2005 after having worked together at a renowned wine shop in Los Angeles. Their shared passion for great wine brought them to wild, windy and remote northern Santa Barbara County where they spent the next several years seeking out extraordinary, cool-climate vineyards and dedicating themselves to careful, patient, minimalist winemaking." — The California Wine Club
Editor's note: We've personally been members at Dragonette Cellars since 2013 and they have been showered with high praise from wine critics and sommeliers at Michelin-rated restaurants for several years now. They really are a family winery (three brothers/friends and their wives).
Shipped: 2015 Santa Ynez Valley Seven (Red blend) ($45)
Thacher Winery and Vineyard. "While working at the brewery, he met his wife, Michelle. "It's the same old story," laughs Sherman. "Bartender meets waitress, they fall in love, marry, and start a winery." A more rural life called to them, and they began dreaming of finding a property where they could build a winery, grow wine grapes and raise children.While attending a wedding at Paso's historic KR Barn, they fell in love with the beautiful 52-acre property. Happily, it soon came on the market, and they snapped it up. With Sherman as head Winemaker, they now handcraft a modest 4,500 cases annually, focusing on Rhône-varietals and Zinfandel. "We use minimal intervention and native fermentation techniques that showcase the fruit." — The California Wine Club
Editor's note: Another winery where we're members, we were thrilled to see Sherman and Gerri (the President of The California Wine Club) find common ground and get that stunner Zinfandel out to her members. It's wines like these that make the Signature Series such a great wine club — small batch, perfectly crafted, and craveworthy wines.
Shipped: 2016 Triumvirate Reserve Paso Robles Zinfandel ($70)
Godspeed Vineyards. "The Stricker family initially sold half of their crop to eager Napa wineries, including Robert Craig and William Hill, and kept half to bottle under their own label. In the mid-1990s, they began selling to Napa's famed Monticello Vineyards and soon enlisted the Monticello Winemaker, Chris Corley, to make Godspeed Vineyards wines. "Chris manages the winemaking and I direct the style," says Larry. Larry's style is elegant, almost European, with an emphasis on their vineyard's unique micro-climate, as expressed in the wine's balance and fruit element." — The California Wine Club
Shipped: 2012 Mt. Veeder Napa Valley Malbec ($70) and 2011 Mt. Veeder Napa Valley Estate Cabernet Sauvignon ($55)
Rhys Vineyards. "We selected the site for our Bearwallow vineyard in the coolest northwest corner or 'Deep End' of the Anderson Valley," says Kevin. "It includes a band of rocky southwest facing hillsides that produce intense, mineral-driven wines of great elegance. A huge investment in the farming, all of which we do ourselves, gives us fruit that does not need corrective or prophylactic winemaking techniques." — The California Wine Club
Shipped: 2015 Bearwallow Vineyard Anderson Valley Pinot Noir ($69)
Aiken Wines. "With over 30 years of winemaking experience, Founder/Winemaker, Joel Aiken knows the vineyards and growers capable of producing exceptional grapes for his wines. "I've worked with over 50 different Cabernet vineyards in Napa Valley and elsewhere, and I have a pretty good feeling for what makes a site stand out from the rest," says Joel. "Still, I'm constantly saying to myself, 'This was great. Now how can I make it better?'" — The California Wine Club
Shipped: 2009 Rutherford Napa Valley Cabernet Sauvignon ($150) and 2010 Oakville Napa Valley Cabernet Sauvignon ($150)
Membership Benefits
Our Signature Series
Membership Benefits Ratings
| | |
| --- | --- |
| Satisfaction Guarantee | |
| Customer Service | |
| Wine Education | |
| Convenience | |
At first glance, this might look like any other wine club, but when you scratch just a little below the surface, you start to uncover some delightful details. Club members enjoy the following benefits.
Satisfaction Guarantee. The California Wine Club offers a 100% Satisfaction Guarantee. They'll refund you for any wines you don't love. That said, we'd be genuinely surprised and concerned if you receive a poor selection from The California Wine Club.
Their "Love It" Guarantee: "What if I don't like the wine? Although wine tastes vary from person to person, our wines are guaranteed. If you get a bad bottle, we will immediately reship a replacement or refund your money!"
Customer Service. In ten years of working with The California Wine Club we have never had a single customer complaint. It could be because they pride themselves on the best customer service. In addition to their Satisfaction Guarantee, they have staff wine consultants whose job it is to help you find wine you love and wineries to visit when you go to wine country.
Convenience. The California Wine Club is a more old-fashioned company. If you need to hold your service for a vacation or want to cancel your membership you'll need to call and speak to someone during regular business hours. You can handle reorders yourself online, as well as see a record of the wines you've received and when you received them.
Personalization. The only available personalization on this wine club is how many bottles (2-4) you want to receive. If you have modifications you want to make, you can check with their outstanding customer service team after signing up.
Discount Opportunities. We look at three areas when evaluating the discount opportunities offered by a wine club: is there an introductory offer to sweeten the deal, are there discounts available for buying more of wines you loved in your shipments, and are there special discounts only available to members?
The California Wine Club rarely posts introductory offers for their higher-end clubs, so take advantage of our exclusive deal: our readers get a special offer, 50% off your first shipment when you join at any club level, use code WCRHALF at checkout. Oh, you also get a $25 credit to use in their wine store when you sign up or give a gift.
The California Wine Club also offers members-only pricing on reorders, while supplies last. Members pay just $1 for shipping for case and half-case orders to most states, too.
Lastly, members-only special deals come up all the time. Whether it's presale opportunities or extra discounts in their wine shop, you'll be glad you participate.
Wine Education. The California Wine Club sends out the prettiest assortment of wine info (a full-color magazine called Uncorked) with each shipment of the Signature Series. It contains tasting notes about each wine, the wineries they come from, the winemakers, and the wine region.
Signature Series Gifts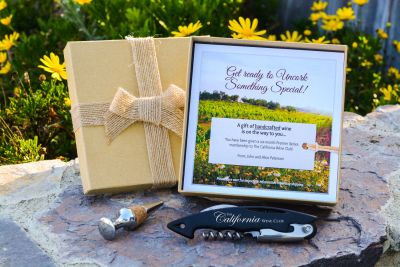 The California Wine Club offers gift upgrade option for an even better recipient experience. For an additional $18 you can have this delightful package mailed to you so you can present it in person, or you can have it mailed directly to your gift recipient in advance of the first wine shipment. The package comes gift-wrapped and custom-printed with the recipient's name and what you've ordered, along with a deluxe corkscrew and bottle stopper.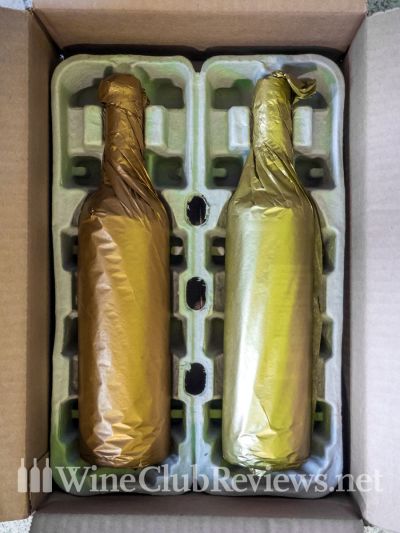 This is among the best wine club gifts on the market. For wine drinkers of any level and any preference, it would be hard to not make a great impression with a Signature Series gift. We're big fans of The California Wine Club gifts.
They offer prepaid gift subscriptions which makes gifting a breeze. Choose 1-12 shipments. The more you buy, the more you save.
Gift-wrapped bottles and a custom gift message are included with purchase. During the holidays, recipients will get the selection pictured at the left, bronze and gold tissue wrapping. The rest of the year, Signature Series wines come wrapped in custom tissue wrap seen above.