Signature Series Wine Club Review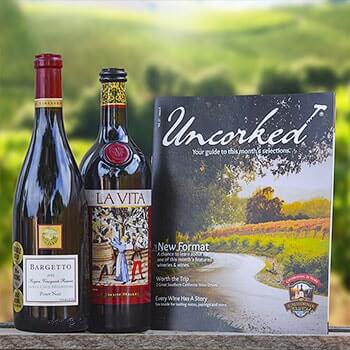 Wine Club Overview & Details
Wine Club Rating:
This wine club is...
Summary
This wine subscription focuses on high-end, small-production wines from small family wineries in California. It is perfect to give as a gift or to join yourself.
What I Like
The Signature Series is one of our favorite premium wine clubs. I never get tired of exploring the different styles and terroirs of high-end California wine.
Improvements
Not every bottle is right in my wheelhouse, but I don't hold that against them.
Benefits
Only artisan winemakers in California

Great gift presentation and deals

100% satisfaction guarantee

Wines not available in stores
Drawbacks
Shipping is extra

Not every bottle tastes like $70
Signature Series Wine Club delivers to
AK AZ CA CO CT DE DC FL GA HI ID IL IN IA KS LA ME MD MA MN MO MT NE NV NH NJ NM NY NC ND OH OK OR PA RI SC TN TX VT VA WA WV WI WY
Don't see your state? The California Wine Club does not ship there. Browse wine clubs by state.
Join Signature Series Wine Club
FYI: I find great wine deals so you don't have to. To keep me on the hunt, I earn a commission when you buy wine based on my recommendations.
Coupons & Promo Codes
Deal Save 50% on membership
Save 50% on your first shipment. Until Dec 31. Use code WCRHALF at checkout.
Deal Save 10%
Save 10% on wine club gifts. Until Jul 31. Use code YES10 at checkout.
Signature Series Wine Club Review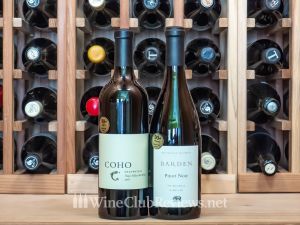 What is the Signature Series from The California Wine Club?
Founded in 1990, The California Wine Club is a California company which sells artisanal wines from small family wineries. The Signature Series is their premium, mostly-red wine option. It is available as an ongoing subscription or as a gift membership (you choose the length of the gift). Signature Series, like all of their subscriptions, comes with an industry-leading satisfaction guarantee and a host of other membership benefits.
Ways to Customize Your Signature Series Membership
The Signature Series wine club can be customized in these ways:
Number of bottles: When you join for yourself, you can choose a two-bottle, three-bottle, or four-bottle subscription. When you give a Signature Series gift, it's a two-bottle subscription.
Delivery frequency: This membership can be delivered monthly, every other month, or quarterly.
How much does Signature Series cost?
The price of the Signature Series depends on how you've configured it. If you are giving a gift, each two-bottle shipment will cost $152, plus $21 for shipping and handling.

If you are joining for yourself, your price varies with each shipment, and depends on how many bottles you've signed up for. Two-bottle shipments average $136. Three-bottle shipments average $175 and four-bottle shipments average $275. In all three cases, your shipping and handling is $21.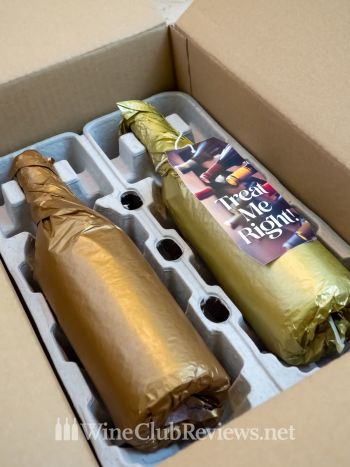 Ways to save on Signature Series
Depending on your preferences, there are two great ways to save on a Signature Series membership for yourself.
Option 1: send yourself a "gift" when you place your order. Discounts start at three months (around 13%) and go up to approximately 23% for twelve months.
Option 2: The California Wine Club kindly offers my readers a generous discount. Save 50% on the wine portion of your first shipment with code WCRHALF at checkout (ongoing subscriptions only, not for gifts). Shipping and handling will still be $21.
Current Signature Series Deals
Deal Save 50% on membership
Save 50% on your first shipment. Until Dec 31. Use code WCRHALF at checkout.
Deal Save 10%
Save 10% on wine club gifts. Until Jul 31. Use code YES10 at checkout.
Signature Series membership benefits
Any time you become a subscriber to a company's services, there should be a benefit to you for loyalty. Sometimes that benefit is discounted members-only pricing and sometimes that benefit is extra perks. Here are the membership benefits for joining or gifting Signature Series.
A full-color magazine each month called Uncorked. The magazine is both entertaining and informative. It details each wine shipped each month and also covers a particular wine topic, like fermentation vessels.
The "Love It" Guarantee - they'll refund any bottle a customer isn't happy with. The California Wine Club is among very few wine clubs with this level of a guarantee, and they definitely offer the best wines of any company that offers a top tier guarantee.
Free access to personal wine consultants - these helpful staff members can get to know your wine preferences and needs to make sure you're getting the most of your membership.
Members-only discounts - save 10% on wine club gifts (can't be combined with other offers) you purchase for others; enjoy $1 shipping on supplemental orders of six or twelve bottles.
Access to VIP Tours at the wineries they feature. Heading to wine country? Call The California Wine Club and tell them which wineries you've tried that you want to visit. They'll get you set up with a VIP tour and tasting at the winery, often complimentary.
See all membership benefits
My Signature Series
Benefits Ratings
| | |
| --- | --- |
| Satisfaction Guarantee | |
| Customer Service | |
| Wine Education | |
| Convenience | |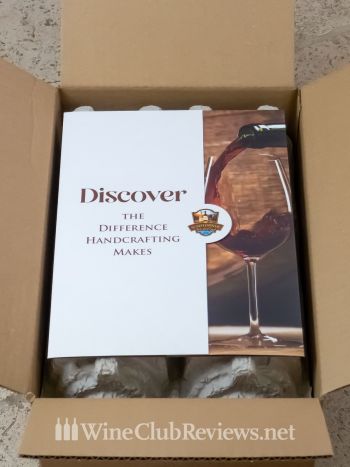 Signature Series Wine Review
My Signature Series
Wine Ratings
| | |
| --- | --- |
| Quality of Wine | |
| Price of Wine | |
| Wine Curation | |
I've received several shipments of wine for review from the Signature Series at The California Wine Club since 2015.
The California Wine Club specializes in small-batch wines from family wineries producing less than 15,000 cases per year. Small production wines typically offer the most character as the grapes are farmed for optimal taste, not optimal yield. Learn more about why these small producers are so important.
This club, like all of the premium subscriptions at The California Wine Club, is not value-focused. Membership at The California Wine Club comes with a lot of benefits, including the core benefit of sampling wines from small wineries you're unlikely to discover on your own.
Here is a selection of wines I've received from the Signature Series over the years.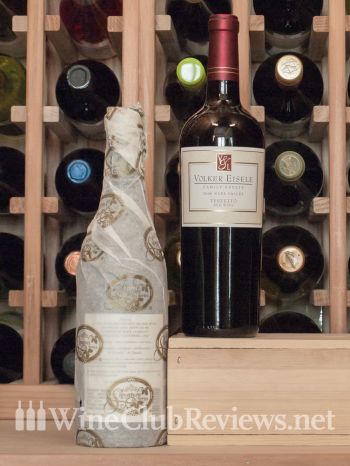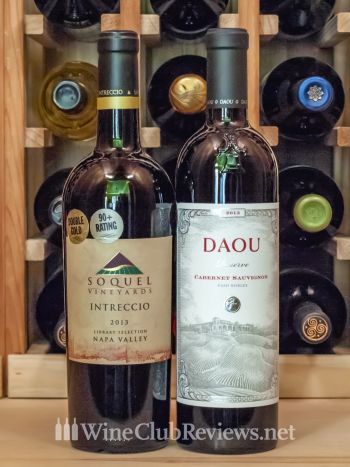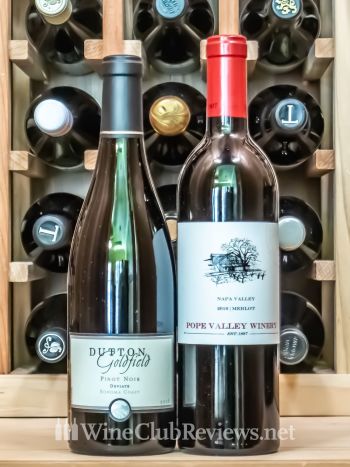 My most recent shipment of The Signature Series: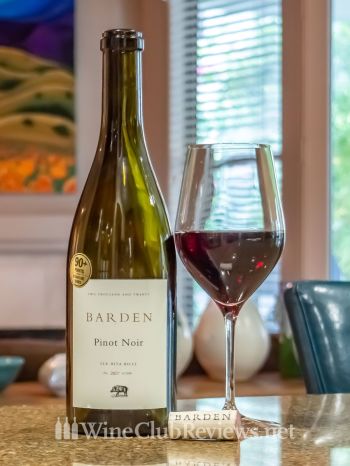 Wine: 2020 Barden Pinot Noir, Sta. Rita Hills
Blend: 100% Pinot Noir
Winery: Margerum Wine Company
Region: Sta. Rita Hills, Central Coast, California
Cases produced: 216
Retail price: $68

A beautifully-made Pinot Noir from Sta. Rita Hills featuring organic fruit from top vineyards in the region: La Encantada, Sanford & Benedict, and Radian.

This wine is an excellent example of why Sta. Rita Hills is a premier Pinot Noir wine region in California. When I drank it, it was a modestly complex earthy Pinot Noir with a strong oak profile, chewy tannins, and a long finish.

My full review of: Barden Pinot Noir, Sta. Rita Hills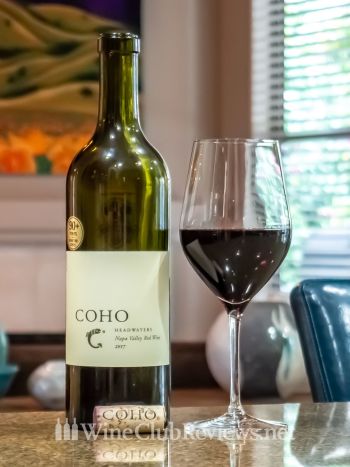 Wine: 2017 COHO Headwaters Napa Valley Red Wine
Blend: 81% Merlot, 16% Cabernet Sauvignon, 2% Malbec, 1% Petit Verdot
Winery: COHO Wines
Region: Napa Valley, California
Cases produced: 1,164
Retail price: $56

Perfect medium-bodied, Bordeaux-style red wine to enjoy with any food not requiring a high-acid companion.

This wine showcases why, if you can, you should try to lay your red wines down for a few years before consuming them. It was likely more puckery and astringent when it was younger, but has matured into a food-friendly red wine.

My full review of: COHO Headwaters Napa Valley Red Wine

I received a two-bottle sample shipment of the Signature Series. If I had signed up for the four-bottle version, here is a bit about the additional wines I would have received:

Winery: Deovlet Wines
Wine: 2020 Zotovich Family Vineyard, Sta. Rita Hills Chardonnay
Blend: 100% Chardonnay
Region: Sta. Rita Hills, Santa Barbara County, California
Cases Produced: 108
Winery retail price: $50
There's much to unpack about this wine (aside from the fact that I'm bummed this wasn't one of the wines I received). As noted earlier, I spend a lot of time (and money) in the Sta. Rita Hills AVA as the wines produced in this area work for me — they're fruit forward, complex, and there are many artisans at work in the region, both in the vineyards and in the cellars.
This description typifies what you can expect from the region in general: "For this wine, fruit was hand harvested then pressed to tank for settling 24 hours. Upon onset of fermentation, the lot was transferred to barrel to finish alcoholic fermentation. Secondary fermentation progressed until stylistic decisions were made to arrest fermentation to preserve some malic acid. The wine aged 15 months on fine lees in 100% French oak, 20% new barrique, plus a combination of neutral 400L and 228L."
And the tasting notes from the winery: "Exotic tropical fruit and citrus tones with feijoa (pineapple guava), green mango, finger lime zest, and hints of blanched almond and vanilla bean lifting the fragrant bouquet. The palate is electric and taught, while maintaining a stunning balance of richness and intensity, juicy and saline. The acidity brings persistent length and tenacity for a minutes-long finish."
The "exotic tropical fruit" is what happens when you mature Chardonnay "on the lees*," especially for 15 months. The use of mostly neutral French oak prevents the Chardonnay from getting too oaky. That fermentation was stopped to "preserve some malic acid" was a great choice — the acidity makes the wine lively and food-friendly.
* When you ferment wine, the yeast have a byproduct as they gobble up sugar and turn it into alcohol. That byproduct is called "lees." Some winemakers choose to leave it in while the wine matures because it adds complexity and, depending on the grape, brings out certain specific flavors in the finished product. The French call this "sur lies." I have a soft spot for wines made this way.
Lastly, the Zotovich vineyards are well-respected in Sta. Rita Hills and a great vineyard to know if you're learning about the area. Their organically-farmed land produces fruit used by many acclaimed wineries like Dragonette Cellars, Ken Brown Wines, Tyler Winery, Crawford Family Wines, Rideau Vineyards, and more. They also grow Pinot Noir, Syrah, Viognier, and Grenache.

Winery: Sojourn Cellars
Wine: 2019 Home Ranch, Sonoma Valley Cuvée Cabernet Sauvignon
Blend: 100% Cabernet Sauvignon
Region: Sonoma Valley, California
Cases Produced: 650
Winery retail price: $60
This Cabernet Sauvignon is predominantly made of the 337 clone — hey wine geeks, you might want to read this fascinating dissertation on 337 and other Cabernet clones — one of the most popular in Napa because it reliably produces that "typical" Cabernet flavor popular in America (less herbal, more red fruit and plush).
Tasting notes from the winery: "Home Ranch Cabernet Sauvignon explodes with blueberry fruit flavors and silky texture. The signature blue fruit aromas shine through with notes of mocha and cassis. The 2019 vintage offers exceptional structure, with fine grain tannins and a long finish."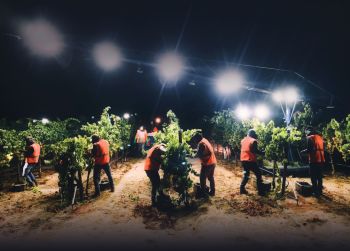 The California Wine Club makes a point of highlighting the tightly-spaced rows of grapevines in this vineyard. Aside from helping increase the yield per acre for the vineyard, tight spacing also means the vines are hand-harvested (picture below shows the team at work at night when the temperature is lowest and the grapes sustain the least harvest damage). Sojourn Cellars also points out the berries are hand-sorted before fermentation begins with native yeasts. These are all practices associated with the highest quality wines.
How to save money on these wines
If you like the sound of this club, but don't necessarily want to spend that much per bottle, I've got great news for you. The California Wine Club also offers a Reserve Reds Case Club where you can get twelve bottles per shipment for $780 plus $21 shipping and handling. These are all the same high-quality wines you'd expect from Signature Series but you pay around $20 less per bottle.
Here's how the math works out:
| | Shipment price | Price with shipping | Bottle price | Bottle price with shipping |
| --- | --- | --- | --- | --- |
| Signature Series | $152 | $173 | $76 | $86.50 |
| Reserve Reds Case Club | $780 | $801 | $65 | $66.75 |
There are some important considerations to upgrading your shipments this way:
If you don't drink 12 bottles a month, you can get the Reserve Reds Case Club every other month or quarterly
The Reserve Reds Case Club does not come with Uncorked magazine, but all other membership benefits still apply (more details below)
The Reserve Reds Case Club is not available as a gift and no discounts can be applied to Case Club subscriptions
Join the Reserve Reds Case Club and save.
(Purchasing note: you'll be taken to the Case Club page. Reserve Reds is a selection under Wine Options before you add it to your cart.)
How does the Signature Series compare to similar wine subscriptions?
All of the subscription options at The California Wine Club are curated. This means they are not customized to your palate (a personalized subscription) but instead all of their members receive a customized selection from the same pool of staff-picked wines each month.
In general, it's easy to compare The California Wine Club with Gold Medal Wine Club. They both focus on small family wineries, mostly in California, and their prices are similar (once shipping is factored in) across a few similar wine clubs. At Gold Medal the wine clubs most similar to the Signature Series are their Platinum Club and their Garagiste Club. The Platinum Club is a little less expensive than the Signature Series. The Garagiste Club is also less expensive and focuses on teeny tiny producers. In general I prefer The California Wine Club because of their "Love It" Guarantee.
Another wine club to research if you're thinking about joining the Signature Series is the Connoisseur's Club from Wine Access. This club offers two bottles a month for $150, shipping included. It is not a "California" wine club though, they source wine from all over the world for this one.
Is Signature Series a good gift?
Yes! All of The California Wine Club memberships are among my most highly recommended gifts. Whether you're on a budget or you want to splurge, you can be assured your gift recipient will love what you buy them.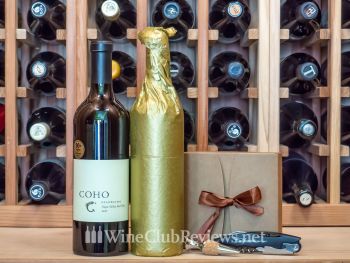 Here are my top reasons to recommend The California Wine Club above all other clubs for gifts:
The bottles in the first box come hand-wrapped in festive tissue paper.
Gift recipients get a $25 credit toward a wine purchase in the wine store, and enjoy all member benefits while their gift membership is active.
Buy more, save more pricing. Discounts start with three-month shipments.

3-month gifts are $435 ($393 + $42 shipping and handling)
6-month gifts are $852 ($768 + $84 shipping and handling)
12-month gifts are $1,584 ($1,416 + $168 shipping and handling)
They make it easy to get your shopping done early.
The Love It guarantee helps ensure your gift recipient is satisfied.
You can choose the Gift+ option and send them a small package in advance to let them know the wine is coming. The package, seen above, includes a corkscrew, a stainless bottle stopper, and a personalized gift note. This can be added on to any gift for $22 (includes shipping via USPS).

Why Gift+? Delivery services being what they are, it's hard to predict which day a wine club shipment might arrive, but you can order the Gift+ option and have it sent either to yourself to present in person on the big day or have it sent directly to the recipient to let them know the gift is on its way. This is a unique feature that no other wine club offers.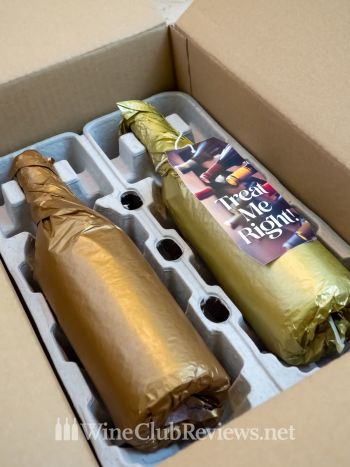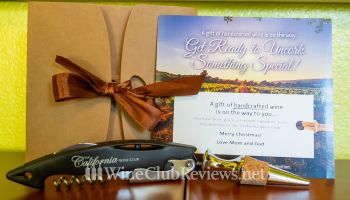 Signature Series Wine Club