Connoisseurs Wine Club Review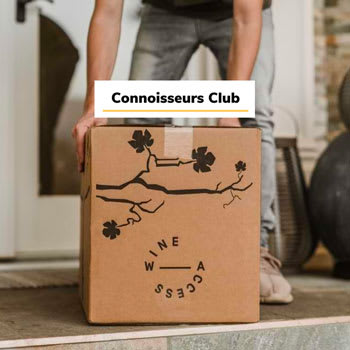 Wine Club Overview & Details
Wine Club Rating:
This wine club is...
Summary
Ultra-premium and hard-to-find, this wine club focuses on small-production wines of distinct character and impeccable pedigree worthy of the name Connoisseur. These wines are great for special-occasions and discovery of the world's best wine regions.
What I Like
I frequently see highly-rated and special wines pass through the Wine Access inventory. They don't pigeon-hole their selection to a narrow set of wine regions or grapes so there's always something new and exceptional to try.
Improvements
There are some amazing white wines out there and they're usually even harder to find than the reds. We'd love to see a wine club option that mixes red and white wine. We'd also like to see a gift membership option with prepaid subscriptions.
Benefits
Producers to know

Rare access to highly-allocated wines

World's best winemakers

Video tasting notes and producer backstory for every wine
Drawbacks
Not customizable

No gift option
Connoisseurs Wine Club delivers to
AK AZ CA CO CT DC FL GA HI ID IL IN IA KS LA ME MD MA MN MO MT NE NV NH NJ NM NY NC ND OH OK OR PA SC TN TX VT VA WA WV WI WY
Don't see your state? Wine Access does not ship there. Browse wine clubs by state.
Join Connoisseurs Wine Club
FYI: I find great wine deals so you don't have to. To keep me on the hunt, I earn a commission when you buy wine based on my recommendations.
Coupons & Promo Codes
Deal Save $50
Save $25 on your first two shipments of any Wine Access wine club. Click for this deal
Connoisseurs Wine Club Review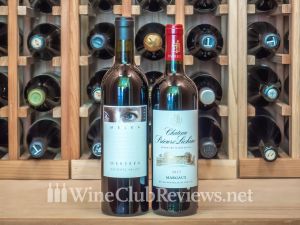 What is Wine Access?
WineAccess is an online wine store where the inventory is curated by a team of sommeliers and wine industry professionals. You can get a sense of how they think of wine by how they organize the site. Categories listed include:
Rare Allocations: "Attainable only at the winery or top restaurants" like Williams Selyem Russian River Valley Pinot Noir, Dragonette Cellars Radian Vineyard Pinot Noir (one of our household's personal favorite wines), and Arnot-Roberts Vare Vineyard Ribolla Gialla.
The Icons: "Legendary bottles from producers who define the art of wine" like Penfolds Grange, Silver Oak, Shafer, Kosta Browne, Château de Beaucastel, Domaine du Vieux Télégraphe, Ornellaia, and Château Mouton Rothschild.
Michelin Star Favorites: "The bottles somms can't resist" like Favia, Billecart-Salmon, Longoria, Massican, Dalla Valle Vineyards, and Bollinger.
Top Values: "Special occasion-worthy bottles at everyday prices" and interesting selection of wine all under $30.
Limited Time Offers: "Preorders available for 72 hours, or until they sell out." It's essentially a flash sale where certain wines are brought in for a quick promotion.
Also: Last Chance (less than a case remaining) and Member Favorites
They have two quarterly wine clubs — a six-bottle (Discovery Club) and this two-bottle (Connoisseurs Club). Both are priced at $150, including shipping. This price reflects a discount from retail (typically in the 25-35% range). A membership includes access to exclusive video about each wine, highlighting the story behind it, and 10% off all purchases at WineAccess.com. Shipments are delivered in March, June, September, and December.
Wine Access Connoisseurs Club Wine Review
My Wine Access Wine Ratings
| | |
| --- | --- |
| Quality of Wine | |
| Price of Wine | |
| Wine Curation | |
As we evaluated the wine we received, we couldn't help but consider the Wine Access team. Helmed by Vanessa Conlin, a WSET Diploma holder and Master of Wine, an impressive roster of wine professionals curates their wine selection: Sur Lucero, a Master Sommelier who worked at The French Laundry, Meadowood, and Daniel Boulud; and Eduardo Dingler, an Advanced Sommelier candidate.
A team like this is about as well-informed as one can be when it comes to what a wine should taste like and what it should cost. They also know a great opportunity when it arises, and perhaps more importantly, bring their members along for the ride.
Unlike other high-end wine clubs ($60+ a bottle), this subscription isn't California-specific and therefore you can expect to discover the world's best red wines. The most recent shipment we received contained a Margaux (Bordeaux) and Merlot (Sonoma) from a 100-point winemaker. These wines have a retail value of $210 ($65 + $145), offered at a substantial discount of $150 for the shipment.
---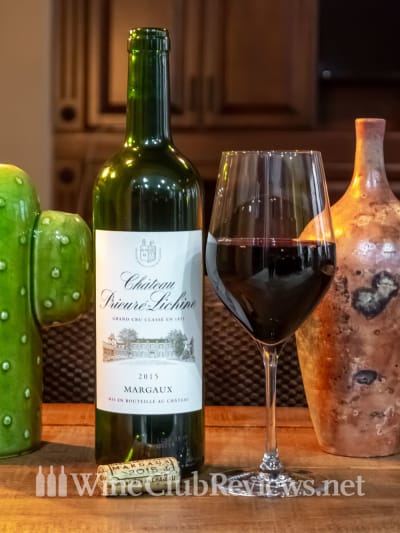 2015 Château Prieuré-Lichine Margaux Grand Cru Classé
A classic Left Bank Bordeaux blend of Cabernet Sauvignon, Merlot, Petit Verdot, Cabernet Franc, this impressive Margaux garnered high marks from top critics: 96 points from James Suckling, 95 points from Wine Enthusiast, and 92 points from Decanter and Wine Spectator.
A more ripe Bordeaux than some of its competitors, the fruit was evident and the tannins had softened nicely. If we hadn't received this wine for review, we'd likely have laid it down for at least 10 years.
I enjoyed this wine immensely.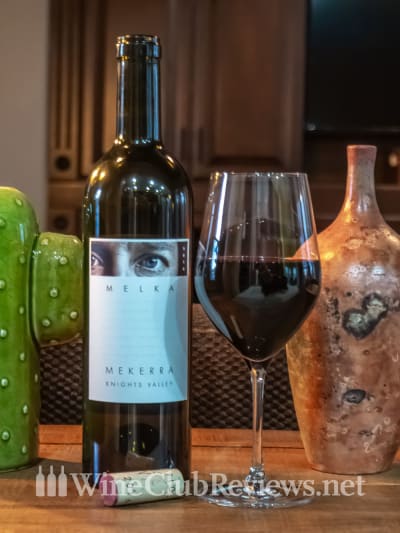 2016 Melka Mekerra Merlot Knights Valley (Sonoma)
Mekerra is a high-elevation vineyard in Sonoma County, located northwest of Calistoga. Just 150 cases produced, "the aromatics reveal rich, dark fruit, black currants laced with undertones of leather and tobacco. The mid palate boasts creaminess along with a lush, layered texture. This wine demonstrates how ripe fruit can be crafted in a extremely elegant style."
I liked it, but I think we drank it much too young. If we hadn't received this wine for review, we probably would have laid this down for least five more years before opening it. In contrast, we drank a 2014 Melka-made wine (also from Wine Access) a few nights earlier and found it to be terrific.
Since Connoisseurs Club is a relatively new club, there isn't a long track record of wines to evaluate. We received the inaugural shipment and have been briefed on the latest shipment which started shipping on December 7. The wines (which we have not received) are:
2016 Cordero di Montezemolo Barolo Enrico IV Villero - from the La Morra commune. Retail: $100
2010 Arietta Variation One Red Wine Napa Valley - a cult winery. Retail at Wine Access: $100
Membership Benefits
My Wine Access
Connoisseurs Club Benefits Ratings
| | |
| --- | --- |
| Satisfaction Guarantee | |
| Customer Service | |
| Wine Education | |
| Convenience | |
Curation. Leveraging an immense knowledge of wine (and industry relationships), Wine Access seeks out small-production gems from desirable wine regions, wineries, and winemakers. They tend to pick wines that are well-rated by top-tier wine critics and from sought-after wineries that fly under the radar.
Customer Service. We've seen mostly good customer service reviews at review sites like TrustPilot.com. The most common complaints are shipping and delivery issues, but getting wine delivered to your home is always a little bit challenging because it requires an adult signature. We saw issues with non club orders taking months to arrive. Their website says that if you order "pre-arrival" wines, they can take up to 3 months to arrive (probably because they're coming directly from the winery overseas). We haven't seen any delivery complaints for regular wine club shipments. They offer phone and email support Monday through Friday to help you with any questions.
Wine Education For each wine they ship, Wine Access produces a video which includes the story of the wine and a guided tasting. They also include a high-quality wine card full of useful information for each wine in the form of the backstory — either of the wine or how and why you were able to get your hands on it. These sheets include wine bottle hang tags for your cellar which helpfully note when to drink, how long to decant (if at all), and provide a flavor profile summary. Encouraging you to increase your own wine knowledge, the back of each wine card includes room for you to take notes for later.
Satisfaction Guarantee. One of the biggest reasons to be a wine club member is the Satisfaction Guarantee. The last thing any wine club wants to see is someone cancel their membership because they didn't like a wine. Wine Access doesn't publish a "100% Satisfaction Guarantee" however they confirmed, "If you don't like a bottle, for any reason, we'll credit you that bottle. This applies to wine club as well individual purchases."
Convenience. Wine Access lets you take care of most account edits, including changing your delivery date, online. Shipments come via UPS, so sign up for UPS MyChoice in order to keep tabs on your deliveries.
Another important aspect of convenience is when they send which emails. As a member you'll receive a shipment reminder email a week before orders are processed and your card is charged. When the order has an expected delivery date, you'll get another email. You'll get one more email when the shipment gets picked up by the delivery service.
Personalization. This is not a very personalizable wine club — you can choose mixed red and white wine or all red wine.
Discount opportunities. Wine Access wines are often priced below retail, but wine club members save an additional 10% on their wine store purchases outside of regular wine club deliveries. Also all orders of $120+ or 6+ bottles ship free.
Who Should Join the Wine Access Connoisseurs Wine Club?
Given the price point, this isn't a wine club for everyone. However, it only ships two bottles every three months, so if you want to experience splurgy wines at home (especially while fine dining remains inaccessible due to the Coronavirus pandemic) this is a great option.
While the wines are sold as "drink now" we do think some wines would benefit from additional age. If you have the ability to lay down the wines you receive from this wine club, you'll find your experience enhanced.
Is the Connoisseurs Club a good gift?
Yes! All of the Wine Access memberships are now available as gifts — among the best wine club gifts on the market. When you want to send a wine gift which will impress, this is a good place to start. These wines are sure to please any red wine lover.
One of those weird, behind-the-scenes aspects of wine clubs is that the shipment prices for the better wine clubs typically vary. The companies don't want to be beholden to a specific price and would rather curate the right shipment. This makes gift-giving complicated because you're prepaying for a number of shipments, even when the company hasn't priced out some of those future shipments.
To deal with this, Wine Access has, unsurprisingly, enacted something unique and honorable in their wine club gift program. As the gift-giver, you pay the maximum expected price range, but at the end of the gift membership, the giftee will receive a gift card for the remaining balance (the difference between the maximum possible price and the actual price a member would have paid). Every dollar you spend on your gift goes to the recipient (especially since shipping is included).
For the Connoisseurs Club, you can give the following gift subscriptions, delivered every three months:
Two shipments for $300
Four shipments for $600
Six shipments for $900
Eight shipments for $1200
Additionally, you can choose the date your gift recipient receives notice (via email) of their incoming gift. This date can be selected up to twelve weeks ahead of time (in case you're proactively gift shopping).
This detail is especially important because the gift recipient's membership doesn't start until they receive the gift notice email AND sign up for a Wine Access account to redeem the subscription. The gift recipient has six months to establish that account and claim the gift.