The Best Wine Gift Baskets Delivered to in 2023
---
Whether you're looking for a gift basket with good wine, a top-rated wine basket featuring red wine, cheese, chocolate, or a luxurious gift basket with champagne — we've got you covered.
When it comes to wine baskets, not all gifts are created equal. We define a wine gift basket as any gift that contains both wine and several other items — usually, but not always, food. And they don't all have "baskets" either — some come in boxes or trays or crates.
In addition to featuring our favorite wine gift baskets online, we answer your wine basket questions and highlight companies providing wine gift basket delivery services.
Please note: if you buy a gift after clicking links on our site we might earn a commission.
---
Wine Gift Basket Ideas
Best Wine Baskets by Price
When giving a wine gift, most people have a rough estimate of how much they'd like to spend. Since wine prices range from cheap to luxury, naturally gift baskets with wine do, too.
We try to pick wine baskets for our site that we'd be happy to receive, no matter how much they cost up front. We find great options for the budget-savvy and for those ready to splurge.
Best Wine Baskets Under $100
Affordable Red Wine Gift Basket
$64.99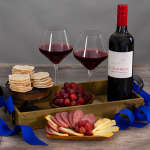 Buy This Gift
California Getaway Wine Gift Basket
$79.99 $89.99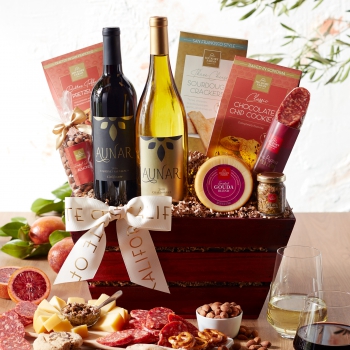 Buy This Gift
Wine & Cheese Hearty Bites Gift Basket
$89.99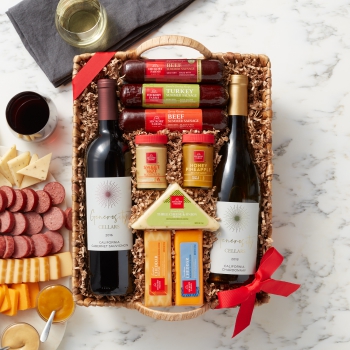 Buy This Gift
Best Wine Baskets $100-250
Best Wine & Food Baskets
There are three components to every food and wine gift basket: the wine, the food, and the presentation vessel.
We tend to think of food and wine baskets as either gourmet or not-gourmet. When the seller includes wines and snacks produced by well-known brands (of a certain caliber), we label the basket gourmet. Otherwise, when the wine is a private label wine with little information, or the snacks are readily available at the corner market, it doesn't get the label gourmet.
Because gourmet implies a gift that is appropriate for those with discerning tastes, we also assume you're buying for a wine connoisseur and choose gift baskets accordingly. See more gourmet wine gifts.
Best Gourmet Wine Baskets