COHO Headwaters Napa Valley Red Wine Review
This wine showcases why, if you can, you should try to lay your red wines down for a few years before consuming them. It was likely more puckery and astringent when it was younger, but has matured into a food-friendly red wine.
Wine review by: Jessyca Frederick |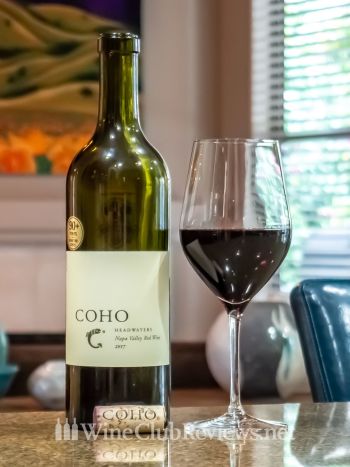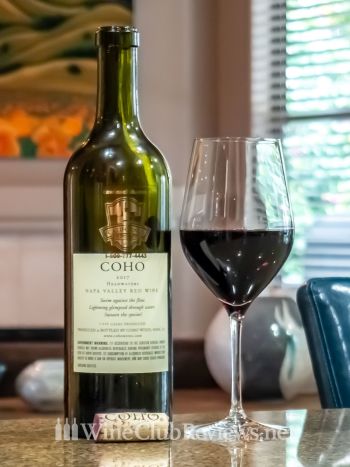 FYI: I find great wine deals so you don't have to. To keep me on the hunt, I earn a commission when you buy wine based on my recommendations.
About this Wine
Wine: 2017 COHO Headwaters Napa Valley Red Wine
Blend: 81% Merlot, 16% Cabernet Sauvignon, 2% Malbec, 1% Petit Verdot
Winery: COHO Wines
Region: Napa Valley, California
Cases produced: 1,164
Retail price: $56
I consumed it: September 2022
My source: The Signature Series of The California Wine Club
Discover More
COHO Headwaters Napa Valley Red Wine: What I think
I appreciate that The California Wine Club sometimes sends out "back vintages" in their Signature Series club. In this case, the well-integrated tannins from this five year old wine are a great contrast with the young Barden Pinot Noir (which I received in the same shipment).
I tend to like Napa's Merlot-driven selections. Napa wineries don't charge as much for Merlot (thanks to the movie Sideways maligning the poor but important grape), but the wineries that produce it expect the same high quality standards that make Napa Cab so coveted (because it's in a lot of their high-priced Cabernet Sauvignon). Also, I tend to like Merlot because it's a fruit-forward red wine; this one featured cherries and blackberries.
Notice: I hold no formal wine credentials. I am a wine geek who has consumed 1000+ of bottles from 100+ different wine clubs and 1000s more bottles that didn't come from those wine clubs. I do not accept payment for wine reviews, and I do not accept payments to influence my opinions. I happily accept free wine (and I buy wine).
Why read my wine reviews: Wine taste is subjective. What I like may not be what you like. I try to leave room for you to form your own opinions, so I don't provide a score or a rating. I do point out wines that are an incredible value or truly not worth the money. I note flaws, wines that don't have typicity (because this matters if you are buying wine without having tasted it yourself), when wines are out of balance, and when wines lack appropriate body.
I don't like wasting money (or anything for that matter). I'm careful about where I spend my money and my mindset as a reviewer is to be careful about where you spend yours. I don't believe a high price tag equals quality and I know for sure there are wines of very good quality that are also a great value.
Learn more about me or get in touch.