Aged Cabernet Series Wine Club Review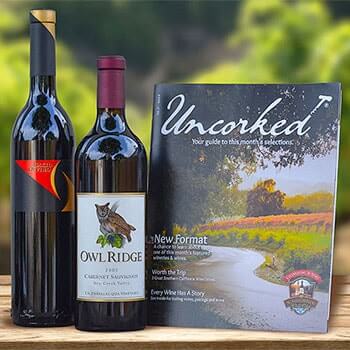 Wine Club Overview & Details
Wine Club Rating:
This wine club is...
Summary
This wine subscription focuses on high-end, small-production Napa Valley Cabernet Sauvignon that was perfectly cellared while it earned the status of Aged. All of these Cabs, from small family wineries in Napa, are ready to drink when they arrive. It is perfect to give as a gift or to join yourself. Past shipments have included both three-bottle horizontals and three-bottle verticals — a truly unique wine experience (more on this in the review).
What I Like
One of few Napa Cabernet wine clubs, this is the only Aged Cabernet wine club we know of. It's practically impossible to find luxury aged Cab outside of the auction environment or for less than $120 a bottle. The uniqueness of these wines and the special access the club's members get both factor into our enthusiastic support of The Aged Cabernet Series.
Improvements
Not every bottle is right in our wheelhouse, but we don't hold that against them.
Benefits
Hidden gems from Napa Valley

Great gift presentation and deals

100% satisfaction guarantee

Only wine club offering aged wines
Drawbacks
Wine Club Ships to
AK AZ CA CO CT DE DC FL GA HI ID IL IN IA KS LA ME MD MA MN MO MT NE NV NH NJ NM NY NC ND OH OK OR PA RI SC TN TX VT VA WA WV WI WY
Don't see your state? The California Wine Club does not ship there. Browse wine clubs by state.
Join the Wine Club
FYI: I find great wine deals so you don't have to. To keep me on the hunt, I earn a commission when you buy wine based on my recommendations.
Coupons & Promo Codes
Deal Get two bonus bottles
Join the Aged Cabernet Series and get two extra bottles of Aged Cab in the first shipment. Until Mar 31. Use code ADDTWO at checkout.
Deal Save 50% on membership
Save 50% on your first shipment. Until Dec 31. Use code WCRHALF at checkout.
Aged Cabernet Series Wine Club Review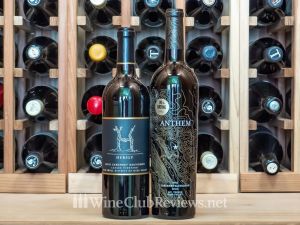 What is the Aged Cabernet Series from The California Wine Club?
Founded in 1990, The California Wine Club is a California company which sells artisanal wines from small family wineries. Their Aged Cabernet Series is one-of-a-kind — it's rare to find a Cabernet Club, and this is the only aged wine club, much less aged Cabernet Sauvignon wine club I know of. It is available as an ongoing subscription or as a gift membership (you choose the length of the gift).
The privilege of drinking pre-aged wine typically means a lot of work went into procuring the wine (research, participating in auctions, calling stores and wineries, etc.). Some wineries share aged selections, often called Library wines, with their own members, but they rarely sell those wines to retailers (or wine clubs like The California Wine Club). The Napa Cabernet Sauvignon shipped via this subscription is perfectly cellared at the winery for 7-12 years before finding its way to you, a rarity in the wine world, making this club very special.
Aged Cabernet Series, like all of their subscriptions, comes with an industry-leading satisfaction guarantee and a host of other membership benefits. This membership can be delivered monthly, every other month, or quarterly.
How much does the Aged Cabernet Series cost?
The price of the Aged Cabernet Series depends on how you've configured it.

If you are giving a gift, each two-bottle shipment will cost $279, plus $21 for shipping and handling.

If you are joining for yourself, your price varies with each shipment, at an average cost of $262, plus $21 for shipping and handling.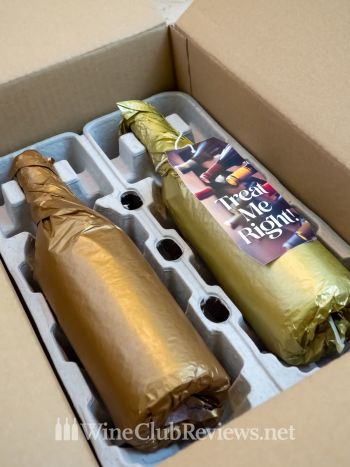 Ways to save on Aged Cabernet Series
Depending on your preferences, there are two great ways to save on an Aged Cabernet Series membership for yourself.
Option 1: send yourself a "gift" when you place your order. Discounts start at three months (around 8%) and go up to approximately 10% for twelve months.
Option 2: The California Wine Club kindly offers my readers a generous discount. Save 50% on the wine portion of your first shipment with code WCRHALF at checkout (ongoing subscriptions only, not for gifts). Shipping and handling will still be $21.
Current Aged Cabernet Series Deals
Deal Get two bonus bottles
Join the Aged Cabernet Series and get two extra bottles of Aged Cab in the first shipment. Until Mar 31. Use code ADDTWO at checkout.
Deal Save 50% on membership
Save 50% on your first shipment. Until Dec 31. Use code WCRHALF at checkout.
Aged Cabernet Series membership benefits
Any time you become a subscriber to a company's services, there should be a benefit to you for loyalty. Sometimes that benefit is discounted members-only pricing and sometimes that benefit is extra perks. Here are the membership benefits for joining or gifting this Aged Cabernet club.
A really nice bonus touch for this subscription is that your first shipment comes with a specialized cork puller for removing delicate aged corks from wine bottles. It's a two-prong gizmo and there's no "screw." Best part? You can use it to put the cork right back in the bottle, if there's actually any left when you're done for the night.
A full-color magazine each month called Uncorked. The magazine is both entertaining and informative. It details each wine shipped each month and also covers a particular wine topic, like fermentation vessels.
The "Love It" Guarantee - they'll refund any bottle a customer isn't happy with. The California Wine Club is among very few wine clubs with this level of a guarantee, and they definitely offer the best wines of any company that offers a top tier guarantee.
Free access to personal wine consultants - these helpful staff members can get to know your wine preferences and needs to make sure you're getting the most of your membership.
Members-only discounts - save 10% on wine club gifts (can't be combined with other offers) you purchase for others; enjoy $1 shipping on supplemental orders of six or twelve bottles.
Access to VIP Tours at the wineries they feature. Heading to wine country? Call The California Wine Club and tell them which wineries you've tried that you want to visit. They'll get you set up with a VIP tour and tasting at the winery, often complimentary.
See all membership benefits
My Aged Cabernet Series
Benefits Ratings
| | |
| --- | --- |
| Satisfaction Guarantee | |
| Customer Service | |
| Wine Education | |
| Convenience | |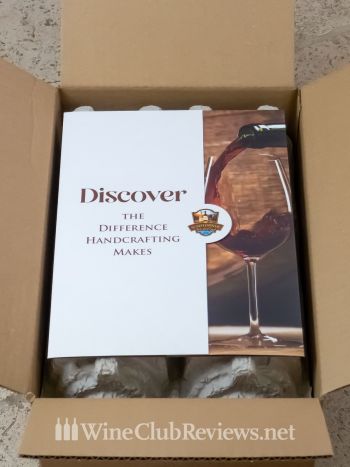 Aged Cabernet Wine Review
My Aged Cab Series
Wine Ratings
| | |
| --- | --- |
| Quality of Wine | |
| Price of Wine | |
| Wine Curation | |
The California Wine Club specializes in small-batch wines from family wineries producing less than 15,000 cases per year. Small production wines typically offer the most character as the grapes are farmed for optimal taste, not optimal yield. Learn more about why these small producers are so important.
Here is the selection of wines I've received from the Aged Cabernet Series over the years.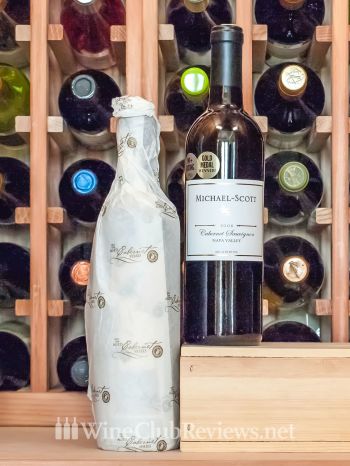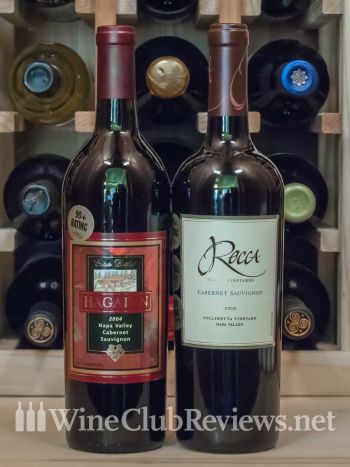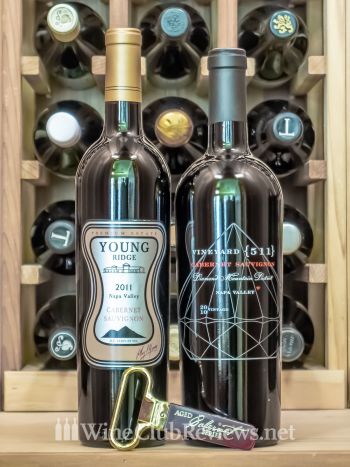 Here is a review of my latest shipment of wine from October 2022. The shipment contained one bottle of single-vineyard Hersly Cabernet from Napa's Oak Knoll District, and one bottle of single-vineyard Anthem Cabernet from Napa's Mt. Veeder region.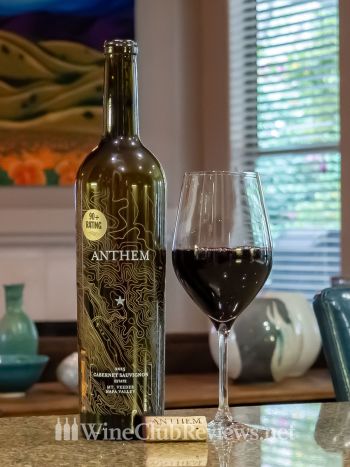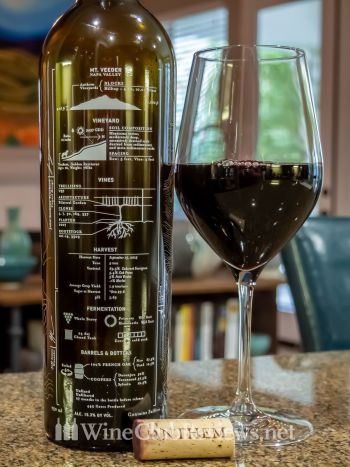 Winery: Anthem Winery
Wine: 2015 Mt. Veeder Estate, Napa Valley Cabernet Sauvignon
Original release date: September 2019
Blend: 89.5% Cabernet Sauvignon, 5.4% Cabernet Franc, 5% Petit Verdot, and 0.1% Merlot
Region: Mt. Veeder, Napa Valley, California
Cases produced: 445 (Known cases remaining: 10 as of May 2022)
Winery retail price: $135
When it comes to Napa Cabernet, there's no shortage of superlatives swirling around, in the glass and in the vineyards. Here's mine: this has to be my favorite "back label" ever on a bottle of wine. I love the topographic lines silkscreened on the front, no question, but with silkscreening for the back label they were able to include so much information, like: the overall slope profile of the vineyard, the soil composition, vine spacing, trellis information, rootstock and clonal information, harvest details, fermentation notes, barreling info, and bottling info. There are all kinds of extras tucked in there, too, like the winery dog's deets, but this is a wine geek's bottle if ever there was one! It made it to the "shelf of wine bottle glory" in my studio.
All kidding aside, we age a lot of wine at our house. It took some trial and error for us to figure out the right aging window for our favorite wineries and the varieties they produce, but if I were guessing how long to hold a Napa Cab, I'd be uncomfortable thinking I'd guess right.
Bottles go through "closed" periods where you wouldn't want to drink them and bottles can sometimes quickly turn raisiny (which works for some wine lovers, but not this wine lover). Relying on someone else to open that seven year old bottle and tell me if now is a good time to drink it, as well as providing an updated timeline for additional cellaring if I'm feeling brave, is a gift.
In addition to the original tasting notes, you also get updated tasting notes. For this wine, this is what the winery says:
Tasting Notes … Then
"Our 2015 Mt. Veeder Estate Cabernet is a blockbuster mountain Cabernet from Anthem's own vineyards located at 400 feet in Napa Valley's western hillsides. The lower yields in 2015 produced fruit with intense, plush dark berry flavors that Winemaker Jeff Ames crafted into an exquisitely rich Mt. Veeder Cabernet."
Tasting Notes … Now
"This powerhouse mountain Cabernet continues to age exceptionally well. The nose offers hints of dark cherries and chocolate. On the palate, flavors of rich dark fruits, olive, and anise lead to softer tannins for a long-lasting finish."
For me, a self-described Napa-Cab-avoider, I found it easier to recognize the softer tannins and long-lasting finish than the specifics from the notes. Dark fruits were prominent, but the tertiary flavors I picked up weren't olive and anise, it was that the dark fruits tasted stewed (common in older red wines, even desirable by many). The wine was complex enough to keep me interested and I was grateful for the absence of "pyrazines" (methoxypyrazine the chemical which makes some wines made from Bordeaux grapes taste like green pepper).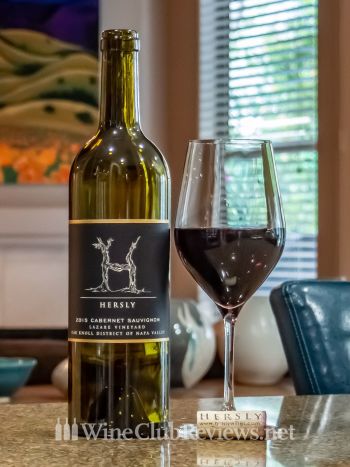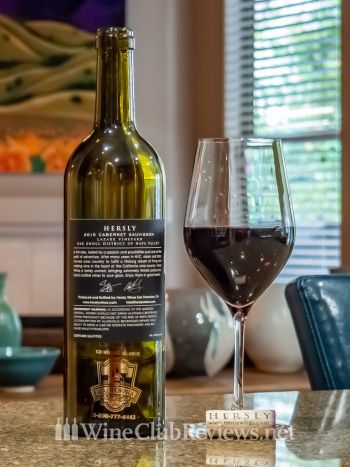 Winery: Hersly Wines
Wine: 2015 Lazare Vineyard Cabernet Sauvignon
Original release date: October 2018
Blend: 100% Cabernet Sauvignon
Region: Oak Knoll District, Napa Valley, California
Cases produced: 106 (Known cases remaining: 26 as of May 2022)
Winery retail price: $90
We don't have occasion to drink much bold red wine at our house as we rarely eat the heavy foods that go best with it, so when it comes along for us to taste, we tend to indulge. This one was paired with a nice steak, mashed potatoes, and roasted broccoli. Happily, the wine was everything you want from a beautifully made Napa Cab.
Tasting Notes … Then
"Hersly Wines 2015 Oak Knoll District Cabernet Sauvignon is a bold, rich, single-vineyard wine with notes of dark fruit, chocolate, and a hint of spice and tobacco. Elegant and rich tannins give way to a lingering, structured finish."
Tasting Notes … Now
"Similar to original tasting notes: Dark fruits, chocolate, and hints of spice, with some additional notes of brûléed dark berries. Tannins are holding up well. The wine is drinking beautifully now but will hold up for years to come."
For me, the hints of spice were more pronounced than "hints" (as they often are in older wines) and the chocolate was fairly subdued. I, not a sommelier or otherwise professionally-trained consumer of wine, find it difficult to distinguish between "dark fruits" and "dark berries" — they were present, but not prominent. I did not find the wine was yet fully-integrated, those tannins were still a significant player in mouthfeel.
In addition to making Cabernet from their own Lazare vineyard, the Hersly family also sells some of their grapes to a few other wineries, also small and family-owned.
How does the Aged Cabernet Series compare to similar wine subscriptions?
There are no other clubs to compare with The Aged Cabernet Series from The California Wine Club — it is one of a kind.
Is the Aged Cabernet Series a good gift?
Yes! All of The California Wine Club memberships are among my most highly recommended gifts. Whether you're on a budget or you want to splurge, you can be assured your gift recipient will love what you buy them.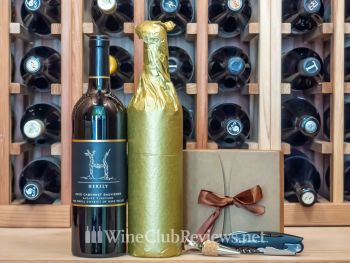 Here are my top reasons to recommend The California Wine Club above all other clubs for gifts:
The bottles in the first box come hand-wrapped in festive tissue paper.
Gift recipients get a $25 credit toward a wine purchase in the wine store, and enjoy all member benefits while their gift membership is active.
Buy more, save more pricing. Discounts start with three-month shipments.

3-month gifts are $813 ($771 + $42 shipping and handling)
6-month gifts are $1,614 ($1,530 + $84 shipping and handling)
12-month gifts are $3,180 ($3,012 + $168 shipping and handling)
They make it easy to get your shopping done early.
The Love It guarantee helps ensure your gift recipient is satisfied.
You can choose the Gift+ option and send them a small package in advance to let them know the wine is coming. The package, seen above, includes a corkscrew, a stainless bottle stopper, and a personalized gift note. This can be added on to any gift for $22 (includes shipping via USPS).

Why Gift+? Delivery services being what they are, it's hard to predict which day a wine club shipment might arrive, but you can order the Gift+ option and have it sent either to yourself to present in person on the big day or have it sent directly to the recipient to let them know the gift is on its way. This is a unique feature that no other wine club offers.