Anthem Winery Anthem Mt. Veeder Estate Cabernet Sauvignon Review
The wine was complex enough to keep me interested and I was grateful for the absence of bell pepper "pyrazines. Dark fruits were prominent, but the tertiary flavors I picked up weren't olive and anise, the dark fruits tasted stewed.
Wine review by: Jessyca Frederick |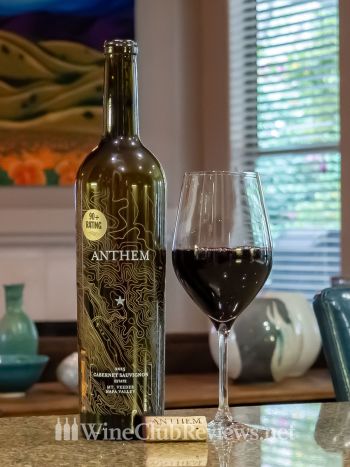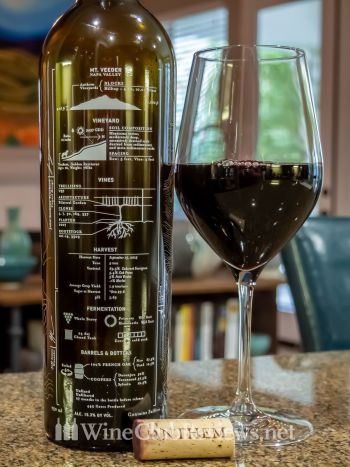 FYI: I find great wine deals so you don't have to. To keep me on the hunt, I earn a commission when you buy wine based on my recommendations.
About this Wine
Wine: 2015 Anthem Mt. Veeder Estate Cabernet Sauvignon
Blend: 89.5% Cabernet Sauvignon, 5.4% Cabernet Franc, 5% Petit Verdot, and 0.1% Merlot
Winery: Anthem Winery
Region: Mt. Veeder, Napa Valley, California
Original release date: September 2019
Cases produced: 445 (Known cases remaining: 10 as of May 2022)
Retail price: $135
I consumed it: September 2022
My source: The Aged Cabernet Series of The California Wine Club
Anthem Mt. Veeder Estate Cabernet Sauvignon: What I think
When it comes to Napa Cabernet, there's no shortage of superlatives swirling around, in the glass and in the vineyards. Here's mine: this has to be my favorite "back label" ever on a bottle of wine. I love the topographic lines silkscreened on the front, no question, but with silkscreening for the back label they were able to include so much information, like: the overall slope profile of the vineyard, the soil composition, vine spacing, trellis information, rootstock and clonal information, harvest details, fermentation notes, barreling info, and bottling info. There are all kinds of extras tucked in there, too, like the winery dog's deets, but this is a wine geek's bottle if ever there was one! It made it to the "shelf of wine bottle glory" in my studio.
All kidding aside, we age a lot of wine at our house. It took some trial and error for us to figure out the right aging window for our favorite wineries and the varieties they produce, but if I were guessing how long to hold a Napa Cab, I'd be uncomfortable thinking I'd guess right.
When you buy wine through the Aged Cabernet subscription, you get, in addition to the original tasting notes, updated tasting notes. For this wine, this is what the winery says:
Tasting Notes … Then
"Our 2015 Mt. Veeder Estate Cabernet is a blockbuster mountain Cabernet from Anthem's own vineyards located at 400 feet in Napa Valley's western hillsides. The lower yields in 2015 produced fruit with intense, plush dark berry flavors that Winemaker Jeff Ames crafted into an exquisitely rich Mt. Veeder Cabernet."
Tasting Notes … "Now"
"This powerhouse mountain Cabernet continues to age exceptionally well. The nose offers hints of dark cherries and chocolate. On the palate, flavors of rich dark fruits, olive, and anise lead to softer tannins for a long-lasting finish."
For me, a self-described Napa-Cab-avoider, I found it easier to recognize the softer tannins and long-lasting finish than the specifics from the notes. Dark fruits were prominent, but the tertiary flavors I picked up weren't olive and anise, it was that the dark fruits tasted stewed (common in older red wines, even desirable by many). The wine was complex enough to keep me interested and I was grateful for the absence of "pyrazines" (methoxypyrazine is the chemical which makes some wines made from Bordeaux grapes taste like green pepper, typically in colder climes).
Notice: I hold no formal wine credentials. I am a wine geek who has consumed 1000+ of bottles from 100+ different wine clubs and 1000s more bottles that didn't come from those wine clubs. I do not accept payment for wine reviews, and I do not accept payments to influence my opinions. I happily accept free wine (and I buy wine).
Why read my wine reviews: Wine taste is subjective. What I like may not be what you like. I try to leave room for you to form your own opinions, so I don't provide a score or a rating. I do point out wines that are an incredible value or truly not worth the money. I note flaws, wines that don't have typicity (because this matters if you are buying wine without having tasted it yourself), when wines are out of balance, and when wines lack appropriate body.
I don't like wasting money (or anything for that matter). I'm careful about where I spend my money and my mindset as a reviewer is to be careful about where you spend yours. I don't believe a high price tag equals quality and I know for sure there are wines of very good quality that are also a great value.
Learn more about me or get in touch.