Premier Series Review
In this review · What is The California Wine Club? · Wine Review · Membership Benefits · Who Should Join? · Gift Review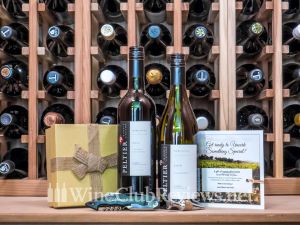 The California Wine Club has been sending great wines produced by California's small family wineries for over 25 years. They're very good at it, especially when it comes to gift giving. Long-standing relationships with wineries and respect from the wine world gives them access to small-production wines at exceptional prices.
Old-school monthly wine clubs have become a little underrated as personalized wine subscriptions have emerged on the marketplace. These newer subscriptions offer personalization, but you have to work to get that personalized selection and be patient while you wait for the system to really learn your preferences.
When it comes to wine club membership, simpler can be better. Instead of choosing and rating all of your wines yourself, the wine experts at The California Wine Club choose two wines a month for you. If you don't like a wine you receive, take advantage of their "Love It" guarantee and get it replaced with something you do like.
Premier Series Wine Club Options
The Premier Series Wine Club is The California Wine Club's entry-level club. Each box features two bottles of wine, typically from the same winery. Here are the ways you can customize your membership:
Choose to have shipments sent monthly, bi-monthly, or quarterly.
Choose red wine only, white wine only, or a mix of red and white wine.
Upgrade to a 4-bottle shipment and get free shipping (New option!)
Pre-pay for gifts — or yourself — and save.
Want these wines for an unbeatable price? Join their Case Club instead. You'll get 12 bottles of Premier Series wine every quarter, but at half the price. That's a bottle a week of handpicked California wine.
Premier Series Wine Review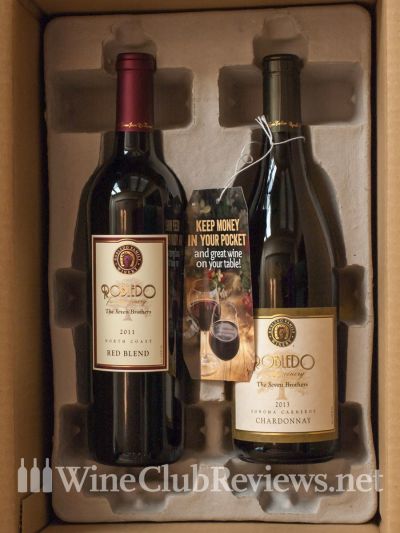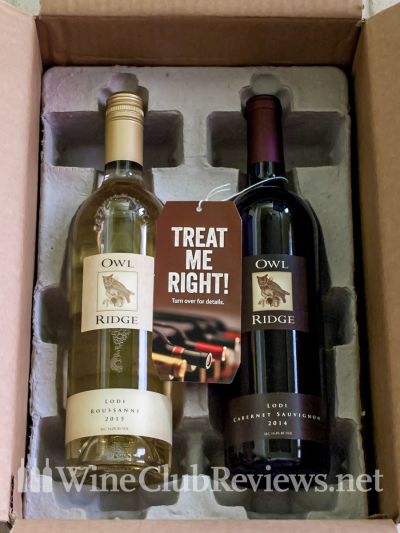 My Premier Series Wine Ratings
| | |
| --- | --- |
| Quality of Wine | |
| Price of Wine | |
| Wine Curation | |
More than 10 years ago when we started this website, The California Wine Club was one of the first we reviewed. In the intervening time we've sampled shipments from The Premier Series periodically and something that has never changed is the high standard for quality and value set by this club level.
Also in that time, the price of California wine has skyrocketed. It has been challenging for The California Wine Club to continue to source wine that meets their standards, with some wine regions like Napa Valley and Sonoma County now out of reach for less than $20 a bottle. Even though California wine is legendary, most of us can't afford legendary wine prices, so they continue to work hard to bring interesting wines from up-and-coming California wine regions to their members.
In addition to scouting wine that exceeds their members' expectations, they only work with small-production wineries, typically owned and managed by a family or a winemaker who farms her own land. Whether they're just starting out on their own or they're branching out into new styles and grapes, there are always new winemakers producing hidden gems — if you know where to look.
The most recent box we received (their 2019 Holiday shipment) featured Peltier Winery in Lodi, California. Here are the details from their Uncorked magazine which accompanies each shipment.
Some examples of other recent wineries and wines sent to Premier Series members include:
Myka Cellars. "Founder/Winemaker Mica Raas believes that to truly leave your mark on a wine, "You must be one of the people moving the barrels, touching the wine physically and feeling its maturation with all your senses." This hands-on attention has led to great wines and great acclaim. In 2018, Mica became the most awarded winemaker in El Dorado County, when he won 23 medals for 24 wines entered in the highly competitive San Francisco Chronicle Wine Competition. And he notes with a laugh, "The one wine that didn't get a medal was our fastest seller." — The California Wine Club
Shipped: 2017 California Pinot Noir ($21) and 2017 Mitzi's California Chardonnay ($19)
Donati Family Vineyard. "Although their winery and tasting room are in Paso Robles, The Donati Family Estate Vineyard is in Paicines (pronounced 'Pie-seen-ness') which was California's ninth appellation. Just east of Monterey, Paicines is a sleepy little town of 200 where a Mexican restaurant, a general store and a post office are "all conveniently located in that same building," said Director of Sales and Marketing Mitch Bakich with a laugh. "Originally, we just had Paicines on the label. But when we spoke with wine buyers, they would say 'Wow, Paicines … Where in South America is that?' So we added 'Central Coast' to give it a sense of place." — The California Wine Club
Shipped: 2015 Paicines Central Coast Cabernet Sauvignon ($24) and 2017 Sisters Forever Central Coast Unoaked Chardonnay ($22)
Uvaggio. "In 1997, he left [Mondavi] to launch l'Uvaggio di Giacomo (which loosely translates as "Jim's Wine"). His eponymous winery is dedicated to producing wines from lesser known and vastly underappreciated grape varieties that trace their roots to the Mediterranean basin. Central to his philosophy is the idea that wine's primary role is to accompany a meal, not be considered a "trophy." He emphasizes vibrant flavors, balance, and lower levels of alcohol." — The California Wine Club
Shipped: 2014 Santa Clara Valley Grenache antichi viti ($25) and 2016 Lodi Vermentino ($19)
Sometimes they come across great wines at great prices, but the quantities are too limited for the Premier Series membership. They offer a Special Editions wine club add-on for these gems. These extra shipments are sent out to Special Editions members several times per year. Sign up after you become a Premier Series member.
New! For many years there has been a secret 4-bottle shipment available for ongoing subscriptions. It required you call customer service after you ordered to upgrade. Now you can order the 4-bottle shipment for ongoing subscriptions online. Details about the 4-bottle subscription:
Free shipping on 4-bottle subscriptions — Save $16 per shipment, around 17%
Lots of choices! Now you can pick to get whether you get 4 different wines or 2 each of 2 different wines
Still choose red & white wine, red wine only, or white wine only
Membership Benefits
My Premier Series
Benefits Ratings
| | |
| --- | --- |
| Satisfaction Guarantee | |
| Customer Service | |
| Wine Education | |
| Convenience | |
At first glance, this might look like any other wine club, but when you scratch just a little below the surface, you start to uncover some delightful details. Club members enjoy the following benefits.
Satisfaction Guarantee. The California Wine Club offers a 100% Satisfaction Guarantee. They'll refund you for any wines you don't love. That said, we'd be genuinely surprised and concerned if you receive a poor selection from The California Wine Club.
Their "Love It" Guarantee: "What if I don't like the wine? Although wine tastes vary from person to person, our wines are guaranteed. If you get a bad bottle, we will immediately reship a replacement or refund your money!"
Customer Service. In ten years of working with The California Wine Club we have never had a single customer complaint. It could be because they pride themselves on the best customer service. In addition to their Satisfaction Guarantee, they have staff wine consultants whose job it is to help you find wine you love and wineries to visit when you go to wine country.
Convenience. The California Wine Club is a more old-fashioned company. If you need to hold your service for a vacation or want to cancel your membership you'll need to call and speak to someone during regular business hours. You can handle reorders yourself online, as well as see a record of the wines you've received and when you received them.
Personalization. A personalized wine club used to mean you picked the color of your wine and how often you received your two-bottle selection. For The California Wine Club, it still does.
Discount Opportunities. We look at three areas when evaluating the discount opportunities offered by a wine club: is there an introductory offer to sweeten the deal, are there discounts available for buying more of wines you loved in your shipments, and are there special discounts only available to members?
The California Wine Club frequently posts introductory offers. Sometimes this means extra wine in the first shipment, free shipping, or a free month. Often these can be used either for yourself in an ongoing subscription or when buying a gift.
Exclusive Deal for WineClubReviews.net: Our readers get a special offer, 50% off your first shipment when you join at any club level, use code WCRHALF at checkout. Oh, you also get a $25 credit to use in their wine store when you sign up or give a gift.
The California Wine Club also offers members-only pricing on reorders, while supplies last — pay just $1 for shipping for case and half-case orders to most states, too.
Lastly, members-only special deals come up all the time. Whether it's presale opportunities or extra discounts in their wine shop, you'll be glad you participate.
Wine Education. The California Wine Club sends out the prettiest assortment of wine info (a full-color magazine called Uncorked) with each shipment of The Premier Series. It contains tasting notes about each wine, the wineries they come from, the winemakers, and the wine region.
Who Should Join The California Wine Club Premier Series?
Buying at the grocery store and places like Total Wine can be challenging, especially if you're looking for quality and value. If you're tired of buying the same mass produced wine from the handful of conglomerates that own three quarters of the wineries on the shelf at the store, it's time to try interesting California wines made by small family wineries.
This wine of the month club is perfect for:
California wine lovers seeking premium wine that doesn't break the bank
Giving as a gift — they've really nailed gift presentation and ease of gifting
The California Wine Club knows there are different kinds of wine drinkers, and sometimes you want to try new things. They also offer:
Premier Series Gifts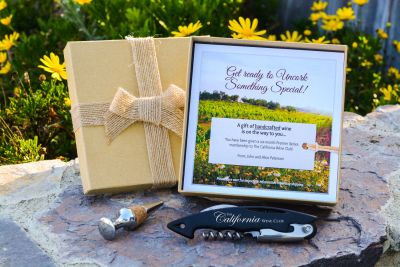 The California Wine Club offers gift upgrade option for an even better recipient experience. For an additional $18 you can have this delightful package mailed to you so you can present it in person, or you can have it mailed directly to your gift recipient in advance of the first wine shipment. The package comes gift-wrapped and custom-printed with the recipient's name and what you've ordered, along with a deluxe corkscrew and bottle stopper.