Brutocao Cellars Über Cab Review
This is an example of a wine where I tasted more winemaking that I prefer. That assessment is due to the prominence of "spice" and the mocha and toffee finish. The spice likely came from the fruit, but the mocha and toffee are oak-imparted flavors.
Wine review by: Jessyca Frederick |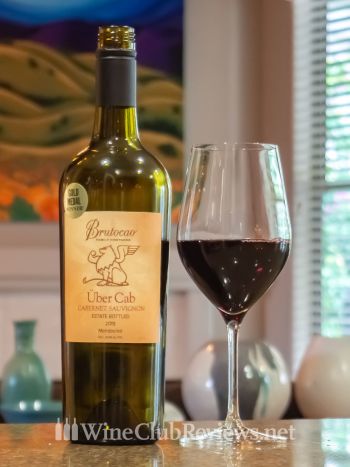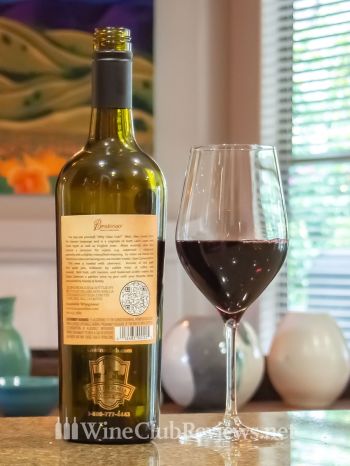 FYI: I find great wine deals so you don't have to. To keep me on the hunt, I earn a commission when you buy wine based on my recommendations.
About this Wine
Wine: 2019 Über Cab
Blend: 92% Cabernet Sauvignon, 6% Merlot, 2% "mixed Reds"
Winery: Brutocao Cellars
Region: Mendocino, California
Cases produced: 1,980
Retail price: $28
I consumed it: September 2022
My source: The Premier Series of The California Wine Club
Über Cab: What I think
A true family winery, Brutocao's main vineyard, Bliss, was first farmed in 1943 by Irv Bliss. When Irv's daughter married Len Brutocao, the families joined forces to convert the Mendocino farm into a vineyard. After selling their grapes to well-known wineries in Sonoma and Napa, they began making their first wines in 1980. Still family owned and operated, the fourth generation of descendants has joined the team, wearing many hats as most people do in family-run businesses.
Over time Brutocao has added new vineyards to their holdings, and they now call their Mendocino vineyards, collectively, Hopland Ranches. At the Bliss Vineyard, the Feliz Vineyard, and the Content Vineyard they grow: Chardonnay, Cabernet Sauvignon, Sauvignon Blanc, Zinfandel, Merlot, Sangiovese, Barbera, Dolcetto, and Primitivo (sometimes confused for Zinfandel, but a distinct grape).
The grapes for this wine come from the family's Contento Vineyard.
The official tasting notes: "Aromas of cola-spiced red fruit with a hint of mocha are followed by bright, dark cherry-spiced fruit in the mid-palate and a long mocha and toffee finish." This is a popular profile for red wine (fruit, cherry, spiced, and mocha).
Both of the Über wines I tried were matured in stainless steel "with specialized oak staves." The reality of American wine these days is that if you want something that is complex and inexpensive, you need to find some production shortcuts. Oak staves inserted into a non-oak vessel or neutral oak barrel are one way to achieve the flavors associated with oak without spending big money on barrels.
It's important to understand how wines are made and how those wine making decisions can change the final product. Given the marketplace's need for down-to-earth prices for California wine, I think this practice was well-executed by Brutocao in these two wines.
Notice: I hold no formal wine credentials. I am a wine geek who has consumed 1000+ of bottles from 100+ different wine clubs and 1000s more bottles that didn't come from those wine clubs. I do not accept payment for wine reviews, and I do not accept payments to influence my opinions. I happily accept free wine (and I buy wine).
Why read my wine reviews: Wine taste is subjective. What I like may not be what you like. I try to leave room for you to form your own opinions, so I don't provide a score or a rating. I do point out wines that are an incredible value or truly not worth the money. I note flaws, wines that don't have typicity (because this matters if you are buying wine without having tasted it yourself), when wines are out of balance, and when wines lack appropriate body.
I don't like wasting money (or anything for that matter). I'm careful about where I spend my money and my mindset as a reviewer is to be careful about where you spend yours. I don't believe a high price tag equals quality and I know for sure there are wines of very good quality that are also a great value.
Learn more about me or get in touch.