Pacific Northwest Series Wine Club Review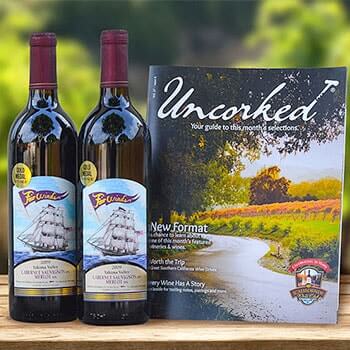 Wine Club Overview & Details
Wine Club Rating:
This wine club is...
Summary
This wine subscription focuses on high-end, limited-production wines from small family wineries in the broad wine region called Pacific Northwest. It includes Oregon and Washington and is perfect to give as a gift or to join yourself.
What I Like
The Pacific Northwest wine club is one of few such wine subscriptions available. They only work with small family wineries, so nearly every wine they ship typically wouldn't be distributed outside the state it was produced in.
Improvements
This club doesn't have a 5-star rating. It doesn't ship ultra-premium wine and the price isn't amazing for what you get. Superlatives aside, the quality to price ratio is correct.
Benefits
Rare Oregon & Washington Club

Great gift presentation and deals

100% satisfaction guarantee

Artisan, small family winemakers
Drawbacks
Pacific Northwest Series Wine Club delivers to
AK AZ CA CO CT DE DC FL GA HI ID IL IN IA KS LA ME MD MA MN MO MT NE NV NH NJ NM NY NC ND OH OK OR PA RI SC TN TX VT VA WA WV WI WY
Don't see your state? The California Wine Club does not ship there. Browse wine clubs by state.
Join Pacific Northwest Series Wine Club
FYI: I find great wine deals so you don't have to. To keep me on the hunt, I earn a commission when you buy wine based on my recommendations.
Coupons & Promo Codes
Deal Save 50% on membership
Save 50% on your first shipment. Until Dec 31. Use code WCRHALF at checkout.
Deal Save 10%
Save 10% on wine club gifts. Until Jul 31. Use code YES10 at checkout.
Pacific Northwest Series Wine Club Review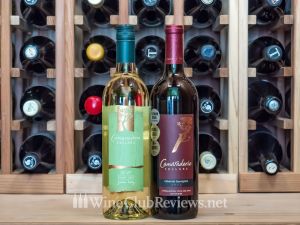 What is the Pacific Northwest Series from The California Wine Club?
Founded in 1990, The California Wine Club is a California company which sells artisanal wines from small family wineries. Their Pacific Northwest Series focuses on those artisanal wineries in Oregon and Washington state. It is available as an ongoing subscription or as a gift membership (you choose the length of the gift). Pacific Northwest Series, like all of their subscriptions, comes with an industry-leading satisfaction guarantee and a host of other membership benefits.
Ways to Customize Your Pacific Northwest Series Membership
The Pacific Northwest Series wine club is a minimally customizable, two-bottle subscription:
Wine selection: You can choose one red and one white wine, or two of the same red wine in each shipment.
Delivery frequency: This membership can be delivered monthly, every other month, or quarterly.
How much does Pacific Northwest Series cost?
The price of the Pacific Northwest Series depends on how you've configured it. If you are giving a gift, each two-bottle mixed wine shipment will cost $77, plus $21 for shipping and handling.

If you are joining for yourself, your price varies with each shipment, at an average cost of $79 for mixed wine. Shipping and handling is $21 for ongoing subscriptions, too.

Switching to just red wine increases the price to $86 for gifts and a similar, but variable amount for ongoing subscriptions.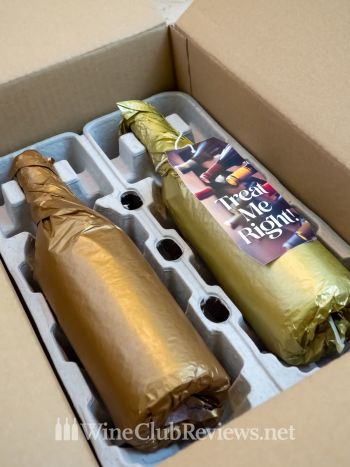 The California Wine Club kindly offers my readers a generous discount. Save 50% on the wine portion of your first shipment with code WCRHALF at checkout (ongoing subscriptions only, not for gifts). Shipping and handling will still be $21.
Current Pacific Northwest Series Deals
Deal Save 50% on membership
Save 50% on your first shipment. Until Dec 31. Use code WCRHALF at checkout.
Deal Save 10%
Save 10% on wine club gifts. Until Jul 31. Use code YES10 at checkout.
Pacific Northwest Series membership benefits
Any time you become a subscriber to a company's services, there should be a benefit to you for loyalty. Sometimes that benefit is discounted members-only pricing and sometimes that benefit is extra perks. Here are the membership benefits for joining or gifting Pacific Northwest Series.
A full-color magazine each month called Uncorked. The magazine is both entertaining and informative. It details each wine shipped each month and also covers a particular wine topic, like fermentation vessels.
The "Love It" Guarantee - they'll refund any bottle a customer isn't happy with. The California Wine Club is among very few wine clubs with this level of a guarantee, and they definitely offer the best wines of any company that offers a top tier guarantee.
Free access to personal wine consultants - these helpful staff members can get to know your wine preferences and needs to make sure you're getting the most of your membership.
Members-only discounts - save 10% on wine club gifts (can't be combined with other offers) you purchase for others; enjoy $1 shipping on supplemental orders of six or twelve bottles.
Access to VIP Tours at the wineries they feature. Heading to wine country? Call The California Wine Club and tell them which wineries you've tried that you want to visit. They'll get you set up with a VIP tour and tasting at the winery, often complimentary.
See all membership benefits
My Pacific Northwest Series
Benefits Ratings
| | |
| --- | --- |
| Satisfaction Guarantee | |
| Customer Service | |
| Wine Education | |
| Convenience | |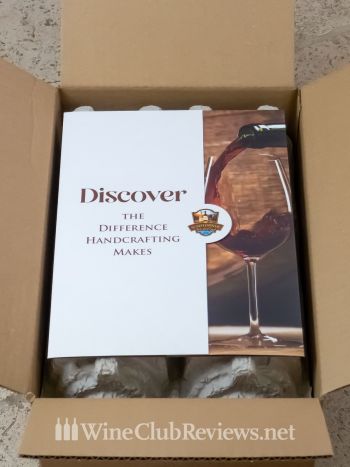 Pacific Northwest Series Wine Review
My Pacific Northwest Series
Wine Ratings
| | |
| --- | --- |
| Quality of Wine | |
| Price of Wine | |
| Wine Curation | |
The California Wine Club specializes in small-batch wines from family wineries producing less than 15,000 cases per year. Small production wines typically offer the most character as the grapes are farmed for optimal taste, not optimal yield. Learn more about why these small producers are so important.
I've received a few shipments of wine for review from the Pacific Northwest Series at The California Wine Club since 2015. Despite not featuring their namesake wine region, this is my favorite subscription at The California Wine Club. I live in California and frequently travel to small wineries throughout the state, so I don't get the full benefit of their core product as much as someone outside California would.
Through the Pacific Northwest Series, I get to experience and understand the benefits of membership at The California Wine Club like an outsider. I don't travel to Oregon and Washington for wine tasting often (though I've been to both) and without The California Wine Club I wouldn't get to try all of these hidden gems.
Here is the selection of wines I've received from the Pacific Northwest Series over the years.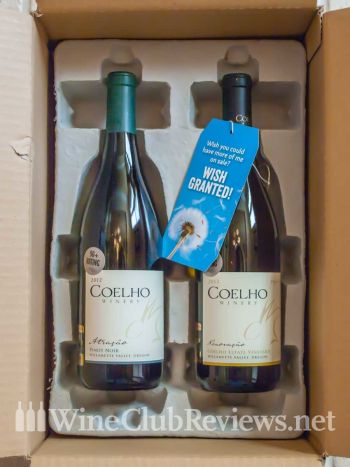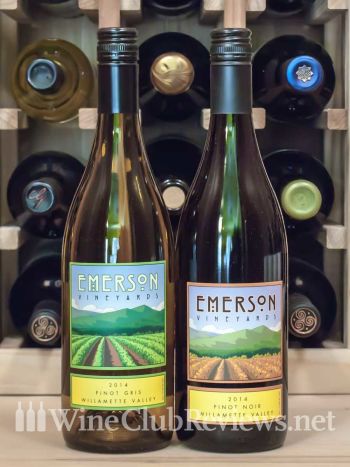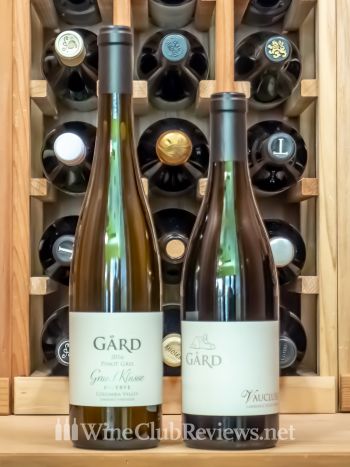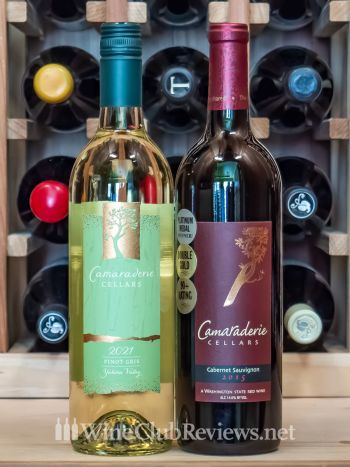 Camaraderie is a great example of a winery that produces craft wine but doesn't grow their own fruit. Founded by Don and Vicki Corson in 1992, the winery is located in Port Angeles, a coastal part of northern Washington (a full day's drive away from where most Washington wine is produced. The location was selected for barrel-friendliness (marine humidity helps keep barrels airtight) and naturally-appropriate cellaring temperatures.
Winemaker Don Corson says this about where his grapes come from, "One of the benefits of being a 'senior' winery in the state is that we know where the good vineyards are." His general philosophy is to carefully make food-friendly wines that are "fruit driven, but not 'fruit bombs.'"
For me, this is generally the role of Washington wine — the styles typical of this state lie somewhere between the bigger, fruit-forward California or Oregon wines and the often austere, mineral-driven wines of France (especially Bordeaux and Burgundy). There isn't a right or wrong way to do things, and the beauty of wine is that everyone can drink what they like.
Something I find fascinating about this winery is the number of different wines they produce, all in very small batches. When you buy your fruit, you can pick what's good from vintage to vintage, and sometimes you get great deals. I also love that this winery has extremely reasonable prices and doesn't mark up library bottles just because they've been aging in their cellar.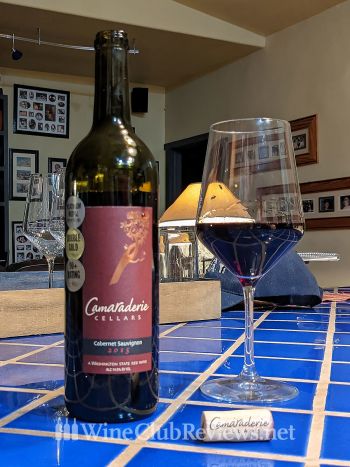 Wine: 2015 Camaraderie Cellars Washington Cabernet Sauvignon
Blend: 85% Cabernet Sauvignon, 15% Merlot
Winery: Camaraderie Cellars
Region: Columbia Valley, Washington
Cases produced: 1,092
Retail price: $37

I enjoyed this Cabernet Sauvignon, which I often don't. A blend of Cab Sauv from multiple Washington AVAs and 15% Merlot to soften the edges even further.

I appreciate that The California Wine Club sometimes sends out back vintages in their wine clubs. For people who don't have the ability to cellar their own wine, shipments like this are learning opportunities.

My full review of: Camaraderie Cellars Washington Cabernet Sauvignon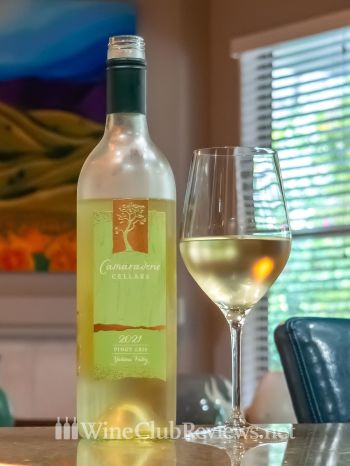 Wine: 2021 Camaraderie Cellars Pinot Gris Yakima Valley
Blend: 85% Pinot Gris, 15% Roussanne
Winery: Camaraderie Cellars
Region: Yakima Valley, Washington
Cases produced: 100
Retail price: $26

This is an example of a wine that wasn't especially distinctive, but was exactly as advertised, "Fresh, bright acidity matches aromatics of apple and pear." Food-friendly, indeed.

This blend is 15% Roussanne. In the United States, a wine must be at least 75% of a single varietal to be labeled with that grape name. If this is the first time you try a US Pinot Gris, know this is an atypical (but delicious) presentation.

My full review of: Camaraderie Cellars Pinot Gris Yakima Valley
How does the Pacific Northwest Series compare to similar wine subscriptions?
All of the subscription options at The California Wine Club are curated. This means they are not customized to your palate (a personalized subscription) but instead all of their members receive a customized selection from the same pool of staff-picked wines each month.
There are limited options of wine clubs to compare with the Pacific Northwest series, but an obvious comparison is Cellar 503. I have not yet reviewed this wine club, but it has an excellent reputation among wine critics. 503 refers to the area code in northwestern Oregon and only features small family wineries making craft wine in all 21 of Oregon's wine regions (there's more than just Willamette Valley Pinot Noir out there). Like the other wine clubs on this page, it is a small company that only supports other small businesses. Shipments start at $50 + $19.99 for shipping and handling. Gift prices are the same.
A less obvious comparison is the Sunset Magazine Wine Club. Managed by Wine Access alongside the editorial team at Sunset Magazine, it features great value wines (not usually small production) from California, Oregon, and Washington. Shipments are $120 for six bottles, including shipping, and are not customizable. A mix of red and white wines arrive quarterly. Wine Access does not offer a satisfaction guarantee, but they will replace, at no cost, what the industry calls "bad bottles" — those with cork taint or that are damaged in shipping.
Is the Pacific Northwest Series a good gift?
Yes! All of The California Wine Club memberships are among my most highly recommended gifts. Whether you're on a budget or you want to splurge, you can be assured your gift recipient will love what you buy them.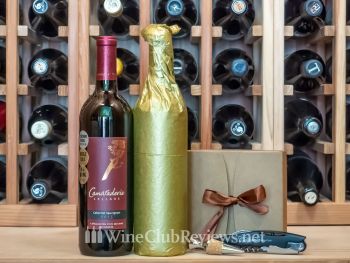 Here are my top reasons to recommend The California Wine Club above all other clubs for gifts:
The bottles in the first box come hand-wrapped in festive tissue paper.
Gift recipients get a $25 credit toward a wine purchase in the wine store, and enjoy all member benefits while their gift membership is active.
Buy more, save more pricing. Discounts start with three-month shipments.

3-month gifts are $270 ($228 + $42 shipping and handling)
6-month gifts are $594 ($510 + $84 shipping and handling)
12-month gifts are $1,116 ($948 + $168 shipping and handling)
They make it easy to get your shopping done early.
The Love It guarantee helps ensure your gift recipient is satisfied.
You can choose the Gift+ option and send them a small package in advance to let them know the wine is coming. The package, seen above, includes a corkscrew, a stainless bottle stopper, and a personalized gift note. This can be added on to any gift for $22 (includes shipping via USPS).

Why Gift+? Delivery services being what they are, it's hard to predict which day a wine club shipment might arrive, but you can order the Gift+ option and have it sent either to yourself to present in person on the big day or have it sent directly to the recipient to let them know the gift is on its way. This is a unique feature that no other wine club offers.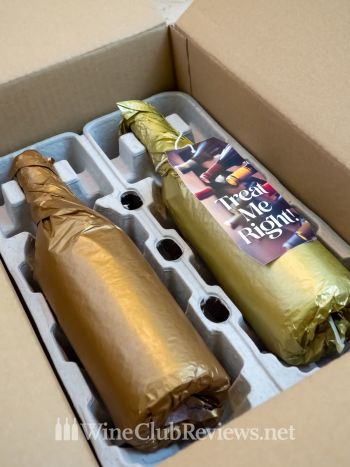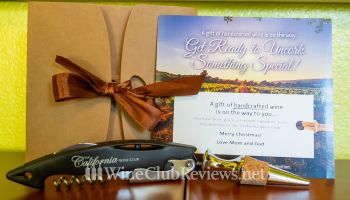 Pacific Northwest Series Wine Club