Gold Wine Club Review
In this review · About the Gold Wine Club · Gold Club Wine Review · Membership Benefits · Who Should Join? · Gift Review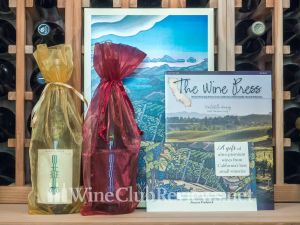 We received this shipment of the Gold Wine Club in October, 2018.
In 10+ years of reviewing Gold Medal Wine Club, we're sure they offer one of the best two-bottle wine clubs out there. They constantly strive to wow their customers — and their customers' lucky gift recipients. With a tight focus on small California wine producers, you always get hard-to-find wine of premium quality. Regular club shipments are up to 40% below winery retail.
The Gold Wine Club comes with several options:
The standard subscription is two bottles, one each of red and white wine.
Upgrade to four bottles per shipment and save 10% on the wine and around 40% on the shipping cost.
You can choose red wine only or white wine only. In two-bottle shipments you'll get two bottles of the same wine. In four-bottle shipments you'll get four bottles of the same wine.
Choose anywhere from 1-12 shipments, or an ongoing subscription until you cancel.
Choose monthly, every other month, or quarterly deliveries.
Optional bonus bottle in each shipment for an additional $19-22 per shipment. These are very hard-to-find wines with limited inventory.
And of course, like any proper wine club, there are no sign-up fees and you can cancel any time.
Being a member of a Gold Medal Wine Club is like being a member of every winery wine club in California. Gold Medal wine club members get very similar pricing to the winery's own wine club members (sometimes better). Of course you do miss out on those fun wine-club pick-up parties, but then again, you get the wine shipped right to your door and don't have to lug it home!
Wine Review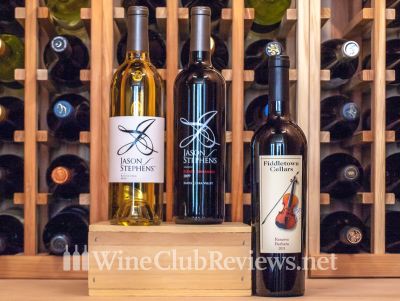 My Gold Club Wine Ratings
| | |
| --- | --- |
| Quality of Wine | |
| Price of Wine | |
| Wine Curation | |
Gold Medal is proud of its wine selection. The Gold Wine Club is their "entry level" subscription, sometimes people think of these wines as everyday or weeknight wines. We think they're good any time.
What's super important to know is that the wine you receive in the Gold Wine Club is always produced by a small California winery and could be labeled Artisan or Craft. Whether the owner/winemaker grows her own grapes and estate bottles them, or purchases them from high-quality vineyards to make at a crush pad facility, you'll never find mass-produced "factory wines" in your shipments.
An interesting assortment of grape varieties and and wine regions shows up in the Gold Wine Club wine shipments, highlighting what's new with small wineries in California these days. Some recent shipments include:
Ballentine Maple Station 2017 White Blend & 2017 Red Blend (Napa Valley, California)
Century Oak 2017 (unoaked) Chardonnay & 2015 Cabernet Sauvignon (Lodi, California)
Peltier 2016 White Blend & 2015 Petite Sirah (Lodi, California)
Opolo 2018 Edna Valley Albariño & 2014 Paso Robles Red Blend (Central Coast, California)
Fritz 2017 Russian River Valley Chardonnay & 2016 Dry Creek Valley Estate Zinfandel (Sonoma, California)
The price of wine in any wine club is certainly important. Gold Medal claims they sell their wine up to 40% below winery retail. What we've seen over the years is that their biggest discounts go into their Gold Wine Club and that they average around 20-25% below winery retail. Those are good discounts to be sure.
Gold Medal also offers "buy more, save more" pricing. If you upgrade to a 4-bottle club you'll save 10% and if you subscribe for 12 months, you'll save another 5%. They also have a membership rewards program which reduces the cost of your wine club reorders (you know, those bottles you love so much you have to have more).
Membership Benefits
My Gold Club Benefits Ratings
| | |
| --- | --- |
| Satisfaction Guarantee | |
| Customer Service | |
| Wine Education | |
| Convenience | |
Discount Opportunities. Gold Medal does not regularly offer an introductory offer, though during peak holidays like Valentine's Day, Mother's Day, Father's Day, and Christmas you'll find free gifts with purchase like gourmet truffles (chocolate) and wine accessories.
Gold Medal does offer discounts on reorders, while supplies last—buy 2-5 bottles more and pay the regular price, buy 6-11 bottles and save up to 10%, buy 12-23 bottles and save up to 12%, buy 24 or more bottles and save up to 15%. Four-bottle members save more on reorders.
Lastly, members-only special deals are limited. There are occasionally members-only sales. Since their wines are already very competitively priced, we don't mind that there aren't more offers coming from them.
Customer Service Record. In 13+ years of working with Gold Medal we have never had a single customer complaint. That's amazing to us. Our usual Internet sleuthing failed to turn up any customer complaints. Kudos to them!
Satisfaction Guarantee. In our eyes, this is the weakest aspect of the Gold Medal wine club program and it's why they don't have a 5-star rating from us. They say "Satisfaction Guaranteed" on their website, but what they really mean is that they believe you'll love what they ship, not that they'll replace anything you don't like as most other clubs of this caliber promise.
Their Return Policy: "If a shipment is damaged in transit we will replace the product at no additional charge. If the wine is corked from the winery, we will replace the bottle at no charge. On the rare occasion members receive the wrong product, a discount is offered, or the shipment can be returned at no-charge to the member."
That said, we'd be genuinely surprised and concerned if you received a stinker from Gold Medal.
Convenience. Gold Medal is a more old-fashioned company. If you need to hold your service for a vacation or want to cancel your membership you'll need to call and speak to someone during regular business hours. You can handle reorders yourself online, as well as see a record of the wines you've received and when you received them.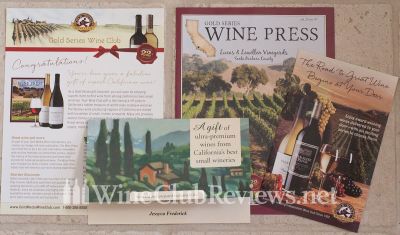 Wine Education. Like other older wine of the month clubs, Gold Medal sends out a glossy multi-page brochure (called The Wine Press) with each shipment of The Gold Wine Club. Each issue is loaded with wonderful photos and stories about each winery and the winemaker, and also includes food pairing recipes chosen by each winemaker.
Who Should Join the Gold Wine Club?
As a value-priced wine club featuring boutique wines from California wineries, we think this club is perfect for:
Wine lovers who prefer California wine to other regions
Occasional wine drinkers who want to have a couple of nice bottles on hand all the time
Foodies who love to entertain (the wines are food-friendly)
Anyone who wants a good deal on hard-to-find California wine from small wineries
Gold Wine Club sounds good but you prefer International wines? Try their International Wine Club instead.
Gift Review
We always recommend the Gold Wine Club as one of the top wine club gifts to give. Amazingly, our opinion of their wine club as a gift and it's appearance in the top 3 for every gift list on our website hasn't changed in years.
Why always in the top 3? Our special deal, shown below, offers terrific value for you as a gift-giver and their packaging make a great presentation when it arrives.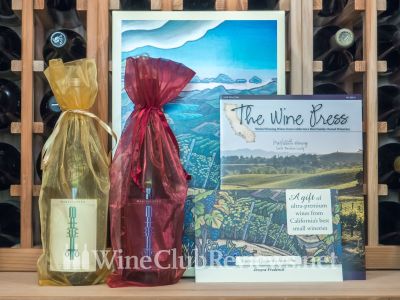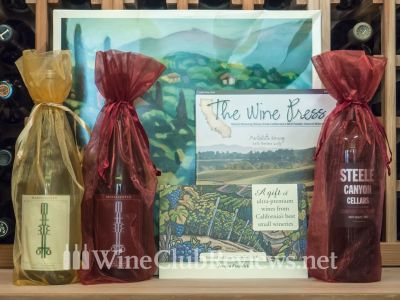 Both the regular gifts and our special bonus wine gifts come in a gift box is designed by an artist. The custom-printed gift card matches the design on the box.
The two bottles of Gold Wine Club wine are wrapped in organza wine gift bags, as is the bonus bottle. Mixed and red wine club gift recipients will get a bonus bottle of red wine, white wine club gift recipients will get a bonus white wine.