Personalized Wine Gifts: Spotlight on Etching Expressions
FYI: I find great wine deals so you don't have to. To keep me on the hunt, I earn a commission when you buy wine based on my recommendations.
What is Etching Expressions?
Etching Expressions is a company specializing in custom, high-quality etched products. Their wine bottle designs and applications are exceptional, but they also offer etching for beer bottles and growlers, olive oil and vinegar, and glassware. Upgrade your gift to include gift packaging options like engraved wood wine crates.
This San Diego, California company has a customer-centric team who places an emphasis on craft and quality. Their ability to fulfill custom orders beyond what is shown as available to purchase in small quantities makes them a great choice for a custom wine bottle order of any size.
About the etching at Etching Expressions
The pictures on their website are an excellent indication of the final product. I received two different bottles of wine from Etching Expressions so I could verify the quality of both the etching and the painting. They were as advertised and super fun.
Their abundant selection of designs run the gamut of holidays and occasions — anniversaries, graduations, weddings and engagements, housewarming, Mother's Day, etc. — but you can also submit your own designs or even get a photograph engraved on a bottle. Here is a selection of their designs I love.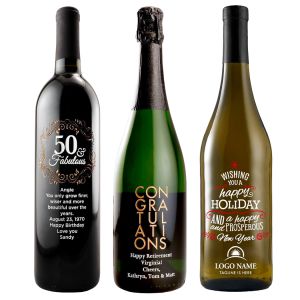 Custom Etched Wine Bottles — Personalize It
See This Gift
Something that really sets Etching Expressions apart from some of their competitors is their custom photo bottles. You can upload any photo to have it etched onto a wine bottle. These photo bottles start at $120, but are a really neat way to commemorate weddings, anniversaries, important birthdays, retirements, graduations, and more.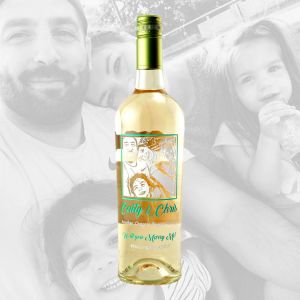 Custom Etched White Wine Bottle with Photo
See This Gift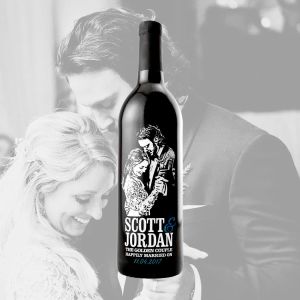 Custom Etched Red Wine Bottle with Photo
See This Gift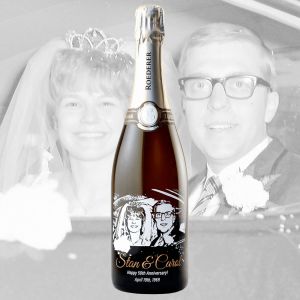 Custom Etched Sparkling Wine Bottle with Photo
See This Gift
See an amazing array of custom designs they've produced over the years in their gallery or explore custom designs for the holidays.
About the wine at Etching Expressions
I asked for their least-expensive wine so I could understand how suitable these wines might be if someone actually opens and drinks one (as opposed to stashing the decorative bottle on a shelf for years).
I was relieved to discover their very inexpensive "Private Label" red wines were perfectly acceptable to drink. I review wine of the month clubs and have tasted a wide variety of lower-quality wines. I found these most affordable wines from Etching Expressions to be better than most wine club wines in the $12-15 range, which for most recipients is suitable.
If you're buying wine for someone who is more of an enthusiast or even a collector, Etching Expressions has got you covered with the latest vintage of a good selection of wines. Below I've listed the wines available for etching, but if you want to give something special that's not in their regular inventory, they'll work with you to source and then etch it.
Their standard selection of red wines includes:
Private Label Cabernet Sauvignon — I tried this and found it acceptable
Coppola Diamond Cabernet Sauvignon — a good value, widely available Cab
Stag's Leap Artemis Cabernet Sauvignon — a popular mid-tier Napa Valley Cab
Private Label Merlot — I tried this and found it acceptable
Estancia Merlot — a good value, widely available Merlot
Charles Krug Napa Merlot — a mid-tier Napa Valley Merlot
Apothic Red Blend — a wildly popular, inexpensive California red blend, a touch on the sweet side
Mouton Cadet Bordeaux — an inexpensive but well-regarded Merlot-dominant Bordeaux
Diseño Malbec — a typical, affordable Argentinian Malbec
Their standard selection of white wines includes:
Private Label Chardonnay — I did not try this, but even cheap Chardonnay is generally drinkable
Coppola Diamond Chardonnay — a good value, widely available Chardonnay
Charles Krug Carneros Chardonnay — a mid-tier Napa Chardonnay
Villa Maria Sauvingon Blanc — an inexpensive but popular New Zealand Sauvignon Blanc
Oyster Bay Sauvignon Blanc — a mid-tier New Zealand Sauvignon Blanc
Estancia Pinot Grigio — an inexpensive but well-made California Pinot Grigio
Their standard selection of sparkling wines includes:
Campo Viejo Sparkling Brut Cava — an approachable dry sparkling wine from Spain
Lanson Black Label Champagne — a widely available mid-tier Champagne
Mumm Napa Brut Prestige Sparkling Wine — a high-quality Napa sparkler
A private label, semi-sweet (demi sec) California sparkling wine
Their Blue Bottle wine is Bartenura Moscato. Another company I work with told me it's so popular they have trouble keeping it in stock. If you are buying for someone who enjoys sweet wine, this is a perfect, and beautiful, choice.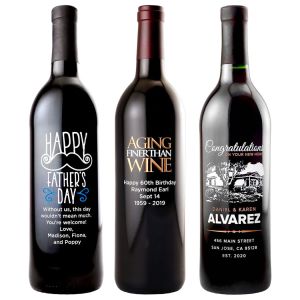 See Red Wine Gifts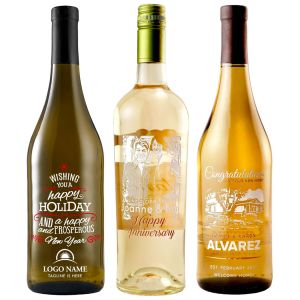 See White Wine Gifts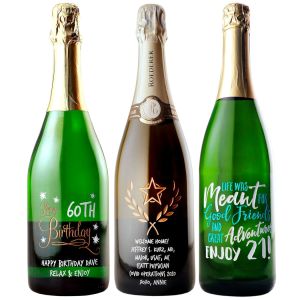 See Sparkling Gifts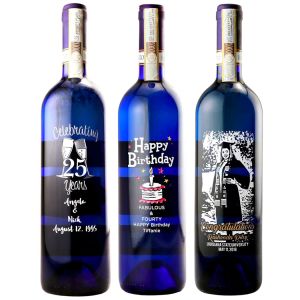 See Mosacto Gifts
Where can Etching Expressions ship?
Etching Expressions can ship their customized wine bottles to: AK, AZ, CA, CO, CT, DC, FL, GA, ID, IL, KS, KY, MA, MD, MI, MN, MO, NC, ND, NJ, NM, NV, NY, OH, OR, PA, PR, TN, TX, VA, WA, and WI. Shipping destinations for beer may vary. They can ship gifts without alcohol anywher ein the US.
How long before my gift is delivered?
From their website: "We offer the fastest processing time possible. Most orders are created and shipped within 2 to 3 business days. Orders over 12 quantity take 5-7 business days for production. Shipping times will vary depending on your location. We ship from Southern California, so transit times to the East Coast are expected to take up to 5 business days. If you require expedited delivery, you must select a faster shipping method (additional fees apply). For an additional fee we offer rush service. If you need date certain delivery you must contact us."
They include on every page a description of how long orders will take and when to expect delivery. As with all things right now, delays are common with FedEx, UPS, USPS, and other couriers. I advise you build in extra time for your order.
How much does Etching Expressions cost?
Prices for etched bottles range from $65 for a single-color etching on their private label white wine to $170 for a photo etching on their most expensive red wine. Custom orders may cost more.
Exclusive deal: Save 30% on any order
Just for my readers, you can save 30% on any order at EtchingExpressions.com with coupon code WINECLUBREVIEWS30!