Firstleaf Wine Review
Editor's Note: this article and several like it are highly-detailed breakdowns of the Firstleaf subscription. This may be too much information for your needs, and if so I recommend reading my main Firstleaf review.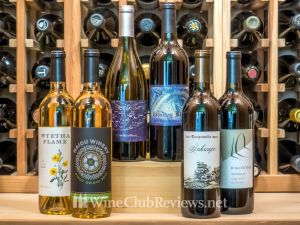 FYI: I find great wine deals so you don't have to. To keep me on the hunt, I earn a commission when you buy wine based on my recommendations.
Among similarly-priced personalized wine clubs, I find Firstleaf's wines are the best quality. By quality, I mean that they are balanced wines showing typicity (this means the wine has similar flavors to most other wines made from the same grapes).
Balanced wines don't taste too much of each of the following: alcohol, acid, tannins, and sugar/sweetness — instead, the natural character (typicity) of the grapes and where they were grown (terroir) should be prominent.
Typicity and terroir emerge when you have well-made wines. If you are comparing well-made wines of the same grape and region side by side, you'll start to distinguish other elements like winemaking techniques. For example, I received two different Malvasia Bianca from Paso Robles and two different Chenin Blanc from South Africa, which afforded the opportunity to learn about subtle differences in similar wines.
Where do Firstleaf's wines come from?
Penrose Hill, Ltd is the parent company of Firstleaf's wine subscription and online store. It is Penrose Hill that is listed as the winery (or importer) on all of the wines shipped from Firstleaf's wine club. Firstleaf carries additional wines from other producers in its online store.
While Firstleaf is technically a winery, they don't employ their own winemakers or own the land the grapes are grown on. Neither of these practices disqualifies them from being called a winery, and some of the best winemakers in the world consult for wineries they don't own or grow the fruit for.
Firstleaf contracts with winemakers and vineyard owners to grow grapes and produce wine according to Firstleaf's specifications, then imports the wine (and sometimes the grapes) to their winemaking and bottling facilities in Healdsburg, California (Sonoma County).
Their wines hail from around the world with a roughly equal selection from the US (mostly California), and from elsewhere, primarily France, Italy, Spain, South Africa, Argentina, and Australia. Depending on time of year, there may be more or less Southern Hemisphere wines, or even European wines available.
What kinds of wine does Firstleaf offer?
Each wine club has its own perspective which is heavily influenced by the company's goals for profit margin, and what kinds of wines it can access at those prices. Buyers have their own preferences, and some companies emphasize palate-friendliness or universality vs uniqueness.
Firstleaf leans toward palate-friendly wines that are neither unique or objectionable.
At the time of writing this review update, there were 165 red wines, 97 white wines, 6 sparkling, and 19 rosé wines in their online store inventory available to ship to California.
The red wines are predominantly Cabernet Sauvignon, Merlot, and Pinot Noir. The white wines are predominantly Chardonnay and Sauvingnon Blanc. All of these wines will taste different depending upon where their grapes were grown and how they were made.
There's a big difference between a French Cab (minerally, vegetal, not much fruit), a Chilean Cab (prominent red fruit, spiciness), and a Cali Cab (likely heavily oaked and tasting like vanilla).
Notably they have 52 wines labeled "Lower Alcohol" which they define as below 12% ABV.
Firstleaf Exclusives and other wines
It used to be very easy to understand which wines on the Firstleaf website were included in wine club shipments and which ones weren't. As the company expands their wine selection to include wines produced by other wineries, this is getting more challenging.
If you're thinking about browsing their online store to get a sense of what their wines are like (a good idea if you already know what you like to drink), you'll find a variety of labels on their wines.
Exclusive — Members pay $14.99 for this wine regardless of the retail prices shown, when ordered as part of a club shipment or part of a supplemental order of 6 or more bottles.
Fine Wine Collection — Members are eligible for a 30% discount on these wines. Some of these are wines produced by a third party, some are produced under brand names owned by Penrose Hill (even if it's not disclosed on the back label), and some are produced under the name Penrose Hill.
Members can also upgrade up to three bottles per shipment to the Fine Wine Collection for $10 per bottle.
No label at all — These are typically produced by other wineries or imported and say "This wine is not eligible for member pricing" when you look at the wine detail page.
Firstleaf's award-winning wines
A big part of Firstleaf's branding and marketing is that all of their wines are award-winning. I randomly verify a small sample of their award claims for the wines I receive and never find one they made up.
That said, as a wine professional, my advice is to ignore all of this award mumbo-jumbo. I have many reasons to say this, some of which are enumerated below, but the biggest reason to ignore awards is that they aren't predictive in helping you find wine you'll like in the same way that finding a wine critic, whose preferences are similar to your own can be.
If you find that you like what Robert Parker or Jeb Dunnuck likes, you can trust their ratings and buy based on them. If you find you like what won a Double Gold Medal for the Best Rosé under $20 in 2020, good luck using that information to find more wines you'll like (each vintage is different, you might like similar producers from the same region, etc.).
Even in the setting of a better competition, a group of judges whose homogenized opinions result in awards for a particular wine will not be any more relevant to your specific preferences than asking the guy at the local wine shop what he likes.
Each judge at each competition assesses wine with a different idea of quality expectations. There are no formal quality standards in wine. There are only loosely-agreed upon principles of what earns a wine the nod and no government entity keeping all the marketers honest.
Wines in competitions are based on who the other entrants are, not based on the whole field of wine that they could be judged against. Take this Sparkling Rosé which was entered into several competitions.
At the 2022 Experience Rosé Wine Competition it earned: Best of Class; Best International Sparkling Wine; 94 Points; and Gold Medal.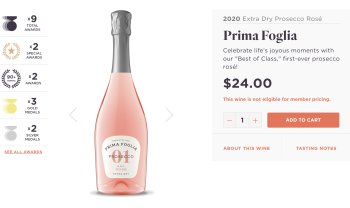 There are over 100 sparkling rosés available just at Total Wine, but this Firstleaf entrant was compared to only six at the 2022 Experience Rosé Wine Competition.
This is just one example where you are led to believe that the winners are great for the whole category, but they're only great based on who the other entrants in that particular competition are.
This makes the value of a competition medal inconsistent and nearly meaningless.
These competitions exist so that wineries can market their wines on the perception of quality. If you think that's cynical, here is what the competitions company's website says (right on the home page).

All that said, there are two awards competitions I acknowledge as useful: The San Francisco Chronicle Wine Competition (only North American grapes/wines are eligible) and the French Concours Général Agricole (only evaluates French wine).
The Chronicle tests thousands of wines each year, both category and price-driven, so the comparisons are more useful, and they're more stingy with their awards. They have more than 50 judges from different aspects of the profession: Media (critics), Restaurant/Hospitality Buyers, Retail Buyers (wine stores), Wine Educators, Winemakers, and Industry Representatives.
The French Concours Général has proved to me time and again that the wines which win the Medaille d'Or and even the Medaille d'Argent are worthy of a medal (and my money). This competition uses a jury composed of one half wine industry professionals and one half are "informed consumers." Each year they evaluate thousands of wines and only issue medals to the top 20-25%. In 2022 there were 3,594 medals issued to more than 15,000 entrants — ~10% gold, ~10% silver, and less than 5% bronze.
If Penrose Hill starts winning awards at either of these competitions with any regularity, I will change my tune. To my knowledge they don't appear to enter these two competitions.
Wine I've received from Firstleaf
9 different shipments
46 different wines (see the full list here)
Wine colors: 20 white, 24 red, and 2 rosé
Wine Regions: 19 from California, 18 from Europe (including one from North Macedonia), and the rest hailed from Washington, Oregon, South Africa, Australia, and Chile. Note, I like fruitier wine so my wine selection has been "New World" centric.
Average retail price: $18. These wines were all received when the price members paid was still $13 per bottle.
The 9 wine subscription boxes I've received from Firstleaf
By default each Firstleaf box contains six bottles. If you upgrade to twelve-bottle shipments, they send two each of six wines.
In some cases I heavily edited the recommended selection using the Swap / Replace Bottle feature. Usually I did this because I was curating a collection for seasonality, which Firstleaf does not do by default — I like white and rosé during the summer, and I lean more on red wine during the fall and winter.
In other cases I accepted the default recommendations for my account specifically to check on the algorithm. In September 2021 I "started over" with the new quiz to see how their matching has improved over time (it has).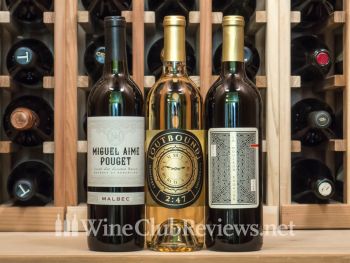 August 2018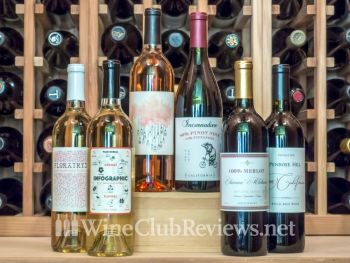 October 2018
December 2018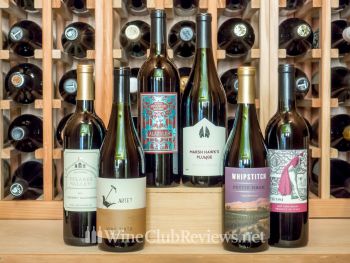 December 2019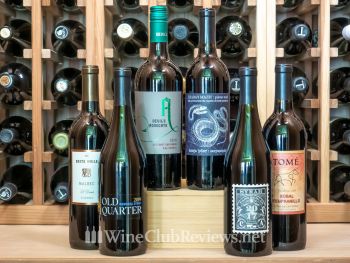 March 2020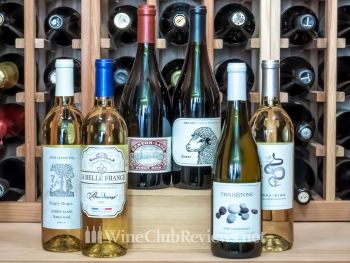 April 2021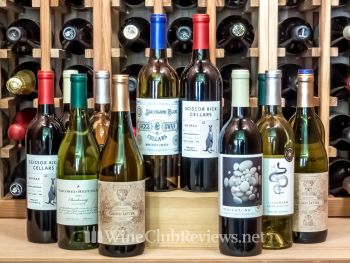 September 2021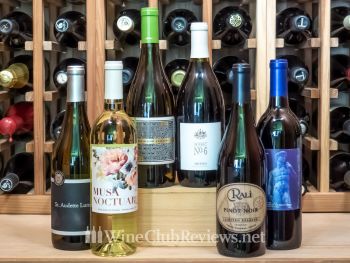 September 2021 (New Account)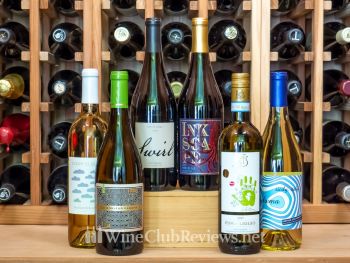 December 2021
For the first few years, I found the selections generally matched my preferences well, but increasingly their recommendations left me flat.
Of those 29 wines, I gave 11 wines a thumbs up and 3 wines a thumbs down. That left 15 wines I didn't rate at all because I was not especially impressed but I didn't hate them either. To me, a wine I didn't rate might as well have been a wine I gave a thumbs down, because I'm not excited enough about it get it (or something similar to it) again.
Learn how leaving wines unrated impacts their understanding of my preferences in my detailed analysis of their quiz and ratings system.
After a while I found my shipments were getting repetitive. This would have been a good time to schedule a meeting with my personal wine concierge (everyone has access to this service, not just reviewers) but I really wanted to know how well Firstleaf was doing at serving customers on their first shipment and how that process had changed over time. So I created a new account, took the new quiz, and started from there.
I have since received two shipments under the new account, and here's how they stack up: 8 wines got a thumbs up and 2 wines got a thumbs down. That left only 2 wines that didn't get rated (one was a sweet wine which I liked but don't want Firstleaf to send more of in the future, the other was a red that wasn't the style I like). Notice there is a much smaller percentage of wines that went unrated? That's because they were a better match for my preferences.
The algorithm appears to be getting much better at learning what I like, presumably due to the significantly improved intake quiz and mountains of user data they're able to collect from other customers "like me."
Their algorithm also taught me something about my wine preferences. I like wines sweeter than I thought. I love a great, acidic dessert wine (a Late Harvest Riesling or a Petit Manseng), but I usually shy away from sweet in everything else I ingest as I much prefer creamy, savory flavors to sugary ones. Interestingly though, a lot of the wines which Firstleaf sends me that I like are on the sweeter side of things. Not "Moscato sweet" but sweeter than "bone dry." This surprised me (in a good way).
About the 24 red wines I've received
Since I keep track of every wine I've tasted for a wine club, I also keep track of the tasting notes. I dropped the Firstleaf tasting notes for the wine I received into an online Word Cloud tool. Here's what it produced: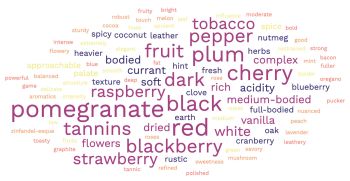 This word cloud comprises the tasting notes provided by Firstleaf for 16 different red wine grapes and red blends including: Bobal, Cabernet Sauvignon, Castelao, Malbec, Merlot, Petite Sirah, Plavac Mali, Pinot Noir, Sangiovese, Shiraz/Syrah, Tempranillo, and Zinfandel.
Success at matching: I like my red wine fruity but not sweet, and I'm not a fan of earthy or vegetal characteristics. I can see by analyzing the word cloud that Firstleaf by-and-large knows what I like and what to downplay. The obvious misses are the prominence around tobacco and vanilla and the stand-out wins are the downplaying of green, herbs, and mushroom.
While I'm generally not as enamored with Firstleaf's red wines as I am with their whites and rosés, there were a couple of standouts along the way.
The Perfect No. 6 from 2020 is an Australian Cabernet Sauvignon which retails for $21 at Firstleaf. This Cab had all of the characteristics of a warm-weather Cab that I like — blackberry, baking spices, ripe plum, full body and strong tannins. At $15 this bottle of Cab is a great deal.
Another red I rather liked was the 2017 Incarnadine, an unusual Pinot Noir and Zinfandel blend from California. This is a great example of a red wine I liked that is on the sweeter side of things. I didn't anticipate how much my love of ripe fruit might be tied up in sweetness until I started trying Firstleaf wines. This one featured pomegranate (from the Zinfandel) and cherry (from the Pinot Noir). This wine won a Silver Medal at the 2019 San Francisco Chronicle Wine Competition.
About the 20 white wines I've received
This word cloud comprises the tasting notes provided by Firstleaf for 10 different white wine grapes and blends: Airen, Chardonnay, Chenin Blanc, Grenache Blanc, Malvasia Bianca, Pinot Grigio, Sauvignon Blanc, Vermentino, Verdelho, and Viognier.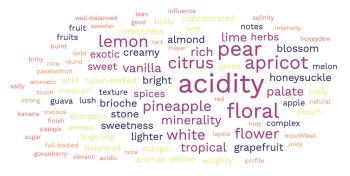 Success at matching: I like a wide variety of white wine which probably makes the algorithm's job harder. By analyzing the tasting notes word cloud, I can see they generally understand me. I lack interest in oak and its related flavor profiles (vanilla) and I prefer both floral and bright (acidic) white wines — they found a lot of ways to talk about acidity including bright, juicy, vibrant, acidic, lively, and energetic.
One of my favorite wines from Firstleaf was this one: Schema 2020 Vermentino. At $22 retail, it was almost as good as the ones I buy from small wineries in California for $30 or more. At $15 it was a steal and I'd like more.
Their 2020 Tailored Republic Chardonnay from California was also excellent and punched above its weight. I ordered a case for a friend who I shared the first bottle with. It was smooth, fruit forward, and was well-balanced. They label it as oaky, like "some of the bigger Napa Chardonnays," but the oak profile wasn't as pronounced as the description states. At $28 retail I don't know if I'd be so excited about it, but at $15, it was a great deal.
Your level of enjoyment from wines in this price range may be more or less than my own.
If you're curious about how Firstleaf's wines compare with similar personalized wine clubs, you can read a focused comparison of wine from personalized clubs.
Ready to join? Get your first six bottles for $39.95, including shipping.
Need more info? Learn more about Firstleaf or read my full Firstleaf review.
Firstleaf Wine Subscription
Coupons & Promo Codes
Deal 6 bottles for $39.95
Save $50 — Try Firstleaf and get 6 bottles of wine selected just for you for just $39.95. Shipping is included in your first order. Click for this deal
Join or Give this Wine Club
Firstleaf Wine Subscription
More Information About Firstleaf