Firstleaf vs…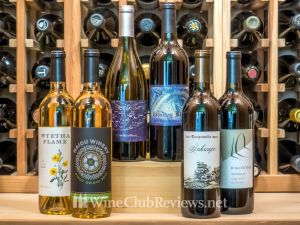 So you're thinking about joining Firstleaf but you're not sure if it's the best wine club for you? Then you've come to the right place.
Firstleaf is a personalized wine club (as opposed to a curated wine club). Compare Firstleaf with similar personalized wine clubs to find out which one is right for you or check my brief guide on personalized vs curated wine clubs.
The most popular wine subscriptions to compare with Firstleaf:
Who should join Firstleaf?
Firstleaf is great for people who don't really know what they like, adventurous wine drinkers, and people who want to learn about wine in a low-pressure environment. It is not a good fit for premium wine drinkers, brand-centric wine drinkers, and sweet wine lovers. More on who is a good fit for Firstleaf.
How much does Firstleaf cost?
Firstleaf costs $79.98 plus $9.95 shipping and applicable sales taxes for their standard six-bottle membership. After your first shipment, you can upgrade to a 12-bottle membership for $159.95 with free shipping. Twelve-bottle shipments contain two each of the recommended wines in a six-bottle shipment. More on the price of Firstleaf.
Are Firstleaf wines any good?
Yes, Firstleaf wines are good, especially for the affordable price of less than $15 per bottle. Firstleaf makes their own wine (under the name Penrose Hill). Among similar wine clubs, TastingRoom.com and Bright Cellars in particular, I find Firstleaf's wines are of the best quality. More on the wine from Firstleaf.
Is Firstleaf a good deal?
Yes, Firstleaf is a good deal (if you like the wines). Firstleaf offers a lot of value for a low monthly price. Their introductory offer is downright cheap and has a money-back guarantee, so you have nothing to lose by trying it out. Their regular monthly prices are quite affordable and they offer a much greater variety of better quality wine for the price than you're likely to find at stores, or even a similar wine subscription.
Is it easy to cancel Firstleaf?
Firstleaf makes cancelling easy (and frictionless). You can log into your account and cancel any time, without contacting customer service! You can also skip shipments and pause if you're on the fence about cancelling. All of this is much better than some other wine subscriptions which require you to call or email a person to cancel your service (ick).
FYI: I find great wine deals so you don't have to. To keep me on the hunt, I earn a commission when you buy wine based on my recommendations.