Wine Clubs that Ship to Canada
How nice of you to want to send a wine club to someone in Canada or join one for yourself! Unfortunately neither the US government nor the Canadian government make that especially easy. As such, US-based wine subscriptions generally aren't available in Canada (there are some very rare exceptions that involve very high duties).
To join a wine of the month club in Canada, we recommend evaluating Canadian-based companies. Most will accept USD for payment. Typically Canadian websites end in .ca (instead of .com) and you can see these listings when you search "send a wine club to Canada."
Here is a listing of Canadian wine clubs that we know of. In most cases, Provincial taxes apply (even to US residents sending the wine as a gift) and in all cases prices are listed in Canadian dollars. We have not received any wine shipments from any Canadian companies, so these are not reviews.
FYI: I find great wine deals so you don't have to. To keep me on the hunt, I earn a commission when you buy wine based on my recommendations.
Know someone who gets wine headaches?
Now there's an easy solution!
PureWine™ technology removes the impurities in wine that cause headaches, congestion, and skin flush — histamines and sulfite preservatives. Not only does it not harm the taste of the wine, many people think it improves the taste. Learn about the science here. Get the best price when you buy directly from the manufacturer — they ship to Canada!
Save 20% on your first order with code WELCOME20
WineCollective

WineCollective is an Alberta-based wine subscription established in 2009. They offer five different options for their wine clubs, all delivered monthly and all include shipping in the price: 4 bottles for $94.24; 6 bottles for $135.74; 4 premium bottles for $155.74; 2 affordable wines for $57.24; and 2 "discerning" wines for $94.24. In most cases you can choose a mix of red and white wine or only red wine.
You'll get access to an online profile for each wine they ship, which includes tasting notes, food pairing suggestions, and information about how and where the wine was produced. Each of their wine clubs is available as a gift of 3-12 pre-paid months. They offer a 100% Satisfaction Guarantee (which is something we think all wine clubs should do).
They appear to ship anywhere in Canada but note that the legal responsibilities to comply with local laws is the consumer's responsibility. If you happen to live in Calgary, you can pick up your shipments at their Highfield by WineCollective store.
We've listed this wine club first because it was founded by BlackSquare, a technology company focused on the beverage industry. The founding CEO from BlackSquare (David Gluzman) is now the CEO at Folly Enterprises (WineFolly.com + GlobalWineDB, a part of BlackSquare), and we trust that Madeline Puckette (the co-founder of Wine Folly) would only work with the best wine professionals.
Hemispheres Wine Guild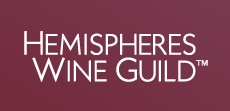 Hemispheres is a Canadian wine of the month club for serious wine lovers and comes with a large price tag. According to Toronto Life magazine, "This club deals exclusively in international wines that you can't buy in Canada." They offer four different memberships which include the cost of shipping. You can pay monthly or in full, but the wine is shipped quarterly.
There are two premium level clubs to choose from — one is 4 cases per year for $1320-1650 total and one is 8 cases per year for $2400 total. There are also two ultra-premium level clubs to choose from: Connoisseur is 8 cases per year for $3300 total and Icon is 12 cases per year for $4400 total. For gifts, they offer a Premium Gift of 12 bottles 4 times per year for $1320 total (also paid monthly or in full) and a Basic Gift of 6 bottles 4 times per year for $720 total.
Charlie's Burgers (CB Wine Programs)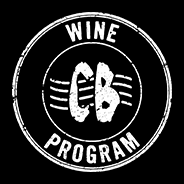 Don't be fooled by the name of this wine club… Charlie's Burgers ships ultra high-end wine and their audience is primarily Toronto-based foodies. Every wine they ship is "paired" with a meal at a top-tier Toronto restaurant. If you bring in your paired bottle to the restaurant, you can drink it for free with your meal. Each shipment features a different winery and includes "a full write up on the history of the winery and the featured wines. This will include tasting notes, wine making techniques, food pairing suggestions and dining options in Toronto and around Canada." If you're into cheese, you can separately purchase monthly pairing suggestions from cheesemonger Afrim Pristine to go with the wines in your shipments.
They offer two subscriptions: $117/month (must buy in three month "blocks") for the CB Wine Program and $699.95/quarter for the CB Wine Reserve Program. The wines are actually sold through the LCBO so all pricing and HST taxes that the LCBO requires are an additional cost — but they're not wines you can buy at the LCBO if you don't have a Charlie's Burgers membership. You can gift any number of months.
Additional Canadian Wine Clubs to Consider