Italian Wine Clubs & Subscriptions
Due to complex shipping laws, alcohol can't be delivered everywhere. Select the state where you'll be shipping the wine and I'll make sure you know which clubs can ship there.
Italian wine — which comes from 20 major wine regions spanning diverse geological regions — seems limitless. Wine is made in every style imaginable from 800+ different native wine grapes. From sweet sparklers like Asti Spumante to crisp whites from Alto-Adige, from powerful Sicilian reds to cellar worthy legends from Barolo — Italy does not disappoint.
You might think that with so much diversity in Italian wine, there would be an abundance of Italian wine subscriptions for Americans, but there aren't! Here are my recommended wine subscriptions for Italian wine lovers and explorers.
FYI: I find great wine deals so you don't have to. To keep me on the hunt, I earn a commission when you buy wine based on my recommendations.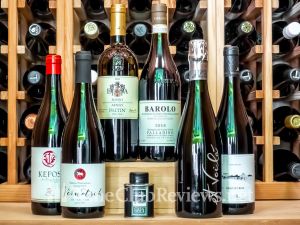 For You Get 25€ (roughly $25) off your first payment when you join Roscioli Wine Club. Use code WCR25 at checkout.
I used to think I didn't like Italian wine, but what I realized is that I hadn't tried good Italian wine. Most of what is imported into the US is boring, designed for the stereotypical American palate, and, it turns out, not a good representation of what Italy has to offer. Then I received a shipment of wine from Rimessa Roscioli, a renowned wine-oriented restaurant in Rome and I realized I'd been missing out on great Italian wine.
I can't say enough great things about the Roscioli wine clubs and you should read my review if you want an in-depth understanding of their superlativeness. For the purposes of this summary page I'll say this: every wine is an authentic, Italian gem from a small family winery, hailing from every nook and cranny of Italia.
Almost none of their wines are available in the US via any other seller, their customer service is exceptional, they have built an amazing library of winemaker videos for each wine they ship, and they have an active online community of members and other Italian wine lovers where you can continue to learn about Italian wine.
Next Club
Roscioli Italian Wine Club
I tend not to recommend the WineExpress wine clubs very often. Their selection is usually fairly pedestrian, which works well for some wine lovers, but isn't especially noteworthy when considered alongside so many other truly excellent wine clubs. One exception, for the budget-minded Italian wine lover, is their Italian Stallions wine club.
WineExpress doesn't tell us which wines ship in their wine clubs, but their monthly price suggests an average retail price of $20 per bottle and it is assumed their shipments are selected from their existing inventory. Of the 111 Italian wines in inventory in November 2021, it seems safe to assume that most of what you'll get from this club will come from large-production regions like Prosecco, Montepulciano d'Abruzzo, Tuscany, and Sicily.
Italian Wine from Personalized Wine Clubs
Not all wine clubs suitable for Italian wine lovers call themselves Italian Wine Clubs. Some wine clubs are personalized in such a way that you can make them into any kind of wine subscription you want. Two such wine clubs are perfect for imbibers of the juice from Italy — Picked by Wine.com and Organic Wine Exchange.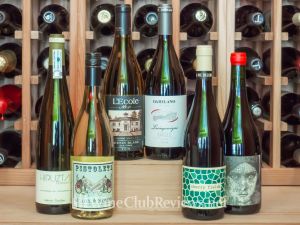 For You Join today and save $50 on your first box of wine personalized by you and picked by a sommelier. Use code PICK50 at checkout.
A totally customizable wine club, you provide your preferences via a quiz and a free-form text entry, and a human sommelier handpicks your shipments accordingly. You can set your per-bottle price from an average of $20 to an average of $40. This won't be enough to indulge in much DOCG Barolo, but most Italian wine is priced under $40 and that leaves you plenty of options.
Your subscription can be handled in two ways. If you don't yet know what you like, you can ask the sommeliers at Wine.com to introduce you to regional classic styles, because maybe you like Verdicchio from Le Marche or Aglianico from Basilicata but you just don't know it yet. Maybe you want to get a better handle on what makes a Barolo different from a Brunello? Your personal sommelier can help you.
You can also be very specific about what you know you like. For example, if you like Super Tuscans from Chianti or Friulian Pinot Grigio, you can ask for just those wines. Though, I should caution, Wine.com's selection of almost 2,000 Italian wines is mostly limited to major wine regions like Tuscany, Piedmont, Veneto, Prosecco, Trentino-Alto Adige, and Sicily.
Next Club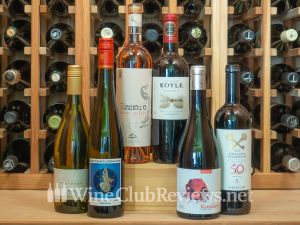 For You Get 10% off the first three shipments when you join an Organic Wine Exchange club. Use code WC10X3 at checkout.
If you are concerned about the environment or prefer organic sustenance, I strongly recommend trying a wine club from Organic Wine Exchange. This woman-led small business sells only organic wine and has created a variety of subscriptions to choose from: Organic, Biodynamic, Vegan, and No Sulfites Added.
All wine clubs can be further customized however you like, in this case you can choose to receive all Italian wine. When you sign up for this level of customization you'll be contacted by proprietor Annie Arnold to confirm your preferences and explain how the club works in detail.
Didn't find what you were looking for?
I suppose any page that talks about Italian wine clubs available in the US ought not to leave out Bergamot Wine Co. Few wine stores are so loved by people working in the wine industry as is Bergamot that even though I have not reviewed their clubs, I still feel comfortable recommending their Italian wine club. Even if all you do is browse their impressive and fun tutorial on Italian grapes, you should swing by their site and check them out.