French Wine Clubs
French Wine of the Month Clubs & Subscriptions
On this page you'll find all of the French wine of the month clubs we've reviewed. Our ratings system looks at quality-to-price ratio, shipping costs, uniqueness, and custom features. Wherever possible, prices include shipping costs, but rarely include sales tax. Be sure to select the state you're shipping to, as not all wine clubs can ship to all states.
Wine Clubs by Region: All Regions Bordeaux
Best Wine of the Month Clubs: Best International Wine Clubs
For You Save $100 on your first 6-bottle case, just $49.99. Shipping included. Voucher code is already entered. Click for This Deal.
Naked Wines isn't really a wine club the way you think of one, but it's a personalized wine buying service that you pay into on a monthly subscription so… we treat it like one. It also happens to be the most interesting wine club we've come across in a while.
French: Naked Wines offers much more than just French wine, but there aren't a ton of French wine subscriptions out there, so we recommend checking it out. If French wine is your favorite, there were 25 different French wines for sale when we last checked (Sept 24, 2019). Their diverse collection of French wines includes Champagne, Rosé from Provence, Chablis, Chenin Blanc, Pouilly Fume, Sancerre, Bordeaux, Rhone blends, and more.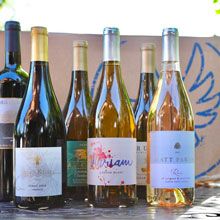 A rare French wine club featuring affordable selections from a variety of wine regions within France. They tend to work with smaller producers offering either exceptional value or something unusual.
Everything you want in a wine club, especially if you love French wine. Their wine program is created by a multi-generational wine family from Bordeaux with great connections and taste in wine. Unlike some other specialty wine clubs, this one is priced perfectly.