SomMailier French Wine Club Review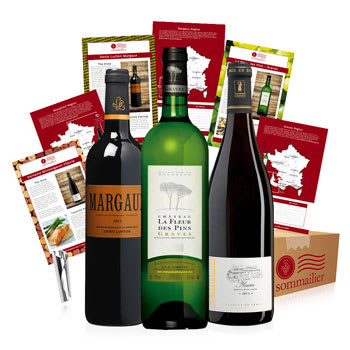 Wine Club Overview & Details
Wine Club Rating:
This wine club is...
Summary
A rare French wine club featuring affordable selections from a variety of wine regions within France. They tend to work with smaller producers offering either exceptional value or something unusual.
What I Like
Everything you want in a wine club, especially if you love French wine. Their wine program is created by a multi-generational wine family from Bordeaux with great connections and taste in wine. Unlike some other specialty wine clubs, this one is priced perfectly.
Improvements
I don't have much to complain about when it comes to SomMailier.
Benefits
Unique, special French wines

Great value

Discover French wine beyond the famous regions
Drawbacks
SomMailier French Wine Club delivers to
AL AK AZ AR CA CO CT DC FL GA HI ID IL IN IA KS LA ME MD MA MI MN MO MT NE NV NH NJ NM NY NC ND OH OR PA SC TN TX VT VA WA WV WI WY
Don't see your state? SomMailier does not ship there. Browse wine clubs by state.
Join SomMailier French Wine Club
FYI: I find great wine deals so you don't have to. To keep me on the hunt, I earn a commission when you buy wine based on my recommendations.
SomMailier French Wine Club Review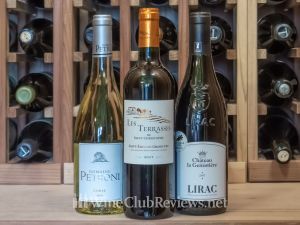 SomMailier is a purveyor of French wine, delivered by mail (naturally). The clever name is your first hint that this brand takes their wine very seriously, but remains lighthearted.
Five generations of Yungs have produced wine in Bordeaux, France, and Laurent Yung brings his deep-seated love of wine to Americans via SomMailier. He imports wine from all over France to the US courtesy of his family's impressive connections, and the efforts of his brother Patrick via LaPlace CDP, a négociant in France.
SomMailier Wine Club Options
There are two choices for SomMailier subscriptions, which are shipped quarterly. Shipping is extra and varies depending on which state you're sending it to. Sales tax is extra where applicable.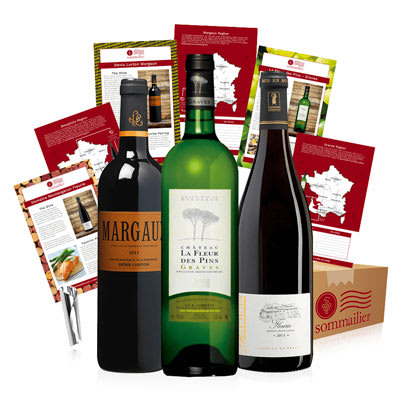 Club C'est la Vie
This is their 3-bottle wine club and you can choose red wine only, white only, or a mix of red and white wine. At $110, this wine club represents a good value for these French wines (which have become more expensive between French tariffs and all of the other supply-chain issues facing retailers today). We received a limited-production blanc (white) from Graves, a left bank Bordeaux rouge (red), and limited-production Bourgogne (red Burgundy). Shipping ranges from $16.99 in California to $25.99 in the East. Final price per bottle (before taxes): $42.33 - $45.33.
We always recommend upgrading to a larger wine club to save on both per-bottle costs (wine and shipping). Given that SomMailier only ships quarterly, the upgraded wine clubs are perfect. You'll always have great French wine on hand.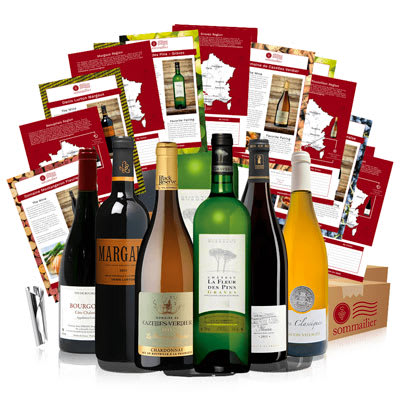 Club Rendez Vous
This is their 6-bottle wine club, also with a choice of red only, white only, or a mix of red and white wines. In this club you will receive six different wines in each shipment, not two each of the Club C'est La Vie. This option is priced at $209 per box. You save by upgrading to this six-bottle club. Shipping ranges from $19.99 in California to $29.99 in the East. Final price per bottle (before taxes): $38.17 - $39.83.
Club Et Voila
This is their 12-bottle wine club, also with a choice of red only, white only, or a mix of red and white wines. In this club you will receive twelve different wines in each shipment, not two each of the Club Rendezvous. This option is priced at $399 per box. You save by upgrading to this twelve-bottle club. This upgrade comes with free shipping. Final price per bottle (before taxes): $33.25.
SomMailier Wine Review
My SomMailier Wine Ratings
| | |
| --- | --- |
| Quality of Wine | |
| Price of Wine | |
| Wine Curation | |
SomMailier offers an interesting selection of wine. While researching the club for the review, we came to understand why they can offer exclusive wines not otherwise available in the US at very fair prices.
Laurent's brother Patrick, still residing in France, is a distributor there. He has given exclusive US rights to Laurent, so that when he imports wine from France, he knows he's the only seller. Closed-loop systems like this sometimes give us pause. In this case, however, there's more to the story which we find compelling. We learned this from printed materials in our first shipment from SomMailier:
"Patrick Yung, brother of SomMailier's founder Laurent Yung and principal sourcing partner, was recently invited by the French Ministry of Foreign Affairs to Paris to give an exclusive French wine tasting to foreign Ambassadors and their families...The event was such a success that Patrick has been offered the opportunity to distribute his wines to all the French Embassies around the world."
We believe SomMailier is shipping excellent quality wines at very fair prices. Since the company has an online wine store, we can see that members get special pricing in their shipments, which is roughly a 25% discount off retail. This discount more or less covers your cost of shipping and sales tax, depending on where you live.
We're quite impressed with the quality of the wine for the prices being offered.
In our first shipment, we received these three wines: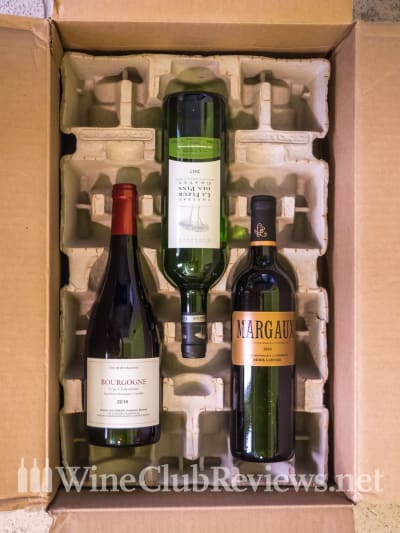 La Fleur des Pins from Bordeaux (Graves)
This white blend of 50% Semillon, 25% Sauvignon Blanc, and 25% Sauvignon Gris had a 750-case production. Aromas of honey, apricot, plum, and pineapple. Dry and fresh with flavors of burnt sugar and raisin tannins. Retail price $32, member reorder price $27.20.
Denis Lurton Margaux from Bordeaux (Margaux)
This red blend of 60% Cabernet Sauvignon and 40% Merlot was produced just for LaPlace. Aromas of violets, lilacs, truffle, earth, cherry, and plum. Full-bodied, soft, smooth, medium tannins. Retail price $58, member reorder price $49.30.
Bourgogne Côte Chalonnaise
This Pinot Noir was a delight to our California-centric palates. Aromas of Rose, black cherry, berry, plum, and currant. Fresh flavor, low tannins, with smooth edges and some mushroom notes. Retail price $47, member reorder price $39.95.
In our second shipment, we received these three wines: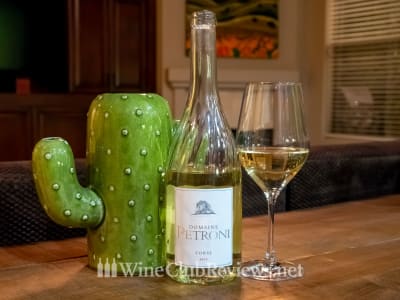 Domaine Petroni Corse (Corsica)
This white wine is 100% Rolle (also known as Vermentino). We have some experience with Vermentino and were super impressed with this Corsican version. It had more complexity and a fruitiness to it that we don't normally associate with Rolle. Plus, as a former glass blower, I was impressed with the optic mold used to make a beautiful swirl in the bottle! We paired it with our vegan house special (featuring grilled zucchini and hummus). Retail price $35, member reorder price $33.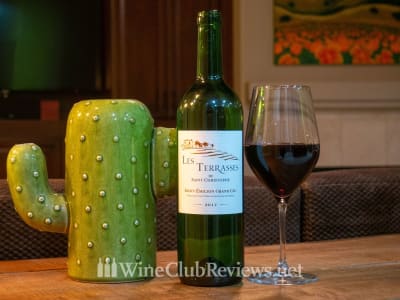 Les Terrasses de Saint Christophe (St. Emilion Grand Cru)
This red blend of 90% Merlot and 10% Cabernet Sauvignon was produced at the 50-acre château, after it had been rebuilt by hand under new ownership in 2012. We paired it with grilled steak, broccoli, oven roasted fingerling potatoes. The handpicked grapes and careful vinification led to an easy-to-drink Bordeaux red worth coming back to. Retail price $26, member reorder price $33.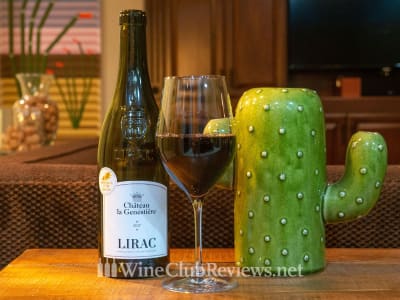 Château al Genestière (Lirac)
This traditional Rhône red blend is 50% Grenache, 30% Syrah, and 20% Mourvèdre. We love a good GSM, but rarely ones hailing from the actual Rhône Valley, typically it's the American-made versions with strong fruit and high alcohol content that we like. We paired this one with my famous turkey chili and it was a delight. Retail price $35, member reorder price $33.
Membership Benefits
My SomMailier
Benefits Ratings
| | |
| --- | --- |
| Satisfaction Guarantee | |
| Customer Service | |
| Wine Education | |
| Convenience | |
Joining the SomMailier wine club feels a bit like being connected to the French wine universe. Between the long family history, the VIP winery tour benefit, and the Ministry of Foreign Affairs endorsement, you can't help but feel like you're an insider.
Satisfaction Guarantee. Like most wine clubs, SomMailier stands behind the quality of their wines. They offer a 100% satisfaction guarantee which covers bad bottles. If you receive a bad bottle, they'll send you a replacement or refund your money. They'll also send a replacement or a refund for a wine you don't like.
Customer Service. When it comes to customer service at SomMailier, Laurent is your man. Who better to take care of all your needs then the owner of the company? You can be assured you're in good hands.
Convenience. A more old school wine club than modern subscription service, you can manage your shipping and billing details on the website. For vacation holds, skipping a shipment, or cancellation, you'll need to email Laurent or call their toll free number.
Personalization. Personalization is limited to selecting the number of bottles and the color of the wine. If you want something more, give Laurent a call. He says they'll customize your wine club membership to fit your needs.
Discount opportunities. You can reorder your favorite wines at 15% off normal retail prices (minimum order of 3 bottles). You'll get a members-only discount code in your first shipment.
Insider Tip: Want to save a little on your subscription? Buy yourself a prepaid gift instead. Four prepaid shipments will save you $20 and 8 prepaid shipments will save you $80 over a two year membership.
Wine education. Each SomMailier wine comes with a full-color card detailing the story of the wine, information about how it was produced, food pairing ideas, information about the wine region, and tasting notes. This information is supplemented with more information about each wine region on their website.
VIP Winery Tour in Bordeaux! Sometimes we see wine clubs can set up their members with tours at vineyards around the world, but in this case you're getting something even more special. SomMailier's founder, Laurent Yung, has family in Bordeaux that owns and manages several exclusive vineyards, and they are happy to organize a personalized visit in one of the wineries while you visit this beautiful region of France. Simply contact them when you are planning your trip.
Who Should Join SomMailier?
SomMailier is a wine club suitable for almost any wine lover. Between the appropriate pricing and useful cards with tasting notes, anyone can learn about French wine or enjoy a new place to procure what they already love.
We find most people looking for wine clubs consider $15 to be the most they'll pay per bottle. This is not a good club for those folks because the price is $35-38 per bottle delivered. If you're comfortable with this price, the club offers excellent value for your dollars.
SomMailier Gift Review
SomMailier makes a great gift, especially for someone who loves French wine or wants to learn about French wine.
They offer prepaid gift subscriptions which makes gifting a breeze. Choose 1, 2, 4, 6, or 8 quarterly shipments of either Club C'est La Vie (3 bottles), Club Rendez Vous (6 bottles), or Club Et Voila (12 bottles).
The more shipments you buy, the more you save — up to $10 per shipment.
The first shipment, which comes nicely packaged for a gift, also includes a customized gift message, handwritten on a nice card.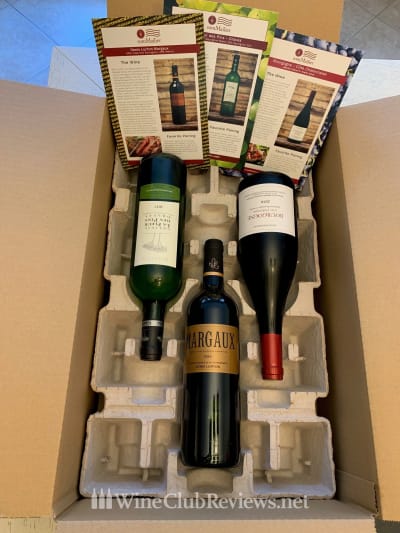 SomMailier French Wine Club