Sparkling Wine Club Review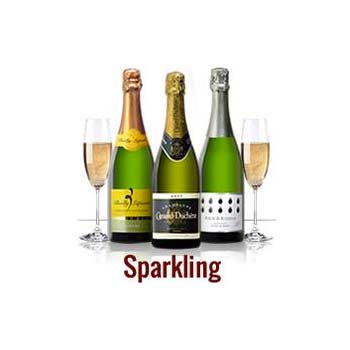 Wine Club Overview & Details
Wine Club Rating:
This wine club is...
Summary
A three-bottle sparkling wine club that makes it easy to always have bubbly on hand for a special occasion or just because bubbly wine is fun to drink. This is one of the better value wine clubs from Vinesse and I always think it makes for a great wine subscription.
What I Like
I love that each shipment contains a budget-friendly selection like Prosecco, a mid-range selection like a California sparkling wine, and a true Champagne for a special occasion.
Improvements
I'd love to see customers rewarded for buying bigger allotments. "Buy more save more" pricing would be a great addition to the line-up. I'd also really like to see the shipping costs come down dramatically.
Sparkling Wine Club delivers to
AK AZ AR CA CO CT DC FL HI ID IN IA KS LA ME MD MA MI MN MO MT NE NV NH NJ NM NY NC ND OH OK OR PA RI SC TN TX VT VA WA WV WI WY
Don't see your state? Vinesse does not ship there. Browse wine clubs by state.
Join Sparkling Wine Club
FYI: I find great wine deals so you don't have to. To keep me on the hunt, I earn a commission when you buy wine based on my recommendations.
Sparkling Wine Club Review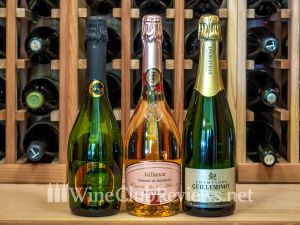 Vinesse is an online wine club best known for providing their self-branded Vinesse Wine Club to various travel-industry partners like American Airlines and Touring & Tasting magazine.
About the Sparkling Wine Club
Normally you can only join the Vinesse Wine Club through their website. We've worked with Vinesse for a very long time, so they've allowed our readers to join some of their specialty wine clubs — typically Vinesse Wine Club members-only — like the Sparkling Wine Club.
The Sparkling Wine Club from Vinesse ships quarterly (January, March, July, and October), with a fifth shipment in November so you have plenty of sparkling wine on hand for holiday festivities. Each shipment includes a survey of sparkling wine from around the world — an inexpensive sparkler, a mid-range sparkling wine, and an actual French Champagne. Three-bottle shipments are $72 each, shipping is extra. You can double or quadruple the shipments to six and twelve bottles, the price goes up proportionally.
We're really big fans of this wine club because the sparkling wine options at most wine and grocery stores are limited, carrying the same wines in most locations. Vinesse finds small producers to work with, so you're unlikely to find most of these selections anywhere else. Also, there are very few sparkling wine clubs out there and we think everyone needs more bubbly wine in their life.
It's rare that we encourage people to sign up for prepaid memberships rather than ongoing — mostly because the freedom to cancel a membership is useful if it doesn't meet your expectations. In the case of the Vinesse Sparkling Wine Club, we really encourage you to consider prepaying for your membership. Here's why:
Vinesse charges actual shipping costs, not subsidized like some other wine clubs do. They also charge a shipping & handling fee, and a host of shipping-related surcharges. We've never understood where all of these charges come from, and they degrade the value of most of the Vinesse wine clubs. That said, Vinesse gives you price breaks on the shipping when you prepay.
A basic example: If you subscribed for three months to the three bottle sparkling wine club, you'd pay $72 x 3 = $206 + ~$60 in shipping costs. If you prepay, you'll pay $225 which includes shipping. So, if you think this wine club is a good fit for you, consider your prepayment options (mark that it's a gift when you add it to your shopping cart, you'll be shown prepaid pricing options to choose from before you check out).
Vinesse Sparkling Wine Review
My Sparkling Wine Ratings
| | |
| --- | --- |
| Quality of Wine | |
| Price of Wine | |
| Wine Curation | |
We've continuously received shipments of the Sparkling Wine Club since January 2020 — and we had previously received a shipment in 2015.
There isn't much transparency with Vinesse about how their wine clubs are curated, but in the case of the Sparkling Wine Club, we're impressed with the variety and value they deliver. Here is a selection of the wines we've received in this club.
Membership Benefits
My Vinesse Sparkling
Benefits Ratings
| | |
| --- | --- |
| Satisfaction Guarantee | |
| Customer Service | |
| Wine Education | |
| Convenience | |
Satisfaction Guarantee. Vinesse has an industry-leading satisfaction guarantee. They'll replace any bottle for any reason, few questions asked. They do track who abuses the policy, but they really just want their members to be happy with the wines they receive.
Wine Education. For each wine Vinesse ships, they include a tasting sheet with a limited amount of backstory about the wine and/or winery. Each sheet also includes useful information like when to drink the wine and detailed food pairing suggestions.
Customer Service. Vinesse has a reputation for poor customer service. We think a more fair assessment is that they sometimes use misleading marketing practices or that their travel partners don't do a good job of setting expectations for the mileage rewards. None of these common complaints have anything to do with their specialty clubs — only their current members and our readers can enroll in these memberships. We believe that once people understand how wine clubs work, they're less apt to write scathing reviews and more likely to work with customer service to resolve their issues.
Convenience. You can manage most account changes online yourself without the need to contact customer support. There are no pre-shipment notices so you'll need to keep track of shipment timeframes. The Sparkling club ships quarterly (January, March, July, and October), with a fifth shipment in November. If you want to cancel, we recommend you do it right after you get a shipment.
Vinesse shipments come via UPS and they use the Follow My Delivery option within UPS MyChoice. UPS MyChoice is a free service you can sign up for with UPS to make receiving deliveries easier and more convenient. The Follow My Delivery option is great because it literally follows your delivery truck around town letting you know when they're close by — so you can make sure you're home to provide an adult signature.
Personalization. The Sparkling Wine Club is not a personalized wine club.
Discount Opportunities. There aren't any discount opportunities associated with the Vinesse Sparkling Wine Club, but all of their wine club members occasionally receive emails about deals on additional wine to purchase.
Who Should Join the Vinesse Sparkling Wine Club?
We think the Sparkling Wine Club is a great choice for most wine drinkers. If you hesitate to buy sparkling because it seems like a splurge, this will help you discover the world of inexpensive sparkling wine that tastes good (as opposed to sweet sparklers lacking the acidity to balance the sugar).
Sparkling Wine Gift Review
Vinesse's sparkling wine club is available in prepaid gift memberships. When you order a prepaid subscription your shipping rates are fixed and you know exactly how much you'll spend (we expect this of wine club gift subscriptions). You can include a custom gift message in the first shipment.