Sparkling Wine Club Review
Wine Club Overview & Details
All-Around Wine Club Rating:
This wine club is...
Summary
A three-bottle sparkling wine club that makes it easy to always have bubbly on hand for a special occasion or just because bubbly wine is fun to drink. This is one of the better value wine clubs from Vinesse and we always think it makes for a great wine subscription.
What We Like
We love that each shipment contains a budget-friendly selection like Prosecco, a mid-range selection like a California sparkling wine, and a true Champagne for a special occasion.
Improvements
We'd love to see customers rewarded for buying bigger allotments. "Buy more save more" pricing would be a great addition to the line-up. We'd also really like to see the shipping costs come down dramatically.
Wine Choices

Price & Shipping Info
A Sparkling Wine Club membership costs as little as $72.00 for 3 bottles of wine. Shipping costs extra plus sales tax where applicable. The price per bottle, with shipping, ranges from $25.00 to $31.00 depending on how you configure your membership.

Shipments are sent quarterly, or semi-annually.
Wine Club Ships to
AL AK AZ AR CA CO CT DE DC FL HI ID IN IA KS KY LA ME MD MA MI MN MO MT NE NV NH NJ NM NY NC ND OH OK OR PA RI SC TN VT VA WA WV WI WY
Sparkling Wine Club Review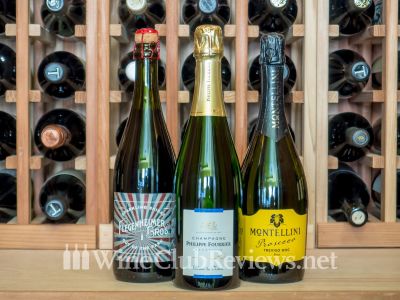 In our house, every day is an occasion worth opening a bottle of bubbly for! Admittedly, it's usually our favorite $7.99 Sparkling from Trader Joe's that gets the nod for everyday consumption, but we are certainly fans of the fizz.
We consistently find that our favorite Champagnes and Sparkling wines made in the Methode Champenoise are not the fanciest Champagnes around. Rather, we prefer the $20-25 bottles for our celebratory libations. Why? Well, we find, moreso with Champagne than other wines, that reputation can add a lot to price. Some of those French Champagne houses have had centuries to develop reputations as the very best, but winemakers around the world have adopted the winemaking techniques that make Champagne so delightful and applied them to varietals and grapes from everywhere.
It is in this spirit that we firmly announce we think the Sparkling Wine Club from Vinesse is an excellent value... and opportunity!
We encourage you to bring a little more bubbly into your life by discovering the Sparkling wines that come from around the world — and not take out a second on the house to do it — by trying the Sparkling Wine Club from Vinesse.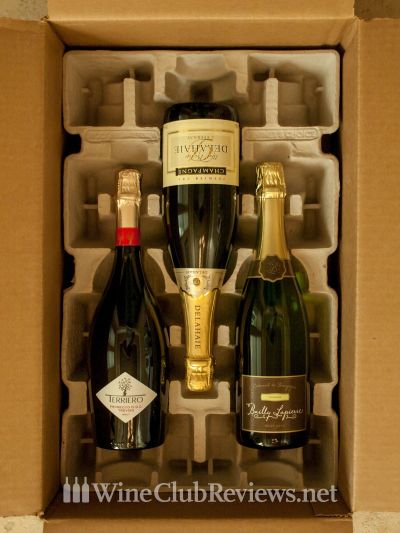 From their website:
Explore the bubbly effervescence and sweet fruit flavors of world-class Champagne and sparkling wines found within our Sparkling Wine Club. This club features exceptional Champagnes from legendary French vineyards, so you are always ready to bring the life to the party.
About Sparkling Wine Club
Our Sparkling Wine Club shines a spotlight on some of the brightest sparklers hand-crafted in small batches by talented winemasters in Old World wine regions such as France, Spain, Italy, and Portugal — along with surprising jewels from California's Sonoma Valley, Australia, and South America.
It's an exceptional opportunity to try little-known, boutique Champagnes and sparkling wines, which rarely appear on the shelves of local stores.
Even More to Enjoy
In addition, you'll receive wine tasting notes on each selection within your shipment. These individualized notes provide insights into the subtle variations of each wine — including what recipes pair well, detailed wine information, wine country touring tips, and additional hints to help you enjoy your wine to the fullest.

Things to know
| | |
| --- | --- |
| Shipping cost: | $21.00 |
| Offers: | No deals today |
| Best Deal: | No deals today |
| Exclusive Deal: | No |
100% Satisfaction Guaranteed: No commitment, no annual fees, cancel any time
Shipments options are more accurately 5x per year (Quarterly + a holiday shipment) or 2x per year (Semi-Annual)
Price is variable. Each bottle is $24-29, plus tax and delivery
For all orders and club shipments of wine to NY, NJ, MD, ME, DC, PA, MA, IN, AZ, KS, MT, DE, RI, FL, and MI an additional surcharge of $1.62 will be added to the shipment total. For residential deliveries, a $2.50 surcharge will be applied.
More wine clubs from Vinesse