Sparkling Wine Clubs & Champagne Subscriptions
Due to complex shipping laws, alcohol can't be delivered everywhere. Select the state where you'll be shipping the wine and I'll make sure you know which clubs can ship there.
Sparkling wine — in all its forms, not just Champagne — is deeply associated with celebration. While you might save the true Champagne (it comes from the French region of Champagne and has been grown and produced in accordance with the region's governmental standards) for special occasions, every day is a good day for a bubbly bottle of sparkling wine.
You might think that with so much love for sparkling wine and Champagne, there would be an abundance of these wine subscriptions for Americans, but there aren't! Here are my recommended wine subscriptions for bubbles on demand.
FYI: I find great wine deals so you don't have to. To keep me on the hunt, I earn a commission when you buy wine based on my recommendations.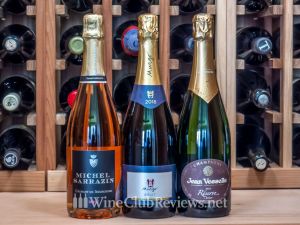 For You Save 20% on your first shipment when you enroll in the Sparkling Wine Club. Use code POURME at checkout.
A new entrant in the Sparkling Wine category of wine subscriptions, PourMe Wines goes right to the top of the list. I love how this industry outsider has set up her wine club, choosing wines she personally wants to drink.
I received a Vintage Italian brut sparkler made in the Traditional Method (not Prosecco), a diving Crémant de Bourgogne Rosé, and a lovely non-vintage Champagne — and the price for this shipment is just $100, plus shipping and applicable sales tax.
At present PourMe can only ship to a few states: AK, CA, DC, FL, MN, NM, OR, and WY.
Next Club
It's always nice to have affordable, easy-drinking bubbles around. Le Grand Courtage is the most popular sparkling wine in the $15-19.99 price range and as a member you enjoy preferred pricing and free shipping, plus generous discounts on additional orders (like gifts and stocking up for parties).
Le Grand Courtage produces three wines, two of which are available in their Bubbly Bliss subscription — Blanc de blancs Brut and a Brut Rosé (very little noir in there). The wines hale from a variety of regions in France and include Chardonnay and Ugni Blanc. The Blanc de blancs also includes some Colombard and Chenin Blanc while the Rosé includes a little Gamay Noir from Beaujolais.
These wines were conceived of by proprietor Tawnya Falkner and, in my opinion, are perfect for their intended audience — sharing with friends, celebrating, and living it up.
Does not ship to: AL, AR, CT, DE, HI, MS, ND, or UT. Shipping is extra to AK. You can probably find Le Grand Courtage at a wine shop near you in those states, though.
Next Club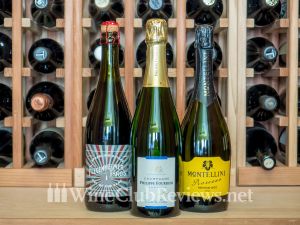 The Vinesse Sparkling wine club is my favorite Vinesse club, and one of my favorite wine clubs overall. In this case it helps to focus on the wine you receive and not on the features of the wine club (because it's a no frills setup). I've received at least a dozen shipments of the Vinesse Sparkling Wine Club and they are consistently delightful.
Each shipment includes one true Champagne, one high-end sparkling wine from somewhere in the world (think California's North Coast or a Cremant de Limoux), and an everyday bubbly like a Prosecco or a Cava. Sign up for this club and you'll always have a bottle of sparkling wine on hand — and something more special than what's available at your grocery store.
Insider tip: they offer their best prices when you prepay for gifts (or for yourself).
Next Club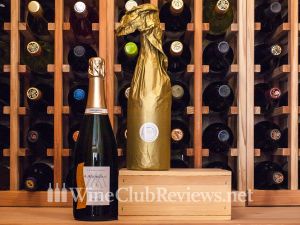 For the Champagne lover, it's worth checking out Henri's Reserve. Henri specializes in "grower Champagne." This is how the industry refers to small, family chateaux in Champagne who grow and produce their own Champagne (as opposed to large wineries like Veuve Clicquot and Moet & Chandon who source fruit from many vineyards they don't own). You might think of the Champagne as "boutique."
Each shipment contains two bottles of Champagne (both bottles in each shipment are the same as each other, but new in each shipment). This subscription makes a great gift, too.
Henri's Reserve Champagne
Sparkling Wine from Personalized Wine Clubs
Not all wine clubs suitable for sparkling wine lovers call themselves Sparkling Wine Clubs. Some wine clubs are personalized in such a way that you can make them into any kind of wine subscription you want. Two such wine clubs are perfect for imbibers of the bubbles — Nakedwines.com and Organic Wine Exchange.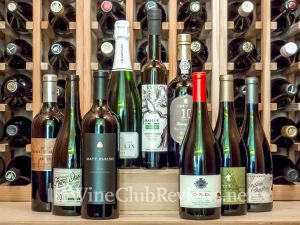 For You Save $100 on your first 6-bottle case, just $49.99. Shipping included. Then save another $20 on your second order. Click for This Deal.
Exclusive Deal For You Save $100 on your first 12-bottle case, just $79.99 — shipping included. Then save another $20 on your second order. Click for This Deal.
Not exactly a typical wine subscription, you make a monthly deposit of $40 to Nakedwines.com which can be used to purchase wine whenever you choose. A minimum order of six bottles is required. You pick all of your own wines from hundreds of bottles in their inventory. In November 2021 there were more than 21 different sparkling wines available from regions like Prosecco, California's North Coast, Limoux, and Loire — even Champagne.
Since you choose every wine you receive, you can build your own sparkling wine subscription and reorder your favorites or branch out to other styles.
Next Club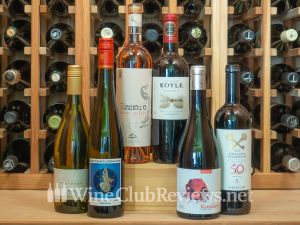 For You Get 10% off the first three shipments when you join an Organic Wine Exchange club. Use code WC10X3 at checkout.
If you are concerned about the environment or prefer organic sustenance, I strongly recommend trying a wine club from Organic Wine Exchange. This woman-led small business sells only organic wine and has created a variety of subscriptions to choose from: Organic, Biodynamic, Vegan, and No Sulfites Added.
All wine clubs can be further customized however you like, in this case you can choose to receive all sparkling wine. It should be noted that much of Organic Wine Exchange's inventory for sparkling wine is Prosecco, though it comes in a dazzling variety of styles. When you sign up for this level of customization you'll be contacted by proprietor Annie Arnold to confirm your preferences and explain how the club works in detail.
Didn't find what you were looking for?
There are a few other sparkling wine clubs I'd like to point out, though I have not reviewed them and can't vouch for their services.
Fat Cork offers three levels for their Champagne Club, including Tête de cuvée selections (the best wines from the producers they work with). This is an excellent way to learn about and enjoy Champagne.
We Drink Bubbles offers a Bubbles Club for the "clean wine" crowd. "Our curated monthly collections highlight clean-farmed, estate grown Champagne and sparkling wines that go way beyond the selection of your local grocery store."