Sparkling Wine Club Review
Wine Club Overview & Details
Wine Club Rating:
This wine club is...
Summary
A great sparkling wine club featuring high-quality wines you might not take a chance on if you were picking them off a wall of wine. Sparkling wine is a diverse area of the industry and there's a great deal of fun to be had exploring it.
What I Like
A unique perspective on what to drink from an industry outsider. These wines eschew the groupthink we see from wine journalists and sommeliers and the eclectic selection is more interesting because of that.
Improvements
The tasting notes are copy-pasted from the distributors and importers, but could be expanded on and presented in a more interesting manner.
Sparkling Wine Club delivers to
AK CA DC FL MN NM OR WY
Don't see your state? Pour Me Wines does not ship there. Browse wine clubs by state.
Join Sparkling Wine Club
FYI: I find great wine deals so you don't have to. To keep me on the hunt, I earn a commission when you buy wine based on my recommendations.
Coupons & Promo Codes
Deal Save 20%
Save 20% on your first shipment when you enroll in the Sparkling Wine Club. Use code POURME at checkout.
Sparkling Wine Club Review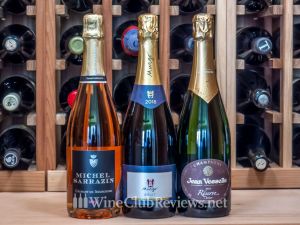 What is Pour Me Wines?
Former registered nurse Genna Tatom wanted to find a more healthy work-life balance, to be able to enjoy time with her family. She founded Pour Me Wines to deepen her own wine knowledge, but also to bring her unique view of how to enjoy wine to the market — keep trying new things, don't get bored, learn as you go. Setting out to quit your day job and start a business is a bold move which I applaud.
Genna smartly evaluated which wine clubs offer her favorites — red and sparkling wine — and decided the best way to share her passion was to start a wine club which offers all red wines, all sparkling wines, or a combination of both (now the only red + sparkling wine subscription on the market).
Pour Me Wines is unique among wine clubs because it's not run by an industry professional. This means she's not paying attention to the hype, she's not overly concerned with centuries-old reputations and other status markers, she's not following winemaker pedigrees — she's just selecting a diverse variety of great wine she wants to drink herself.
How does the Pour Me Wines sparkling wine subscription work?
This isn't a venture capital backed wine club. This isn't a gimmicky wine club. This is an old fashioned wine subscription which delivers high-quality, handpicked wines in every shipment. Beyond the color or style of the wine, it's not themed — which means a whimsical variety awaits you in each box.
Each three-bottle shipment of bubbly from Pour Me Wines costs $100 and shipping is extra. You can have boxes delivered monthly, every other month, or quarterly. It might include Champagne, Crémant from other places in France, Italian spumante (spumante means "sparkling" and includes more than just Prosecco), and gems from the new world, too.
To entice you to sign up, you can save 20% on your first subscription box with code POURME.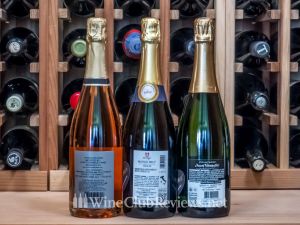 Sparkling Wine Primer
If you're not already knowledgeable about Champagne and Sparkling wine, here are a few helpful ideas to keep in mind. If you want to do a deeper dive, check out my Useful Guide to Champagne.
All sparkling wine has bubbles, but not all sparkling wines are called Champagne. Champagne is a designation referring to the region in France where the grapes were grown, but also to a number of other regulations including grapes used, farming practices, and the exact method used to get the bubbles in there.
Some other sparkling wines include Crémant (from various regions in France), Prosecco and Spumante (from Italy), Cava (from Spain), and a whole whose of sparkling wine styles from "new world" regions like the United States, Australia, and South America.
Sparkling wines come in a range of styles from sweet to completely dry (no sugar remains or is added). It also comes in different colors like Rosé and even Sparkling Red. It comes in a variety of flavor profiles, too, which are mostly determined by the kind of grapes used and how it is produced. Rosé sparklers tend to be fruitier (think berries, not apples and peaches).
A "Champagne flute" is not a necessary accessory for enjoying sparkling wine. In fact, it reduces the olfactory experience and prevents the wine from opening up. I drink all of my bubbly out of my "universal" wine glasses.
About this Pour Me Wines Review
So far I have reviewed one shipment of sparkling wines (and one shipment of red wines) from Pour Me Wines. I am actively reviewing this service and most recently received a shipment in February of 2022. This review incorporates my Pour Me Wines experiences and my experience with more than 100 other wine clubs.
Any wine subscription service is about more than just the wine and this review covers all aspects of the service. The key things I look for in a wine club are: How was the wine sourced? Is the wine selection personalized or curated? How often does it ship? How well does the company communicate about shipping and billing? Do they offer a satisfaction guarantee? Are the shipment sizes and wine selection flexible?
I also examine what kind of wine education they offer with their bottles and whether or not a service is set up for good gifting. These aspects are not core to a wine club being worthwhile, but they are important for many would-be members.
Pour Me Wines Sparkling Wine Review
My Pour Me Wines Wine Ratings
| | |
| --- | --- |
| Quality of Wine | |
| Price of Wine | |
| Wine Curation | |
Pour Me Wines works with a small selection of distributors and importers. The distributors work with small- and medium-sized American wineries. The importers, who opt for similar types of wineries, are focused on bringing quality wines to the US from around the world.
I spent some time perusing the portfolios of these companies and these suppliers offer a diverse selection of smaller producers from around the world. Each winery represented is a "real winery" as opposed to a brand owned by a conglomerate.
The Three Wines I Received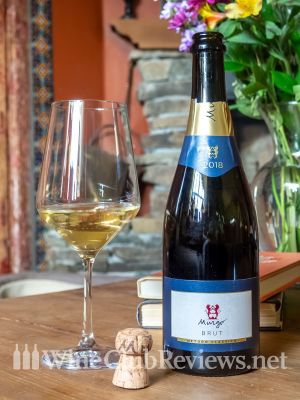 Murgo Brut 2018
Region: Santa Venerina, Sicily, Italy
Blend: 100% Nerello Mascalese; Metodo Classico
Vini Spumante di Qualita (VSQ)
Retail price: $25-30
It's produced in Italy, but it's not Prosecco (which comes from two regions in Northern Italy). Prosecco is typically produced from the grape Glera using the Charmat Method, a simplified version of how Champagne is produced. This wine was produced like Champagne, but using native Italian grapes instead of Chardonnay and Pinot Noir.
It's highly unusual to find an affordable, vintage (meaning it has a specific year on it) sparkling wine in a subscription.
This was, in my opinion, better than Champagne. It was round, and fruit-forward with floral notes, instead of piercingly dry with yeasty notes the way Champagne often is. Everyone at the party enjoyed it and was surprised by how different it was from Champagne or Prosecco — which is likely why Genna selected it.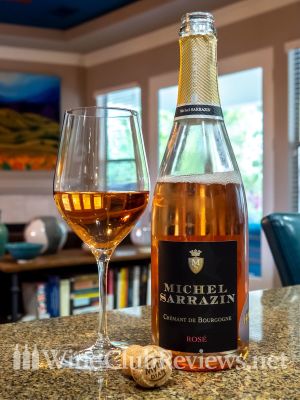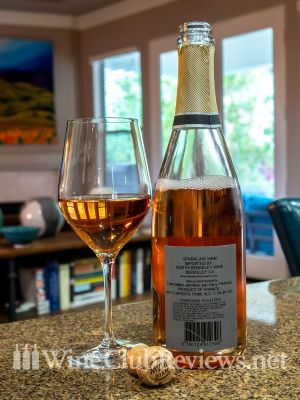 Michel Sarrazin, Crémant de Bourgogne Rosé NV
Region: Jamblès, Côte Chalonnaise, Burgundy
Blend: 100% Pinot Noir; Méthode Champenoise
Retail price: $30-35
An exceptional choice by Genna. Domaine Michel Sarrazin et Fils is a Givry Premier Cru (Givry is a subregion in Burgundy and Premier Cru means it's the second best quality possible in the region) producer who also makes two Crémants (one white, one rosé). Personally I love Pinot Noir and most wines that are made with this grape. One of my favorite things to drink is sparkling rosé and this one was terrific. In addition to slightly-tart strawberry, hints of orange and a drop of light toast (from the native yeasts) gave this wine depth and enjoyability.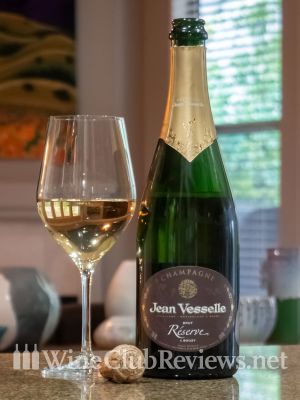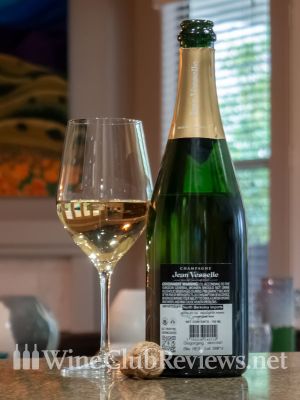 Jean Vesselle Brut Réserve NV
Region: Bouzy, Champagne AOC
Blend: 80% Pinot Noir and 20% Chardonnay
Retail price: $40-45
When you talk with sommeliers and the wine cognoscenti, they often fall all over themselves to tell you about "grower Champagne."
Some quick back story — the well-known Champagne producers like Moet & Chandon or Veuve Clicquot buy fruit from many vineyards (which they typically control) and produce massive volumes of wine to slake the world's thirst for Champagne. The lesser-known maisons who practice the equivalent of "Estate bottling" in the US make what we call "grower" Champagne — they grow the fruit they use to produce their wines all on the same property. Jean Vesselle is a "grower Champagne."
For most of us mere mortals, selecting grower Champagne is challenging (there are hundreds of these producers and it's hard to know what you're getting without a lot of research). This is an area where Genna's preferences for high-quality wines that you probably haven't tried comes into play — she found this gem for you.
As you might have detected from how I spoke about the Crémant and Murgo above, I like Champagne and won't say no, but it's not my favorite kind of sparkling wine. This one had more character than the familiar big names, and that's exactly what you're expecting from a grower Champagne.
Who should (and shouldn't) join Pour Me Wines?
My Pour Me Wines
Benefits Ratings
| | |
| --- | --- |
| Satisfaction Guarantee | |
| Customer Service | |
| Wine Education | |
| Convenience | |
I think the sparkling wine subscription at Pour Me Wines is well-suited to most wine drinkers. Here are some details about some different groups and why they are a good fit.
My husband and I often talk about the notion of "wine clubs for beginners" and whether or not it's a good idea to recommend new wine drinkers join inexpensive wine clubs. The rationale for joining them is a low price point and "approachable" wine. The reality is that any money spent on bad wine is a waste and why would we intentionally introduce new drinkers to average wine?
So, for that reason, I think the Pour Me Wines sparkling wine club is a great club for new drinkers. It will introduce them to the breadth and variety available in sparkling wine without yoking them to the belief that mediocre $70 bottles available at every wine and grocery store on earth are great wines.
Anyone who enjoys sparkling wine and doesn't drink enough of it should join this club. What is enough? At least a bottle a month, if not more, in my not-so-humble opinion. Life's too short to skip the bubbly, especially at these prices.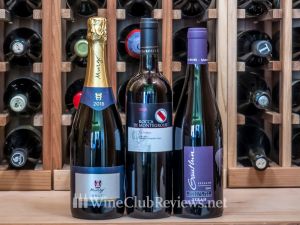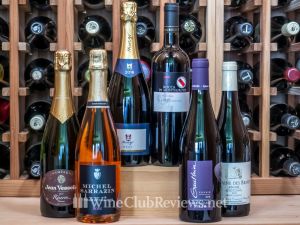 Need more variety?
Try the mixed Red Wine & Sparkling subscription instead.
Three bottle shipments are $100
Six bottle shipments are $190
It's as unique and well-curated as the Sparkling Wine club. Here's my review of the red wine subscription.
Based on the quality and character of all six wines that were included in the inaugural shipments, I suggest signing up for the six-bottle red wine & sparkling subscription.
Pros & Cons of the Pour Me Wines sparkling wine subscription
Pros
Sparkling wine clubs are rare and those that focus on a range of high-quality bubbly, not just Champagne, are even more rare. For a sparkling lover like me, this is a great club at a great price.
It's a small, woman-owned start-up. If who you do business with matters to you, this is a great opportunity to spend money in the right place.
Cons
There's not much in the way of wine education. You're mostly on your own if you want to know anything more than the basics about the wine and the producer.
Is Pour Me Wines Sparkling Wine Club a good gift?
At this time there are no gift subscriptions on offer at Pour Me Wines, but you can purchase electronic gift cards to be used toward membership.