Red Wine Club Review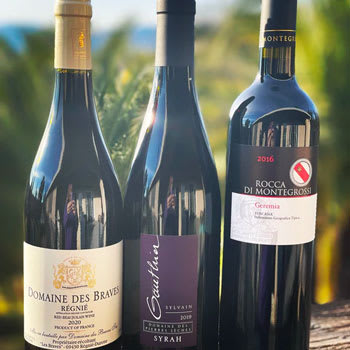 Wine Club Overview & Details
Wine Club Rating:
This wine club is...
Summary
A distinctive red wine club featuring acclaimed and unusual selections, designed for the adventurous red wine lover.
What I Like
A unique perspective on what to drink from an industry outsider. These wines eschew the groupthink we see from wine journalists and sommeliers and the eclectic selection is more interesting because of that.
Improvements
The tasting notes are copy-pasted from the distributors and importers, but could be expanded on and presented in a more interesting manner.
Red Wine Club delivers to
AK CA DC FL MN NM OR WY
Don't see your state? Pour Me Wines does not ship there. Browse wine clubs by state.
Join Red Wine Club
FYI: I find great wine deals so you don't have to. To keep me on the hunt, I earn a commission when you buy wine based on my recommendations.
Coupons & Promo Codes
Deal Save 20%
Save 20% on your first shipment when you enroll in the Red Wine Club. Use code POURME at checkout.
Red Wine Club Review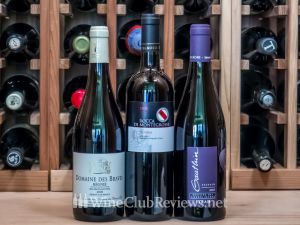 What is Pour Me Wines?
Former registered nurse Genna Tatom wanted to find a more healthy work-life balance, to be able to enjoy time with her family. She founded Pour Me Wines to deepen her own wine knowledge, but also to bring her unique view of how to enjoy wine to the market — keep trying new things, don't get bored, learn as you go. Setting out to quit your day job and start a business is a bold move which I applaud.
Genna smartly evaluated which wine clubs offer her favorites — red and sparkling wine — and decided the best way to share her passion was to start a wine club which offers all red wines, all sparkling wines, or a combination of both (now the only red + sparkling wine subscription on the market).
Pour Me Wines is unique among wine clubs because it's not run by an industry professional. This means she's not paying attention to the hype, she's not overly concerned with centuries-old reputations and other status markers, she's not following winemaker pedigrees — she's just selecting a diverse variety of great wine she wants to drink herself.
How does the Pour Me Wines red wine subscription work?
This isn't a venture capital backed wine club. This isn't a gimmicky wine club. This is an old fashioned wine subscription which delivers high-quality, handpicked wines in every shipment. Beyond the color or style of the wine, it's not themed — which means a whimsical variety awaits you in each box.
Each three-bottle shipment of red wine from Pour Me Wines costs $100 and shipping is extra. You can have boxes delivered monthly, every other month, or quarterly. It might include interesting red wines from Italy, France, California, Oregon, or Washington — and more in the future.
To entice you to sign up, you can save 20% on your first subscription box with code POURME.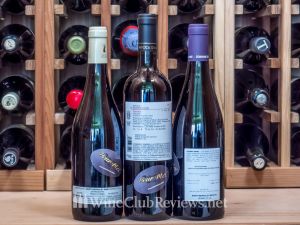 About this Pour Me Wines Review
So far I have reviewed one shipment of red wines (and one shipment of sparkling wines) from Pour Me Wines. I am actively reviewing this service and most recently received a shipment in February of 2022. This review incorporates my Pour Me Wines experiences and my experience with more than 100 other wine clubs.
Any wine subscription service is about more than just the wine and this review covers all aspects of the service. The key things I look for in a wine club are: How was the wine sourced? Is the wine selection personalized or curated? How often does it ship? How well does the company communicate about shipping and billing? Do they offer a satisfaction guarantee? Are the shipment sizes and wine selection flexible?
I also examine what kind of wine education they offer with their bottles and whether or not a service is set up for good gifting. These aspects are not core to a wine club being worthwhile, but they are important for many would-be members.
Pour Me Wines Red Wine Review
My Pour Me Wines Wine Ratings
| | |
| --- | --- |
| Quality of Wine | |
| Price of Wine | |
| Wine Curation | |
Pour Me Wines works with a small selection of distributors and importers. The distributors work with small- and medium-sized American wineries. The importers, who opt for similar types of wineries, are focused on bringing quality wines to the US from around the world.
I spent some time perusing the portfolios of these companies and these suppliers offer a diverse selection of smaller producers from around the world. Each winery represented is a "real winery" as opposed to a brand owned by a conglomerate.
The Three Wines I Received
Domaine des Pierres Gauthier Sylvain Syrah 2019
Region: Cheminas, Northern Rhône, France; Ardèche IGP
Blend: 100% Syrah
Retail price: $20-25
This was a super interesting red wine, especially if you're not familiar with the Rhône Valley. Syrah has a tendency to be red-fruit forward and a bit spicy. I find the Syrah in France to generally be more spicy and less fruity, but this one retained its juicy characteristics, with the tannins more in the background.
As someone who *loves* Syrah, it's sometimes hard to believe how little I've had from France. I very likely would never have tried this one and am happy to have had the experience.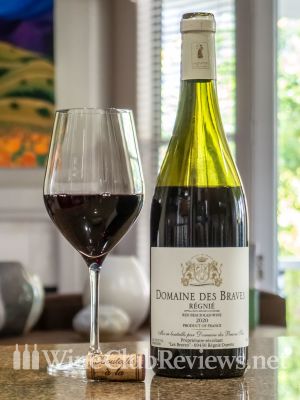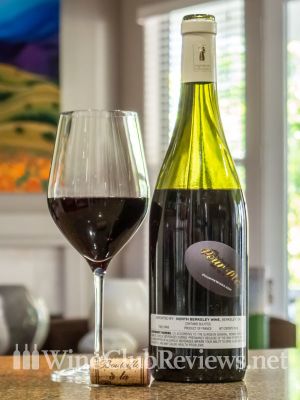 Domaine des Braves Régnié 2020
Region: Régnié-Durette, Beaujolais, France
Blend: 100% Gamay (Noir)
Retail price: $25-30
If you're not familiar with Gamay, it's very similar to Pinot Noir in that it features red stone fruit, like cherries, prominently. Within France, Gamay is typically grown in Beaujolais (there's some in Burgundy, of which Beaujolais is geologically related to, located just south of it, but it is a distinct region). Régnié, the newest Cru Beaujolais region (meaning it's been approved as a quality producer by the powers that be), typically produces medium-bodied Gamay wines. While the well-known Beaujolais Nouveau are produced quickly after harvest and meant to be drunk young, the region produces quite a bit of "regular" wine, too.
This particular Gamay Noir (its proper full name) was unfiltered and unfined (hard to see in these photos, but it typically means the wine will appear more opaque and you're more likely to find sediment in the bottom of the bottle) and fermented in stainless steel, not oak. That helps it keep its light and fruity texture without imparting additional tannins.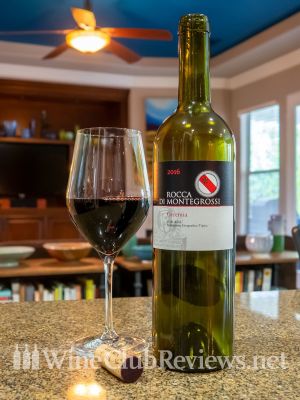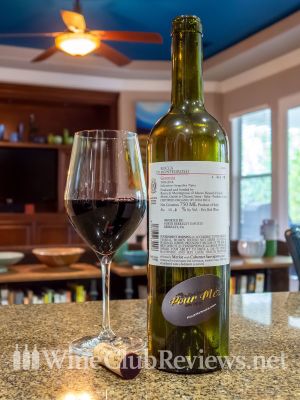 Rocca di Montegrossi Toscana Rosso 'Geremia' 2016
Region: Gaiole in Chianti, Tuscany, Italy; Toscana Rosso IGT
Blend: 75% Merlot and 25% Cabernet Sauvignon
Retail price: $45-50
This is a wine I wouldn't expect to appear in a "modern" wine club. It's a Super Tuscan (less the Sangiovese which is typically a part of this informal designation), a fad from the early '80s that has largely outlived its appeal in the wine press and among sommeliers. But this is why having an industry outsider picking your wines is worthwhile — you'll try an "uncool" wine and learn something.
Highly rated, 94-96 points from top critics, Wine.com retails this wine for $70 (unusually overpriced for them). This 2016 wine had nice structure and lively, but smooth tannins. Sour cherry definitely stood out for me, but the violets were hard to miss, and a touch of vanilla from the oak brought it all together.
Who should (and shouldn't) join Pour Me Wines?
My Pour Me Wines
Benefits Ratings
| | |
| --- | --- |
| Satisfaction Guarantee | |
| Customer Service | |
| Wine Education | |
| Convenience | |
The red wine subscription at Pour Me Wines probably isn't for everyone. Obviously one needs to enjoy red wine to want to join up, but beyond that, I'd say an adventurous palate is a must have. If your go-to is oaky California Cabernet Sauvignon, I'm not sure you're going to love the diversity of flavors and styles coming out of France and Italy. Also since Genna's goal is to showcase lesser known varieties, I wouldn't expect anything "common" to show up here.
The price point ($30-40 per bottle) is a good indication of what you'll get on average, so if that's the zone you usually buy your red wine in then you're a great fit for this club. It might also be a great way to upgrade your "weekend wine" selection at home.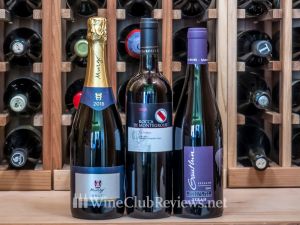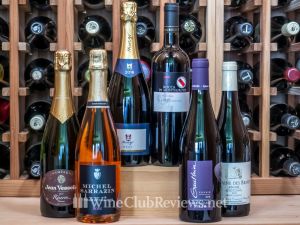 Need more variety?
Try the mixed Red Wine & Sparkling subscription instead.
Three bottle shipments are $100
Six bottle shipments are $190
It's as unique and well-curated as the red Wine club. Here's my review of the sparkling wine subscription.
Based on the quality and character of all six wines that were included in the inaugural shipments, I suggest signing up for the six-bottle red wine & sparkling subscription.
Pros & Cons of the Pour Me Wines red wine subscription
Pros
While red wine clubs aren't uncommon, it can be hard to discern between the options out there which are often quite similar. This one is different, mostly because the curator isn't an industry insider and she picks wine based on her own palate, not trying to please everyone else's.
It's a small, woman-owned start-up. If who you do business with matters to you, this is a great opportunity to spend money in the right place.
Cons
There's not much in the way of wine education. You're mostly on your own if you want to know anything more than the basics about the wine and the producer.
Is Pour Me Wines Red Wine Club a good gift?
At this time there are no gift subscriptions on offer at Pour Me Wines, but you can purchase electronic gift cards to be used toward membership.